Counter-Strike: Global Offensive has taken the DFS world by storm the past month as people are searching for new games to play while sports are on hold. Professional-level matches take place on a much more regular basis than other Esports so you can get action around the clock. The format for fantasy CSGO DFS has been changing as FanDuel, DraftKings' original system, and their new system all have drastic effects on the overall strategy.
CSGO DFS Stats
Most of the fantasy scoring in Counter-Strike DFS is from kills, deaths and assists. There are other bonus categories on DraftKings but they are infrequent and don't move the needle a ton. You can evaluate how good a fantasy player is by their kills, deaths and assists per round. The rates will vary based on who they are playing with because there are different roles on the team. Barring major personnel changes, they should be pretty reliable. I look mainly at the last six months stats on hltv.org. I've found that if you use lifetime stats, they usually look better than recent results. If you divide rounds by 30, you'll get an approximation of how many games are in the sample. It's important to have a decent sample size because CSGO production depends a ton on how tough the competition a team faces is.
Kills per round for most players typically range from .6-.8 and you can convert that into a percentage of a team's kills they'll average. That means most players will average between 17% and 23% of a team's kills. With such a narrow range, this can vary a good amount from game to game. Assists range from .1-.15 per round and make up a much smaller part of scoring but are a nice bonus when you stack players from the same team.
Scoring Format
Rounds in Counter-Strike tend to be quite lopsided with the winning team averaging 4.9 kills and 1.6 deaths. With assists occurring on about 25% of kills, that means your typical winning team on DraftKings scores about 7 fantasy points and the losing team -2 fantasy points before factoring in bonuses, while a round not played is 2.5 points for both teams. On FanDuel, the kill is worth 2 so it's about 9.5 fantasy points for the winners and -1.2 on FanDuel.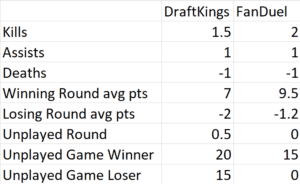 Overtime occurs somewhat regularly, though, so it's possible for a game to be an outlier if enough overtime rounds are played. It's possible for games to continue indefinitely if it starts 15-15 and each overtime finishes 3-3. On average, each game averages about one overtime round so if a game has an outlier amount of rounds, it could yield big fantasy performances on both sides.
In a best of three, the fantasy production of the winning team is always going to be significant because they nab at least two wins, but the fantasy production from the losing team is going to depend on if they keep it close. If a team loses significantly more rounds than they win, it's unlikely for them to have any individual players of fantasy relevance.
On DraftKings, an unplayed game is worth 20 points for the winners and 15 for the losers. This is in line with what players average so a sweep will elevate cheap players who have a low average and reduce the value of expensive players with great stats. Also a sweep doesn't guarantee big fantasy performances for the winners — if both games score 16-14 for example, both teams will have mediocre results for their players.
On FanDuel, the unplayed game is worth only 15 points for the winner and the loser gets zero. Since most players average well above that, you really need the guys you pick to go to a third game in a best of three for your lineup to have a competitive score.
Correlation
Since points are scored with kills and lost with deaths, there's a reverse correlation between opposing teams where the success of one team occurs at the expense of their opponent's fantasy outcome. Thus the more players you have from one team the more you should consider a fade of the other team. If one team produces a lot of fantasy points it's usually accompanied by the other team putting up a dud.
Because teams are negatively correlated, you can get leverage on the field by taking players on a team that oppose a chalky player or team. This is especially effective if the chalk players are only popular because they are cheap and not big favorites. For example, the other day Complexity was about a -300 favorite versus the Heretics but the Heretics were very popular because they were cheap and because of recency bias. That's a spot that you can exploit in your lineup.
Check us out on

TWITTER

, where we talk sports, share articles and have lots of giveaways!
The correlation between players in an individual game is less significant. For teammates, the correlation coefficient is about 25% and for opponents about -25%. That means while building a lineup it's slightly preferable to add more players from teams you've already picked than a random player, and less optimal for players from the opposing team. Stacking isn't required for a strong DraftKings lineup but it gives a slight advantage, all other factors being equal.
On FanDuel, the fact that both teams benefit from a third game negates the negative correlation from one team getting more wins. Because there's no points awarded for unplayed games and losing teams average closer to zero, more rounds equates to more fantasy points. Team and game stacking are significantly more viable as a result, with team stacking worth pursuing and game stacking not something to avoid.
The correlation between players is much stronger in FanDuel because you need the third game which mathematically is always less likely than a sweep. If you have a lineup with all players who go the distance and possibly get some overtimes, you'll have a great chance at placing high in a contest.
CSGO DFS Slate Size
The optimal lineup construction in CSGO DFS varies based on how many games there are in a particular slate. The fewer the number of games there are, the more the negative correlation between opposing teams is a dominant factor. As long as no game is very close, it's likely the best performers will all be from winning teams, so only choosing stacks from different games can pay off big. Limiting your lineups to 3-3 and 3-2 stacking in a two- or three-game slate can be an easy way to rule out lineups that have bad correlation.
The larger the slate, the less stacking you should employ in your lineup. There are two factors at play. There is a hard cap to how many fantasy points a team can score so it increases the upside of your lineup to have players that could be the alpha performers on different teams. The main factor, though, is maximizing your projection. As of writing, the slate today has players on 10 different teams as the top value plays of the day. The more stacking constraints you impose on your lineup, the more you're going to limit how high a projection your lineup can have. If several players are significantly underpriced, though, feel free to load up on them.
The optimal strategy in larger-slate (five to six games) DraftKings CS:GO DFS tournaments is similar to the strategy in other sports where stacking isn't a large factor such as NBA. That means that you should pair several strong highly owned players with one or two low-owned sleepers to give you a strong overall projection while being differentiated enough from the field to win a tournament outright.
On FanDuel, CSGO DFS is more akin to MLB DFS where the number of fantasy points scored by each team varies wildly, so stacking is a lineup construction rule rather than a bonus. Having a 3-2 stack with your five position players maximizes the chances that each will be in a three-game match, while if your team position is part of a winning effort, you should have a great chance to place high in a tournament.
When you combine these lineup construction guidelines along with my projections, ownership and top stacks, you'll be able to build solid CSGO DFS lineups on DraftKings and FanDuel.
---
Check out all our CSGO DFS, LoL, CoD + Rocket League content on our e-sports page.