How to Win 3-Man Underdog Fantasy Football Best Ball Drafts: Expert Advice, Draft Tips & Rankings
The best kept secret in Best Ball fantasy football right now is the Underdog three-team drafts. These are beatable on many levels and should act as your cash teams along the same lines as how you would play 50/50s and Double-Ups in DFS. Underdog offers three-team NFL Best Ball drafts in the $3 (fast), $25 (fast), and $100 (slow) price points. I have drafted over 500 of these three-teams at the $3 level, and have found it easy to build a team as I follow a certain roster construction and have fine tuned my rankings and fantasy football picks as I have drafted at such a high volume.
Underdog Fantasy Football Best Ball Three-Team Drafts
For those familiar with the early days of DFS, these three-person drafts will take you back to that happy time. Back in the early DFS days, there were major advantages of constructing cash lineups in 50/50 or double-up leagues. The competition was easier as people were still learning how to play the game. Best Ball, in general, is a new game and as we are all learning, we are also looking to find our edges and take advantage of those edges any chance we get. Three-team drafting is the first step in the right direction for the 2021 season. As many are looking to hit home runs in the big-money tournaments you can shift some of your bankroll to the three-person drafts to help offset some of those tournament entry fees.
***7/23/21 UDPDATE – Cam Akers is OUT for the year and Michael Thomas is not expected to be back until November. Remove both from the Rankings***
Three-team Best Ball Draft Tips & Strategy
Exploit ADP — Underdog's ADP is always based off 12-team drafts. There is no ADP for three-team drafts currently. You can really use this to your advantage, as you will have new drafters trying out the three-man format and going off of ADP or their own 12-team rankings.

TE position is the key — The tight end position is a premium in these drafts, and you can really set yourself up for success by getting two of the top three TEs in Travis Kelce, Darren Waller and George Kittle. Have all three ranked 1,2,3 overall. Essentially if you get two you are blocking the position from your other two opponents and setting yourself up for a nice build from the start.

RB is loaded in this format — With only drafting against two others, most will draft five or seven RBs, which is 15 to 21 RBs total. Guys like JK Dobbins, Dandre Swift, Chris Carson, Miles Sanders, David Montgomery, andJosh Jacobs are all available as in the RB 16-21 range. I like to build teams 3 QBs/6 RBs/7 WRs/2 TEs with the tight-end-heavy approach, so all these RBs are valuable as RB 4-6 on my team. A lot of teams you will see only draft five RBs (sometimes even four) so you can even get RBs in a tier up from this.

Stacking doesn't matter as much — The kind of stacking you want to do in these three-team drafts is just stacking the best players overall. No need to reach on quarterbacks to stack with your receivers.

Keep roster construction simple — If you can get two of the top three tight ends, stay with a 3/6/7/2 build. Three quarterbacks, six running backs, seven wide receivers, and two tight ends.

WR position is second-most important next to TE — Drafters that are new to three-teamers are going to heavily value the running back position and let the top tier of wide receivers fall to you. Don't make the mistake of waiting too long for your wide receivers.

Set your rankings and limits — Don't fall into the trap that you will just let the draft fall to you and you know when and where to draft players. Things happen and we are working with a 30-second timer for these fast drafts. If you set your best ball fantasy football rankings based on my Top 70 in this article, along with setting your position limits to 3 QBs/6 RBs /7 WRs/2 TEs, you will have no issues and could basically draft on autopilot.

Don't be afraid to try out autopilot — One of my favorite things to do in these three-team drafts is to have my rankings and player limits set and right before bed I will enter five or 10 of these $3 three-team best ball drafts and set them to autopilot. When I wake up the next day, I can evaluate each draft and research areas that I can get better in — rankings, position scarcity, what others are doing.

Look for other edges — Drafting late at night is smart, as some might enter these and forget they signed up and basically autodraft teams; and they might not even have three-man rankings or player limits set. Also, maybe you do a draft and see that there is a bad drafter in there, they could be entering a few drafts in a row, so keep entering until you see they have left the lobby.

Bye weeks are more important — Your team might be loaded with star players but what if you have six players all with a Week 7 bye week? The goal is to always maximize the points your team can score each week. By the midway through the season, there is a good chance you also have three or four players injured and missing games.

Start the QB run before your opponents — There are five clear top quarterbacks for 2021 with Patrick Mahomes, Josh Allen, Lamar Jackson, Kyler Murray, and Dak Prescott. If you are picking at the turn and no QBs have been selected you can grab Mahomes/Allen and about 50% of the time your opponents will follow and select a QB or two. What this does is drops WRs and RBs down the board to you at a better value and it gives you the top QBs on your roster.

Look for advantages in the middle of your draft — You are only drafting against two other opponents, so it is much easier to view their rosters as the draft moves along. You will understand what positions they will be targeting with their next picks just by looking at their roster construction. For example, say one of your opponents already has six running backs but only three wide receivers, it is pretty simple that you can wait on that RB and grab a WR in front of him and the RB will be waiting for you the next round.

If you are a multi three-team drafter, get to know your opponents — For me the three-man is about drafting a high volume of teams, and with that comes running into the same usernames. You can make this work to your advantage by getting to know your opponents' draft tendencies. What players they like, what their roster build will be and even getting a good idea of their entire rankings board.
(Hat tip to Best Ball legend Justin Herzig on Nos. 12 and 13)
You can upload my Top 70 NFL 3-Person Rankings  for your Underdog Best Ball Fantasy Football Drafts 
Click CSV Link above (This site)
Go to Rankings (Underdog website)
CSV Upload/Download
CSV Upload
Click "Save"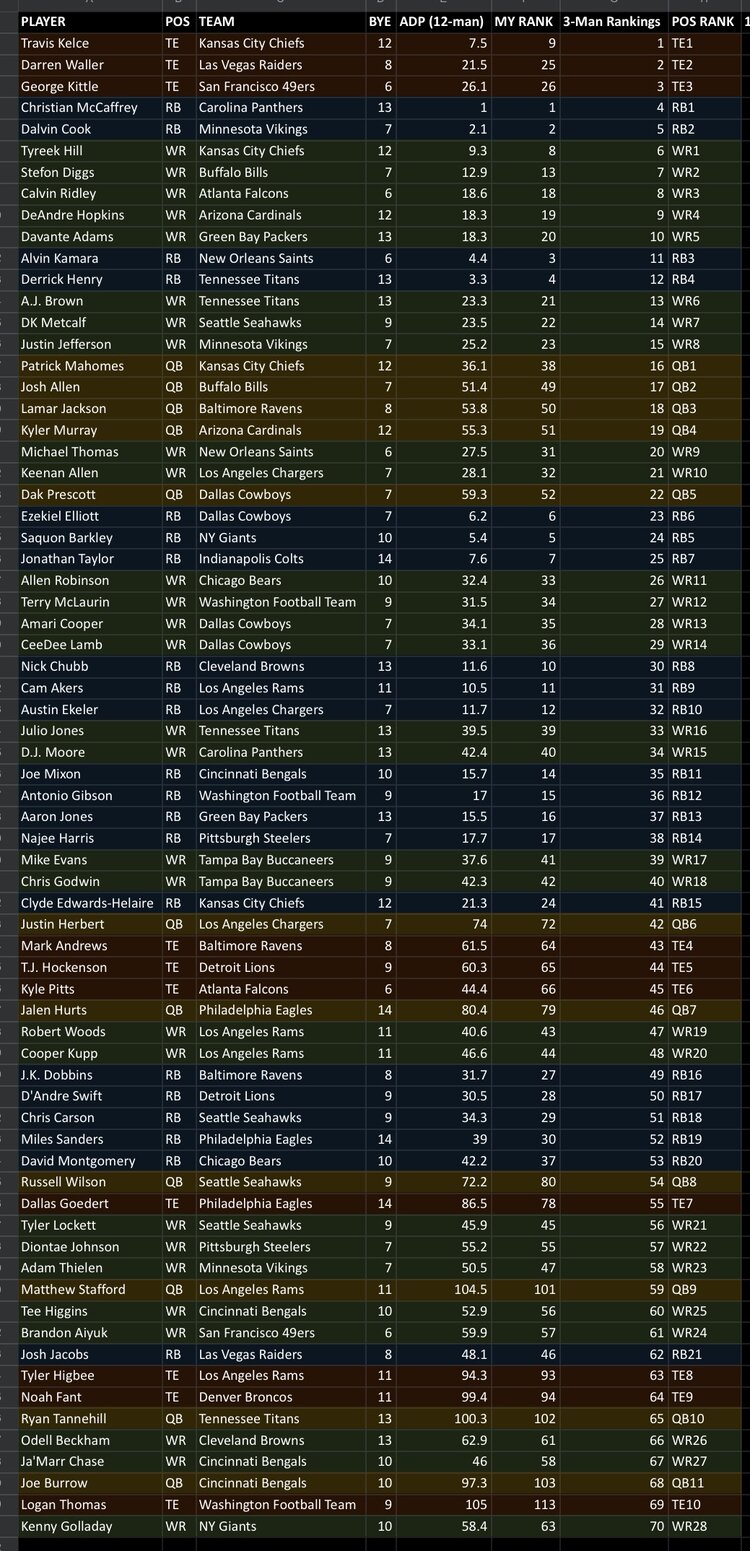 If you are a fan of Underdog Fantasy Football Best Ball and want to discuss NFL Best Ball draft strategy in general, feel free to contact me via Twitter @JamesBrimacombe.
---
Check out all of our Fantasy Football content at the Awesemo Fantasy Football YouTube Channel, where you can find expert advice, rankings and strategy, as well as Underdog Fantasy Football Mock Drafts with Dave Loughran and Matt Gajewski.

Thanks for reading to the end of this article! If you appreciate this free content and want to see more of it every day, you can help us out by sharing this article on social media! If all that free content isn't enough for you to dominate your Fantasy Football draft this year, check out the
Awesemo Fantasy Football Draft Kit
, which includes sophisticated tools and proprietary fantasy data that you can only get from us. We've also got a brand new
Fantasy Football YouTube Channel
where you can tune in every day for the best fantasy videos in the business. Want more
fantasy football news today
? Check out our
NFL fantasy football rankings
, our
fantasy football draft cheatsheet
, our
NFL fantasy football sleepers
and our
fantasy football player profiles
.