There are only four games in the NBA DFS slate for today, which means it's a bit more sparse compared to other days. However, it's still essential to take a closer look at each matchup because there are several injury updates and potential profitable plays to consider. To help you make informed decisions, our comprehensive analysis will break down each game and highlight the best NBA DFS value opportunities using Stokastic's advanced projections. Additionally, new users can take advantage of a fantastic offer by entering the code 'SCORE,' which will give them a 50% discount on their first week or first month.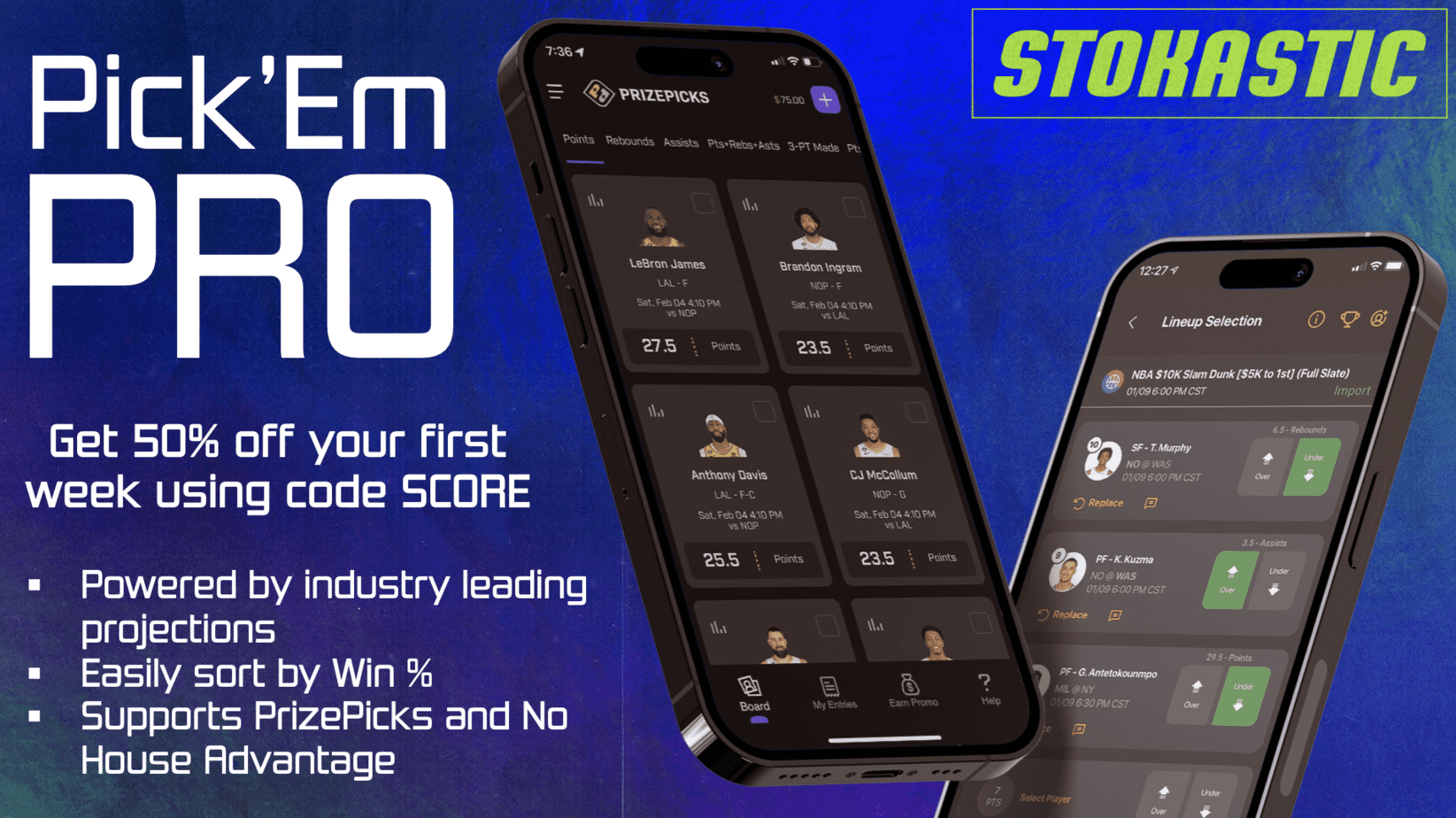 NBA DFS Value and Advice | March 23
New York Knicks vs. Orlando Magic
The Knicks are dealing with a questionable Mitchell Robinson, which could shake up their lineup. If he sits, Isaiah Hartenstein will be a better value and Jericho Sims will likely return to the rotation (either as a starter or off the bench). However, Robinson is a strong value if he plays. Julius Randle and Jalen Brunson remain underpriced and offer solid plays. Immanuel Quickley and R.J. Barrett are also in play since this is only a four-game slate.
On the Orlando Magic side, the usual suspects like Wendell Carter Jr., Paolo Banchero, Franz Wagner and Markelle Fultz are all secondary plays in the starting lineup, while Cole Anthony offers value off the bench with Jalen Suggs sidelined.
Cleveland Cavaliers vs. Brooklyn Nets
The Cleveland Cavaliers present very favorable price tags, particularly on DraftKings. Darius Garland and Jarrett Allen stand out as the two best plays, but Donovan Mitchell and Evan Mobley look good as well. On the Brooklyn Nets side, it's a tough matchup, but Nic Claxton and Mikal Bridges look like the best options. Spencer Dinwiddie is also playable, but he is more expensive. Dorian Finney-Smith is only $3,900, but his playing time has been inconsistent and he isn't a good per-minute producer, so there is plenty of risk.
---
Latest NBA DFS Content
---
Charlotte Hornets vs. New Orleans Pelicans
Nick Richards is only $5,000 and likely to play 26 to 30 minutes. Gordon Hayward is underpriced at $5,700 on DraftKings, making him a solid option. Kelly Oubre Jr. and Terry Rozier are likely to play 35-plus minutes and are relatively low owned in tournaments, while P.J. Washington is a solid contrarian play as well. Dennis Smith Jr. is getting a lot of ownership off the bench and is likely to play 25 or 26 minutes but could play more if Rozier or Oubre deal with foul trouble or if the Hornets close small.
For the New Orleans Pelicans, Jonas Valanciunas has been playing more minutes recently and has a high ceiling in a favorable matchup. If Valanciunas plays less than expected, it is likely that a very cheap Larry Nance Jr. will play more than expected. Brandon Ingram and C.J. McCollum are secondary options. They have high ceilings, but they are more expensive than some similarly priced alternatives.
Oklahoma City Thunder vs. Los Angeles Clippers
Shai Gilgeous-Alexander, Josh Giddey, Jalen Williams and Luguentz Dort are reasonably priced and expected to play a significant number of minutes. However, the rest of the players are considered extremely risky. For another option, Isaiah Joe could be considered but with little confidence.
It is worth noting that Paul George will not be playing for the Clippers. With the absence of George, it is more likely that Kawhi Leonard and Russell Westbrook will produce at higher rates and Westbrook is expected to play a lot of minutes. Eric Gordon is likely to replace George in the starting lineup and play around 30 minutes, along with Marcus Morris. Ivica Zubac is projected to be under-owned at center, with more attention going to Allen, Claxton and Valanciunas. Additionally, Robert Covington played 22 minutes in a previous game when George was in and Leonard was out, making him a potential sneaky value at the minimum salary. Alternatively, Nicolas Batum or Terance Mann could get more playing time instead.