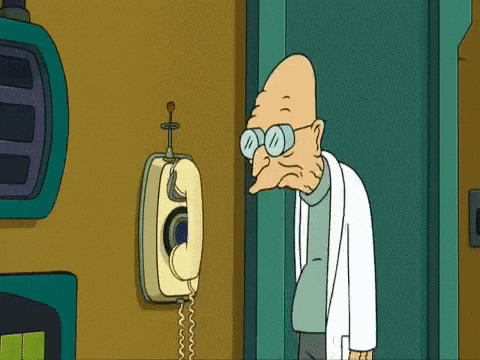 That GIF above means one thing: My time at the helm of the Slam Dunks column did not come to an end after one singular effort. And that's despite me not even mentioning DJ Augustin's name once as he went for 10x value and made a mockery of every projection in the daily fantasy industry.
But that's the name of the game. And I did warn you that the Milwaukee-Orlando game could singlehandedly decide the fate of the slate. I didn't take my own advice, mind you, but I did warn you. And myself. That's life. A new slate, a new day. As is the new normal, I will bring you a breakdown of each game as quick or long as it needs to be along with a sprinkling of our wise leader Awesemo's personal Slam Dunk picks, bolded in the games where applicable, that could be the keys to your lineup tonight.
As always, this column pairs perfectly with Awesemo's rankings and ownership projections so make sure to check those out when crafting your lineups tonight. Follow me on Twitter too because I'm sure that'll help your lineups by osmosis or something. And now onto the slate.
Toronto Raptors (108.75 implied points) at Indiana Pacers (104.75 implied points)
This is one of those classic "great basketball game, narrow margin of error fantasy game" spots. The Raptors have been as tough a defensive matchup as anyone outside of San Antonio or Utah all season. And the Pacers' early season pace-up play has slowed down as they've hit their playoff push. The stars should get their full minutes load and come close to their normal projections but there may not be a ton of upside to be found. Indiana allows some extra threes and Kyle Lowry has gone off for a 24-10-8 versus the Pacers once this season but there are merits to both him and DeMar Derozan at their similar price points. Jonas Valanciunas did what every center does and destroyed the Nets in his last game. But with a steep price on both sites, there's a case to be made to look elsewhere for value.
On the Pacers' side, Myles Turner has been a low-owned delight of late, hitting 5-7x value in five out of his last six games with his price having barely risen to show for it. The matchup with Jonas isn't a fantastic one (albeit looks better via DVP in the last 10 games) but Turner looks like the kind of play that could differentiate a lineup. Victor Oladipo also tends to show up big for these rivalry games and previously hung 36 points with a well-rounded bunch of peripheral stats in their last matchup versus Toronto. His price is much better on Draftkings but this game is full of a couple of plays which can go underowned on a slate of this size.
Philadelphia 76ers (113 implied points) at New York Knicks (104 implied points)
Enes Kanter is an interesting character and NBA player. And he's a guy who's no stranger to making enemies on the court:
But there's another dynamic to the kind of anger Kanter plays with: Every time he plays someone he hates, someone he's insecure about, someone he can beat physically, he relishes the opportunity. And that's been the case thus far this season in games versus Joel Embiid with Kanter going for 10x value in his Christmas Day 31 point 22 rebound barrage along with another 17 point 10 board effort last month. The Knicks' minutes are currently a bit baffling thanks to their ongoing taking efforts but Kanter may get closer to 27 minutes than 21 since the Knicks are very unlikely to win this game regardless of how many minutes he plays. That wrinkle can end up a part of a winning lineup tonight.
As for the rest of the Knicks, if Kanter's minutes stay low, that means Kyle O'Quinn's are likely to stay steady. Michael Beasley is not all the way back to his highs of earlier this season but at a depressed price can have some upside and be a key to the Knicks keeping it close, especially if Tim Hardaway is limited with his ankle injury. And last and also least, Emmanuel Mudiay was a shameful kick to the groin for me the other night versus Dallas in a sweet matchup but, given his recent performance, that may have been an aberration. The 76ers' style of play offers a lot of rebound and assist opportunities to a point guard and if Mudiay can score, he can really smash value.
On the 76ers side, everyone is in play as the Knicks have completely given up on defense as the season nears its close. With a recent increase in threes allowed to wings, Robert Covington with his recent consistency plus upside looks appealing. But there are so many possible eruption spots for the 76ers that it might spell a blowout well over the current nine-point spread and a lot of starters riding the pine down the stretch.
Charlotte Hornets (112 implied points) at Atlanta Hawks (108 implied points)
The Hornets have all but been eliminated from the playoff race and the effort has shown. Watch a Hornets game in recent weeks and you'll see a completely detached Kemba Walker deferring every time down the court, likely counting the days before he can be barely paying attention to a big booty'd Instagram model on a beach somewhere. If you're a high-usage point guard who can't crack 5x versus the Pelicans, it may be time to wrap it up for the year. The lack of interest by Kemba and even ol' stat padding Dwight Howard has resulted in a renaissance for Nicolas Batum, effortlessly running the offense, ripping boards, and busting ass on both sides of the court:
.@nicolas88batum plays a little volleyball and taps it not once but twice for the putback!#BuzzCity #BKNatCHA pic.twitter.com/jJPZqP7Nsi

— Bally Sports: Hornets (@HornetsOnBally) March 9, 2018
Nicolas Batum smaca izin vermiyor! #BuzzCity pic.twitter.com/yxK8TskYvV

— NBA Türkiye (@NBATurkiye) March 14, 2018
These are the guys you want at this point of the season, the guys still trying even with nothing to play for. Batum's price is astronomical by his standards on both sites. But in a matchup versus Atlanta, awful versus wings in particular, Batum may feast for a 50 fantasy point game once again.
Dennis Schroder has also returned and looked close to normal, something that may allow you to sneak him in at very low ownership despite his cheap price. But Atlanta is a one-man show these days and that man is Taurean Prince (no relation to Tayshaun. Or Prince). With monster performances in his last two games, Prince's price is rising but still not nearly as high as his ceiling. In a game with a shockingly high total that is also projected to be competitive, Taurean Prince may continue his warpath proving that the out-for-the-year Kent Bazemore probably shouldn't be starting. Let alone being paid more than Draymond Green. No seriously: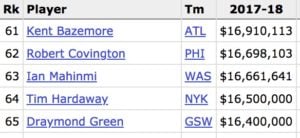 Murderer's row of contracts there. No wonder why Draymond always seems so angry.
Los Angeles Clippers (106.75 implied points) at Houston Rockets (117.75 implied points)
The Clippers' projected total is lower than their usual expected output and despite the high-scoring games Houston is known for, their defense has been fairly stout both in real life and fantasy DVP. DeAndre Jordan has looked great lately, ripping 18 rebounds or more in five out of his last six games along with two 20-point performances. Houston is a bad matchup for everyone but they have pushed usage towards the center position all season giving DeAndre a shot at being fantasy viable as his price soars. Lou Williams has been quiet lately despite throwing up his usual shots and Houston is known for being a popular revenge game spot for former Rockets, as pointed out by their general manager Daryl Morey (Montrezl Harrell hasn't gotten enough minutes lately to qualify). Austin Rivers has a price that looks as nice as a free agent contract provided by your coach/GM father but he can be very hit or miss.
The blood feud that's getting less bloody in our post-Blake Griffin world (playing for Detroit lately is like playing in the Phantom Zone from the first Superman movie) is back on with Chris Paul suffering from a knee injury and a possible blowout risk. If Chris Paul is truly limited, a blowout risk means that James Harden may be the one exploding for an ungodly amount of points and assists to get there. And since Harden and Clint Capela have a positive correlation and Capela's presence should be needed to keep DeAndre Jordan at bay, a "Get well Chris Paul" stack could be a low-owned sneak play with Capela's recent tough performances.
Chicago Bulls (105.25 implied points) at Memphis Grizzlies (107.25 implied points) – ONE AWESEMO SLAM DUNK
Here's something you don't know about me yet: I LOVE a game like this. Two crappy teams going head to head but with players busting their asses because their team may be tanking but these young dudes are often playing for their livelihoods. And given how porous both defenses have been, this is a game you may be able to target with great low-owned success from the many and plentiful haters who don't know the thrills of rostering Denzel Valentine.
Memphis's rotating door of apathy and inexperience in the backcourt has shown defensively, resulting in big performances to the backcourt and wings over their current losing malaise. They're allowing a ton of three pointers, which benefits the aforementioned Denzel (who plays more if he gets hot via threes or rebounding), the slumping but very affordable Zach LaVine (who runs counter to Valentine in terms of playing time), Bobby Portis, and even Noah Vonleh. For Portis and Vonleh, both of the Grizzlies' primary power forwards, JaMychal Green and Jarell Martin, also rank at the bottom of the league at the position in Defensive Real Plus Minus. Basically everyone here looks great besides Kris Dunn, who is in a great spot but seems to be losing minutes to Cameron Payne by the game. And with some good reason:
We see ya, @campayne!

He also went on an 8-0 run in less than a minute 👌 pic.twitter.com/K7qYORFZEc

— Chicago Bulls (@chicagobulls) March 6, 2018
And that brings us to Payne's youth movement running mate, Noah Vonleh, an Awesemo Slam Dunk for the night:
"The Bulls are trying to lose games so the fact that Noah Vonleh is a better fantasy producer than a real life basketball player is a major plus in tonight's matchup versus Memphis. Getting 27 minutes in three shifts in the last game Markkanen was out, I expect him to a fair amount of the time pick up extra minutes in a fourth shift."
The good news for Memphis is that the Bulls are just as bad as they are, overall but conveniently also at threes. That means some more looks for Ben McLemore (who came off the bench last game with Martin shifting to small forward, watch for news on the starters), Dillon Brooks (particularly if Tyreke Evans remains out due to his rib injury), and Mr. Marc Gasol (who refuses to tank despite Memphis forcing him, possibly while wielding an actual live grizzly at him as a threat to get him to sit out). Tyreke's injury is the lynchpin for the lineup but if he plays at his price coming off an injury of unknown severity, he may just ruin everyone's opportunity while not creating enough of his own to hit value.
New Orleans Pelicans (108.25 implied points) at San Antonio Spurs (111.25 implied points)
With the tear Anthony Davis has been on, you may consider playing him even in a historically difficult spot like versus the Spurs. But at a projected point total about 9 points lower than New Orleans' usual output, Anthony Davis' price sky high on FanDuel and uncomfortably high on DraftKings, and a weak effort last time versus San Antonio, it's easy to consider looking elsewhere. Jrue Holiday similarly has had issues facing the Spurs this year, failing to hit value in both matchups. Rajon Rondo exploded for over 8x value the last time he played the Spurs and while DeJounte Murray owns a top Defensive Real Plus Minus, the Spurs overall have allowed a slight increase in DVP productivity per minute to point guards over their last 10 games. He may be a solid low-owned sneak if you like to live on the wild side.
On the Spurs' side, they're projected for five more points than their usual output versus a team with a relative free-wheeling style of defense so there will be some fantasy goodness to unpack here. Coming off of a couple of 25-minute duds due to games being out of hand in the fourth, LaMarcus Aldridge can be good value as long as the game stays competitive. He has not played well versus the Pelicans this year but the offense flows through him with Kawhi Leonard sidelined so he remains the Spurs' safest bet. Dejounte Murray may be a bigger beneficiary of the Pelicans' breakneck 2nd in the league pace and has beaten value in both games versus the Pelicans this season. More pace = more missed shots = more opportunities for Murray's special brand of point guard rebounding. Pau Gasol's minutes have been dreadful lately and his night helming the team with Aldridge out last week was a painful death for the 50% of people rostering him. The Pelicans matchup is a DVP plus for centers though and Gasol previously notched 39 DK points in 25 minutes against them so as scary as it may be. And lastly, Danny Green is unreliable and scary but he did pick up the start last game and may see upwards of 25 minutes versus the Pelicans in a pace-up game at a very affordable price. Just know there's a chance you may be looking at this face at the end of the night: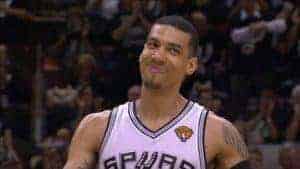 Phoenix Suns (100.5 implied points) at Utah Jazz (112.5 implied points)
Another matchup of a fast-paced team projected for lower than their usual scoring output versus a slower paced defensive team with a big boost on their usual point total. There isn't a ton to love on the Suns, particularly with Devin Booker (who can excel in any matchup with a day's rest) currently questionable with ah hand injury, unless you're interested in playing the game as a blowout. There's always a chance the surprisingly high-powered Suns keep it competitive with Josh Jackson, TJ Warren, or Elfrid Payton (maybe less so since he lost minutes to both Shaq Harrison and Tyler Ulis last game) driving the offense. But Vegas tends to make a lot of money by being good at projections and the Jazz are a good team trying to get into the playoffs while the Suns are a bad team on the road with an injured star currently a game back in the Tankathon race. It might be a spot not to overthink on a slate of this size.
The Jazz meanwhile will have a shot to put up big numbers versus Phoenix before the game gets out of hand. Joe Ingles, Ricky Rubio, and Rudy Gobert all look like strong plays, in that order, with all of their prices on the upswing thanks to the Jazz's recent run. Rubio is coming off of a dud versus Detroit where his shot didn't fall and rebounds didn't bounce his way but versus a Suns team that allows a significant boost in assists, rebounds, and points to point guards he seems like a prime bounce back candidate if the minutes allow. Ingles has been as steady as steady can be while still flashing upside and Gobert's price feels too high on both sites, but it's Phoenix, they should all be in consideration. As should Donovan Mitchell who's been steady but mostly quiet lately; if you feel like he's not hitting a wall, this is a spot where he could reignite his Rookie of the Year campaign given how he's seemed to relish matchups with the Suns previously.
Dante Exum is also available to make his return from injury tonight and the former 1st round pick will likely not matter in the outcome of this game in any way. But I liked him a lot in NBA 2K his rookie year in franchise mode so I would say we should all be willing to keep an open mind.
Detroit Pistons (104.5 implied points) at Denver Nuggets (111.5 implied points)
The Pistons get a slight boost on implied points here, the Nuggets get a slight decrease on their usual. The spread looks to be on the rise with the Pistons looking particularly unmotivated down the stretch and Denver fighting for the final playoff spot in the Western conference. The team played horrendously versus Utah in their last game and while it's possible to imagine a world where Blake Griffin and Andre Drummond overcome their downswing and decreased prices to keep the game close and win you a tournament, there is some risk. The Pistons are playing at altitude and with two star players not necessarily known for their conditioning, that can be a challenge even though the game isn't a big increase in pace. Paul Millsap may also present some barriers for Blake in particular, having played competently according to Defensive Real Plus Minus as the 9th best power forward just behind Giannis and Larry Nance. Nikola Jokic may offer less resistance to Andre Drummond but Denver has limited rebounds this year, including in a matchup with Drummond earlier in the season where Jokic did not suit up. The Nuggets have recently given up increased production to backcourts, a chance for Reggie Bullock to take advantage after missing last game with back spasms, but both he and Ish lack the kind of consistent ability to smash value you'd like to see.
Defensively, Detroit offers a modest boost to the backcourt but not much elsewhere. Jamal Murray's price and recent minutes plus shot profile seem like an interesting option versus mostly indifferent Ish Smith defense. Gary Harris has also been chucking lately, seemingly combining with Murray and Millsap to take all of Will Barton's usage in the last few games. Jokic is in an interesting spot; because of the sets Detroit runs and Drummond playing close to the rim, Jokic may have more opportunities at blocks, rebounds, and those long bomb assists to Gary Harris he loves off of rebounds. Watch out for this face:
Nikola Jokic just said that this is the face he makes to Gary Harris to let him know he is going to throw a full-court pass.

I'm not kidding. He legitimately just said this. pic.twitter.com/uoHY8leoKe

— T.J. McBride (@TJMcBrideNBA) March 12, 2018
Wilson Chandler also must be mentioned because he has tremendous upside lately despite the fact that games like his massive 50-point outburst the other day often appear out of nowhere like a wild Pokemon. Should you feel comfortable enough to play Wilson Chandler? No. But can I authoritatively say you should NOT play Wilson Chandler? That is also a no. Wilson Chandler, along with Stonehenge one of the universe's greatest mysteries.
Cleveland Cavaliers (108.5 implied points) at Portland Trailblazers (113.5 implied points) – TWO AWESEMO SLAM DUNKS
Cleveland's total represents a decrease on their usual output while the Blazers get a modest boost. Portland has been surprisingly tough defensively and the Cavs are down Larry Nance after a hamstring pull last game, a tough loss to deal with in a matchup the Cavs need to win. With Nance out out, that means an even more massive than usual workload for LeBron James, a man who averages a little over 1.7 DK fantasy points per minute without Tristan Thompson and Nance on the floor. And that also helps make LeBron our second Awesmo Slam Dunk pick for the slate. Awesemo says:
"To take full advantage of tonight's value players, you are going to need to soak up salary with a stud like AD, LeBron, or Harden. With the new look Cavs, LeBron has increased his fantasy output significantly, and I expect him to increase his rebounding totals without real centers on the floor for the whole game."
Great minds think alike. Kyle Korver went bananas versus Phoenix in a spot start with Rodney Hood ailing and JR Smith vanquished to the bench; expecting the same here might be a bad idea since the Blazers won't let Korver get as many open looks as the Suns did. Jeff Green played better versus Phoenix and is slated to start again tonight; Portland is a tougher matchup but the minutes should be there. Ante Zizic will start for the injured Nance and is pretty much the only big the Cavs will have available; the Cavs rolled out some small-ball lineups with John Holland in their last game versus the Suns so there is a chance they try to limit Nurkic with that adjustment.
Awesemo agrees with the opportunity that Ante Zizic presents, making him the final Awesemo Slam Dunk for the day:
"Matched up against Jusuf Nurkic, the Cavs are going to need to play Zizic a good amount tonight as their only healthy center. At a price of only 3500, Zizic is a lock in cash and a high volatility play in GPP's, meaning you should play him at low ownership and consider a fade if ownership is projected to be higher."
On the Blazers' side, fading Damian Lillard seems like a bad idea. Regardless of matchup, as long as Lillard has fresh legs and isn't on a back to back, he has excelled at every turn as a scorer while providing competent defense and peripheral stats. He also has a very positive correlation with Jusuf Nurkic, who could feast upon the Cavaliers with Nance out if the Blazers don't end up being forced to go small. Zizic is not a competent defender so it's really a matter of hoping the coaching lines up but a Lillard/Nurkic/LeBron/Zizic stack seems like something that may be the hammer for whomever ends up winning your slate.
—
And there we have it, another slate in the books. I hope this write-up along with Awesemo's Slam Dunks help you guys make some decisions tonight that end up winning you many thousands of dollars. Tweet me @ChrisSpags with your thoughts and good luck out there!