Thursday was a nice bounce-back for me, although Jordan Poole's second consecutive subpar outing prevented me from taking anything down. Still, I was happy to take anything in the green after Wednesday's abomination, so I am hoping to ride that momentum into the weekend. I hope you all found a little success as well, as I truly don't enjoy slates anymore without screenshots and messages accompanying them. With that as the goal again for tomorrow, let's dig into a few NBA DFS picks and strategies to take us to the top on DraftKings and FanDuel.
---
Be sure to check out the Slate Starter podcast, featuring yours truly and Rynpak, to get the first look at the slate and make NBA DFS picks for DraftKings and FanDuel!
---
NBA DFS Slate Starter: Picks & Strategy | March 26
Go Right Back to the Stars
It is not often that we have 11-game slates; it's even less often we have two of them within the span of three days. But that's the exact situation we face on Friday, as we're staring down another night of double-digit games, which for me means another night of stars-and-scrubs builds. That scares me to death, as Wednesday's seemingly straightforward slate ended up being anything but due to Luka Doncic, Giannis Antetokounmpo and Karl-Anthony Towns all putting up floor games on the same night.
But that was then, and this is now. Most of my readers are pretty rehearsed in the ways of NBA DFS, so I doubt anyone's thinking "I just got burned by Doncic, I can't go back there whatsoever." However, a lot of people have sent me messages like "I just can't seem to get Doncic right" on Twitter or in Slack. And that, my friends, is where I start to question your process, mainly because, when it comes to these top-tier superstars, I'm overweight to nearly all of them every slate because their ceilings dwarf every other play below them. So the reality of it is I get them right and wrong all the time because if they're on the slate, I'm over the field on them.
Sure, there's an argument to be made for living in the mid-range when there's a team with eight active players, or when an unexpected late-scratch opens up a plethora of under-owned $7,000-to-$8,000 plays that project more like $10,000 ones. But the most expensive players put up the most fantasy points day in and day out in NBA DFS, and they do so within a tighter range of outcomes than in any other sport.
Let's look at the near-perfectly correlated sliding scale of fantasy points per game and the salaries for those plays: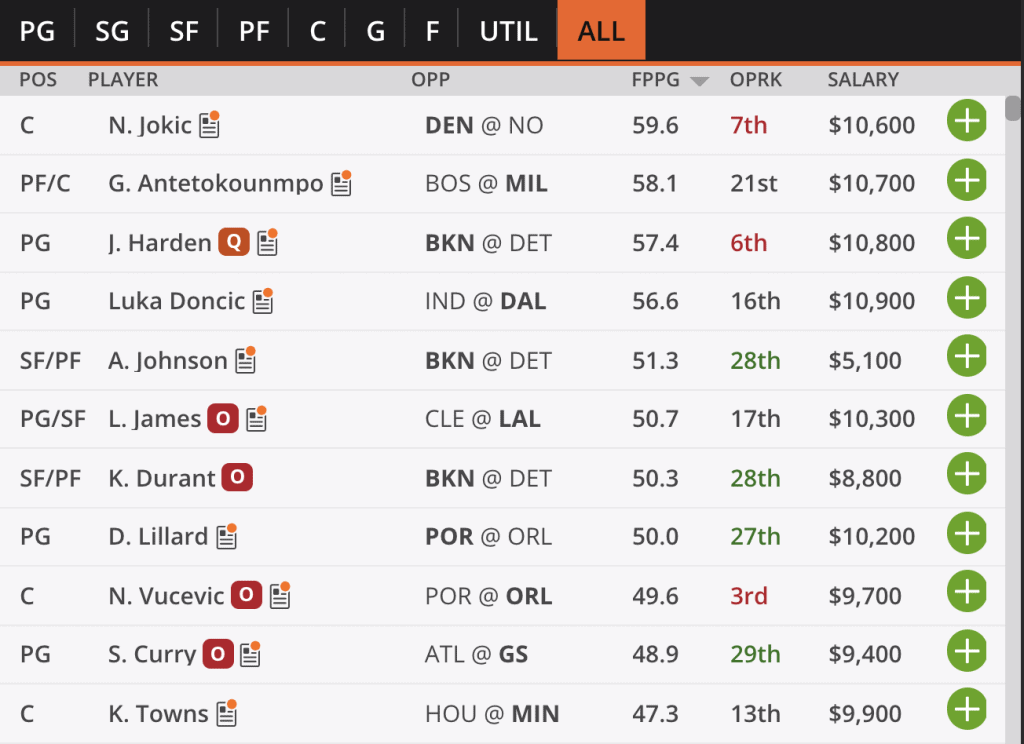 First off, Alize Johnson in the middle of these guys after one game where he wasn't even available to be rostered on DraftKings is hilarious, but I digress. If you play other DFS sports, you know fantasy points per game is mostly how salaries are distributed. It's logic, really; the highest-fantasy point producers are the highest-priced players.
Unlike other DFS sports, however, the range of outcomes for basketball players is not nearly as wide. So in the long run, playing the players who routinely put up the most fantasy points and pairing them with whatever value emerges raises the projected total of your lineup (plus its ceiling). Even if the value were to be sketchy on a massive slate like this, there's simply so many players to roster below the $4,000 that a few are bound to pop. That means write off Wednesday's stars-and-scrubs disaster as an outlier and go right back to well with them today.
---
Latest NBA DFS Content
---
Oh My, Orlando
The Magic's three best players — Nikola Vucevic, Aaron Gordon, and Evan Fournier — were shipped off to three different teams on Thursday. Rotation players Gary Clark and Al-Farouq Aminu were traded as well, leaving only nine available players for Friday's pace-up spot at home against the Trail Blazers. At least DraftKings and FanDuel noticed this situation and ramped up the salaries of any/all remaining pieces or this slate could've been a complete nightmare. But even still, I think this is a team we have to consider targeting.
Let it be known that Terrence Ross is also questionable once more and will most likely be limited if he does give it a go. If he plays whatsoever, that at least helps mitigate the need to jam in countless members of the Magic in every lineup. But should he sit, that leaves only eight active bodies for the Magic, which means this truly terrible roster could be a key source of value on this slate.
I just attempted to run an on/off court query at AddMoreFunds.com to account for the plethora of missing persons for the Magic; it's quite hilarious:

These are irrelevant sample sizes as any of these minutes were surely played in garbage time, but sorting the table by usage ironically shows my priority in these plays (only player not listed I believe is Karim Mane). Michael Carter-Williams is my favorite NBA DFS play on both sites, but an absolute priority at just $5,500 on FanDuel. He'd be the most expensive Magic player over there should Ross be out, and he'd surely continue starting point guard duties.
Dwayne Bacon sits sub-$5,000 on both sites, making him another candidate for a gigantic workload. James Ennis is the only small forward left on the roster, so his minutes could be even crazier. And Mo Bamba could garner insane ownership depending on how many minutes he's projected for, as he averages 1.17 DraftKings points per minute in his 224 total minutes this season. If the Magic unleash him, he could be an absolute must-have in your lineups on this slate.
Simply put, everyone in an Orlando uniform on Friday is in play, even at these elevated tags. Be sure to check Alex Baker's projections early and often, as it hurts my brain to even comprehend how the minutes and usage are going to break down for this team. But hey, when you have the top NBA DFS player in the world in your corner to help you figure out a crazy situation such as this one, you use him.
Win a FREE Awesemo+ Platinum Monthly Pass Enter our Awesemo Giveaway for your chance to get a FREE month Awesemo Platinum Monthly — a $90 value. Your Awesemo Platinum Monthly will get you access to EVERY SPORT we offer and includes projections, rankings, ownership projections and Lineup Builder.
Final Thoughts for Your NBA DFS Lineups
---
Follow us on all of our social channels! Check out our Twitter, Facebook, Instagram and YouTube for more great Awesemo content.
Looking for more NBA DFS picks content? We have loads of articles, data, cheat sheets and more on the Awesemo NBA home page. Just click HERE.