Are you looking for the best DFS tools today? How about the best lineup generator around? Both of these tools provided by Stokastic are not only industry-leading due to the algorithm and data it pulls from, but the proof is in the positive ROI pudding. Given the time of year, we'll focus on sports currently being played.
Best DFS Tools Today
NBA DFS Player Compare Tools: Not sure who has the advantage between a few choices? As one of the best DFS tools on the market, you can't go wrong with the NBA DFS Player Compare tools found here. 
NBA Lineup Generator: Possibly one of the most used tools around, this tool allows you to get the most information as quickly as possible. It can be found here. 
XFL DFS: Oh, just because the NFL season is over does not mean the violence on blades of grass stopped. You can get started with our Week 1 DFS picks and preview piece found here, then get involved with a 50 percent off promo here. 
About The Best Lineup Generator And Stokastic's Best DFS Tools
Daily Fantasy Sports (DFS) has become increasingly popular in recent years, with millions of players around the world participating in daily, weekly, and seasonal contests. DFS is a game of skill where players draft a virtual team of real-world athletes and compete against other players based on the statistical performance of those athletes in actual games. In DFS, players have to create their roster within a fixed salary cap and try to get the most points in a contest.
While DFS is a fun and exciting way to engage with sports, it can also be challenging to consistently pick winning teams. That's where Stokastic's industry-leading and best DFS tools come in. Stokastic is a platform that provides DFS players with the tools and insights they need to make better decisions, which ultimately translates into better performance and increased winnings.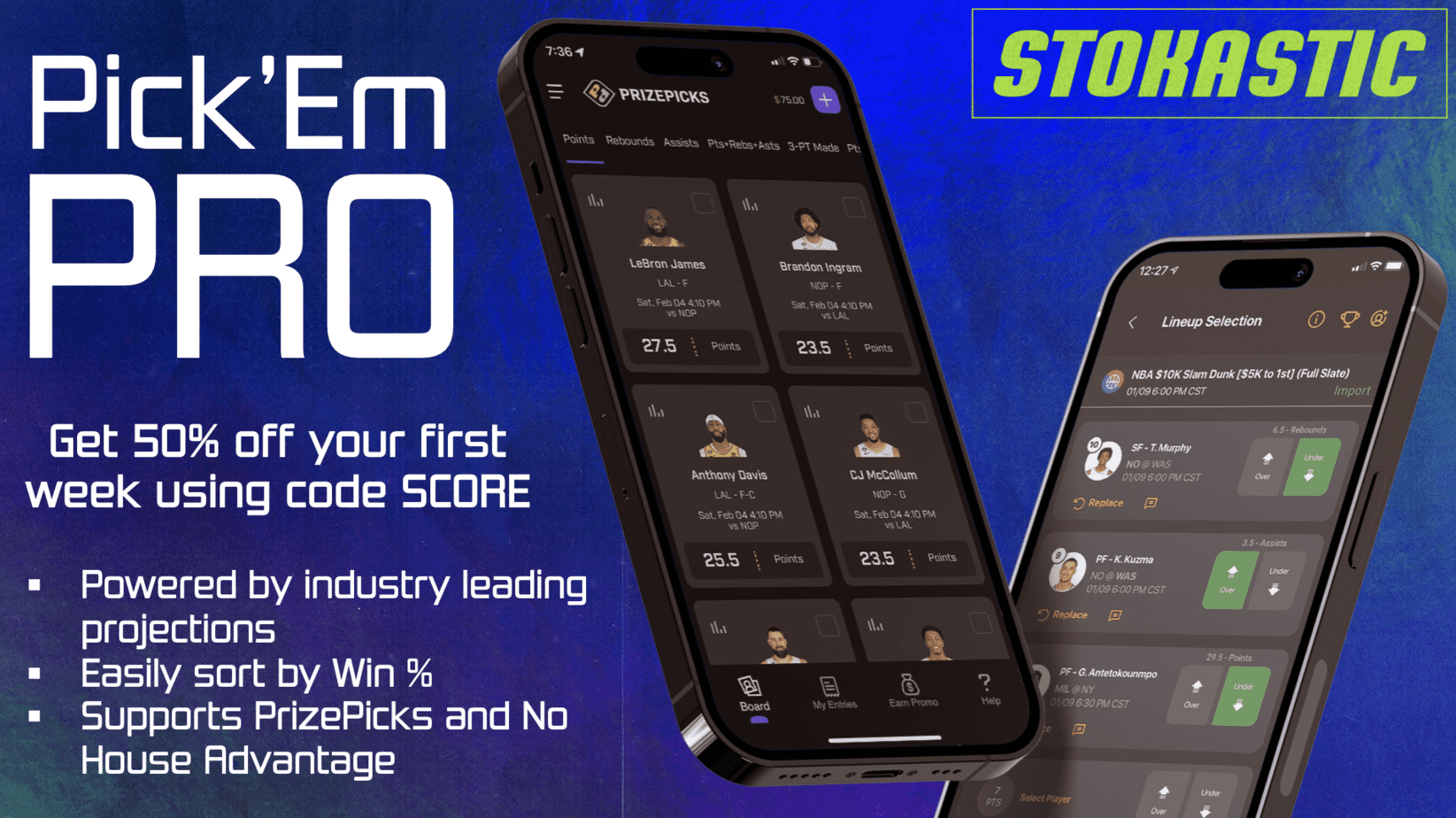 Stokastic's DFS tools are designed to help players at every level of expertise, from beginners to advanced players. Their tools provide data-driven insights that give players a significant edge over their competition. They offer a suite of tools that can be used to make better lineup decisions, including:
Player Projections: Stokastic's player projections help players understand the expected performance of each athlete in upcoming games, including their expected points and value.
Advanced Statistics: Stokastic's advanced statistics provide deeper insights into player performance, such as historical performance data, usage rates, and more.
Lineup Optimizer: Stokastic's lineup optimizer takes into account player projections, salary cap, and other factors to generate the optimal lineup for each contest.
Bankroll Management: Stokastic's bankroll management tools help players track their winnings, losses, and performance over time to make better decisions about how to allocate their resources.
Daily Fantasy Strategy: Stokastic's strategy guides offer comprehensive advice on how to build a winning DFS lineup, covering everything from salary cap management to player selection.
Stokastic's tools are also available across multiple sports, including football, basketball, baseball, and more. They offer players insights into all major DFS providers, including DraftKings, FanDuel, Yahoo, and more.
In summary, Stokastic's industry-leading DFS tools provide DFS players with the tools they need to make better decisions and improve their performance. Their data-driven insights and analysis give players an edge over their competition, and their comprehensive suite of tools can be used by players of all levels. If you're looking to take your DFS game to the next level, consider giving Stokastic's tools a try.