Stokastic's latest innovation in Daily Fantasy Sports is here. We're excited to introduce MLB Sims, the newest option for players to catch up to the professional players in MLB DFS.
This cutting-edge tool will revolutionize the way MLB DFS players approach lineup construction by harnessing the power of Stokastic's contest simulations. Users can simulate lineups against each other thousands of times, unlocking deep insights and metrics to identify the highest ROI lineups.
MLB Sims is a remarkably in-depth tool that will elevate any MLB DFS player process once they understand how it works and how to apply it.
To sign up for MLB Sims, click here. 
What is MLB Sims?
The tool is unlike anything on the market. MLB sims allows users to upload as many as 2000 lineups, putting them against each other in a lifelike MLB DFS slate simulation. Seasoned professionals have long leveraged simulation tools like this, and now you can effortlessly do so as well.
Here's how it works. Users upload a .csv file with 250, 500, 1000, 1500 or 2000 DFS lineups. Typically, users upload a set of lineups that reflects how the field will play, including stack, hitter and pitcher ownerships. Users can then hit the "Run Contest Simulation" button to begin finding the highest ROI lineups. They can do so against Stokastic's DFS projections or tailor the simulations by uploading custom fantasy point and ownership projections.
Users will access a wealth of data points within 30-60 seconds of running the contest sims. The data includes individual player ROI, stack ROI and full lineup ROI. It will also reveal exposure percentages based on favorited lineups, and other invaluable insights.
Users can access this data quickly and efficiently, especially once they go through a breakdown of this process, beginning at the lineup level.
Lineups
The lineups tab provides comprehensive lineup analysis within MLB Sims. This tab features seven distinct columns that offer sortable insights. Each tab describes the following:
Simulated ROI%: This column presents a lineup's ROI percentage based on the simulations that were run. It's the gold standard metric on this page, ranking the lineups from best to worst.
Projected Fantasy Points: the combined average projected fantasy points for each player in the lineup.
Own Sum: This column displays the combined projected ownership of the players within a lineup. It provides insights into the lineup's popularity among other DFS players.
Win%: The win percentage shows how many times a lineup finished first in the thousands of contest simulations. It's an indication of a lineups upside and ability to takedown GPPs.
Top 10%: Indicates how often a lineup finished inside the top-10 of contests across the simulations.
Cash%: Displays how often a lineup cashed over the simulations. This provides insight into a lineup's consistency and competitiveness.
Lineups: The actual lineups that were entered into the simulation engine. It allows you to review and reference specific lineups with ease.
In addition to these powerful metrics, there is a convenient "Quick Favorite" option located at the top right of the screen. This allows you to quickly favorite MLB DFS lineups in groups, making them easily exportable to DraftKings or FanDuel.

Player ROI
The Player ROI tab gives users the ability to dive into individual player performance. You can analyze the way every player fared in the simulations in terms of ROI. This step can be crucial for roster construction, allowing users to understand which players have additional value relative to others. Likewise, it lets users decide who to fade, or where to reduce exposures.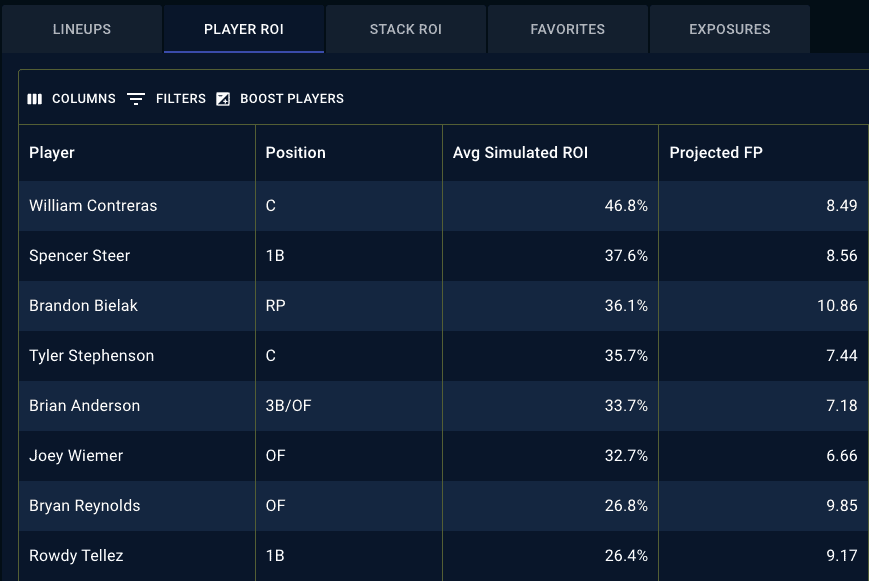 Stack ROI
Like individual players, the value of a team stack is also crucial in MLB DFS. The Stack ROI tab gives a comprehensive overview of stack profitability. It helps identify the most lucrative stacking options for lineup sets. Users will uncover which teams and stack types deliver on a consistent basis throughout the simulations. Conversely, the analysis will enable users to identify teams that might underperform, avoiding the pitfalls of having too much exposure to a low, or negative ROI team stack.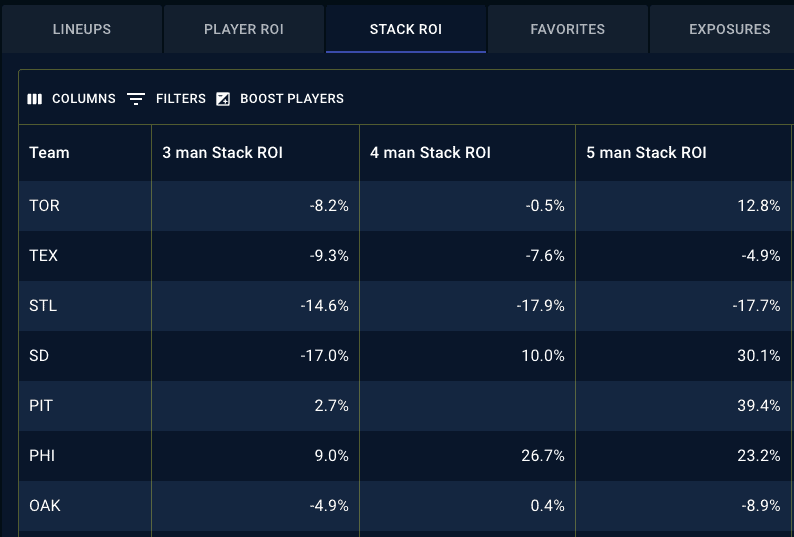 Favorites
As users go through their lineups and ROI data, they'll want to favorite those they intend to keep and use for the slate. The Favorites tab is where users can conveniently locate all their favorited lineups from the simulations. Whether you've favorited lineups based on their simulated ROI, projected fantasy points or another criterion, the Favorites tab streamlines the organization process. It facilitates easy lineup portfolio analysis and for users to fine tune their set before uploading.

Exposures
Finally, users can track and manage their lineup set in the Exposures tab. This section is based on all of a users favorited lineups. It also breaks down essential metrics like Player ROI, fantasy points, field ownership percentage, and leverage on each player.

Conclusion
With comprehensive metrics, in-depth analysis, and advanced features, MLB Sims provides invaluable insights for informed decision-making. It's a game-changer in the world of Daily Fantasy Sports lineup optimization that will give users a massive edge on the competition.
For less than $7 per day, you can unlock the power of this tool and take your MLB DFS strategies to new heights. Don't miss out on the opportunity to elevate your game! Purchase MLB Sims today and experience the difference it can make in your DFS process.