With a break in the NCAA Tournament until Thursday, the NIT has graced CBB DFS players with a pair of games this Tuesday, March 21. This column will dive into each game and highlight the top March Madness DFS picks and value plays to target with the help of Stokastic's CBB DFS projections.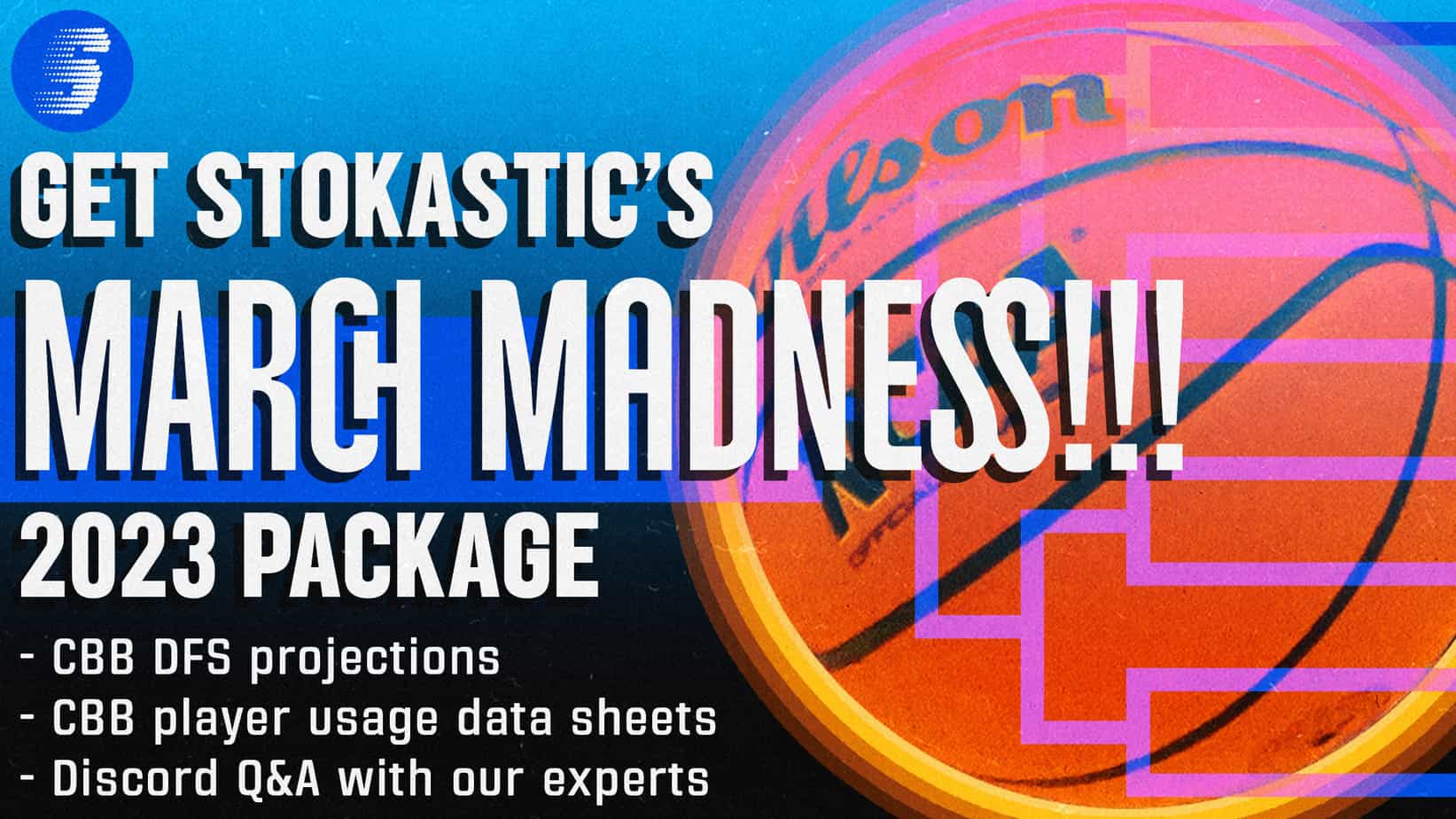 March Madness DFS Picks: NIT (March 21)
North Texas vs. Oklahoma State
Both games on this slate have miniscule totals, but this particular game is at 124 total points. Oklahoma State has a 4.5-point advantage, but North Texas cannot be ignored on this particular slate. The Mean Green played without Abou Ousmane ($6,500) in their first games. Away from the team due to a family matter, his status is questionable here.
Regardless, the team flows through usage leader Taylor Perry ($8,400). Perry has an absurd 23.1% shot rate, 19.6% rebound rate and 23.3% assist rate in North Texas' last three games. The next most attractive plays are Aaron Scott ($7,300) and Kai Huntsberry ($6,500). Scott fouled out of North Texas' last game in 25 minutes. He also has an awful 8.6% usage rate, so his production is dominated by peripherals. Huntsberry has reached at least 32 minutes in three straight games for North Texas, with a 20% shot rate, 14.1% rebound rate and 30.2% assist rate in that span. Rubin Jones ($5,800) could be used as a contrarian pivot off Huntsberry, but his 10.5% usage rate leaves much to be desired. If Ousmane sits again, expect some combination of Jayden Martinez ($5,000) and Moulaye Sissoko ($3,000) to replace him.
Oklahoma State could return Avery Anderson ($6,400) for this game, but that seems unlikely at this point. The team also lost rotational guard Chris Harris to a torn ACL. Bryce Thompson ($7,000) and Caleb Asberry ($6,700) continue to lead this backcourt with 17.7% and 13.5% usage. Both will play well above 30 minutes on most nights, with Thompson posting a 21.5% shot rate and 22.2% rebound rate over the last three games. John-Michael Wright ($5,700) rounds out the guards with a 15.8% shot rate and 19.4% rebound rate in Oklahoma State's last three games.
As for the frontcourt, Kalib Boone ($5,300) has been benched for Tyreek Smith ($6,200). While this could flip at any second, Smith has played 32 and 31 minutes over the last two games. He has a 13% shot rate and 25.7% rebound rate in this span. Moussa Cisse ($6,600) frustratingly continues to play 20 to 26 minutes per game despite elite rates. Cisse provides the ultimate GPP play in the off chance that he reaches 28 to 30 minutes in a game. With all of the guard injuries, Quion Williams ($4,600) has played 24, 28 and 18 minutes over the last three games, potentially providing value. Woody Newton ($3,500) also likely will play somewhere around 15 minutes at a cheap price tag.

Wisconsin vs. Oregon
In a slightly better game environment, Oregon has a 5-point advantage over Wisconsin in a game with a 133.5 total. Wisconsin is the healthier team and should field their full lineup. Chucky Hepburn ($7,300) runs point and will play most minutes behind a team-leading 18.7% usage rate. Hepburn has a 21.3% shot rate and 34.6% assist rate over the last three games.
While the rates are solid for Hepburn, frontcourt players Steven Crowl ($6,900) and Tyler Wahl ($7,500) offer an easier path to the double-double bonus. Crowl battled fouls last game, but he has a 20.1% shot rate, 13.2% rebound rate and 15.4% assist rate in the last three games, and Wahl is at 14.2%, 19.8% and 19.2%, respectively. Rounding out the guards, Connor Essegian ($6,600) and Max Klesmit ($5,300) both generally push 30 minutes. Essegian generally functions as a pure shooter, but he added a 19.8% rebound rate to his 18.9% shot rate over the last three games. Klesmit is the team's glue guy but has poor rates. Carter Gilmore ($3,000) will play up to 20 minutes if one Crowl or Wahl foul. The rest of the rotation is pretty forgettable.
Oregon continues to deal with absurd injuries. The Ducks have been without their three best players in N'Faly Dante ($8,100), Will Richardson ($6,800) and Jermaine Couisnard ($6,100) over the last two games. All three are questionable and look like longshots to play. In this new roster configuration, Keeshawn Barthelemy ($6,300) and Rivaldo Soares ($5,900) have become the two most consistent players. Both continue to eclipse 30 minutes with ease while logging consistent usage across statistical categories. Barthelemy has the higher rebound rate, but Soares makes up for that with a better rebound percentage.
Quincy Guerrier ($6,000) rounds out the group, but even the top departures of Dante, Richardson and Couisnard cannot coax him into more usage. Guerrier is nothing but a contrarian option. In the frontcourt, Nate Bittle ($7,000) and Lok Wur ($3,700) have taken on expanded roles. However, Kel'el Ware ($4,800) will log somewhere between 15 and 20 minutes per game, making this a muddled situation. Lastly, Tyron Williams ($4,000) has 26 and 23 minutes over the last two games. He could be an option as a pure punt play.