College Basketball continues with a two-game slate on Tuesday, March 28 ahead of the NIT semifinals. This column will dive into each game and highlight the top March Madness DFS picks and value plays to target with the help of Stokastic's CBB DFS projections.
March Madness DFS Picks | NIT Semifinals
North Texas vs. Wisconsin
North Texas takes on Wisconsin as a 1.5-point favorite in the first of two NIT semifinal games, a game with a 115.5-point total. North Texas defeated Alcorn State, Sam Houston State and Oklahoma State on the way to the semifinal. Likewise, Wisconsin knocked off Bradley, Liberty and Oregon to reach this point. Overall, this game is significantly worse for DFS, making it one to limit exposure to.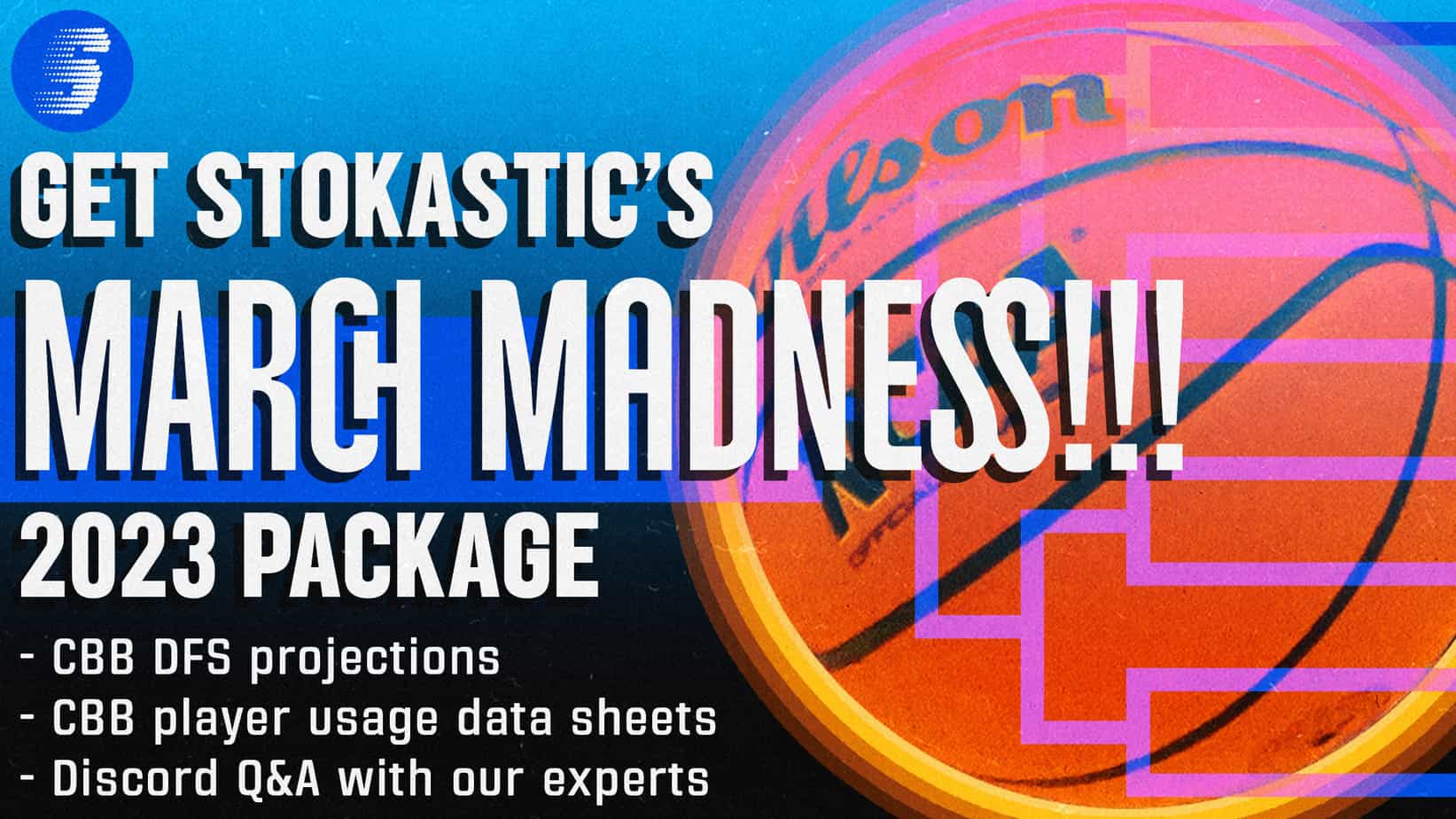 North Texas runs a tight rotation, exacerbated by the loss of Abou Ousmane. The usage leader this year is Taylor Perry ($8,400), who is a little overpriced for this slate. While he plays every minute and has a 26.1% shot rate, 18.4% rebound rate and 21.4% assist rate, this is a lot to spend in this spot. Aaron Scott ($7,100) will also play every minute as long as he doesn't foul. This pricing doesn't really make sense with Scott bringing the lowest usage among the starters. Kai Huntsberry ($6,600) stands out more at a cheaper price. Huntsberry will also play every minute. He has a 20% shot rate. 17.4% rebound rate and 31% assist rate over the last three games, making him the top price adjusted play for North Texas. Rubin Jones ($5,700) will function as the glue guy here. Jones does a little bit of everything, but he doesn't have elite usage in any statistical category. He provides a contrarian option on a short slate. The main beneficiary of the Ousmane injury will be Moulaye Sissoko ($4,800). Sissoko immediately played 34 minutes in North Texas' most recent game. He has a 19.4% rebound rate over the last three games, while playing under 20 minutes in two of them. He makes sense as a pay down option. From there, Jayden Martinez ($4,300) would play more if either forward fouls. Tyree Eady ($4,100) and Matthew Stone ($3,500) will play around 10 minutes each off the bench.
Wisconsin has become an increasingly difficult team to evaluate outside of Chucky Hepburn ($6,700) and Max Klesmit ($5,300). Hepburn functions as the team's primary point guard with a team-leading 19.8% usage rate. Klesmit is a glue guy, who has been playing strong minutes of late. However, he doesn't really do much of anything offensively on the court, making him a tough click even at a cheap price. Connor Essegian ($6,100) saw his minutes plummet from 33 to 23 last game. Essegian has a strong 16.4% shot rate and 14.9% rebound rate over the last three games, making him an interesting contrarian piece. In the frontcourt, Steven Crowl ($7,000) and Tyler Wahl ($7,400) only played 25 and 27 minutes in their last game against a smaller Oregon. However, instead of playing more guards, the Badgers fed Carter Gilmore ($3,700) 28 minutes. It remains to be seen whether this change persists. Ultimately, it puts Gilmore in play as a value and just increases the volatility of Crowl and Wahl. From there, Jordan Davis ($3,400) will play somewhere around 15 minutes off the bench and do very little with them. Overall, this is a tough team to target.
Legal gambling age is 21+ and in most states. Gambling Problem? Call or text 1-800-GAMBLER
Utah Valley vs. UAB
This is easily the better game on the slate. UAB is a 3-point favorite over Utah Valley in a game with a 151.5 total. Utah Valley knocked off some solid teams in New Mexico, Colorado and Cincinnati to reach this point. Likewise, UAB defeated Southern Miss, Morehead State and Vanderbilt to punch their ticket to the Final Four.
Utah Valley plays a fairly tight rotation. Trey Woodbury ($7,500) dominates with a 21.5% shot rate, 18% rebound rate and 42% assist rate. He is significantly underpriced. Aziz Bandaogo ($7,700) is more expensive with a 13.4% shot rate, 25.6% rebound rate and 10% assist rate in the last three games. Both can be played together, but Woodbury is the superior price adjusted play. Justin Harmon ($7,200) also projects well behind a 24.2% shot rate, 12.8% rebound rate and 14% assist rate in the last three games. Tim Fuller ($6,000) and Le'tre Darthard ($6,000) round out the starting five and will play 30-plus minutes without fouls. Fuller comes in as a rebound dependent forward. He has a 10.2% shot rate, 18% rebound and 10% assist rate. However, he fills a tricky forward position for an affordable price behind Utah Valley's elite team total. Darthard is a little more shot dependent than the rest. However, he fouled out in 27 minutes last game, potentially giving him some untapped upside.
On the UAB side, Jordan Walker ($8,100) has an absurd 25% usage rate. He only has a 22.4% shot rate and 27.5% assist rate in UAB's last three games. However, the Blazers have eased off his minutes in blowouts. He played 38 minutes in a competitive game last time out. From there, Trey Jemison ($7,300), Eric Gaines ($6,800) and KJ Buffen ($6,900) are all involved. Jemison has a 12.9% shot rate and 26.2% rebound rate over the last three games, giving him some double-double appeal. Buffen might be the most interesting of this group, behind a 17.9% shot rate, 17.7% rebound rate and 12.5% assist rate in that same span. Both have shown the ability to play 30-plus minutes. Gaines has not played 30 minutes in three straight games, making him a little riskier here. He does have solid usage, highlighted by a 32.5% assist rate in the last three games. If he jumps back above 30 minutes, he should be a solid GPP play. Beyond these four, UAB uses a deep bench. Tavin Lovan ($4,600) starts, but he has only played 20, 11 and 14 minutes in the last three games. Ty Brewer ($5,400) looks more interesting, but he has been volatile with 21, 32 and 11 minutes in the last three. Javian Davis ($4,000), Ledarrius Brewer ($4,200) and Tony Toney ($3,600) will all play around 10 minutes off the bench, offering nothing more than GPP punt appeal. Efrem Johnson ($3,000) will play even less, but is also minimum priced.