If you've watched a Stokastic YouTube show in the last few weeks then you've probably heard our DFS pros talk about MLB Lineup Generator. In fact, Neil Orfield is dedicating an entire video to Lineup Generator every day. Neil went through his lineup building process on Monday's show.
Let's see how it fared on Monday night's MLB DFS slate.
MLB Lineup Generator provides users with up to 20 positive ROI lineups in a matter of seconds. Users can choose their preferred stack types, whether they want chalky, contrarian or balanced lineups and decide if there are specific lineups they want to remove from their pool. Every lineup uses Stokastic's industry leading fantasy point and ownership projections. They are built and vetted by the pros using MLB Sims that pits each one against thousands of other lineups to uncover the top performing lineups.
Not only do we know they're positive ROI prior to the slate, the MLB Sims will show us how they did once the slate unfolded.
MLB DFS Lineup Generator: How Neil Orfield's Lineups Measured Up in the Sims
Neil Orfield entered lineups in more than one contest, but he utilized his full 20-lineup set in the "Four Seamer." It makes sense, it's a 20-entry contest. The Four Seamer has 14,863 other lineups. It's $4 an entry with a $50,000 prize pool and $5,000 to first place. Needless to say, contrarian lineups are the way to go in a GPP of that size and payout structure.
Neil's lineups that he generated and entered into the Four Seamer may look a bit different than what he built live on stream. That's because MLB Lineup Generator uses Stokastic's projections, which are updated throughout the day as MLB news and information comes out. Whenever they are built, they are theoretically positive expected value. That means that if the slate were played out over and over again, these lineups would have a positive ROI.
We confirm that by carrying out the process in our MLB Sims. The Sims take up to 2000 user generated lineups and play out MLB DFS contests as if those were what the field had entered. They are then scored based on their overall ROI, percent chance of winning and of reaching a min-cash. Those are used to grade the lineups in Lineup Generator, as well.
The key is to go back to MLB Sims after the slate to see how the lineups performed from a theoretical perspective and an actual one. The MLB Sims has a post-contest simulation that takes the actual lineups that everyone entered into an MLB DFS contest and uses the Sims to see how they would do if the baseball slate was played out thousands of times. It takes a ton of luck to hit first place in a field of 14,863 people like the Four Seamer, but the post-contest simulations can give you an idea of how often you will do so, and if the lineups you entered will do it enough to keep your ROI in the green.
Here is how that looks for Neil Orfield's MLB Lineup Generator lines in the Four Seamer: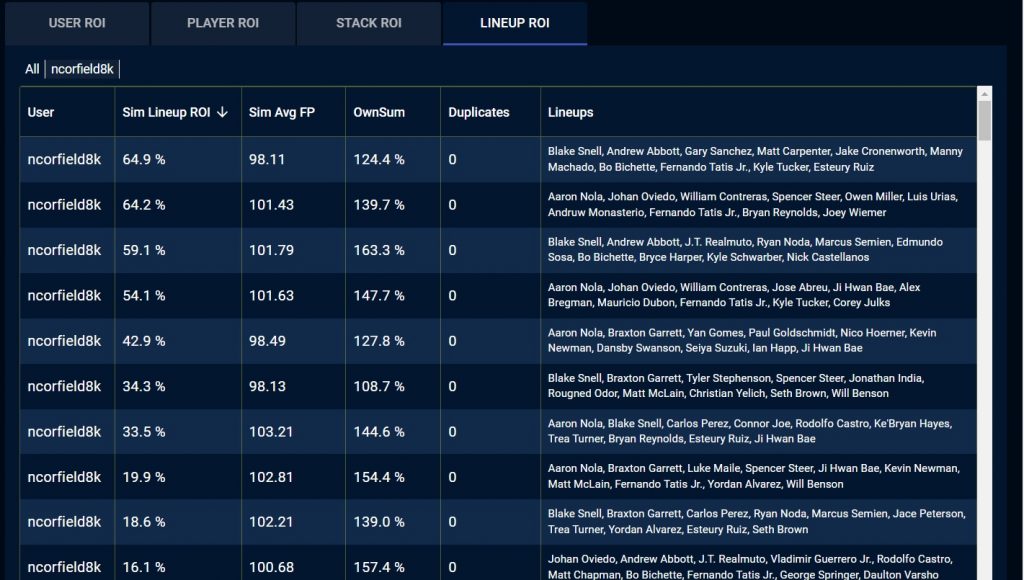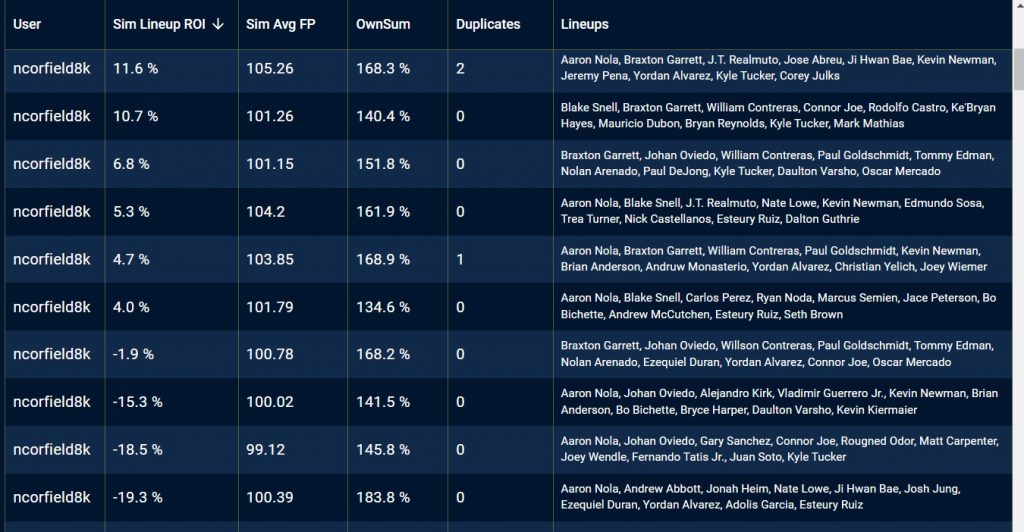 Unfortunately, the actual ROI of Neil's lineups didn't match his simulated results. But that's to be expected given the volatile nature of GPPs. Before exploring the Simulated ROI of his lineups, a brief glance of the contest on DraftKings shows some of the potential of his portfolio. Two lineups finished in the top-400, one at 171 and the other at 391. Those are just outside the top 1% of the 14,000 man field and indicate serious upside.
The lineup that finished 171st scored 176.85 fantasy points. The screenshot above shows that it's average projection in the pre-contest sims was 104.2. It's expected ROI was 5.3%. It cashed for $20, so it far exceeded it's expectation, despite the negative ROI of the portfolio in total.
Neil's second high-scoring lineup finished 391. It had the slate-breaking grand slam from Corey Julks along with the Houston Astros' Yordan Alvarez and Kyle Tucker. That trio did serious damage, which goes to show you how hard it is to win a large field GPPs.
The overall 20-lineup set created on MLB Lineup Generator had a 16% simulated ROI once the "cards were flipped over." It was built using simulations derived from Stokastic's fantasy point and ownership projections to confirm it's pre-lock ROI. Once we got to see the actual contest's ownership based on who the field rostered, the post-slate simulations confirmed their value.
Nothing is perfect, but given the slate dynamics the overall portfolio had a high expectation. Four lineups pulled up the rear with negative simulated ROIs. But the ability to put 16 +EV lineups largely outweighed that. It shows the power of MLB Lineup Generator, coupled with the ability to apply MLB Sims. You can try both out for yourself, or subscribe to the MLB Sims to add your own simulations to your DFS process.