The Cincinnati Reds called up mega prospect Elly De La Cruz on Tuesday afternoon, creating a ton of buzz leading up to the MLB DFS slate. De La Cruz was inserted into the Reds' cleanup spot and was the minimum price of $2,000 on DraftKings and $2,800 on FanDuel. He was eligible at shortstop and third base. Ironically, the shortstop position was loaded with value on the slate. The Pittsburgh Pirates were in a good spot against the Oakland Athletics, making their leadoff hitter Tucupita Marcano an even better value than De La Cruz. One question is how these two stacked up once the slate was locked. Did De La Cruz's prospect status lead to him being over-owned? How did that impact the ROI of Reds stacks? The MLB Sims can help answer these questions.
MLB Sims allows users to simulate the DFS slate using their own custom projections. They upload up to 2,000 lineups that reflect the field's play and run these against each other to find the highest-ROI players, stacks and overall lineups. MLB DFS players looking for a quick solution should check out MLB Lineup Generator to build up to 20 high-ROI lineups from Stokastic's model.
MLB DFS Simulations: How Elly De La Cruz Did in the Sims
Stokastic's projections got Elly De La Cruz's ownership right — at least in DraftKings' flagship MLB DFS GPP, the "Relay Throw." His final ownership projection before lock was 21.1%, and he came in at 22% in that GPP. If you take De La Cruz's projection and range of outcomes in the simulation, that is simply over-owned, at least in a vacuum. He had -24.1% ROI in Stokastic's post-contest simulations.
Don't get too hung up on that number; DFS is about building lineups, not individual plays. His negative ROI could be offset depending on what other players you built around. That and correlation are also key.
There was a similar story for Marcano. He was projected for 16.9% ownership and ended up at 22% alongside De La Cruz. Marcano's simulated individual player ROI was -14.9%, but again, that's looking at Marcano in a vacuum.
The key for Marcano and De La Cruz, whether in 3-man, 4-man or full stacks, is that their salary allowed players to spend up elsewhere. There were strong pitching options on the slate and several high-priced hitters that had strong projections. Eating the ownership and ROI isn't always a bad thing if the full lineup is constructed well.
But one area that the MLB Sims can help is in finding other ways that you could spend down to get an edge on the field. The post-contest ownership showed several other spend-down players turn in strong simulated ROIs.
Matt Mervis was one of those players. He was $2,100, and while there was more opportunity cost at his first base position, he provided a way to change the build and get off the min-priced shortstop chalk.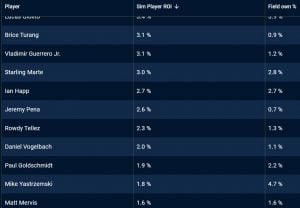 Mervis came in at a miniscule 1.6% ownership. His simulated ROI was likewise 1.6%. His value and low ownership were part of why Chicago Cubs 5-man and 4-man stacks also ranked as some of the highest-ROI stacks in Tuesday's post-contest simulations.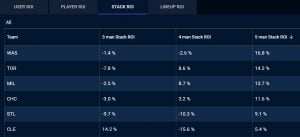 Utilizing Mervis could potentially unlock other shortstops in the $3,000-and-up price range that had significantly higher ROI than the chalk value plays. Brandon Crawford of the San Francisco Giants ($3,200) had a 3.9% sim ROI, while C.J. Abrams ($3.900) reached 5.9% ROI with just a 1.5% ownership from the field. Spend-ups like Francisco Lindor, Jeremy Pena and Bo Bichette all performed well in the sims, and Dansby Swanson had one of the highest individual player ROIs at 6.6%. With nearly half the field on De La Cruz and Marcano, it left a ton of leverage at the position.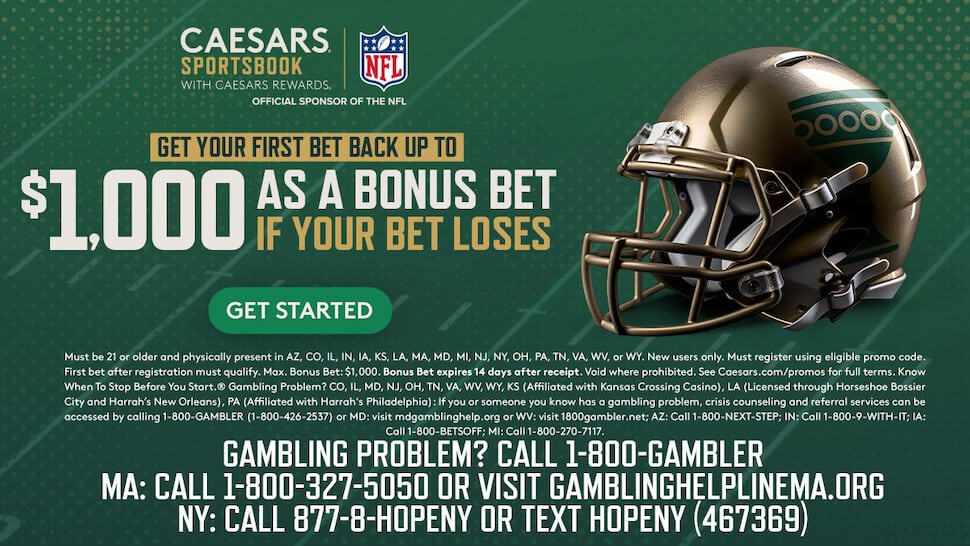 Most of the work you will do in MLB Sims is for mass multi-entering, but looking at positions in this way will offer insight into players that might be going overlooked. It can also help get a feel for where and how lineups can differ, and what type of ROI you'll be sacrificing by constructing similar to the field. The presence of two chalk pieces at the same position and price on DraftKings made the exercise a bit clearer. Things are a bit different on FanDuel, where De La Cruz had third base eligibility and a higher salary, although the lack of contest .csv's at the Blue Site make it impossible to get specific results.
Finally, these numbers reflect the flagship "Relay Throw" GPP. They varied tremendously in single entry contests. The $121 "Battery" saw ownership condense heavily onto De La Cruz despite the higher projection and similar price for Marcano. But both were still slightly better plays from an ROI perspective.
De La Cruz came in at 42.5% owned compared to Marcano at 30.1%. Yet their individual player ROIs were much less in the simulations of the $121 Single Entry Battery than for the Relay Throw. It makes sense and confirms a common intuition: You can eat more chalk in smaller contests where you don't have to beat so many others. Likewise, the payout structure of the single entries tends to be a bit "flatter," meaning there's a bit more equity for getting over the cash line.
The more you dig into the MLB Sims, the more you'll be able to pull insights beyond your basic intuitions and comparisons of ownership and lineup construction. You can sign up for MLB Sims and put it to the test for post-slate analysis and pre-build lineup construction.