The MLB DFS main slate for today is huge, presenting numerous value options for daily fantasy lineups. In this breakdown, we will analyze each game and pinpoint the players to target. Without further ado, here are some potential MLB DFS value picks for Monday, May 15.
MLB DFS Value and Advice | May 15
New York Yankees at Toronto Blue Jays
Alek Manoah has struggled this season, but his salary has decreased as a result, making him an attractive option as a SP2 in a tough matchup. Both offenses are middle of the pack in terms of success rate but are also not pulling much ownership, making them interesting in GPPs.
Seattle Mariners at Boston Red Sox
Wind is blowing out in Fenway, giving the game a 10-run total despite two solid pitchers on the mound. Tanner Houck is the weaker of the two pitchers, and he has had some issues with left-handed power in his career. Jarred Kelenic and Cal Raleigh stand out individually for Seattle, but the right-handed power bats are strong plays as well. It is more difficult to find a specific hole in George Kirby's game, but Boston stacks are viable because of the favorable hitting conditions.
---
Latest MLB DFS Content
---
Milwaukee Brewers at St. Louis Cardinals
Freddy Peralta has struck out 27.1% of hitters this season, which is the fourth-highest mark on tonight's slate. The Cardinals have plenty of dangerous hitters in their lineup, but Peralta is one of the highest-upside pitchers on the slate. Jack Flaherty is a wild card, as he has not produced consistent results since returning from his injuries, but he is relatively inexpensive and most pitchers tonight have flaws. The bats are not interesting, but Milwaukee is somewhat interesting since Flaherty has been so inconsistent.
Atlanta Braves at Texas Rangers
Cody Bradford is making his MLB debut. He posted strong numbers at Triple-A, but this is a tough landing spot against a dangerous Braves team. Atlanta is an appealing stack. Charlie Morton's strikeout numbers are down from last season, and he has a tough matchup. Still, he is only $8,500, so he is a viable SP2.
Chicago Cubs at Houston Astros
Framber Valdez is the only pitcher on the slate that has no red flags, making him an expensive but safe option. Jameson Taillon makes sense as a low-owned SP2 pivot away from the more popular Manoah/Morton/Flaherty group if using a popular stack. Astros bats are middle of the road in Top Stack percentage, but they are not very popular either. Individually, Yordan Alvarez and Kyle Tucker stand out against Taillon.

Cincinnati Reds at Colorado Rockies
The Reds have the highest chance of success on the slate and are also the most owned team. Their players are relatively cheap, making it challenging to get away from them entirely, even in tournaments. Matt McLain is an exciting option to consider, making his MLB debut batting second at just $2,000 on DraftKings. McLain had a .499 wOBA and 193 wRC+ in 38 games at Triple-A this season. While pitching in Coors Field is not ideal, Hunter Greene is an intriguing tournament play with a 29% strikeout percentage, which is the second highest on the slate. Additionally, he predominantly throws a fastball and slider, two pitches that are less affected by the altitude in Colorado. If not interested in Greene, the Rockies are projected for about one-third of the Reds' ownership, according to the Top Stacks Tool.
Kansas City Royals at San Diego Padres
Michael Wacha is an average mid-range pitcher who is relatively inexpensive and pulling some ownership. The Padres have a 5.5 implied run total against Brad Keller. Although Keller does not typically give up a lot of power, he also does not miss many bats. The Padres have power hitters throughout their lineup, giving them a high ceiling. Bobby Witt Jr., Vinnie Pasquantino and Salvador Perez are interesting plays at the top of the Royals lineup despite a modest 3.5 implied run total.
Arizona Diamondbacks at Oakland Athletics
Drew Rucinski is one of the weakest pitchers on the slate, and the Diamondbacks have plenty of good hitters in their lineup. The only thing working against them is the park. Merrill Kelly is a popular pitching option as he faces one of the weakest offenses in baseball in a favorable pitcher's park.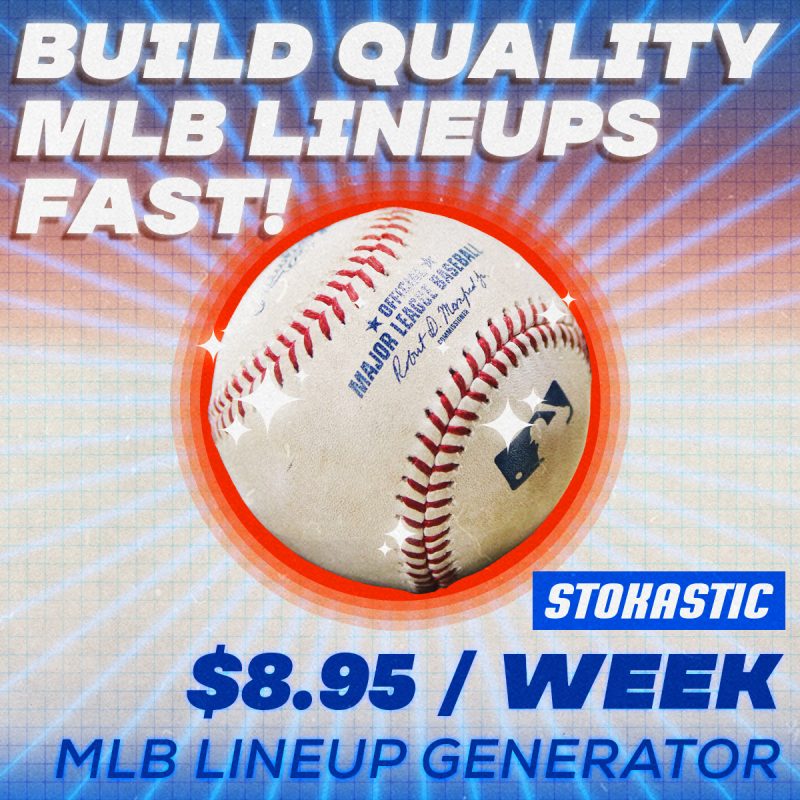 Philadelphia Phillies at San Francisco Giants
There are some concerns over how deep Alex Wood will go into the game since he only threw 46 pitches in his lone rehab assignment. He pitched an inning on Friday, essentially having him throw his bullpen session in an actual game. It is unlikely Wood will pitch for more than five innings or 75 to 80 pitches tonight, which caps his ceiling. There is not much interest in either offense, as it is a tough park for home runs and neither matchup is particularly appealing.
Minnesota Twins at Los Angeles Dodgers
Pablo Lopez is an intriguing tournament option with the highest strikeout percentage on the slate but is projected for just 6% ownership due to the challenging matchup. He has the fourth-highest chance of being a top-2 pitcher in the Top Pitchers Tool. He is the only pitcher other than Wood (who has pitch count concerns) that ranks in the top 10 of top-2 pitcher percentage that is pulling less than 10% ownership. It is a very difficult matchup at an elevated price point, so it is understandable to hesitate to roster him. If shying away from Lopez, consider rostering the high-upside Dodgers offense at just 3% aggregate ownership. Many talented players are being overlooked in this matchup because the other side of the matchup is intimidating. Minnesota has a more appealing matchup against Noah Syndergaard, who has only struck out 14.8% of hitters and has a 4.75 FIP this season.