MLB Bet Pro got the new week going strong with a 2-1 start yesterday — the only blemish was going against Andrew Abbott in his MLB debut. Abbott cleared by just half a strikeout, however, so it was nearly a perfect night. MLB Bet Pro is still up huge over the last month or so, and tonight we are using it again to pinpoint the best MLB player props on the huge Tuesday slate. One such prop is a big swing on a slugger getting some great home run odds, so let's delve into the model and see where he and some other targets fall on the EV scale.
Please note that these are just three of the +EV MLB player props on MLB Bet Pro; the model has over 100 other options, which you can access by signing up now to get Stokastic's Bet Pro offer: One trial month for $24.95 that gets you access to both NBA and MLB Bet Pro, plus access to our Premium Chalkboard!
3. Jesus Luzardo Under 7.5 Strikeouts (-118, FanDuel)

Luzardo has certainly deserved his higher strikeout lines since he is averaging 10.5 per nine innings (10th in MLB). However, he is not quite going deep enough into games to merit confidence in him going over 7.5. He would need to go seven innings at his per-nine rate to get to eight strikeouts, which he has only done once this year, and in total Luzardo has struck out at least eight only three times in his 12 starts. So while his averages are strong, his true volume is not quite high enough to back an over.
Yes, the Royals have a bad, strikeout-prone lineup, but it is also pretty righty-heavy, and Luzardo's strikeout rate drops to 25.7% in that split. As such, MLB Bet Pro projects him for 6.7 strikeouts and a 61% win expectancy on the under.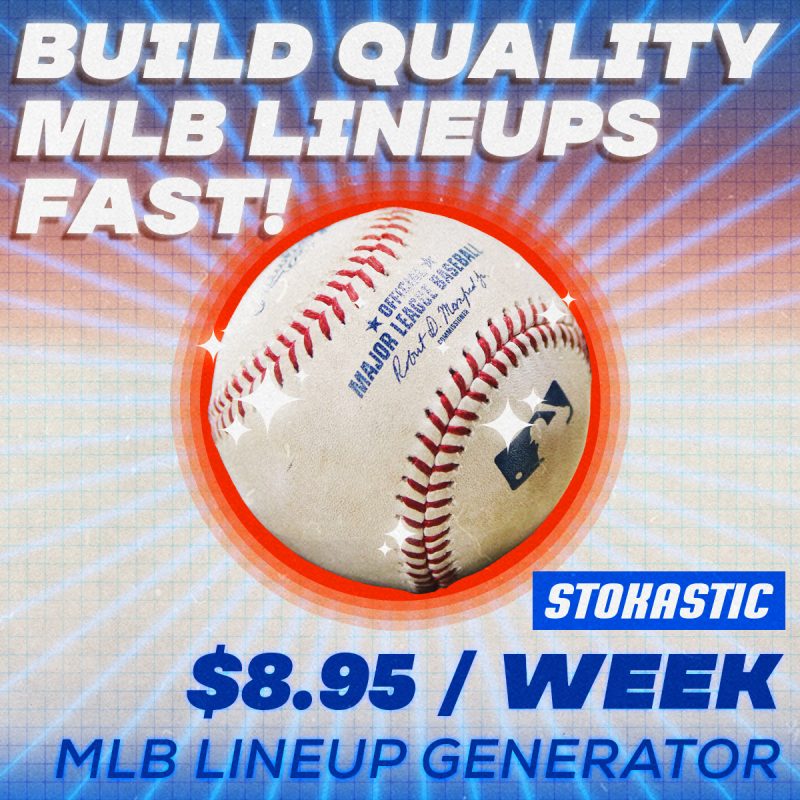 2. Tyler Nevin Under 0.5 Hits (+125, BetRivers)
This is a major small-sample alert with Nevin since he has only 40 plate appearances this year, but he is so far below the Mendoza line that he cannot even see the surface. Nevin has just four hits in those 40 plate appearances. Plus, he did have a larger sample of 184 plate appearances in 2022 and managed just a .197 average, totaling only 31 hits. All told this year, Nevin has hits in just three of his 13 games in which he had multiple plate appearances. His matchup with Taijuan Walker is pretty favorable since Walker is allowing contact and power this year, but at this point no matchup is truly favorable for Nevin.
MLB Bet Pro gives him a 52% chance of failing to register a hit, and at plus money, that gives the under an 18% expected ROI.
1. Rowdy Tellez Over 0.5 Home Runs (+550, PointsBet)

To be clear, home run bets are never going to be first on a list of best sEV plays since that factors in how much of one's bank roll a bettor should invest on the play. This pick is a good example since Tellez is only getting an 18% win expectancy on hitting a home run tonight. That said, players with his power are often seeing their odds to hit one out down in the +300 or even +200 range, so +550 is making this the top EV bet — even if it should just be a sprinkle.
Tellez is tied for 18th in baseball in total home runs with 12, his .233 ISO is 25th, and his 5.9% home run rate is 10th. In other words, he can be named among the top sluggers in baseball in terms of season-long production. He has also hit all but one of his home runs against righties, and his slugging jumps over 200 points in the split; today he matches up with Kyle Gibson, who has limited power overall this year but does give up his fair share to lefties. Tellez also could be in a positive regression spot since he has not hit a home run since May 22.
Again, this is a low-probability bet that is only worth a small wager; however, it is still MLB Bet Pro's No. 1 +EV play of the day, at 21%.