3 MUST BET Rudy Gobert NBA Player Props Tonight Kings vs. Jazz | 11/2/21
There are only five NBA games scheduled for Tuesday, and plenty of the game's stars will be in action. It is always fun to have betting action on marquee players and matchups in the form of NBA betting player props. That is where the revamped Awesemo OddsShopper Tool comes into play. Finding and betting profitable NBA player props has never been easier. Tonight, Awesemo has multiple must-bet projections for Utah Jazz center, Rudy Gobert.
The following looks at three NBA player props for Gobert ahead of tonight's game against the Sacramento Kings. Using both the Awesemo NBA Betting Player Props Tool and the OddsShopper Tool, we will aim to find optimal odds and positive ROI prop bets for Gobert in this matchup.
NBA Betting Player Props & Betting Picks | Rudy Gobert
With the newly renovated OddsShopper, finding the best NBA betting player props is extremely easy. Simply filter the bet selections, sort the page, and find the best pick to bet. The process is fast, simple and effective. See below for an example of how to use the tool to find positive ROI NBA player props for Rudy Gobert tonight.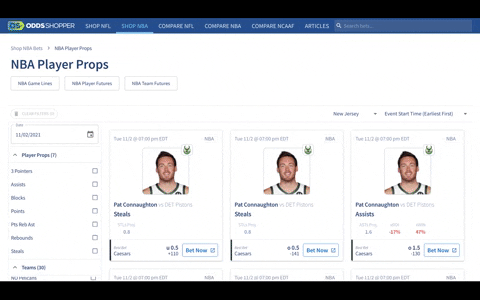 Over 14.5 Rebounds (+100, DraftKings)
Known for being a menace on the glass, Gobert comes into Tuesday night's matchup averaging a whopping 17.2 rebounds per game on the season. Not only is that number higher than Gobert's scoring average, but it is nearly three whole rebounds more than the next highest average (Jonas Valanciunas, 14.6). Gobert has grabbed 13 or more boards in each of Utah's six games to date. Gobert dominated to the tune of 20 rebounds in a head-to-head matchup against the same Kings the Jazz face tonight.
OddsShopper shows that the best  odds on both the over and under for Gobert's rebound prop tonight come from the same sportsbook. The total is certainly high at 14.5, but this is a number that Gobert has eclipsed in four of five games. Awesemo's props projections are confident that he will do so again tonight. They assign an expected ROI of 58% to these even-money odds on the over. The projections also expect Gobert to go over this total 79% of the time.
Over 13.5 Points (-118, FanDuel)
Much like his season averages to date, the scoring prop line for Gobert tonight is lower than his total rebounds. The line of 13.5 points is nearly 3 whole points below what Gobert has averaged on a per-game basis over the first two weeks. Scoring points certainly is not difficult for teams playing the Kings. Sacramento enters Tuesday's game surrendering nearly 112 points per game. Awesemo's props projections expect Gobert to score 16.45 points tonight, thus this over prediction has a strong expected ROI of 34%.
Under 2.5 Blocks (-149, Caesars)
Given that Gobert has recorded seven blocks over Utah's last two games, it makes sense to examine his line for blocks. The blocks total is 2.5 across the market. Although bettors have to lay juice to the under, it is the best option given the opponent that Gobert and Jazz are up against tonight. Only once all season has he failed to record a block in a game: Utah's first matchup against the Kings. Other than Richaun Holmes, Sacramento has very few offensive weapons in the frontcourt. With Gobert looming in the paint, expect the Kings to rely on their 3-point shooting heavily tonight. It is tough to envision Gobert getting enough opportunities to exceed 2.5 blocks in this matchup.
Thanks for reading to the end of this article! If you appreciate this free content and want to see more of it every day, you can help us out by sharing this article on social media!
Check out Stokastic's Best Bets home page for more sports betting picks and predictions.