Tonight features an eight-game slate, but one of these props listed below is from an afternoon game that starts at 3:45 p.m. ET. We are going with a 10x parlay today, which features the top ROI bets in the market based on simulations from Stokastic's team of data scientists. These parlays are built so that you exceed at least 10 times your initial bet. For this piece, we will use the OddsShopper MLB Parlay Builder paired with the Stokastic MLB projections to make the best MLB picks and parlays today.
MLB Picks and Parlays Today 8/4
It has been a little while since this parlay builder added a homerun prop, but Kyle Schwarber has entered the chat. Taking an under on a homerun is always a huge favorite, and it will help get this parlay to that coveted 10x number. Normally these numbers are much larger, but Schwarber has a career-high .293 ISO and 33 home runs already this season. His ISO and home run numbers increase against right-handed pitching significantly. Schwarber has a .339 ISO and 25 home runs against right-handed pitching, compared to a .209 ISO and eight home runs against left-handed pitching. The Nationals will pitch veteran Paolo Espino, who has an average 1.76 HR/9 this season. However, he has allowed a staggering 11 home runs in his last eight games. Usually home run prop bets are easy, but this one is a little risky due to the matchup.
Best MLB Pick Today: Kyle Schwarber UNDER 0.5 Homeruns (-200)
The Atlanta Braves open up a huge series with the New York Mets this evening and will send team leader in wins Kyle Wright to the mound. Wright has been incredible this season, posting a record of 13-4 and a career-best 2.93 ERA. He has also increased his strikeout rate from 17.1% last season to 24.0% this season. The Mets offense has been very difficult to strike out, as they rank as the third-lowest strikeout rate team in the league. However, Wright has been dealing lately, winning four straight starts and getting five or more strikeouts in three of his last four games. This is a good versus good matchup, and there seems to be a good amount of value with taking the Wright over 4.5 strikeouts tonight. The Braves are a slight underdog in this spot and the Mets are implied for 4.3 runs, but Stokastic projects Wright for 5.3 strikeouts, which is value to this over.
Best MLB Pick Today: Kyle Wright OVER 4.5 Strikeouts (-110)
---
The Latest Sports Betting Content from Stokastic Odds
---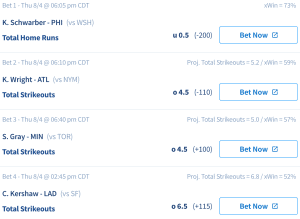 Sonny Gray is the first of two pitchers with juice on the over for strikeout props. In his first season with the Twins, Gray has a respectable 6-3 record and a 3.51 ERA. The disappointing factor is Gray's strikeout rate has dropped down to 22.8% this season. In his three seasons prior with the Reds, Gray averaged a 28.9% strikeout rate per year. However, he has gone over this prop line with ease in his last two starts, so maybe he is starting to find his groove with the punchouts. Stokastic's MLB Model has Gray projected for exactly 5.0 strikeouts tonight and an xWin rate of 57% in this matchup against the Blue Jays. Gray and the Twins are home underdogs, as the Blue Jays have won 11 of their last 14 games. This is also a team that rarely strikes out ranking 25th in the league this season. It is a tough spot, but like Wright, Gray has been pitching so well lately that there is value with this over.
Best MLB Pick Today: Sonny Gray OVER 4.5 Strikeouts (+100)
The only pitcher who is pitching this afternoon in this parlay is Dodgers ace Clayton Kershaw. The veteran southpaw has above a 25% strikeout rate for the fourth straight season and the 13th season in his 15-year career. The Dodgers lead the league in wins with 71, and Kershaw has a 7-3 record through 14 starts. They are a -230 favorite, with the Giants are only implied for 3.3 runs tonight. Kershaw pitched against the Giants two starts ago and struggled, allowing four earned runs in only 4.1 innings. Despite the struggles, Kershaw still racked up six strikeouts before being pulled from the game. Taking the over on any Dodgers pitcher is always a little risky due to their limited pitch counts, but the Giants have the ninth-highest strikeout rate against left-handed pitchers this season. The risk is worth it for this ace.
Best MLB Pick Today: Clayton Kershaw OVER 6.5 Strikeouts (+115)

Thanks for reading to the end of this article! If you appreciate this free content and want to see more of it every day, you can help us out by sharing this article on social media!
Check out Stokastic's Best Bets home page for more sports betting picks and predictions.