Mavericks vs. Hawks Betting Picks & Player Props for Tonight 10/21/21
In the first game of the night, the Dallas Mavericks and Atlanta Hawks will be making their season debut. Both teams were competitive in the playoffs last season but are looking to get over the hump this year, so starting off with a win will be a nice confidence boost for one squad. Be sure to utilize the Awesemo tools for all the best NBA betting tips. Let's take a look at the best Mavericks vs. Hawks NBA betting picks for the opening night matchup tonight, using the Awesemo OddsShopper.
NBA Best Bets for Mavericks vs. Hawks Tonight
Dallas Mavericks vs. Atlanta Hawks
Date: Thursday, October 21, 2021
Time: 7:30 p.m. EST
Venue: State Farm Arena — Atlanta, Ga.
Coverage: TNT
Mavericks vs. Hawks NBA Betting Picks + Odds Shopping
Finding the most profitable NBA betting picks has never been easier. The newly updated OddsShopper tool is like the Amazon of sports betting. Simply filter, sort the page and find the NBA best bets within seconds, as seen below.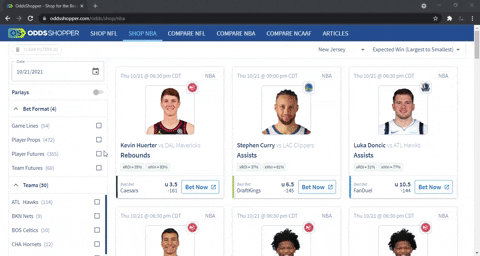 Kevin Huerter Under 3.5 Rebounds (-161) at Caesars Sportsbook
As shown by the GIF above, sorting the player props for this game by the expected win percentage brings this prop to the very top. The OddsShopper tool gives this Kevin Huerter rebound prop an 83% chance to hit the under and a 35% ROI.
Last season Huerter averaged 3.3 rebounds per game in just over 30 minutes of action per game. Tonight Awesemo's projections expect Huerter to play only 25.8 and grab 2.63 rebounds. With both Bogdan Bogdanovic and De'Andre Hunter both healthy, the Hawks will need fewer minutes from Huerter tonight.
Luka Doncic Under 10.5 Assists (-144) at FanDuel Sportsbook
Many think of Luka Doncic as a stat-packing guard like Russell Westbrook, but they may be surprised to learn that Doncic averaged only 8.6 assists last season, which is almost two full assists under this prop line. The Mavericks did not make many moves this offseason, which means there are not many scoring threats surrounding Doncic, which hurts his assist production. Awesemo's projections have Doncic slated for 9.16 assists tonight. The OddsShopper tool gives this prop a 77% to go under and a 31% ROI.
Clint Capela Over 11.5 Rebounds (-115) at DraftKings Sportsbook
Last season Clint Capela led the NBA in rebounds per game (14.3), and there is little reason to believe this will not continue. His minutes are safe, with Awesemo projecting him to see 31.5 minutes of floor time. The Mavericks also do not have a dominating presence down low that is capable of battling with Capela on the boards. Look for Capela to hang around the paint and make a large dent in this prop by halftime. Awesemo's projections have Capela slated for 13.5 rebounds tonight. The OddsShopper tool gives this prop a 72% to go over and a 35% ROI.