The highlight of UFC 287 is likely to be the main event between Alex Pereira and Israel Adesanya. But before the Pereira-Adesanya match caps off the evening, all eyes will be on Gilbert Burns–Jorge Masvidal. Both fighters bring star power of their own, and the matchup could garner more ownership than expected on Saturday's MMA DFS slate. Nonetheless, onto our UFC 287 DFS strategy guide.
The legal gambling age is 21+ in most states. Gambling Problem? Call or text 1-800-GAMBLER
UFC 287 DFS Strategy: The Gilbert Burns-Jorge Masvidal Fight
Burns and Masvidal are currently projecting for 28% and 14% ownership on DraftKings, respectively. When taking a look at Stokastic's MMA DFS projections those numbers make sense. Burns is a -425 with takedown and wrestling potential, all of which factor into his 85.49 median projection. That's the second highest on the slate behind Karl Williams. Masvidal has the lowest median projection on the slate at 38.34 DraftKings points.
The Top Fighters Tool is bullish on Burns. Stokastic's model has him coming in as one of the top-6 scoring fighters on the card 35% of the time. At 28% ownership, that's a solid number. Likewise, the opposite is true for Jorge Masvidal. He has a top-6 rate of 9% compared to that 14% ownership.
Those numbers suggest that Burns' is a pretty safe play, but when considering his $9,600 price tag the calculus changes. This is the second-to-last fight of the night between two big name opponents. It has potential to pick up ownership steam in large field tournaments that have more casual MMA DFS players. Don't be surprised to see Burns come in higher than his ownership projection when the cards get flipped over on DraftKings' flagship GPP.
Burns' optimal rate and his high price tag means that any ownership steam would eat into the leverage. Regardless of ownership, he'll need to produce quite the fantasy output as the highest priced fighter on the slate.
Unfortunately for Burns' backers, his fighting style doesn't lend itself to a quick win or knockout. The match's "Over 2.5 Rounds" prop is juiced to the over, and the fight is barely favored to finish inside the distance. Burns can rack up points with takedowns and wrestling, but he also has plenty of paths to scoring 90-110 fantasy points and not being optimal in UFC DFS this week.
Even if Burns is a top-6 fighter it might not be enough for this slate. With 13 fights, there are plenty of other spots that can outscore him. If you've been playing MMA DFS recently, you've noticed similar questions surrounding top fighters like Bo Nickal and Muhammad Mokaev.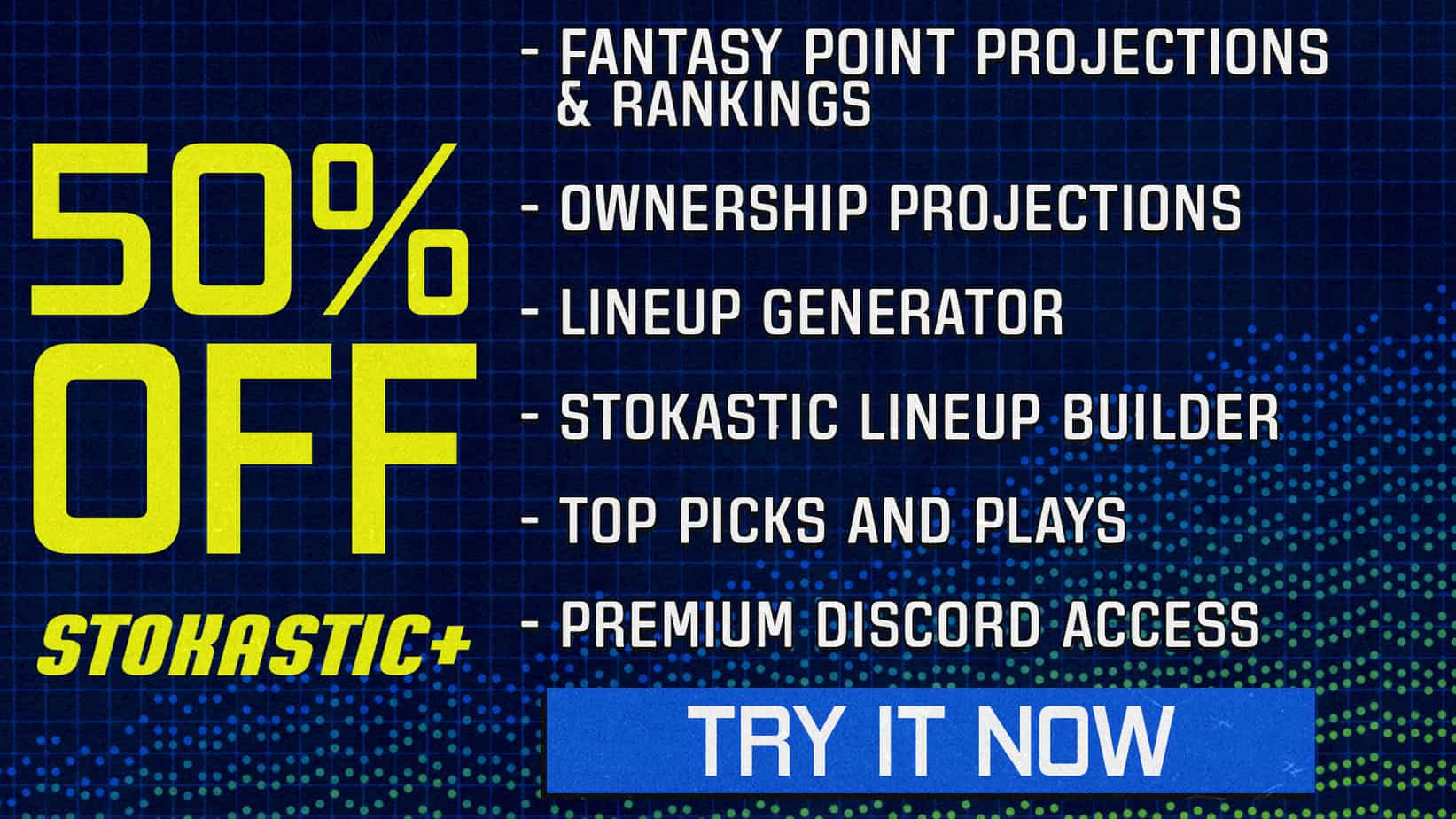 There's no reason to completely fade Burns. But keep mind, especially early in the week, that Stokastic's MMA DFS projections or anyone's ownership projections, are going to be based on the efficient ownership numbers for a fighter's range of outcomes. Markets will move as Saturday's card gets closer. Ownership numbers will reflect that, but there will be discrepancies for how the field sees this fight and its actual chances of scoring high enough to win a large-field GPP. While smaller field, higher entry-fee contests might be less bullish on Gilbert Burns and Jorge Masvidal, the Burns ownership could get too high in the main DraftKings GPP.
As DFS gets sharper and more players start signing up for the best projections, there will be edges for those that can find the nuance in those numbers. Stay tuned to the UFC DFS news cycle throughout the week to see how fantasy point and ownership projections react to shifting opinions and news. Stokastic will be back after the card to reflect on how these more qualitative ownership projections played out after Saturday's card.