OwnersBox Promo Codes September 2023
Our
OwnersBox promo code
STOKASTIC1
will unlock a first deposit match up to $500 + a FREE week of our newest NFL DFS optimizer package, NFL Sims MAX! If you're looking for a new traditional DFS app like DraftKings and FanDuel that allows you to build lineups of players with salary caps, OwnersBox may be the fantasy sports site for you. Follow along for our review of OwnersBox Fantasy. We will sign up, deposit and go through everything you need to know about the OwnersBox DFS app together, including their unique superflex fantasy football contests!
OwnersBox Promo
Get a 100% Deposit Match up to $500 + One FREE Week of Stokastic NFL Sims MAX ($59.95 value)!
CLAIM NOW
OwnersBox Fantasy Sports Promotion Highlights & Terms
| | |
| --- | --- |
| 💰OwnersBox Promo Code | STOKASTIC1 |
| 💵OwnersBox Bonus Amount | $560 |
| ❔OwnersBox Promo Description | Get a 100% Deposit Match up to $500 + One FREE Week of Stokastic NFL Sims MAX ($59.95 value)! |
| 📝OwnersBox Promo Terms | Must be 18+ (21+MA & AZ, 19+ AL, NE). Concerned with your play? Call 1-800-GAMBLER |
| 🌎OwnersBox Eligible States | AL, AK, AR, CA, CO, FL, GA, IL, KS, KY, MD, MA, MN, MO, NE, NH, NJ, NM, NY, NC, ND, OH, OK, OR, PA, RI, SC, SD, TN, TX, UT, VT, VA, D.C., WV, WI |
| ⚾OwnersBox Sports Offered | Baseball, Basketball, Football, Hockey, MLB, NBA, NFL, NHL |
| ✔️OwnersBox Promo Verified For | September 2023 |
| 💯OwnersBox Bonus Link | Play OwnersBox Now |
How To Claim Your OwnersBox Fantasy Sports Bonus
100% Deposit Match up to $500
Something that made me want to do this OwnersBox review is that they have a sign-up bonus for first-time players up to $500. I'll take advantage of bonuses anytime I can. Even if we don't like the site, bonus money is well worth taking advantage of. This is also far more generous than DFS apps like PrizePicks and Underdog Fantasy, which usually stick with a $100 sign-up bonus.
When I signed up, I also received a $5 salary cap ticket valid for a single entry in a $5 salary cap game and a $5 Lightning Lineup ticket valid for a single entry in a $5 Lightning lineup contest. So, they sweeten the pot even past the deposit match bonus up to $500. We get some free tickets, that's awesome.
Be careful when you go into the Lightning Lineups lobby for the first time after signing up, because the $5 entry you are given as a bonus for signing up is automatically applied when you enter the lobby. So, be ready to submit a lineup. This caught me by surprise at first, but it was free money, so I figured, why not?
Get a Free Week of Stokastic's NFL Sims MAX
We have partnered with OwnersBox for the 2023 NFL season to offer a FREE week of our newest premium NFL DFS optimizer package, NFL Sims MAX! That's a $59.95 value on top of the $500 deposit match you're getting from OwnersBox.
NFL Sims MAX is our elite DFS package. You can maximize your ROI with Stokastic's NFL Sims by analyzing reliable data and incorporating your competitors' NFL DFS lineups and potential outcomes. This is an essential tool for players who regularly play in MME (Mass Multi-Entry) tournaments and need the ability to simulate very large contest pools. You also get all of Stokastic's proprietary DFS data for main and showdown slates for hand-builders, gamers who want intel on player performance, or players who need our data as inputs to their own models.
Stokastic's DFS Pros have been consistently winning millions of dollars every year by utilizing the same data and tools that are available in our packages. We are committed to providing you with the best possible data when it comes to Daily Fantasy Sports and Sports Gaming. Our ultimate goal is to revolutionize the industry with innovative tools such as Stokastic Sims.
NFL DFS tools and data from this package include:
Lineup Generator
Projected Fantasy Points
Projected Ownership
Boom / Bust Probability
Top Stacks
Premium Discord Community
Sim up to 10,000 Lineups at Once
Custom Contest Generator - up to 10,000 Lineups
Unlimited Lineup Exports
VIP Customer Service
How to Sign up and Play at OwnersBox
Step 1 - Sign up
Sign up using OwnersBox promo code STOKASTIC1 to ensure you best the best deal possible. On the sign-up page, put your personal info in, and your account should be quickly verified.
Step 2 - Deposit and Banking Options
I hit the next step, and this takes us to online banking, where you have the option of debit or credit. That's fine.
There's no PayPal. I would prefer to have an eWallet PayPal or Venmo option. I'm sure in the future they will, but for now, at least in my State, it's debit or credit card only.
I did get a text message from my bank when I deposited, saying, "You know about this?" I said yes, I do. Let me through, and we got right through.
OwnersBox Fantasy Sports Overview
Something that caught my attention with OwnersBox is that they have Superflex fantasy football contests for the NFL. If that doesn't make your ears perk up a little bit, I don't know what to tell you. What's more exciting or, at the very least, intriguing than just massive full-out game stacks throughout the NFL season?
Contest Types and Sizes
Let's go to the lobby and see what we're working with here. Larger contests they host for the NFL offer a $200,000 prize pool with $50,000 to first place. Contest sizes always fluctuate at smaller sites like OwnersBox, but If they run a contest like this every week, I'll be pretty happy.
OwnersBox has some cool smaller options like the mini-max .50 cent. That's not bad. It's $4k, though, and just $400 to first place. They also have mid-tier options like The Hail Mary with $4K to first place and a $20,000 prize pool, $5 entry, that's not bad.
You're not gonna see a lot of single-entry contests, so it is what it is.
SuperFlex Fantasy Football Contests
You have a nine-player roster for OwnersBox NFL Superflex DFS contests. Superflex offers a roster spot where you can play either a quarterback, wide receiver, running back or tight end in that spot. The scoring is all pretty similar to other DFS apps like DraftKings and FanDuel. It's just you don't have bonuses like you would on DraftKings for players hitting yardage goals and things like that. The payout structure is not bad at OwnersBox either.
Lightning Lineups
I had no idea what Lightning Lineups was before reviewing OwnersBox. We can figure that one out together. It's actually really simple. You're essentially playing against OwnersBox here.
You pick one of three lineups that you think will outscore the others. And if you don't like one of them, you can re-spin it as many times as you want. You only have 40 seconds to pick one lineup. When you have a lineup you like, submit it, and you're in. You can submit as many as you want for however much money you want.
Weekly Brackets
OwnersBox also has weekly brackets where you draft a team and compete in multi-week tournaments.
Comparing OwnersBox to DraftKings and FanDuel
OwnersBox is a smaller DFS app. FanDuel and DraftKings DFS are definitely going to have the bigger secondary contests, the three-max, five-max, and single-entry stuff. OwnersBox, at least for now, unless they grow and get bigger, it's gonna be that one $200k flagship contest each week where most people's money is going into.
OwnersBox offers the unique Superflex fantasy football lineups in their DFS contests as well, instead of needing to select a defense like you would on DraftKings or FanDuel.
OwnersBox Bonus
Get a 100% Deposit Match up to $500 + One FREE Week of Stokastic NFL Sims MAX ($59.95 value)!
CLAIM NOW
Where is OwnersBox Legal to Play?
OwnersBox FAQ
Read further for commonly and frequently asked questions regarding OwnersBox.
OwnersBox Fantasy Sports Review
Pros
Simple Interface
The sign-up bonus is awesome
Superflex fantasy football lineups offer unique gameplay
Cons
Smaller fantasy sports site.
You're not going to get the same huge contest that you would at DraftKings and FanDuel.
App Review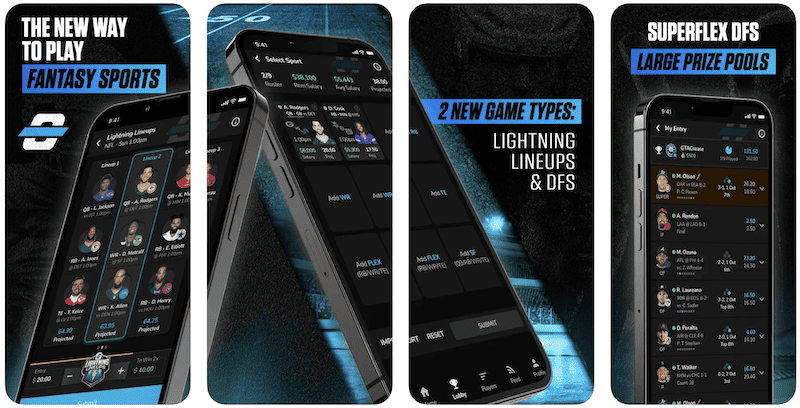 The OwnersBox fantasy app has a very simple layout. All the featured contests are listed directly on the home page, making it super easy to just dive right into contests.
Other features on the site are content and promotions, where they list all ongoing promotions they have right now.
For fantasy sports options, you have:
Building Lineups
Essentially, we're just going to build a lineup at OwnersBox as we would at FanDuel, DraftKings, or anywhere else but with some unique roster spots. At OwnersBox, the user interface looks and feels exactly the same.
With OwnersBox rosters, you have:
One quarterback
Two running backs
Two wide receivers
One tight end
Two flex (WR, RB or TE)
One Superflex (QB, WR, RB, TE)
I'll tell you what, everything I know about DFS is certainly going to change. This is going to take some time to get used to, but I kind of love this, and one thing that intrigues me the most about this lineup structure is if you think about this, like, how do you utilize the roster spots?
You have $50,000 in salary cap? Sure. You know, the same nine spots that you would have on DraftKings, but on DraftKings, you can play that cheap defense. At OwnersBox, you don't have that cheap option. It's two flex and a Superflex.
I know the salaries appear a little bit lower, but just looking at this, I'm thinking, oh man, you get Superflex.
So it's going to make it really interesting trying to game stack, which I don't even know if it's possible between two good teams with multiple top options and good quarterbacks or stacking one team just with a run back and essentially doing two different games with two team stacks with a run back.
There are a lot of different things to consider here, but the fact that you don't have that cheap defense adds another wrinkle because there are nine spots, and $50,000 in salary.
The salary is a little bit lower at OwnersBox, but it's gonna make it more difficult, especially if you're trying to full-out stack.
So, that Superflex spot, is it always going to be a quarterback? Are you going to be game-stacking? There's a lot of thought and process that goes into it that I'm looking forward to digging into because I have no idea.
We haven't seen significant changes to the DFS landscape in so long, right? DraftKings and FanDuel have been so heavily focused on sports betting that the introduction of OwnersBox really spices things up a bit.
Conclusion
So, the final verdict on OwnersBox. I'll give you the good first. This is gonna change the way we play DFS, no doubt about it. I love the Superflex stuff. It's definitely going to be different. It's unique, and it's entirely different lineup builds than what we're familiar with doing, right? It's intriguing, to say the least.
I think OwnersBox will be fun and challenging, and you'll see some pretty crazy builds, but I really like that. You don't really see the opportunity for that out there. Creating an interesting wrinkle in a space like DFS that's focused so heavily on sports betting with DraftKings and FanDuel over the last few years, you haven't seen a lot of innovation there.
I like knowing that we have this in our back pocket, and that we can play some Superflex contests. That's pretty fun.
We've all been on DraftKings and FanDuel for a long time. We're not getting those sign-up bonuses anymore for DFS. So, OwnersBox is by far the best bonus that you're going to find out there, hands down.
I also like that OwnersBox is simple. Personally, I don't see myself playing much of the lightning lineups or the weekly brackets. Maybe you will, maybe you'll thoroughly enjoy that for casual fun. It seems like a cool idea. It's just not something I love.
Although, if you're working with good projections from Stokastic's premium DFS optimizers, then it definitely seems like something that you could get into. Maybe it is beatable and worthwhile.
You're playing against OwnerBox in that case, right? Maybe it is something that I should look more into, but I'm mostly interested in the DFS side of this.
The downside, I would say, is you're just never, I shouldn't say never, in the near future, maybe in the distant future as well, going to see the contest sizes like DraftKings and FanDuel at OwnersBox. It's just not going to happen.
You'll get the big flagship contest each week, which I think is great.
If you have $50k or $40k, or even $30k up top, no one will turn their nose up at that 150 max. with only $15 to enter. And it looks like we may be seeing some overlay in some of these contests, as well.
But, OwnersBox probably isn't going to be the place to get those three-max and single-entry and five-max or even smaller 150-max contests for a $1 or a quarter or .50 cents or whatever with bigger prize pools, but lower entry fees. So, it's a pick-your-poison type deal.
I think that always taking advantage of the bonus money makes sense, and getting the bonus to try out a new format that seems like a lot of fun and offers Superflex is pretty awesome. But you're not going to just stop playing at DraftKings and FanDuel to play at OwnersBox.
I think you're going to supplement your playing with OwnersBox. And why would you not?
OwnersBox Promo
Get a 100% Deposit Match up to $500 + One FREE Week of Stokastic NFL Sims MAX ($59.95 value)!
CLAIM NOW
Similar Fantasy Sports Websites
Similar Sportsbooks