FanDuel Promo Codes December 2023
Grab our FanDuel promo code by clicking below to start playing at America's favorite sportsbook! If you're a beginner or intermediate bettor, FanDuel is a must-have as part of your regular rotation of betting sites. Their odds can be some of the best among the most popular sportsbooks in the country, and their ongoing promos and odds boosts are the perfect options for the casual bettor looking for a way to make each sporting event more entertaining. Please find all the best FanDuel promos below, and register for a new account using our link to ensure you're signing up through an authorized partner of FanDuel.
FanDuel Sportsbook Promotion Highlights & Terms
| | |
| --- | --- |
| 💵FanDuel Bonus Amount | $150 |
| ❔FanDuel Promo Description | Bet $5 on any Moneyline, Get $150 in Bonus Bets IF YOUR TEAM WINS |
| 📝FanDuel Promo Terms | 21+. Gambling problem? Call or text 1-800-GAMBLER |
| 🌎FanDuel Eligible States | AZ, CO, CT, IL, IN, IA, KS, KY, LA, MA, MI, NJ, NY, OH, PA, TN, VA, D.C., WV, WY |
| ⚾FanDuel Sports Offered | Baseball, Basketball, Boxing, Cricket, Cycling, Darts, Football, Formula 1, Golf, Handball, Hockey, MLB, MLS, MMA, NASCAR, NBA, NCAA, NFL, NHL, PGA, Rugby, Rugby League, Rugby Union, Soccer, Tennis, UFC, WNBA |
| ✔️FanDuel Promo Verified For | December 2023 |
| 💯FanDuel Bonus Link | Play FanDuel Now |
How To Claim Your FanDuel Sportsbook Bonus
Bet $5 on any Moneyline, Get $150 in Bonus Bets IF YOUR TEAM WINS

FanDuel is running a special promotion until 12/11/2023. Sign up using our FanDuel promo code by clicking above to get $150 in bonus bets if your first moneyline wager of $5+ wins!
To claim this offer, register for a new sportsbook account from an official partner of FanDuel, like Stokastic, by following our link and depositing a minimum of $10.
*Must be 21+. Gambling problem? Call or text 1-800-GAMBLER
FanDuel Sportsbook Overview
What started as a backyard brainstorm session between five people interested in sports has turned into a leading company in a multibillion-dollar industry. FanDuel has expanded from just offering daily fantasy sports back in 2009 to providing America's #1 sportsbook app, online casino and poker, and a racebook for horse racing fans. FanDuel has solidified itself as an official sponsor of the NFL, MLB, NBA, WNBA, NHL, PGA TOUR, and more.
FanDuel is consistently rated as having the most user-friendly interface in the industry. Pairing that with their massive selection of risky same-game parlays, player props, and live betting features makes it easy to see why FanDuel remains one of the most popular betting sites in every market in which it operates.
What Sports are Available to Bet On
NFL – preseason, regular season, and playoff games
NBA – preseason, regular season, and playoff games
NHL – preseason, regular season, and playoff games
MLB – all game types
MLS
Golf – PGA and European events
Boxing
MMA
Tennis – international events and leagues from all over the world
Plus many others!
More About FanDuel Sportsbook
FanDuel Bonus
Bet $5 on any Moneyline, Get $150 in Bonus Bets IF YOUR TEAM WINS
CLAIM NOW
Where is FanDuel Legal to Play?
Below are the US states where sports betters can bet at FanDuel.
FanDuel FAQ
Read further for commonly and frequently asked questions regarding FanDuel.
FanDuel Sportsbook Review
I am sure you are familiar with the daily fantasy sports giant that is FanDuel, but they have also expanded into the sports betting world, launching their own sportsbook. Of course, the book is perfectly named FanDuel Sportsbook, so it's easy for their faithful DFS players to know exactly where to go place bets once they've learned how to bet sports online.
This is an expansive look at FanDuel Sportsbook, reviewing what they are doing well and poorly.
Pros of FanDuel Sportsbook
FanDuel has done a really good job on their sportsbook in a number of different areas. It's clear why they have grown so quickly.
FanDuel User Interface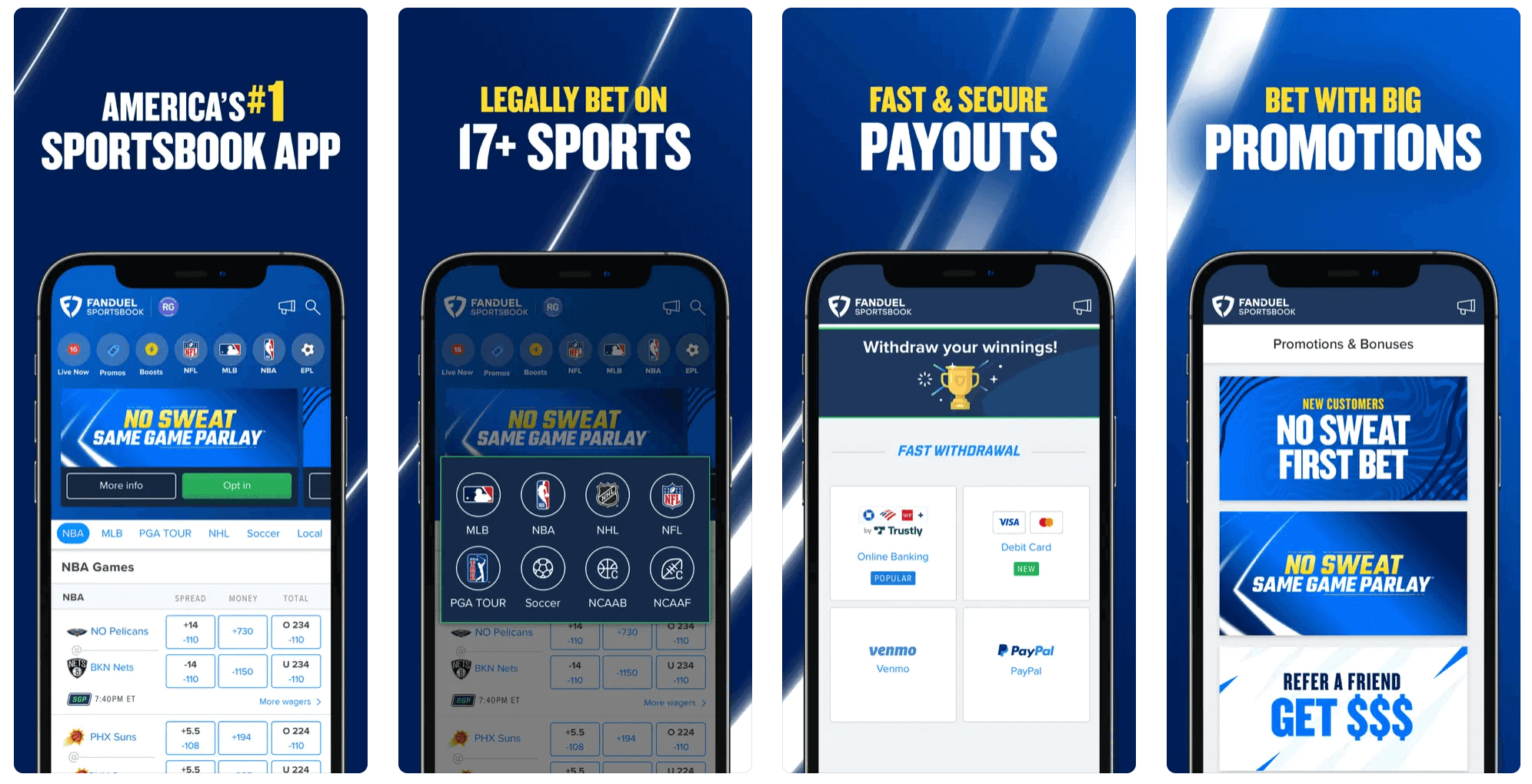 FanDuel Sportsbook is incredibly user-friendly. In fact, I would say the user interface is better than their main fantasy sports site. It's modern, clean and tough to get confused by. You won't need to read up on where to find this or how to work that.
FanDuel Sportsbook also works on mobile without any glitches or bugs. It's just as easy to place a bet or look back at all of your winnings on your phone, so you will be able to casually have your big bankroll up on your phone with your friends. Play it off casually, though.
FanDuel offers any number of different types of bets to choose from, but for their most popular selections, you can choose from straight bets (a single pick), parlays, which feature two or more picks or round robins, which allow you to place three or more bets and pair them together in separate parlays. For more on the types of bets available see below:
Futures
A futures bets are placed on action that's happening at some point in the not too distant future, that's usually tied to an end point of a season or event, such as Super Bowl winner or NL Cy Young award winner, or player to go first overall in the NBA draft.
Moneyline
Moneyline bets are the most basic wager in all of sports betting. Simply put you're betting on Team A or Team B to win the game. If you're betting on a favorite, they will have a minus sign in front of the odds, giving you less money back for your wager than an underdog, which will have a plus sign attached to the number.
Live in-game
FanDuel currently accepts live-in-game action for certain events, so you can bet on props or teams while the game is happening.
Parlay
Parlays are combined of two or more single wagers into a single ticket, which then multiples the odds to a higher amount than two single bets on separate tickets. In order to win a parlay bet, a bettor must get all the bets correct on that ticket.
Point spread
A point spread bet is a wager on the difference of points between two teams in a single sporting event. The point spread number is provided by FanDuel, and then a bettor chooses what side they want to 'cover' that differential. If the New England Patriots are favored by 7.5 points over the New York Jets, but only win by seven points, the Jets would have covered that spread, and bettors who placed their wagers on the Jets +7.5 would have won.
Straight bet
Straight bets are types of betting wagers on a single game or event that carries a point-spread, game total, money line, run line or puck line.
Prop bets
A prop bet (short for proposition bet) is a wager that is independent of the final score of a game or outcome. These wagers encompass bets that aren't point spreads, totals or moneylines. Some examples:
Kansas City Chiefs over 11.5 wins in an NFL season
Luka Doncic under 8.5 assists in an NBA game
Round Robin
As soon as you have entered at least three or more picks on the bet slip, you can place a Round Robin bet. The number of possible Round Robin bets depends on the number of possible outcomes, which is tied to how many selections you have made. The bets possible with your picks will be displayed automatically.
Teaser
A teaser is like a parlay bet but for point spreads. You can combine two or more games together (usually a maximum of four games) and get points shaved off the spread.
Totals or over unders
The main types of totals bets feature action on the score of a game or the score of a team in a game. A bettor places action on whether they think the total amount of points scored will be higher or lower than the amount listed by FanDuel.
How to Deposit Money into Your Account
Credit and Debit Cards
FanDuel Prepaid Card
ACH (e-check)
Online Bank Transfer
PayNearMe
Cash options through PayNearMe physical locations
How to Make a Withdrawal
The following information needs to be provided before making a withdrawal through FanDuel:
Your mailing address
Birth date
Social security number
W-9s are required for larger cash prize rewards
ACH (e-check)
Bank check
PayPal
FanDuel Prepaid card
At the Meadowlands Cage – cash withdrawals at the physical location
FanDuel Points
Every new account is automatically enrolled in the Players Club. Players earn FanDuel Points (FDP) for every contest they participate in, and for every dollar spent, they get back 5 FDP. The amount of FDPs a player earns in the previous month determines one's status in the Players Club. Rewards will be coming in the near future for the Players Club.
FanDuel's Customer Service
Live chat or call (877)689-0662 24 hours a day, 7 days a week
Support tickets usually warrant a response in less than 24 hours
Physical mail address: Betfair Interactive US LLC, PO BOX 158, Jersey City, NJ 07303
Overall Impressions of FanDuel
This is a fantastic sportsbook. It feels good to use. FanDuel doesn't try to overcomplicate things, but they also give us enough variety to make themselves different. When my biggest cons are the fact that you should compare odds (which you should already do) and that they don't hand you free money when you walk in the door, then they must be doing something right.
I highly recommend checking them out.
More Sportsbooks
More Fantasy Sports Websites