Everyone wants to know how to win at DraftKings and FanDuel NBA Daily Fantasy. While there's no magic bullet, there are several concepts that are often misunderstood.
NBA DFS Projections
People like to say that NBA players are easier to project than other sports, and to a large degree that's true. In NBA there are numerous fantasy scoring opportunities, but each is of low significance to overall score, which is a huge contrast to a touchdown, goal or home run. As a result, you can usually guess within 10 points of an athlete's fantasy performance on a day-to-day basis. In my Boom/Bust tool, I give you the ranges of fantasy scoring that you can expect on a daily basis for each player.
The misconception is that predictability makes NBA DFS easier to win at, because everyone has the same advantage compared to other sports it's still an even playing field. The result of projections being more accurate is that the best strategies for NBA DFS tend to focus more on popular players than other sports. There can be situations where you should play a guy even if 100% of entries have him — Kyrie Irving on days when Luka Doncic doesn't play is an obvious example because he takes so many more shots and gets so many more assists when Doncic is off the floor. That's not to say that you want to play all of the popular plays on a given day, though. You still need to find the right sleepers to win large-field tournaments.
Having accurate projections is essential to success in NBA DFS, though. Being one minute or a couple fantasy points off a player's true projection can make or break your night, as it makes a good play look like a great one and then all of a sudden you're overcommitted. Accurate projections are also essential to tell the difference between a sneaky sleeper and just a bad play. Make sure to use my projections because we spend all day making sure they're accurate either to build your lineups or give you a second opinion on who you're rostering.
NBA DFS Ownership
If the highly owned players in NBA DFS have big days as expected, the score it takes to have a winning lineup increases drastically. Because of that, if you load up your lineup with highly owned players, you're going to need way more points to win than if you put some contrarian players in there. Plus, you are competing with lots of people who have almost the same lineup with maybe one or two players different.
I've found the best strategy is to have a couple of low-owned players mixed with some of the best value plays of the night. That ensures you hit the sweet spot of a lineup with a good chance to cash but a great chance to win outright. Keeping an ear to the streets to figure out who will be popular or sneaky on a given night is a difficult task though, so you can use my ownership projections and rankings.
In NBA DFS, judging your lineup's ownership by multiplying the ownership of each individual player is the best approach. Because stacking isn't a common strategy in NBA, most of the player ownerships aren't correlated with each other like other sports.
Stacking in NBA DFS
While game stacking is a somewhat popular strategy in GPPs, it doesn't work nearly as well in NBA as other sports. In NBA, there's only one stat that's positively correlated between players: assists and points. But other stats are negatively correlated: if one player takes a shot that's one fewer potential shot for their teammate. While there's nothing harmful about picking players from the same game, optimizing for that factor over others will lead to sub-optimal lineups.
You might hit overtime games which have a better chance of good fantasy performances which makes stacking a game basically a wash overall. I don't try to game stack, but I don't avoid it either. It helps to use common sense, though. If a team is a big favorite in a game, then loading up on those players without taking opposing ones limits the chance of you winning because you want the other team to put up significant resistance which would result in higher fantasy performances.
Roster Construction
The optimal way to build fantasy NBA lineups is usually to take players who are underpriced because of injuries to their teammates and then soak up the remaining salary with the highest-priced players. For example, Chris Paul could be ruled out after salaries were released for the slate. That's the kind of situation where you can load up on Suns players because a lot of his production is going to be spread out amongst the team. Lineups where you take all mid-priced players are usually not a great idea on nights where there are a lot of injuries because the best way to maximize fantasy points is take some of the lowest-priced players that benefit from injuries then soak up salary with some of the superstars.
Showdown Strategy
In single-game slates on DraftKings, FanDuel and SuperDraft, you get to pick a player to get 1.5 times the fantasy points, but there are fewer players to choose from overall. One of the biggest concerns is avoiding picking a lineup that's too popular because there tend to be a handful of combinations that are clearly the best. If you enter those, you're going to split the top prize with a lot of people and it's not fun to win $1,000 for first when you could win $100,000 potentially.
On DraftKings I've found it's better to put one of the higher-priced players as your captain. If you go too cheap on captain, it limits the number of good combinations of other players you can choose because you want to spend most of your salary. With more possible lineups, if you get contrarian with the rest of your picks, you have a better chance to win a tournament outright or at least split with fewer people. I've found that the average number of times a lineup was duplicated had almost no correlation with how popular the captain player was.
On FanDuel there are a lot more possible combinations because you can get a 2x, 1.5x, 1.2x and two 1x players, but the number of good lineups is a lot less than DraftKings because the odds of scrubs outscoring duds in NBA is minimal. Leaving some money on the table in these is a good way to get a more unique combination of players. Most people want to build the strongest possible squad so if you intentionally make a couple suboptimal choices you have a better chance to win.
In one-game slates, it's important to make your lineup for the number of entries in a tournament. The optimal strategy for a 1,000-person tournament is erring more for the best possible lineups, while in a large field tournament, you want to take calculated risks by trying to win on more unlikely occurrences. In main slates, I've found the best GPP lineups are very similar regardless of field size.
Taking Advantage of the Late Swap
DraftKings, FanDuel, and Yahoo all offer late swap in their NBA contests. This drastically affects the strategy for how you should build lineups. Players that become good plays after lock tend to be either under-owned or in lineups that are overly optimized and thus duplicated as people just optimize for projected points to adjust for the news. The most important thing if you're playing on one of these sites is that you have to be tuned in for news up until the last game tips or else you're going to have a hard time winning money in the long run.
Now the best strategy is to have access to a computer so you can fully control your lineups, especially if you subscribe to Fantasy Cruncher which will allow you to reoptimize your lineups for new information. I have TeamViewer installed on my phone and desktop which allows me to remotely adjust the site projections and my lineups. I recommend signing up for a subscription to TeamViewer if you have a lot of money invested on a regular basis, but using the DFS mobile apps can help you at least swap out guys when they're ruled out. The best thing to do is edit every lineup by hand to pick the best swaps, which is great for the lineups in which you have the most invested, but if you have dozens if not hundreds of lineups you're going to need the software. If I'm not going to have access to late swap because I'm going to be busy, I usually prefer to not enter tournaments that day. Late swap is that important!
With late swap available I like to build lineups that incorporate the best case scenario for each player but not build lineups that have conflicting scenarios in them. For example, if LeBron James is questionable, I wouldn't build lineups with D'Angelo Russell and LeBron together, but I would have a lot of lineups with one of the two. Then when I get the news, I'll reoptimize the ones that are no longer valid. It can help to have several players in the late games if you plan to implement this strategy so you can do at least 2v2 swaps, or better yet 3v3, which allows you salary flexibility to take advantage of the new information. If there's key news yet to come at lock I'll use the groups feature on Fantasy Cruncher to mass multi-enter with this strategy.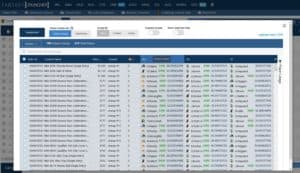 Success in NBA DFS: Putting It All Together
Fantasy NBA is all about accounting for the latest information because what could be a winning lineup 30 minutes before lock could be a poor lineup 10 minutes later due to injury information. If you want to succeed in fantasy NBA, you need a strategy that you can execute in a small amount of time before lock. But if you have a good process and you're willing to put in the time to follow the sport closely, NBA can be one of the most fun and engaging DFS offerings. Make sure to follow our articles and videos on YouTube keeping you updated with all of the latest info leading up to lock!