Underdog Promo Codes September 2023
Underdog Fantasy is a daily fantasy sports (DFS) platform that offers a fresh and unique approach to fantasy sports contests. The platform was founded in 2019 and has quickly gained popularity among DFS players. One of the main features that set Underdog Fantasy apart from other DFS platforms is their massive Best Ball Mania contest, which will award $15 million in prizes this year! Don't miss out on this opportunity. Use our Underdog Fantasy promo code and claim your bonus now!
Underdog Fantasy Sports Promotion Highlights & Terms
| | |
| --- | --- |
| 💰Underdog Promo Code | AWESEMO |
| 💵Underdog Bonus Amount | $100 |
| ❔Underdog Promo Description | Get your first deposit DOUBLED on Underdog up to $100 |
| 📝Underdog Promo Terms | Must be 18+ (21+MA & AZ, 19+ AL, NE). Concerned with your play? Call 1-800-GAMBLER |
| 🌎Underdog Eligible States | AL, AK, AZ, AR, CA, CO, FL, GA, IL, IN, KS, KY, ME, MD, MA, MN, MS, MO, NE, NH, NJ, NM, NY, NC, ND, OH, OK, OR, PA, RI, SC, SD, TN, TX, UT, VT, VA, D.C., WV, WI |
| ⚾Underdog Sports Offered | Baseball, Basketball, Boxing, Esports, Football, Golf, Hockey, MLB, MMA, NASCAR, NBA, NCAA, NFL, NHL, PGA, Soccer, Tennis, UFC, WNBA |
| ✔️Underdog Promo Verified For | September 2023 |
| 💯Underdog Bonus Link | Play Underdog Now |
How To Claim Your Underdog Fantasy Sports Bonus
Get your first deposit DOUBLED up to $100
Using our Underdog Fantasy promo code AWESEMO will unlock a first deposit match up to $100 for new players who sign up for an account at Underdog Fantasy.
How to Sign Up
Step 1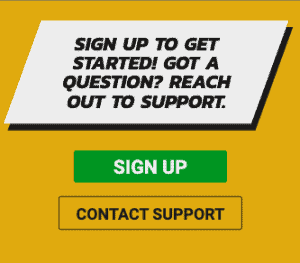 Click here to start the process, taking you to the Underdog Fantasy site. Once there, click the green "Sign Up" button in the middle of the screen.
Step 2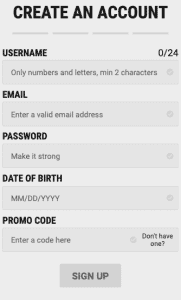 Enter basic sign-up information, including your email address, username, and password. Make sure you like the username you pick because you can't change it later.
Step 3
If the Underdog Fantasy promo code AWESEMO isn't pre-entered, enter it into the PROMO CODE section before hitting "Sign Up" to ensure you claim your bonus!
Step 4
All that's left to do is enter a contest!
Underdog Fantasy Sports Overview
Want to learn how to play Underdog Fantasy? Follow along with Stokastic's Dave "Loughy" Loughran as he breaks down everything you need to know about Underdog Fantasy on YouTube.
Best Ball Mania
One of the most popular contests at Underdog Fantasy is their "Best Ball Mania" tournament which requires just a $25 entry and will award a record $15 million in prizes this year. You can enter BBMIV without needing an Underdog Fantasy promo code if you are an existing user. Here is how the payout structures breakdown for this year's Underdog Best Ball Mania IV:
Underdog Fantasy Best Ball Mania IV: Regular Season Prizes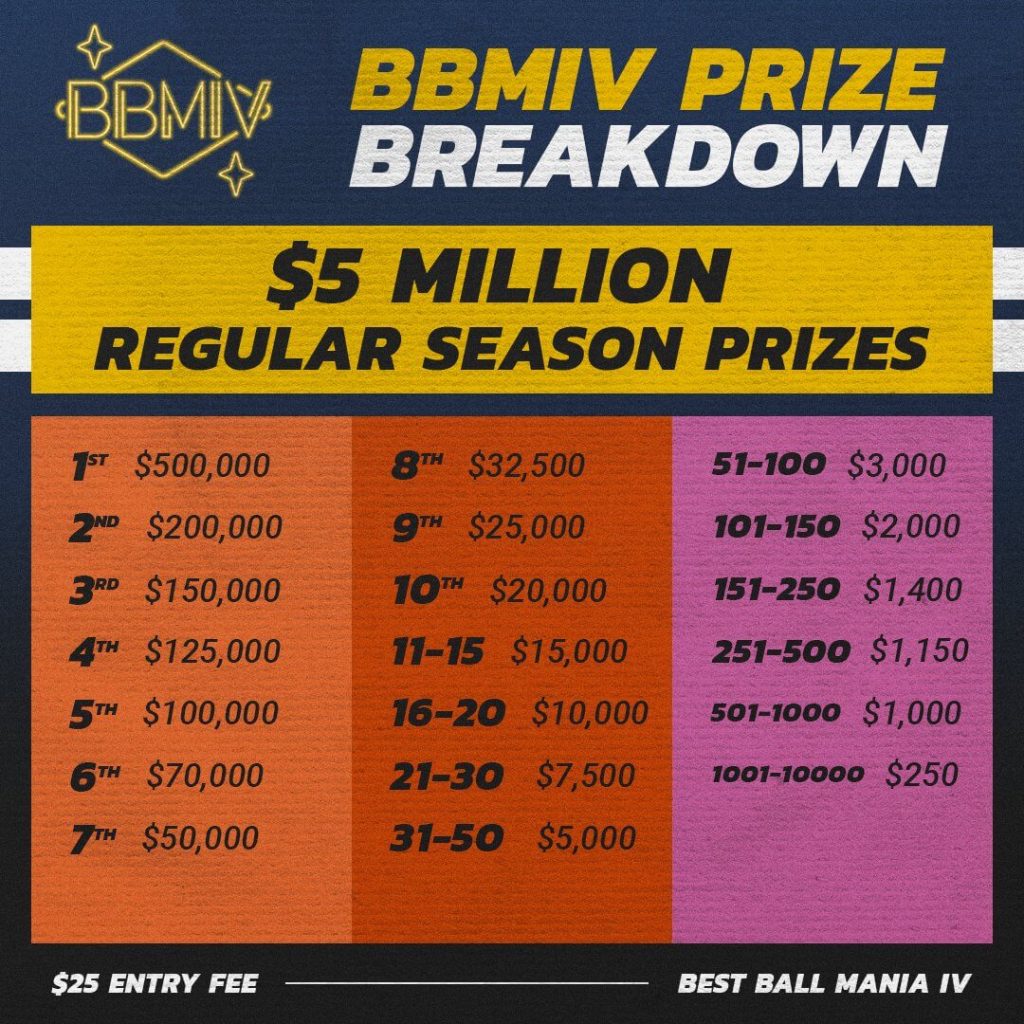 Underdog Fantasy Best Ball Mania IV Regular Season Payout Structure
🏆 1st: $500,000
8th: $32,000
51-100: $3,000
💰 2nd: $200,000
9th: $25,000
101-150: $2,000
🏅 3rd: $150,000
10th: $20,000
151-250: $1,400
💵 4th: $125,000
11-15: $15,000
251-500: $1,000
🤑 5th: $100,000
16-20: $10,000
1001-10,000: $250
6th: $70,000
21-30: $7,500
 
7th: $50,000
31-50: $5,000
 
Underdog Fantasy Best Ball Mania IV: Playoff Prizes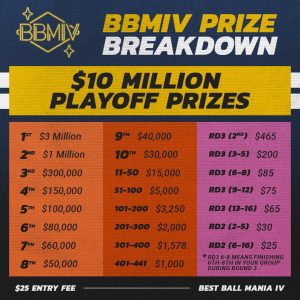 Underdog Fantasy Best Ball Mania IV Playoff Prize Payout Structure
🏆 1st: $3 Million
9th: $40,000
RD3 (2nd): $465
💰 2nd: $1 Million
10th: $30,000
RD3 (3-5): $200
🏅 3rd: $300,000
11-50: $15,000
RD3 (6-8): $85
💵 4th: $150,000
51-100: $5,000
RD3 (9-12): $75
🤑 5th: $100,000
101-200: $3,250
RD3 (13-16): $65
6th: $80,000
201-300: $2,000
RD2 (2-5): $30
7th: $60,000
301-400: $1,578
RD2 (6-16): $25
8th: $50,000
401-441: $1,000
 
More About Underdog Fantasy Bonuses
Underdog Fantasy offers several promotional offers for both new players and existing customers. Here are some of the most popular ones:
New Player Deposit Bonus: Using our Underdog Fantasy promo code: AWESEMO gives you a deposit match bonus for new players. When you make your first deposit, you can receive a 100% bonus up to $100.
Free Entry to a Contest: New users can also receive a free entry into a contest of their choice when they sign up with Underdog Fantasy.
Refer-a-Friend Bonus: Existing customers can refer friends to Underdog Fantasy and receive a $10 bonus for each referral. The referred friend also gets a $10 bonus when they sign up.
Season-Long Best Ball Leagues: Underdog Fantasy offers season-long Best Ball leagues where players draft a team of players at the start of the season and don't make any changes to the roster for the remainder of the year. Users who enter these leagues can receive discounts on multiple entries.
Underdog Rewards: Underdog Fantasy has a loyalty program called Underdog Rewards. Players can earn points by playing in contests, which can be redeemed for rewards such as free entries, merchandise, and experiences.
Daily Promotions: Underdog Fantasy also has daily promotions for specific contests or events, such as free entries or guaranteed prize pools.
How is Underdog DFS Different than DraftKings or FanDuel?
One main feature that sets Underdog Fantasy apart from other DFS platforms like DraftKings and FanDuel is its unique drafting format. Instead of traditional salary cap drafts, Underdog Fantasy uses a snake draft format where players take turns selecting their rosters in a serpentine order. This adds an extra layer of strategy and skill to the drafting process.
Underdog Fantasy also offers various contest types, including head-to-head, 3-man, 6-man, 10-man, and 12-man contests, and Best Ball, a season-long format where the best players from each week count towards your total score.
Underdog Fantasy App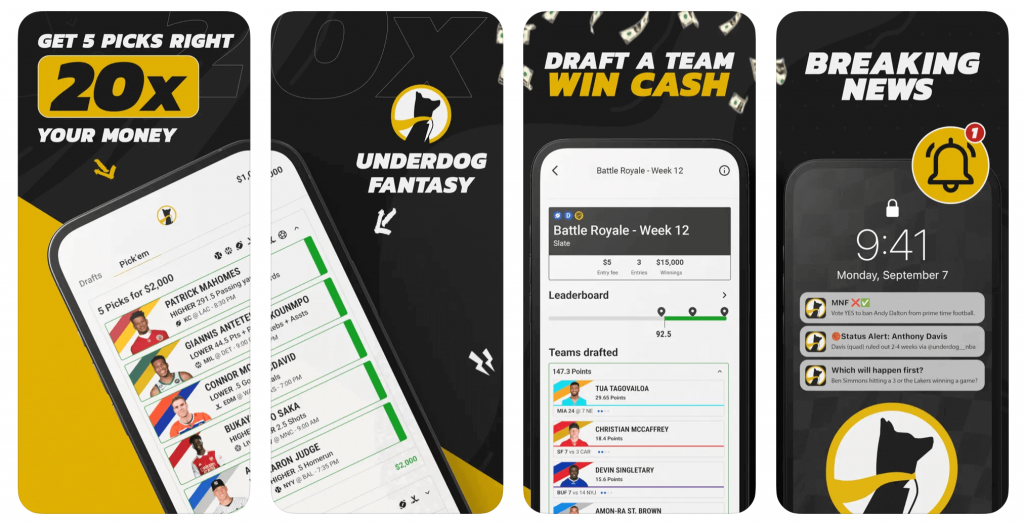 ✅ Available on iOS: Rated 4.7 out of 5 on the Apple App Store.
✅ Available on Android: Rated 4.3 out of 5 on Google Play.
If you're on the go more often than not, you'll be happy to know that Underdog Fantasy also has an app you can use. Download the Underdog Fantasy app on Apple iOS or your preferred Android app store.
Underdog Fantasy's Daily Fantasy Sports app allows all of the functionalities featured on the main site in one easy-to-operate package available for Android and iOS. The app is smooth, user-friendly, and offers a variety of tools and features to help users make informed decisions when drafting their lineups or placing bets. These include player rankings, projections, analysis, and a live chat feature where users can discuss strategies and get advice from other players. 
Overall, Underdog Fantasy is an excellent option for DFS players and sports bettors looking for a fresh and unique experience.
Where is Underdog Legal to Play?
See below for states that Underdog Fantasy is available to play in.
Underdog FAQ
What is Underdog Fantasy?
Underdog Fantasy is a leading fantasy sports site with easy and exciting gameplay. Underdog is known for using live drafts-based play and offering player prop competitions. Player props are the fastest growing—and many believe—the most rewarding way to play fantasy sports. Underdog Fantasy may be the best site for fantasy players who follow player stats and enjoy testing their knowledge about their favorite players in the NBA, NFL, NHL, MLB, or other major sports leagues.
They are growing quickly, and prize payouts are potentially large—and rumor has it—will grow exponentially this year. Now is the time to learn how to play with Stokastic's newly updated and verified promo code.
Is Underdog Fantasy Legit?
Yes! Underdog is an established, U.S.-based fantasy sports company backed by high-profile investors such as Kevin Durant, Mark Cuban, and Jared Goff. While less widely known than DraftKings or FanDuel in fantasy sports, Underdog Fantasy has a wide following and unique gameplay style that many players prefer and find fairer to beginner and intermediate players.
Underdog also has an excellent first-time sign-up bonus available through our website. Click through any link on our site, and the new sign-up Underdog promo code will be instantly added as you create your account. It is legit one of the best offers in town and will assist you in building up your bankroll, enabling you to start playing with serious money from the start.
How to Verify Identity on Underdog Fantasy?
To maintain fairness and prevent multiple entries by sharks, the site asks for specific personal information to verify your identity. The site might ask for unique details such as your driver's license number. Follow the instructions when prompted. Others have found that the mobile app makes for easy ID verification if the desktop site does not prompt you.
Underdog Fantasy Sports Review
Live Drafts
Underdog Fantasy offers live draft rooms for users to draft players against other users in the contest. It follows the typical snake draft format, with a player able to be drafted only once. Drafts are available for daily, weekly, and even season-long contests, with NFL Best Ball drafts being among the most popular.
Prop Contests
Instead of building lineups with a salary cap, Underdog Fantasy offers an extensive list of props for users to play. Pick the over/under on points, rebounds, home runs, and more across various sports. Users can parlay multiple sports picks together for a higher payout. Picking five props and getting them all correct wins users 20x their entry fee. Many users prefer these contests since they only compete with themselves and not hundreds of other users.
Underdog Fantasy is entirely different from the most popular DFS sites using a typical salary cap-based format where users build lineups of players. Underdog Fantasy offers player props, where props either hit or miss, instead of players earning fantasy points. While other sites provide prop contests, Underdog Fantasy allows you to choose the props you are most comfortable with. This is a significant advantage over other sites.
Then, Underdog Fantasy also has live drafts with other users. While the main idea of earning the most fantasy points is similar to other sites, drafting players with other users is a unique way to build lineups. It also prevents the entire contest from rostering the same player.
About the Author
My name is John Ferguson. I am a partnerships manager at Stokastic and a sports betting and DFS industry analyst. My expertise in sports betting and DFS spans the last decade. I have had content featured in major publications like USA Today and Sports Illustrated. I have gained additional experience reviewing the best sportsbooks and DFS sites by working with leading sports media companies like OddsShopper, Sportsbook Review, Action Network, Establish the Run, FantasyPros, BettingPros, Gridiron Experts, and more. I have a passion for creating content that people can trust. If you have any questions about anything I have written, please contact me directly at [email protected].
More Fantasy Sports Websites
Additional Sportsbooks