Sleeper Fantasy Promo Codes December 2023
For a limited time, new users signing up with Sleeper Fantasy can enjoy an exclusive offer: Your initial deposit will be matched up to $100 when you use the promo code STOKASTIC2! Sleeper Fantasy is a groundbreaking platform that elevates the world of fantasy sports. Whether you're a huge football fanatic or an avid follower of other sports, Sleeper provides an engaging and inventive experience for both daily fantasy sports and season-long leagues. The Sleeper Picks DFS app introduces real-money, pick'em-style contests that functions much like some of the top DFS apps like PrizePicks and Underdog Fantasy. What sets Sleeper apart from the rest? They offer payout multipliers reaching an impressive 100x! Join us as we explore the Sleeper Fantasy app and Sleeper Picks DFS, as well as their latest promos!
Sleeper Fantasy Promo
Get Payouts up to 100X and a First Deposit Match up to $100
CLAIM NOW
Sleeper Fantasy Sports Promotion Highlights & Terms
| | |
| --- | --- |
| 💰Sleeper Fantasy Promo Code | STOKASTIC2 |
| 💵Sleeper Fantasy Bonus Amount | $100 |
| ❔Sleeper Fantasy Promo Description | Get Payouts up to 100X and a First Deposit Match up to $100 |
| 📝Sleeper Fantasy Promo Terms | Must be 18+ (21+MA & AZ, 19+ AL, NE). Concerned with your play? Call 1-800-GAMBLER |
| 🌎Sleeper Fantasy Eligible States | AL, AK, AR, CA, CO, FL, GA, IL, KS, KY, MD, MA, MN, NE, NM, NC, ND, OK, OR, RI, SC, SD, TX, UT, VT, D.C., WV, WI |
| ⚾Sleeper Fantasy Sports Offered | Baseball, Basketball, Esports, Football, Hockey, MLB, NBA, NCAA, NFL, NHL |
| ✔️Sleeper Fantasy Promo Verified For | December 2023 |
| 💯Sleeper Fantasy Bonus Link | Play Sleeper Fantasy Now |
How To Claim Your Sleeper Fantasy Sports Bonus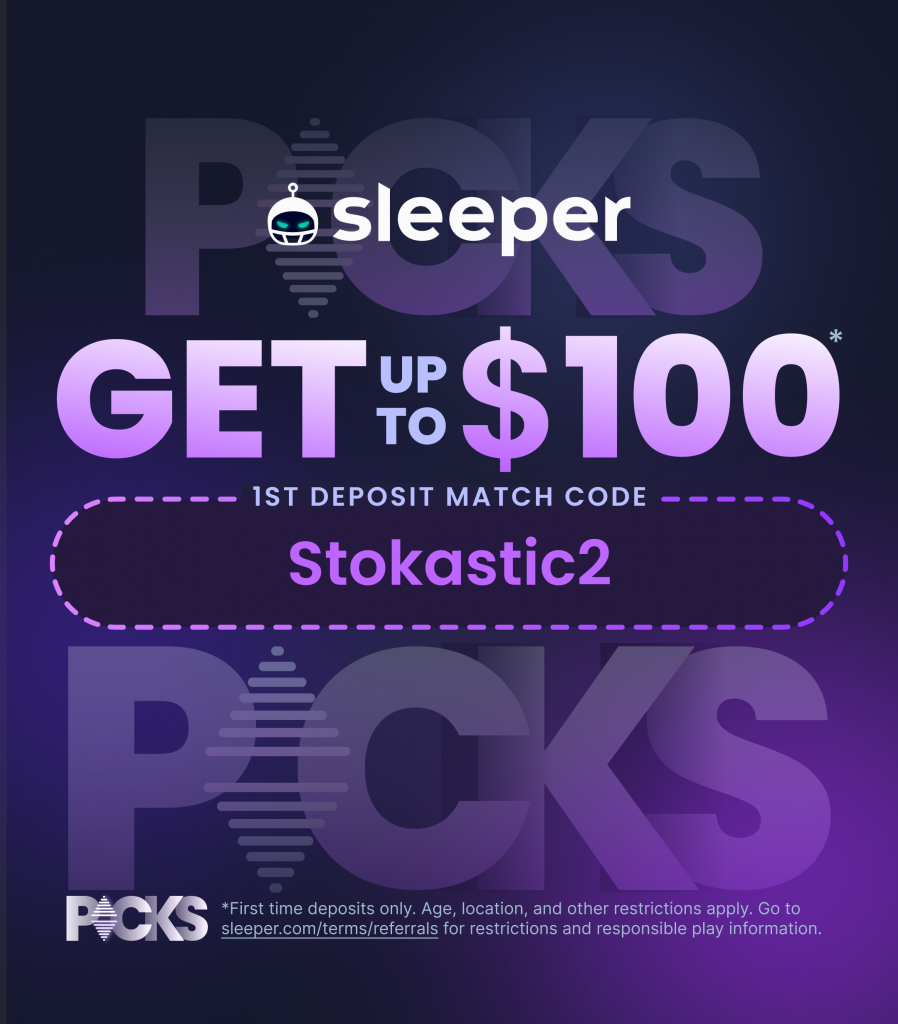 Step 1
The first part of the process is simply following this link, which will redirect you to the Sleeper Fantasy app. Once you're on the app, head to the login screen and start your registration by clicking the green button on the right.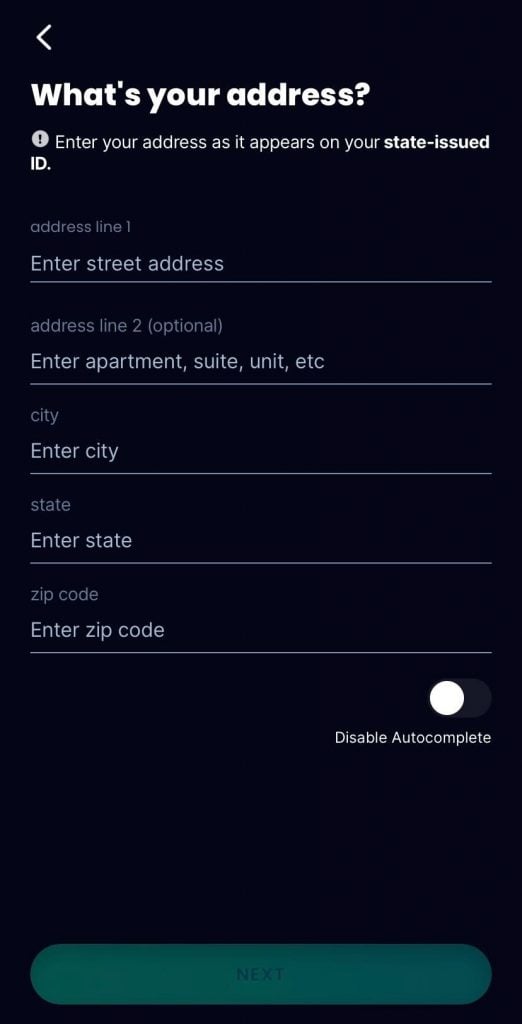 Step 2
Enter your sign-up information, including email address, username and password of your choice. Make sure you like your username; you will not be able to change it later. Then verify Sleeper is active where you are.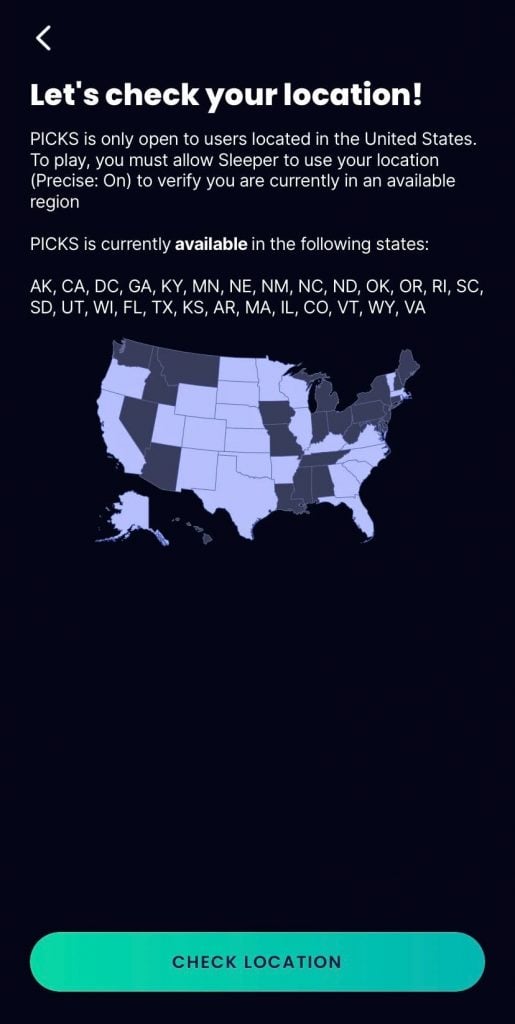 Step 3
The Sleeper promo code should be entered automatically, but just in case it isn't, type "STOKASTIC2" in the PROMO CODE field before hitting the Sign Up button. This step ensures you receive your bonus.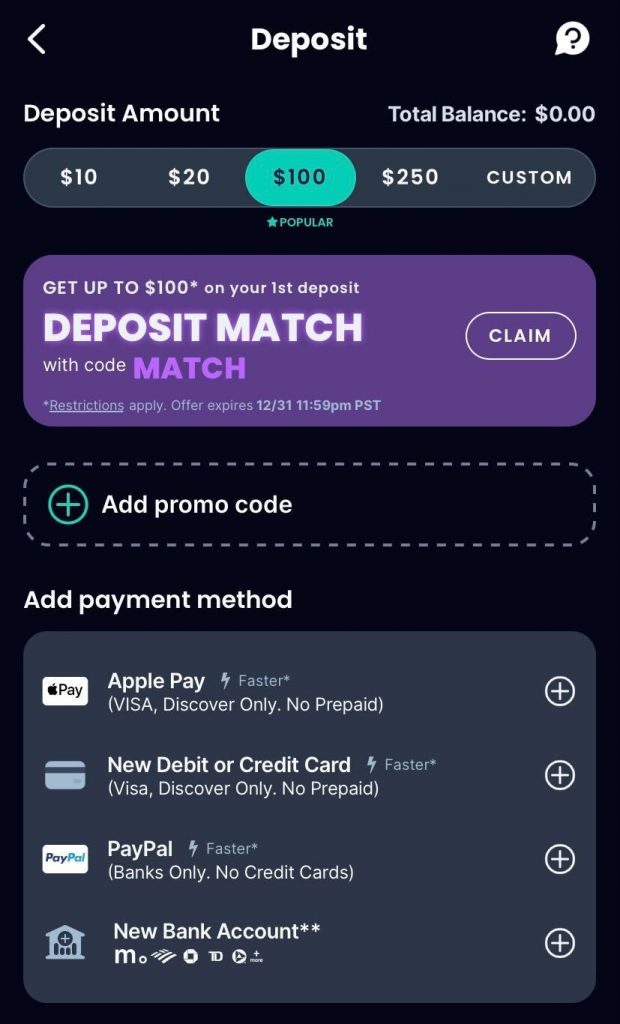 Step 4
The final step is the best one: Start entering Sleeper contests!
Sleeper Fantasy Sports Overview
Sleeper provides the highest daily fantasy sports payouts, offering a chance to multiply your winnings by up to 100 times! Plus, when you sign up through Stokastic, you receive a generous first deposit match of up to $100.
Want to learn more about playing Sleeper Fantasy? Stokastic's Dave "Loughy" Loughran breaks down everything in the video below, from site and app mechanics to game strategy!
Sleeper Fantasy Pros & Cons
✅ PROS
Variety of fantasy sports game formats on a single site/app.
Modern approach to season-long fantasy, offering extensive customization of scoring for fantasy football.
Emphasis on collaboration through chat and squads.
Robust offering of pick'em daily fantasy games.
❌ CONS
Limited sports coverage, most notably lacking season-long fantasy baseball.
Somewhat cluttered interface.
Limited customer service alternatives.
Quick Facts About Sleeper Fantasy
Founded in 2017, Sleeper at first focused on season-long fantasy leagues.
Key feature of Sleeper Fantasy app is the emphasis on chat and collaboration for users to work together or engage in friendly competition.
Sleeper app introduced DFS-style pick'em format, with potential to win up to 100 times your stake when playing against the house.
Sleeper offers comprehensive support for season-long pre-draft preparations, including mock drafts, ADP data, analysis and rankings.
Users enjoy a variety of customizable scoring and draft options, with the flexibility to create keeper and dynasty leagues to suit their preferences.
Sleeper also provides Daily Drafts, enabling users to draft teams and play for cash prizes in head-to-head competitions.
Sleeper Fantasy Bonus
Get Payouts up to 100X and a First Deposit Match up to $100
CLAIM NOW
Where is Sleeper Fantasy Legal to Play?
Sleeper season-long leagues are available for residents of all states, but if you want to compete for real money on the Sleeper Fantasy app, certain state restrictions come into play.
Sleeper Picks is legal for residents of Alaska, Arkansas, California, Colorado, Florida, Georgia, Illinois, Kansas, Kentucky, Massachusetts, Minnesota, Nebraska, New Mexico, North Carolina, North Dakota, Oklahoma, Oregon, Rhode Island, South Carolina, South Dakota, Texas, Utah, Vermont, Washington DC, Wisconsin and Wyoming.
Sleeper Daily Draft is legal for residents of Alabama, Alaska, Arkansas, California, Colorado, Florida, Georgia, Illinois, Kansas, Kentucky, Massachusetts, Minnesota, Nebraska, New Mexico, North Carolina, North Dakota, Oklahoma, Oregon, Rhode Island, South Carolina, South Dakota, Texas, Utah, Vermont, Washington DC, West Virginia, Wisconsin and Wyoming.
Sleeper currently does not offer paid-entry contests of skill in Arizona, Connecticut, Delaware, Hawaii, Idaho, Indiana, Iowa, Louisiana, Maine, Maryland, Michigan, Mississippi, Missouri, Montana, Nevada, New Hampshire, New Jersey, Ohio, Pennsylvania, Tennessee, Virginia and Washington.
Sleeper Fantasy FAQ
What is Sleeper Fantasy?
Sleeper is a fantasy sports platform that features a modern and inventive approach to both season-long and daily fantasy sports. While its main emphasis is on fantasy football, Sleeper offers a wide array of features and tools that elevate the fantasy sports experience for its users. It has a devoted fanbase among daily fantasy sports players thanks to a dynamic and engaging experience through Pick'em and Daily Draft competitions.
Sleeper Fantasy Sports Review
Sleeper App Experience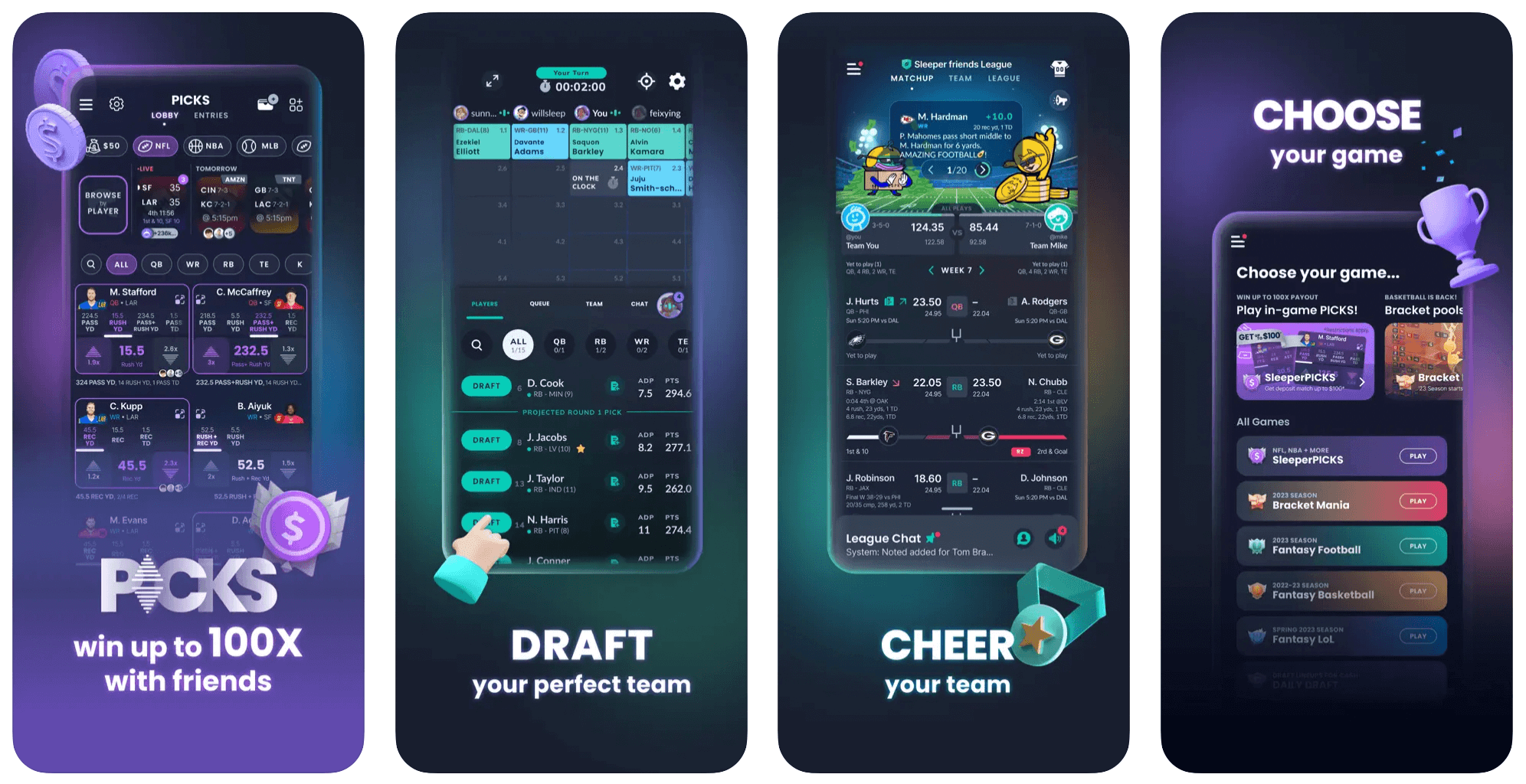 Sleeper provides a number of different contests, and the app's design and user-friendly interface are integral to its increase in popularity the last few years. Here we will break down the app's layout and guide you through the process of jumping between the various game options on the app.
Design and Layout
The Sleeper app features an elegant and seamless design. When playing Sleeper's daily fantasy games, the lobby screen prominently displays the sports options at the top, with other browsing choices below. You can search by player or by game and then select the statistical target for your more/less play. If you search by player, all players with available picks will show up in boxes below. When you search by game, the player options for a specific more/less target are narrowed down. Similar to other pick'em platforms, Sleeper entries have to have a minimum of two more/less plays.
Sleeper places a strong emphasis on community engagement and collaborative gaming. As such, the "Squad Chat" feature is constantly accessible at the bottom of the lobby screen. In the top left corner, you'll find a collapsible menu that offers access to various other Sleeper features, including chat options, channels you might be a part of, mock drafts and season-long fantasy leagues. Season-long fantasy remains Sleeper's primary focus, occupying the majority of this side menu.
Navigation
Locating Sleeper's daily fantasy contest among all of the season-long games initially is a bit confusing; it's categorized under "Picks." However, once you're in the Picks section, transitioning between daily fantasy pick'em games, daily fantasy drafts and season-long fantasy is straightforward. The side menu offers a swift switch between these options.
When it comes to Picks, the process is simple: You select a player's more or less for a specific statistic, choosing at least two, and then begin submitting by clicking "View Entry" at the bottom of the page. This causes an entry slip to appear, where you can designate the amount you'd like to play and see the potential winnings based on the multipliers of your picks. Once you're happy with it, click "Submit Entry."
When it comes to player searches within the Picks lobby, the process is easy enough. You can scroll through the list of players or select the game from which you'd like to pick players. There is also a search function next to the statistical options. There can be a lot to sort through if sorting by player, so if you are browsing for picks, it is probably better to sort by game rather than by player.
Sleeper Fantasy Options
While Sleeper primarily shines in the realm of season-long fantasy sports, it also offers daily drafts for team drafting and cash-based head-to-head competitions. Additionally, Sleeper presents a classic pick-'em-style game where you make predictions on whether a player will exceed or fall short of a specified statistical line.
Here's a comprehensive list of all Sleeper's offerings:
Sports and Leagues
Season-Long Fantasy Basketball
Season-Long Fantasy Football
Season-Long Fantasy League of Legends
College Basketball
College Football
MLB
NBA
NFL
NHL
Sleeper Customer Service
Sleeper has a few channels for customer support services, like email and social media. Many users have shared their positive experiences of quick responses, and the customer service team is typically effective in solving their issues. Sleeper also actively engages with its community on platforms like Twitter, where they interact with users and deliver timely updates.
Here are some positive reviews from Sleeper users made on sites like Reddit and the Android app store:
"I'm HUGE on league activity and integrating the chat into the league process is just so seamless it's almost asinine that no one else ever thought to do it."

"Devs are very responsive and are always releasing high quality updates based on their users feedback."

Player feedback from Reddit and Google Play
However, some users have reported problems with the app, with the main concern being occasional issues with functionality.
A few of the problems users had included:
App having trouble with loading, freezing and crashing
Glitches and lag with rosters
No customer service phone line means limitations in response timeliness
Contact Options
💬 Live chat: Sleeper offers 24/7 live chat support by clicking the "Chat Now" button on the Help Center page.
📧 Email: Sleeper email support is available 24/7 at [email protected], though response times vary.
Sleeper Fantasy Promo
Get Payouts up to 100X and a First Deposit Match up to $100
CLAIM NOW
Similar Fantasy Sports Websites
Extra Sportsbooks