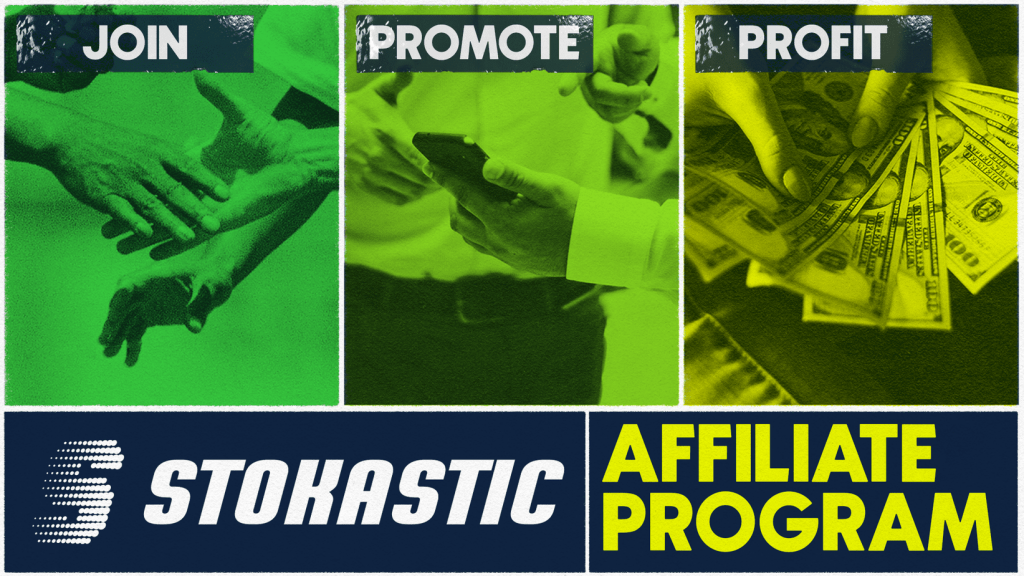 Become a Stokastic Partner
Promote Stokastic products and earn up to $800 on each referral!
What is the Stokastic Affiliate Program?
When you sign up to be a Stokastic Partner, you will be able to promote Stokastic products through an Affiliate Code unique to you. After someone clicks on your link and makes a purchase on Stokastic.com, you will receive 50% of what that new subscriber spends on their first eight payments.
Great! How do I become a partner?
Login to your Stokastic account and simply sign up on our Affiliate Sign-Up Page! In just a few minutes, you'll be ready to start sharing your link and earning passive income.
I'm signed up and ready to go! Now what?
Awesome! After you are signed up, you will receive an email with a login to your new Partner Portal. Here you will find your customizable partner link and keep track of your sales. Your partner link can be used to promote the Stokastic product of your choice. Now it's time to start promoting.
Whether you run a website, host a podcast, have a social media following, or you're just looking for a new way to make money; there are endless ways to start promoting. Here are a few:
Post on social media – Share it in your blog posts – Include it in your email newsletter – Tell your podcast listeners – Mention it in your video content – Write a product review – Run a banner or popup ad on your website
How do I get paid?
For every user that signs up with your link, you will earn 50% of the first eight payments they make. So, if one of your followers clicks on your link and signs up for a Stokastic+ Monthly Subscription, you would earn up to $800! Your payments will be sent on a monthly basis directly to your PayPal account
I have more questions.
Feel free to contact [email protected] any time with any additional questions or information you need.
Start Earning with the Stokastic Affiliate Program