We understand not everyone looking for NFL lineup advice has the time to watch every show, read every breakdown and input data into optimizers. Perhaps you're still getting a feel for NFL DFS and aren't quite ready to give NFL Sims a try ahead of Sunday Night Football's game between the Denver Broncos and Minnesota Vikings.
That's where our NFL Lineup Generator comes in handy.

In just a few minutes and with the click of a few buttons, sort through lineups and save up to 20 at a time using a tool that processes our projections for you. Based on your selections, we'll randomly generate top ranked lineups from our simulated lineup pools that fit your contest selection and our ideal lineup building methodology.
We used Lineup Generator to see what players we'd see most often in our builds in Week 11 SNF. It's a tool that has proven to be quite popular with our community, and one that has driven results.

Check out below how we utilizied Stokastic's Lineup Generator in Week 11 Sunday Night Football and the exposures that came from it.
NFL DFS Lineup Advice for Week 11 SNF | Lineup Generator 
First, you'll choose the DFS slate of your choice: DraftKings Main, DraftKings Showdown, FanDuel Main or FanDuel Single Game. Then it's time to let Lineup Generator know what kind of build you're going for: All, Chalky, Balanced or Contrarian.
For this Vikings/Broncos Sunday Night primetime game, we chose the DraftKings Showdown slate and decided to focus on Balanced lineups.
Lastly, we pick our preferred game scenario and adjust as desired. We can also use standard projections here, which we'll do for SNF.
We're done with our initial inputs and now we can generate Sunday Night Football DraftKings Showdown lineups.
Once on the NFL Lineup Generator, we can change between builds, swap out players, and save along the way, and we can navigate through a summary screen featuring player and stack exposures, along with more detailed information on each individual lineup we've saved.
In our first run, it's Russell Wilson who has the highest ownership in our first 20 saved lineups at 55%, and he's followed by Javonte Williams and Broncos D/ST at 45%.
Here's a look at the highest exposures: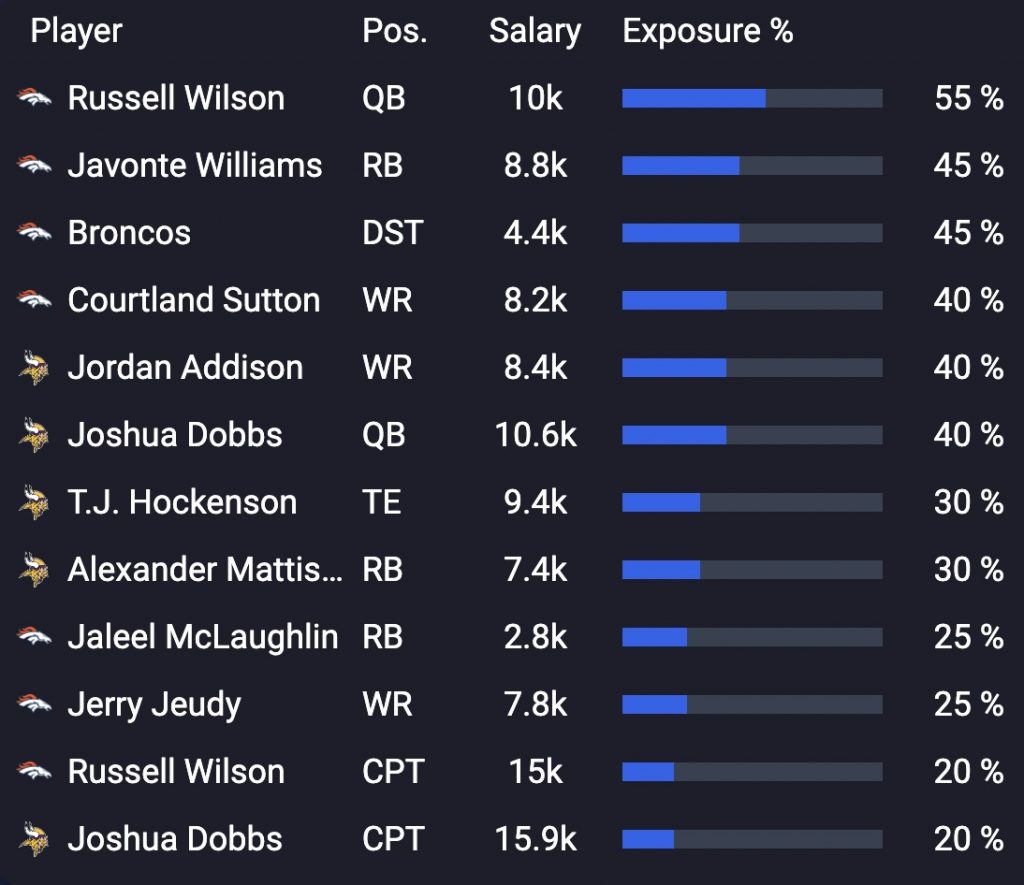 It looks like a pretty wide-open single-game slate on Sunday night, as there are five players bunched rather closely at the summit of the top scorer probability rankings.
Joshua Dobbs has the highest top scorer probability on DraftKings at 19.7% for the Week 11 SNF slate, and Williams, Wilson, Courtland Sutton and T.J. Hockenson each have at least an 11.4% top scorer probability too.
Dobbs has been impressive to start his Vikings career, picking up a win in each of his first two appearances, and now gets a crack at the Broncos in Denver. The quarterback is populating in 40% of our saved DraftKings lineups at $10,600 and is tied with Wilson and Williams as our highest exposure at CPT (20%).
Wilson has a top scorer probability of 15.6% and is showing as the optimal captain in 10.1% of lineups per Stokastic's Showdown and Single Game tool. He's showing in 52.7% of optimal teams in the UTIL spot.
Sutton and Addison each show in 40% of our first run at wide receiver, with Denver's Jerry Jeudy a bit further down in 25% of lineups. It's been a rather disappointing season for Jeudy, who only has 371 receiving yards and one touchdown to his name in 2023. He has a 10.1% captain optimal rate and 33.2% UTIL optimal rate while owning a 7.1% top scorer probability for this primetime matchup.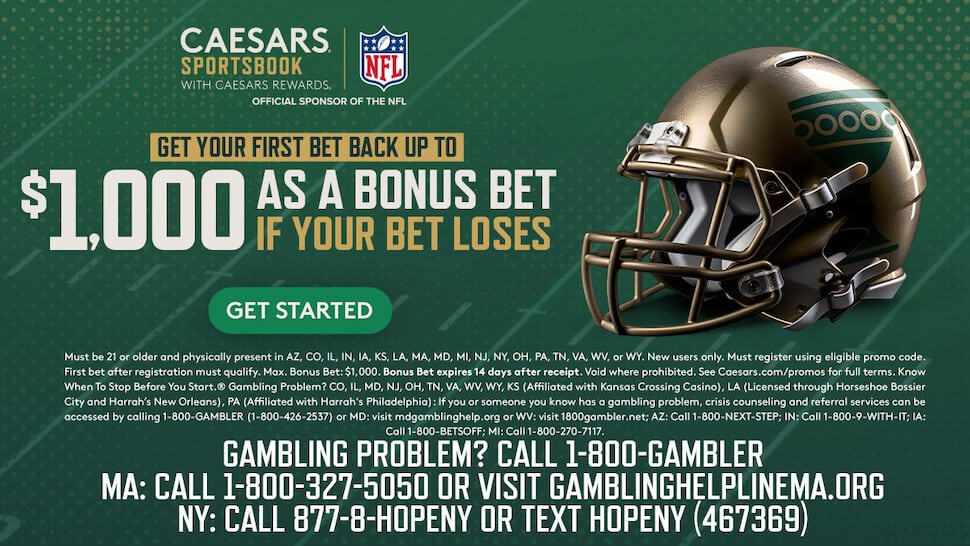 Elsewhere, Hockenson will obviously be a popular NFL DFS play for Sunday Night Football, and he's in 30% of our first NFL Lineup Generator run at his $9,400 price tag.
The highest-owned cheapie in our lineups is Denver RB Jaleel McLaughlin, who $2,800 on DraftKings and is included in a quarter of our saved lineups.
Other notable inclusions near the top include Alexander Mattison ($7,400) at 30% and then K.J. Osborn ($6,600), Brandon Powell ($4,000), Marvin Mims ($5,600) and Samaje Perine ($3,200) all at 15% ownership.
Remember that these exposures are based completely on our setting. You will get completely different lineups depending on your inputs and desired lineup-building approach at the start of the process, and from there you can tweak lineups, save as you see fit, and upload to DraftKings in seconds.
In addition to Lineup Generator, any Stokastic package includes access to our Premium Discord where you can interact with both our pros and community at any time.
Good luck with your Sunday Night Football NFL DFS lineups in Week 11!