Drafters Fantasy Promo Codes September 2023
Use our exclusive
Drafters Fantasy promo code
STOKASTIC4 
to get your first deposit matched 100% up to $100! Drafters makes daily fantasy sports fun and engaging by combining the best elements of season-long fantasy sports (the draft) with the latest daily fantasy features. Drafters is also offering a massive NFL best ball tournament this year with
$2 million total prizes and $300k to first place
! Find more info about our Drafters promo code and a full review of the Drafters DFS app below.
Drafters Fantasy Sports Promotion Highlights & Terms
| | |
| --- | --- |
| 💰Drafters Fantasy Promo Code | STOKASTIC4 |
| 💵Drafters Fantasy Bonus Amount | $100 |
| ❔Drafters Fantasy Promo Description | $100 Instant Deposit Match |
| 🌎Drafters Fantasy Eligible States | AL, AK, AZ, AR, CA, CO, CT, DE, FL, GA, IL, IN, IA, KS, KY, LA, ME, MD, MA, MI, MN, MS, NE, NH, NJ, NM, NY, NC, ND, OH, OK, OR, RI, SC, SD, TN, TX, UT, VT, VA, WA, D.C., WV, WI, WY |
| ⚾Drafters Fantasy Sports Offered | Baseball, Basketball, Football, Golf, Hockey, MLB, NBA, NFL, NHL, PGA |
| ✔️Drafters Fantasy Promo Verified For | September 2023 |
| 💯Drafters Fantasy Bonus Link | Play Drafters Fantasy Now |
How To Claim Your Drafters Fantasy Sports Bonus
When you visit Drafters, the first thing you'll notice is the user-friendly interface that simplifies signing up, logging in, depositing, and withdrawing funds. They offer a generous first deposit-match bonus of 100% up to $100, effectively doubling your initial bankroll. This bonus is a fantastic way to kickstart your fantasy sports journey. If you've signed up for a sportsbook or DFS app before, this will be a very straightforward process by following the steps below.
Step 1

Once you go to Drafters, click register in the top right corner, which will take you to the registration page. Enter all of your personal information. Make sure you enter Drafters Fantasy Promo Code STOKASTIC4 to get this specific bonus.

Step 2
Once your information is entered, you will be taken to this page. Enter the code that was texted to you and verify.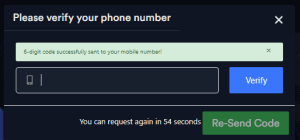 Step 3
Next, click on the deposit button.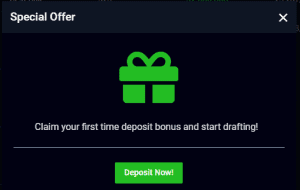 Step 4
Enter code Stokastic4 to activate your deposit bonus. Once you do that, click the PayPal button to complete your transaction. PayPal account is not required.
After registration is complete, you're ready to deposit and start playing! Your first deposit will be matched 100% up to $100.
Drafters Fantasy Sports Overview
At Drafters, whether you're into the classic best ball format or the brand-new Pick'em game, we are here to guide you through the ins and outs of both, helping you avoid common mistakes and increase your chances of winning.
Drafters Fantasy allows you to play daily, as well as weekly, live snake drafts for MLB (baseball), NBA (basketball), NFL (football), NHL (hockey) and PGA (golf). They're also well-known for Best Ball! You can play just for fun, meaning no real money is needed to play, or you can play to win real money. On Drafters Fantasy Sports, you're able to join a public game or create your own private draft so that you can invite your friends.
Drafters Best Ball
In the best ball format, which is a staple at Drafters, you draft a team of players and keep them throughout the season. Unlike traditional leagues, there are no waiver moves, trades, or adds/drops. You can draft multiple lineups, up to 150, in most of their contests. Stacking players from the same team, especially quarterbacks and pass catchers, can be a winning strategy. Ideally, with the quarterback you draft, you want at least 1 of his pass catchers. 2 or more, however, is more ideal. Pay attention to player exposures, especially if you plan on doing multiple drafts throughout the summer. If you've drafted 15 teams, you'll see how much of each player you have drafted and what percentage of each player you have in all of these drafts. Be cognizant of that because you don't want to be overweight or underweight on certain players.
There are multiple ways to draft a team in best ball. It is a 20-round draft. You can opt for fast drafts with 30-second pick times or slower drafts with eight hours per pick. Typically, a 30-second per-pick draft lasts around 2 hours, while an 8-hour per-pick draft can take much longer. We recommend drafting as many teams as possible because there is such a large prize pool at Drafters this year ($2M total and $300k to first). The more drafts you do, the more players you are exposed to, and the higher your chances of winning. Avoid common drafting mistakes, do your research and make sure you have an idea of a draft strategy so you can maximize your chances of winning.
Drafters DFS Pick 'em
Drafters also introduced a captivating Pick 'em game where you predict whether players will exceed or fall short of specified stat lines. You can create cards with up to eight legs and 100x entry fee potential wins. So, if you place a $10 eight-leg entry and it hits, you will cash out at $1,000 on a non-safety entry. If you enter an entry and toggle the safety feature, you can lose up to 2 legs in an entry and still return some cash. However, if you win 100% of your legs with a safety entry, your payout will be much lower.
When creating your Pick 'em cards, consider both over and under selections for optimal strategy. Do not just go in and pick all overs all of the time. Oftentimes, these books shade a player prop to the over. Look out for free squares and discounted plays. Many Pick 'em sites offer them randomly, and it is always a great building block to a potential winning card.
Drafters Fantasy Bonus
$100 Instant Deposit Match
CLAIM NOW
Drafters Fantasy FAQ
Where is Drafters Available?
Drafters Fantasy is available in the USA and Canada. Legal residents physically located in Canada or any of the 50 states excluding Arizona, Hawaii, Idaho, Iowa, Louisiana, Montana, Nevada, and Washington are eligible to open an account and participate in real money contests offered by Drafters. Players in Arizona, Hawaii, Iowa, Louisiana, Montana, Nevada, and Washington (the "Excluded States") are ineligible to participate in real money contests.
What Sports Are Available on Drafters?
Drafters has the following sports:
How Can I Deposit Money in Drafters?
Drafters allows for PayPal and Credit Card payments.
Does Drafters have a Mobile App?
Yes. Drafters Fantasy offers Android, iOS as well as a Desktop app for all your drafting needs!
Drafters Fantasy Sports Review
Drafters Fantasy App
If you're on the go more often than not, you'll be happy to know that Drafters also has an app you can use. Download the Drafters app from the Apple app store or your preferred Android app store.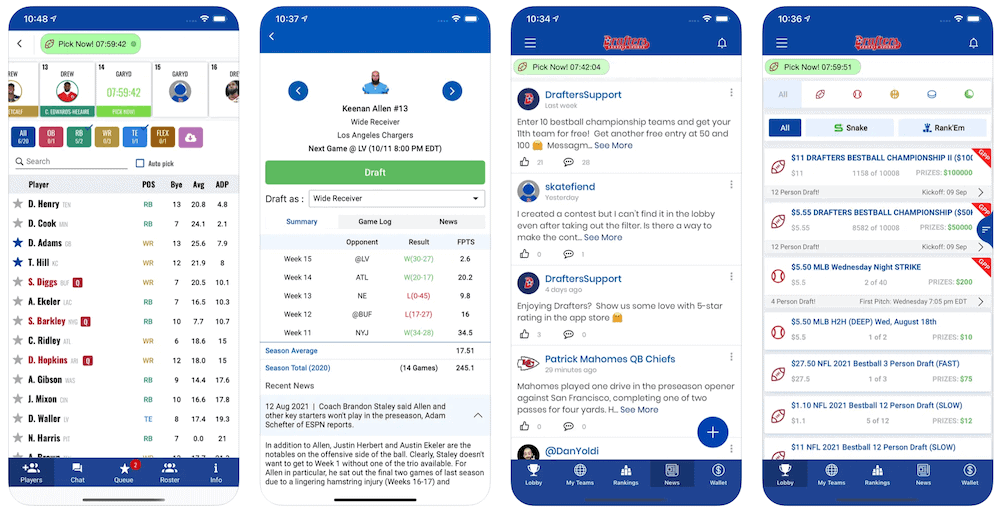 Drafters Daily Fantasy Sports app allows all of the functionalities featured on the main site in one easy-to-operate package available for Android and iOS. The app is smooth, user-friendly, and just as simple as the desktop version. A menu bar on top allows you to switch between sports easily. This helps to keep everything organized, neat, and easy to navigate. A pop-out menu on the top left will show your entries, balance, settings, a tutorial, and many other things.
Conclusion
In summary, if you're used to playing on other DFS apps like Underdog Fantasy for best ball or PrizePicks for pick 'em, Drafters offers an alternative fantasy sports app with its own best ball and Pick'em formats. Like Underdog and PrizePicks, Drafters frequently offers free squares and discounted player picks that are always worth taking advantage of.
Whether you're looking to draft and manage teams throughout the season or test your predictive skills with player prop bets, the Drafters app provides ample opportunities for fun and winning potential. Take advantage of deposit bonuses, optimize your drafting strategy, and explore the various ways to make the most of your fantasy sports journey at Drafters.
Find a complete list of our Best DFS apps on Stokastic! 
Other Fantasy Sports Websites
Extra Sportsbooks