The Stokastic wins just don't stop — not even for the playoffs. Our very own NHL DFS maven Jake Hari (tommienation1) placed first on Saturday night in DraftKings' NHL DFS $30K Kick Save contest — bagging $10,000 — and then he followed that up with yet another win in the Kick Save on Sunday for a cool $5,000. Combine all the winnings from his other entries on the two slates and Jake in total took home $21,164.83 in two nights! Let's take a look at his two lineups and assess his NHL DFS strategy.
To celebrate, Stokastic is offering an awesome promo: Sign up for Stokastic Platinum with promo code 'MayBundle,' and get your first 3 days of either weekly or monthly for just $5!
Doing my best @SteveBuzzard impression https://t.co/SPPVnMnbMe pic.twitter.com/oR53tpUtxJ

— Jake Hari (@JakeHari) May 1, 2023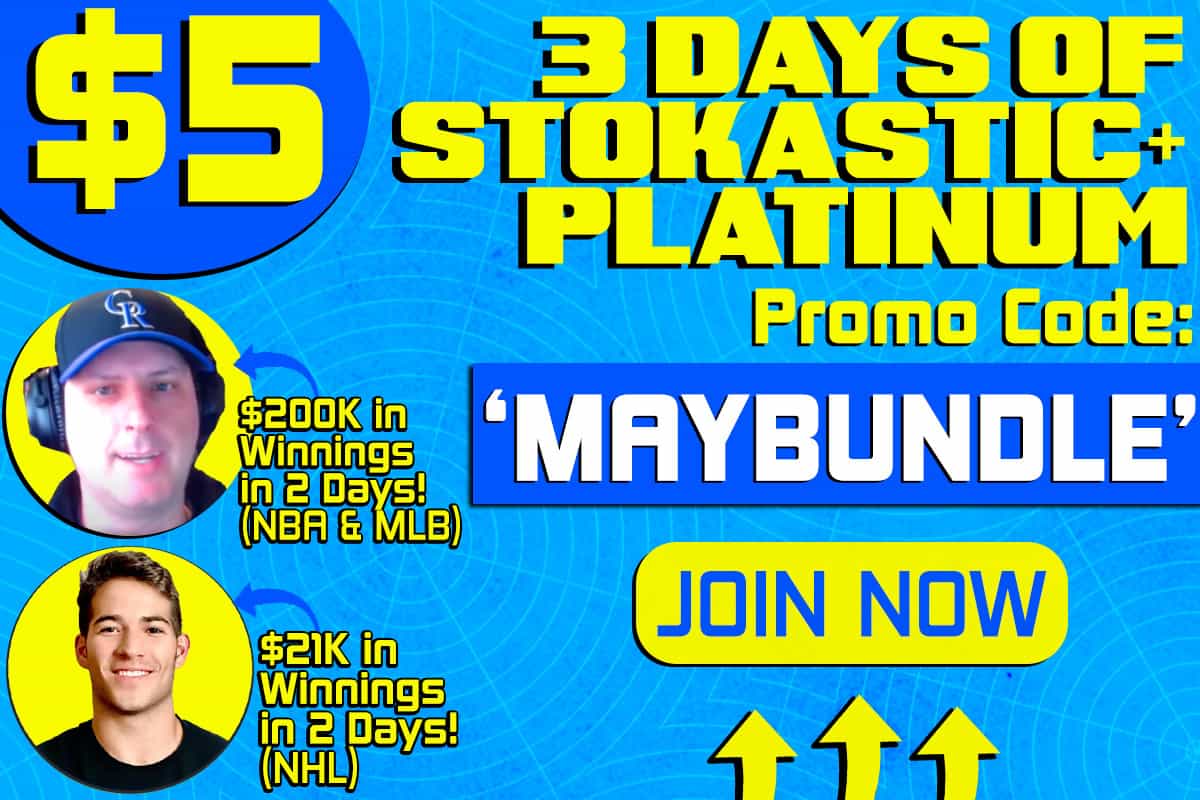 Saturday Night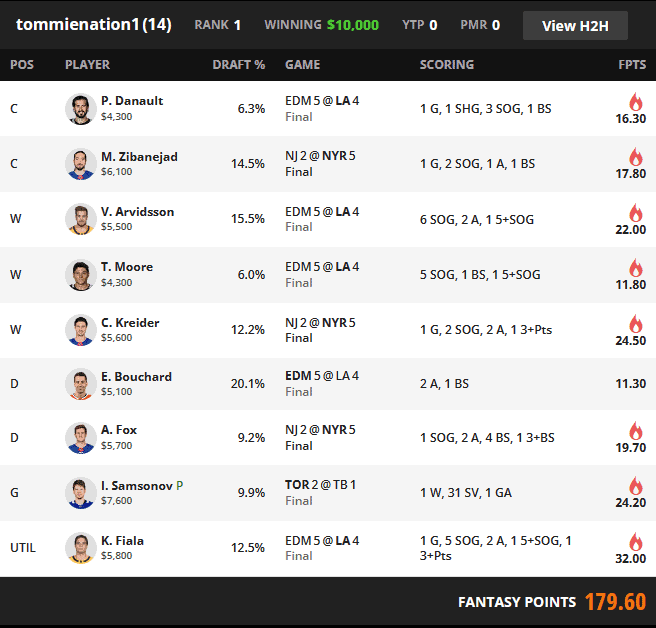 Almost every piece boomed for Jake, as he stacked four Kings with one Oiler as a run-back, and all went for double-digit points. Plus, Kevin Fiala's 3-point, five-shot effort was a huge boon as a utility, as was the three-Ranger stack that he paired with the Kings. All but one of Jake's skaters contributed at least one real point, and four skaters also earned bonuses, so this was a near-perfect stacking choice from Jake.
Sunday Night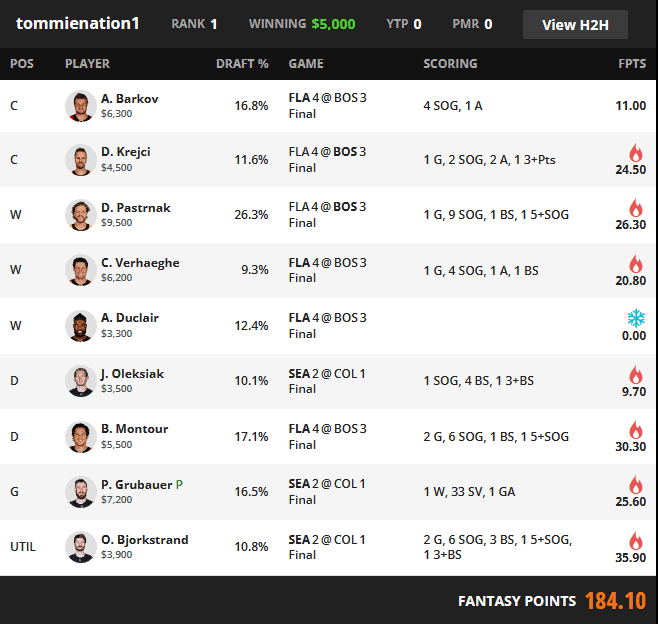 This lineup had a dud in it, with 0 points from Anthony Duclair, but Jake overcame it with great goal hunting and solid contributions from the rest of the Panthers-Bruins game stack. Brandon Montour and Oliver Bjorkstrand both netted a pair of goals while adding in peripheral stats, and the high-priced wingers boomed as well to give Jake a somewhat contrarian and highly effective lineup despite the Duclair goose egg.
And again, Jake was able to take down these contests by using Stokastic's NHL DFS tools and NHL DFS projections. Get in on the action yourself by signing up with Stokastic+ and see where our services can take you!
Again, don't forget our new promo: Sign up for Stokastic Platinum with promo code 'MayBundle,' and get your first 3 days of either weekly or monthly for just $5! Does not include Fantasy Cruncher.
NHL Tools for Daily Fantasy Hockey
The rankings for fantasy points and value are derived directly from my own fantasy NHL DFS projections. Roster players with solid value rankings and spend most, if not all of your salary. I'm confident that lineups built using this method will be competitive in tournaments.
The NHL DFS projection model was created and is maintained by Alex Baker and Jake Hari. It includes DFS projections for contests on both DraftKings and FanDuel. The projections are most effectively used by uploading them into our Fantasy Cruncher premium add-on, which can generate hundreds of optimal NHL lineups within minutes.
Initial NHL ownership projections for DraftKings main slates will be posted daily by 4 p.m. EST and will be updated thereafter when major news breaks. Note that last-minute injury reports will impact not only the injured players' or their replacements' ownership projection, but can affect overall roster construction and therefore, the ownership projection for every other player on the slate.
The NHL Top Stack Tool utilizes Alex Baker's personalized rankings and projections, goes through myriad data and finds the best possible stacks for your daily fantasy lineups.