Week in and week out, we hear about weather edges in golf. It's rare that a golf tournament goes four days with perfect temperatures and calm winds, so PGA DFS players are always trying to figure out what the conditions will be like when their golfers tee off. Predicting the weather isn't easy, but Stokastic has developed the perfect PGA DFS tool to quantify how the conditions will impact every golfer. The PGA Weather Splits tool is the place to look if you're sick of relying on a crystal ball.
PGA DFS players can factor the weather edge into the PGA DFS projections and Top Golfers tool. Or they can make it even simpler with Stokastic's PGA Lineup Generator that builds up to 20 positive ROI lineups in an instant.
PGA DFS Projections & Tools: Weather is Crucial in Golf
It's common to hear PGA DFS players talk about wind gusts, rain forecasts and the softness of the greens heading into a golf tournament. It's rare for anyone to know exactly how those conditions can impact a golfer's play. The Weather Splits tool starts with the assumption that the weather forecast, including wind and rain, is accurate and then uses it to produce a "strokes gained from weather (SG_Weather)" metric. Every golfer's tee time is used to understand if their strokes gained might improve or weaken depending on the environment.
You can learn more about this in the tool itself. Here's an example from the 2023 Charles Schwab Challenge with some strategies on how to apply the tool. The impact of weather on the Charles Schwab was minor, but it's instructive on how to apply these metrics to other PGA DFS slates.
---
Latest PGA DFS Content
---
The first thing that stands out is Scottie Scheffler's -0.15 SG_Weather. That is an overall number that considers the way that the weather conditions will affect Scheffler in the first two rounds of the tournament. The average wind speed for Scheffler given the time he is teeing off on Days 1 and 2 is to the right. Finally, how those conditions impact his first two rounds finishes out Scheffler's row.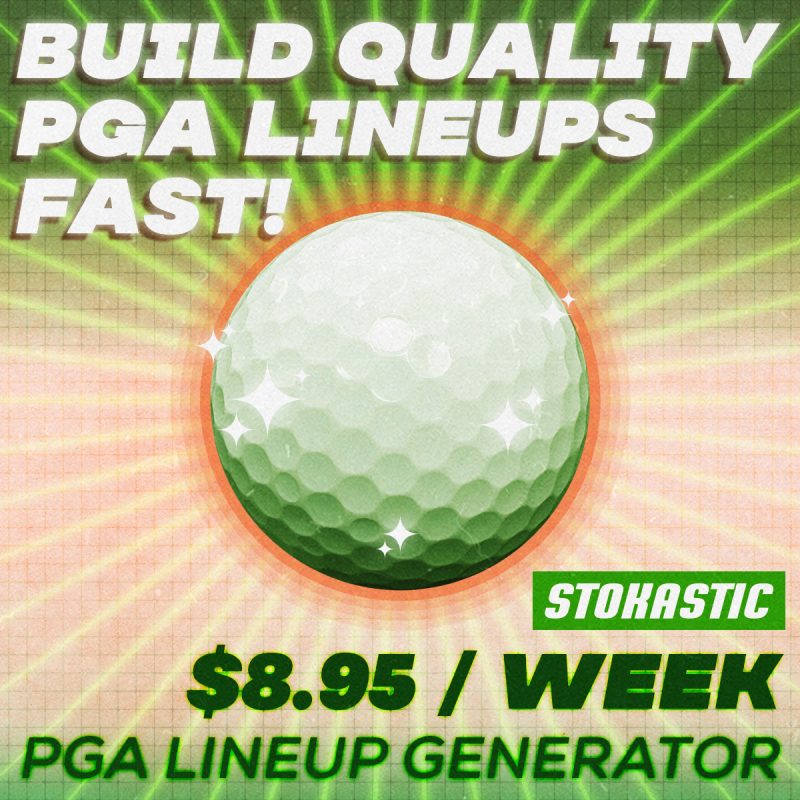 We'll see how specific-round weather data comes into play later. First, it's worth considering how much the negative weather could impact a golfer like Scheffler. He is one of the top golfers in the world, tops the list in terms of ownership for the Charles Schwab and is the odds-on favorite to win. While the -0.15 strokes lost is minor, it won't be factored into most projection systems and can certainly break a tie if you're looking for an ownership discount.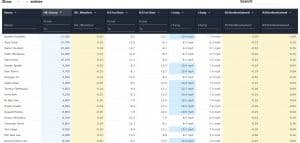 Scheffler isn't the only golfer with a negative SG_Weather in the tool. Sorting by tee time, you'll notice that a whole range of golfers that tee off around the same time as him are expected to face tough weather conditions, somewhere between -0.13 strokes lost to -0.16. That sorting method can help you arrive at weather stacks, especially when the impact is larger.
Weather stacking in golf can be a key to winning some weeks. Think of a tournament that is expected to face inclement weather for the golfers that tee off in the morning compared to milder conditions in the afternoon. Of course, that could flip again in Round 2. PGA DFS players will know this and hear about it all week, but without quantifying its impact, they won't be able to make precise decisions for what exposure they want to weather "waves."
The public is also likely to buy into narratives that may not bear out in the data. Are people inclined to weather stack despite only a minor hit to the golfers in a certain wave? The ownership on golfers at those tee times could come in too high, creating significant leverage to lineups that aren't overcompensating for the weather situation.
Weather strategies will truly shine in PGA DFS Showdown formats. The correlative effect on a lineup's upside can be high if four, five or even all six golfers have a positive SG_Weather. And just like stacking in week-long PGA DFS, there are going to be casual players that overcompensate sometimes.
The PGA Weather Splits tool will help you make the right decision. Coupled with Stokastic's PGA DFS projections and Top Golfers tool, the weather edge will have you on your way to competing at the top of the DFS leaderboards.