The 2023-24 NHL season is about to get underway, and that means plenty of NHL DFS action on DraftKings and FanDuel. If you're interested in becoming a better NHL DFS player and/or learning how to get the most out of your Stokastic.com NHL DFS subscription, this article may be for you. Here we will give you some tips and tricks on how to use Stokastic's NHL DFS Projections, Ownership Projections, and the Top Stack Tool to build quality lineups for tournaments and cash-games for Daily Fantasy Hockey.
Projections are a great starting point for every DFS sport, even the highest-variance sports, such as NHL. In his Projections Primer, Alex Baker has said "the safest route to go with projections is to use mine because they are proven by the money I invest and the return I have earned; as one of the foundations of my process, you can be sure that they are good enough to make money at any level" and that is certainly the case in NHL DFS. For cash games, sorting by the value column in our projections can help you get an idea of which players project to out-perform their price tag. If you're ready to up your NHL DFS game, uploading Stokastic's NHL Projections to Fantasy Cruncher is a great way to quickly get a feel for the slate (even if you don't play mass-multi entry contests), as you can generate hundreds of lineups in seconds to see which players are popping up as the best values that you need to lock in cash games and which players are going under the radar in tournaments.
As is the case in every sport, a lot of the time you'll see all the studs at the top of the list. Nathan MacKinnon is one of the biggest names in the league, but in our projections for the example above, he's sandwiched between a handful of other big names, while his price on DraftKings is at $8,500 (highest on the slate). His 1.68 value rating indicates that while he's a top raw-point play, he may get passed up by DFSers more so than usual because of the other guys around him grading out a little better value-wise.
It's not enough to know who the best plays are in NHL DFS in 2023 if you're playing tournaments. You'll need to know (or at least have a good idea) who will be the most popular picks, and as importantly, the low-owned sleepers. With Stokastic's NHL ownership projections, you'll know who the field will be on, and how you can get different. A great way to see how popular your NHL DFS lineup is using the sum of ownership of your lineup and comparing it to other lineups to see how unique your lineup is. If you're savvy with Excel, you can also use the product of ownership across your lineup, as you may have a high ownership sum, but if you have one or two low-owned players, your lineup may already be very unique. If you're hand-building a GPP lineup and already have a core group of players you know you want to play, check the ownership projection of one or two players that project similarly in order to make your final cuts! For cash-game lineups, use ownership projections to make sure you're not jamming in too many low-owned plays, as that could be a sign that you're building too off-the-board of a lineup. For the most part, the field is sharp enough that a high-owned play likely means it's a good play, but stuffing too many high-owned plays in your lineup makes it incredibly difficult to win a daily fantasy hockey tournament.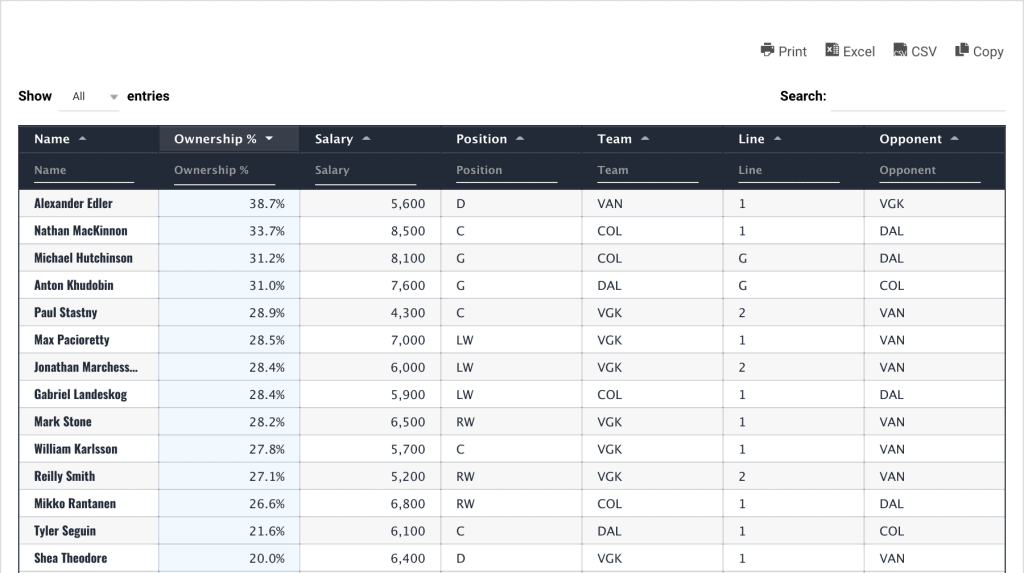 Alexander Edler was one of the best plays on this particular slate, but he was projected for almost twice the ownership of a better DFS defenseman in Shea Theodore, who was $800 more expensive. Ownership projections are incredibly valuable to get a unique build in daily fantasy hockey, whether you're hand-building or using an optimizer.
This is where Stokastic's NHL DFS Projections and NHL Ownership Projections meet. You know who the highest-projected plays are, and you know who's going to be highly owned on an individual level. However, in NHL DFS tournaments, stacking is almost a necessity. The NHL Top Stacks Tool allows you to estimate the chances of a three-player line stack being in the winning lineup as well as its estimated ownership. One valuable column that you'll want to check out is the leverage column. This is the difference in the Top Stack percentage compared to the ownership percentage of a given stack. Using Stokastic's NHL Top Stacks Tool is the easiest way to identify if a stack is going over- or under-owned by the field on a given slate.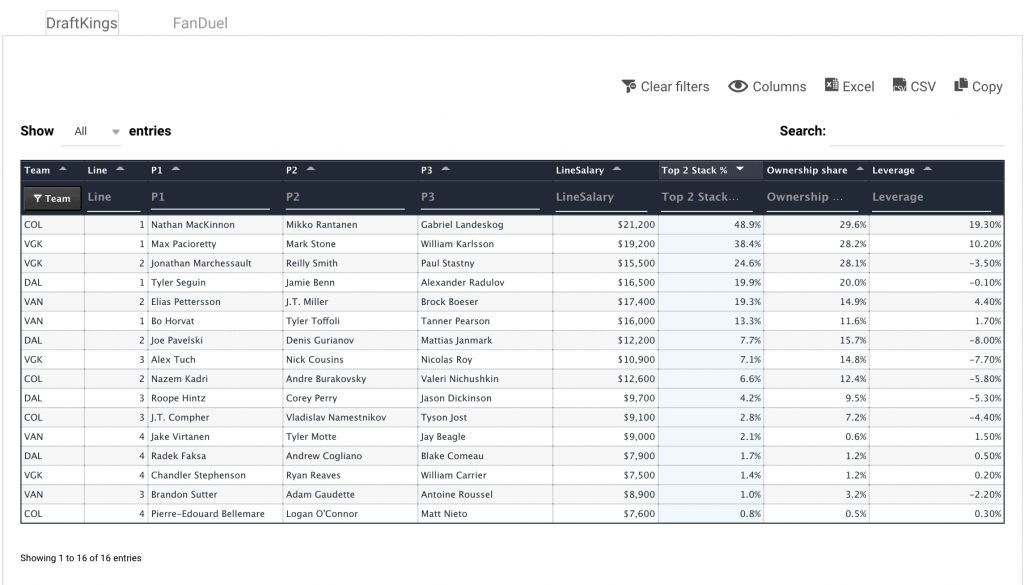 Nathan MacKinnon and the Avalanche top line may be a highly owned stack, but that doesn't mean they're over-owned! Despite their ownership, they were still the most under-owned stack on this slate according to Stokastic's NHL Top Stacks Tool. Looking at Dallas' second of Pavelski – Gurianov – Janmark, you can see that they were projected for 15.7% ownership (mostly because of their low price), but their actual chances of being in the winning lineup were about half of that ownership (7.7%), which would make them an over-owned stack that you might look to avoid in tournaments. Whether you're building 150 in an optimizer or building by hand, the Top Stacks Tool is as valuable a tool as we offer for NHL DFS!