Dak Prescott is looking at hand surgery as early as today (9/12), according to ESPN's Todd Archer. The Cowboys are facing six to eight weeks without Prescott under center. As a fantasy manager, what are the options? Is he worth holding or is he a trade target? How does this affect the rest of the Dallas skill position players?
Be sure to check out Isaiah Sirois breaking down the betting implications of Prescott's injury.
Is Cooper Rush Worth Picking up?
Expect Dallas to stick with Cooper Rush as the starting quarterback during Prescott's absence. Jones noted that Rush does have five years in the league with Dallas, reportedly saying that Dallas wouldn't have to adjust the offense. Jones told USA Today, "The main thing about him as backup quarterback is we didn't have to alter the offense to have him. That's a good thing to have continuity. That's the main reason he won the job."
In 2021, Rush put up 325 passing yards and two touchdowns in the single game Prescott missed, but this Dallas team is much different than the team Rush worked with last season. Most notably, a depleted offensive line and no Amari Cooper. While Rush did complete 53% of his passes for 64 yards when he replaced Prescott in week one, don't rush to the waiver wire to pick him up. Rush is not a rushing threat. In four years at Central Michigan, his total rushing yards ended up at -118. With Ezekiel Elliot and Tony Pollard in the backfield, and Michael Gallup still recovering from an ACL tear, the Cowboys have no reason to lean on Rush's arm during Prescott's recovery. 
Rush holds the most value for fantasy owners that have Dak on the roster in larger leagues. Stash Prescott on the IR and hope for a return in mid-November.  
Who Takes the Biggest Fantasy Hit? 
Looking back to the 2020 season when Prescott spent the majority of the season on IR with an ankle injury, Elliot did not fare well during that stretch. After Week 5 of the 2020 season, he only had one rushing touchdown and one receiving touchdown. In those 10 games, he didn't go over 110 yards rushing in a single game. Any fantasy managers that happen to have Elliot on the roster should look at trading him immediately if they can find any takers, as his scoring prospects look bleak over the next few months.
Considering Gallup is still questionable for week two, CeeDee Lamb owners shouldn't be too quick to try to move him from their roster. Lamb led the Cowboys with 11 targets in Week 1. Dallas is going to need to get Lamb double-digit targets every week, especially if they want to have any shot at beating the Bengals, the Rams and the Eagles, who are all on the Cowboys' schedule ahead of the Week 9 bye.  
Where to Find Upside?
Dalton Schultz will be the most stable Cowboys' fantasy player on the roster over the next few weeks. Schultz led the Cowboys with seven catches in Week 1. Schultz was projected as a pre-season top 10 fantasy tight end by the Stokastic fantasy team. Those projections won't radically shift with Prescott's injury.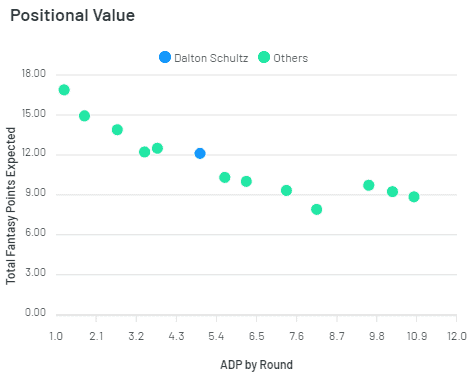 Rush is going to have to deal with an already thin offensive line that lost a starting left guard in the first quarter of Week 1. Finding fantasy upside in Dallas is proving quite tricky. Any injury is never good but considering how bad the Cowboys looked while Prescott was in the game, this injury might just prove devastating to the Dallas Cowboys and their 2022 outlook.
Thanks for reading to the end of this article! If you appreciate this free content and want to see more of it every day, you can help us out by sharing this article on social media!
If all that free content isn't enough for you to dominate your Fantasy Football draft this year, check out the
Awesemo Fantasy Football Draft Kit
, which includes sophisticated tools and proprietary fantasy data that you can only get from us. Want more
top NFL fantasy football picks
? We've also got a brand new
Fantasy Football YouTube Channel
where you can tune in every day for the best fantasy videos in the business. Check out our
fantasy football draft rankings
, our
fantasy football cheatsheet
, our
NFL fantasy football sleeper picks
and our
fantasy football player profiles
.