NBA DFS on DraftKings + FanDuel: After a few months off, the NBA is set to return on Thursday, July 30 with a two-game slate.  After that, we'll be seeing a lot of five- and six-game slates after Opening Night. Since we've been away from the NBA for so long, I wanted to take a look at similar NBA DFS slates to see if there is anything we can take away from the beginning of the season. Using Fantasy Cruncher's Lineup Study, I grabbed details from every five- or six-game slate during the 2019-20 NBA season. Here are some of the things I found that might be useful for you DraftKings + FanDuel Lineups:
---
NBA DFS Deep Dive into Five and Six Game Slates
---
1/2 OFF PROMO CODES
Sports are back and we're giving you your first month of Awesemo+ half-off when you use promo code RESTART at checkout. That's only $45 for a month of Awesemo's leading NBA DFS projections, tools and content for NBA, MLB, PGA and more! Celebrate the return of sports with this great deal, you won't find a better value anywhere else. This offer is valid through Aug. 3.
AND
NBA is back and you can get your first month of Awesemo+ NBA for 50% off when you use promo code BUBBLE at checkout. That's only $25 for 31 days of Awesemo's leading NBA DFS projections, ownership projections, Boom/Bust tool, & more! You better hurry because this offer is only valid thru Saturday, August 1!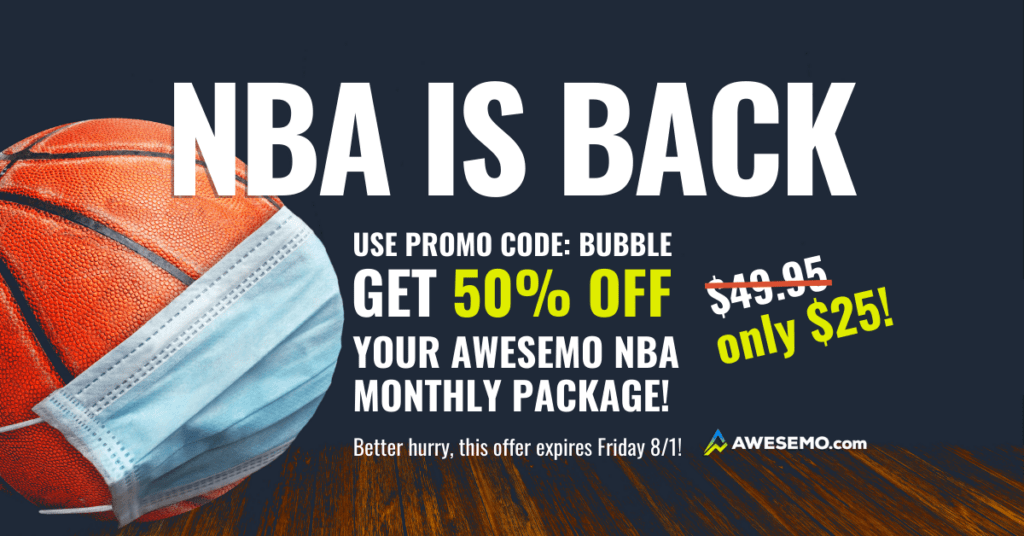 ---
There were 30 different slates where I was able to get data. For each slate, I got two different data points. The first contest I tracked was the biggest contest from that day. This was generally the $8 Excellent 8's, but there were some days where the buy-in changed. Ultimately, it was whatever the primary 150-max contest was for that day. After that, I grabbed the data from the primary mini-MAX. I wanted to make sure two different price points were represented to see the effect of moving up in stakes.
Starting at the top seemed best. In the table below, you'll see what it generally took to win each contest along with the highs and lows. I'm not sure there's a lot to take away from this, but it does help to calibrate your brain as to what it takes to be near the top.
| Buy In | Avg. Winning Score | Highest Winning Score | Lowest Winning Score |
| --- | --- | --- | --- |
| <= $2 | 363.8 | 425.0 | 318.5 |
| >= $8 | 368.7 | 417.8 | 324.0 |
Instead of looking at just the top score, I prefer to look at what it would take to be in the 99th percentile of scores. There's a lot of randomness is the results at the top. I believe it's more important to know how often you give yourself a shot at a big prize. The payout structures make it a little difficult to look at just ROI. One blocked shot could be the difference between a $50,000 win and a $5,000 win. In the grand scheme of things, both of those lineups should be treated equally. In order to finish in the 99th percentile for the contest, you'll need to be within 35-40 fantasy points (FP) of the top score.
| Buy-In | Avg. 99th Percentile | Highest 99th Percentile | Lowest 99th Percentile |
| --- | --- | --- | --- |
| <= $2 | 328.9 | 385.3 | 290.5 |
| >= $8 | 328.9 | 384.5 | 288.3 |
It's not just about raw points, though. Ownership plays a big role in the scoring of a slate. This is where we start to see differences in lineup construction based on the buy-in for the contest. Looking at lineups where the full $50,000 cap is spent, you'll see how different the total ownership of a lineup can be. The average total lineup ownership% in the lower buy-in contests is a raw 25% higher (12.8% relative) than the contests that are $8 or more. We also see that in the extremes, both high and low. Understanding ownership in your particular contest is massive in making sure your lineup construction is correct.
| Buy-In | $50K Avg. Own% | Max Own% | Min Own% |
| --- | --- | --- | --- |
| <= $2 | 220% | 316% | 146% |
| >= $8 | 195% | 286% | 129% |
There's also a strong relationship between the score you need to finish in the 99th percentile and the average ownership for the slate. As the total average ownership for the slate rises, the cutoff for the 99th percentile rises with it. The correlation between those two numbers is 0.44. Now, this isn't much of a surprise. We know that when value opens up, it allows you to roster more high-end players. That leads to higher scores. It also makes it harder to crack the top 1%. As the average ownership increases, the gap between the winning lineup and the top-1% threshold gets narrower. On the 10 most-owned slates, the gap is roughly 28 FP. On the 10 least-owned slates, the gap is 44 FP. And on a heavy chalk day, finding someone with similar projections and ownership discounts is essential for achieving long-term success, otherwise, you'll get raked to death. This is where finding the product of ownership instead of the sum plays a big role. Finding the product will help you figure out how likely you are to having a duplicated lineup. This is much more relevant when the sum of ownership is high.
You might be thinking that leaving salary on the table will make it easier to avoid the duplicated lineups, but I'm not sure it makes much of a difference on slates of this size. 97% of lineups in the 99th percentile have a total salary of $49,500 or higher. Because of the way roster construction works on DraftKings, it's a lot easier to spend most of your cap in your NBA DFS lineups.
After I took a look at the data for the top of the tournament, I wanted to get a better understanding of what the people who played 150 lineups were doing. By looking at the performance of people who max enter, you can get a better idea of what it takes to move up in levels.
| Buy-In | Average Winning Score | Highest Winning Score | Lowest Winning Score |
| --- | --- | --- | --- |
| <= $2 | 269.10 | 323.10 | 195.90 |
| >= $8 | 271.20 | 329.50 | 194.60 |
The samples are limited, but it shouldn't surprise anyone to see that the average score for a 150-maxer in the low-dollar contests is slightly lower than it is in the high-dollar contests. Much like the gap in the 99th percentile lineups, we see a similar split in the total ownership numbers too.
| Buy-In | $50K Avg. Own% | Max Own% | Min Own% |
| --- | --- | --- | --- |
| <= $2 | 221% | 279% | 164% |
| >= $8 | 199% | 267% | 140% |
The average 150-maxer is playing a chalkier lineup in low-dollar contests compared to the high dollar contests. Even more extreme, the 150max "pros" are willing to take even more risk, as their minimum is ~15% lower than the minimum from the mini-MAX. Given the aggressive payout structure of the mini-MAX, it seems as though people should be taking a bit more risk to separate themselves from the pack.
It took me a while to find something that I didn't expect. Most of the data ran parallel to my initial thoughts. Then, I started looking at the relationship between lineups that spend the full $50000 and lineups that leave $100 on the table. Again, there are sample size issues here. Adding more data after the bubble is done will help a bit. I hope that people can make changes that help on the margins.
---
Related NBA DFS Content
The Return Show Special with Loughy, Adam + Josh (coming soon)
---
Regardless of your buy-in, there are roughly twice as many lineups entered at the full $50,000 than there are at $49,900. This isn't a shock. With the prevalence of optimizers in the industry solving for the max, you'll naturally get more options at the cap. What I didn't expect happened in the mini-MAX. For people entering 150 lineups, the average score at $50K was 269.1. At $49.9K, the average score was 270.7. Yes, that's an increase of 1.6 FP. Now, relatively speaking, this is only a 0.6% increase. It's certainly possible that with more data, the results will normalize a bit. My expectation would be a decrease in FP as you give up more salary. The results made more sense in the high-dollar contests. Dropping from $50000 to $49900 resulted in a drop of 0.6 FP. In my opinion, people are more likely to blindly play "bad" lineups at the full salary in the mini-MAX based on whatever comes out of their optimizer. The scores at $49900 are essentially equal regardless of contest. It's the average score of the $50000 lineups in the mini-MAX that appears to be missing the mark. This strikes me as the first major step for someone getting into max entry at the lower levels. If you're only generating 150 lineups, pay close attention to the bottom. There's a high likelihood you're entering sub-par lineups by blindly entering the first 150 generated lineups.
| Buy-In | Avg. FP $50K | Avg. FP $49.9K |
| --- | --- | --- |
| <= $2 | 269.1 | 270.7 |
| >= $8 | 271.2 | 270.6 |
Now, there's much more to this than simply looking at average fantasy points. Ownership and duplication are arguably the two most important pieces of information you can have. There wasn't anything significant in the aggregated ownership data. There was a difference in the percentage of lineups that are duplicated, though. This was the spot where I ended up most confused.
| Buy-In | 150Max Own% $50K | 150Max Own% $49.9 | 50KDup% | 49.9KDup% |
| --- | --- | --- | --- | --- |
| <= $2 | 221% | 222% | 25% | 22% |
| >= $8 | 199% | 202% | 29% | 25% |
The percentage of lineups duplicated in the higher buy-in contests was actually larger than it was in the mini-MAX, even though the sum of ownership was around 10% higher in the mini-MAX. This really surprised me. How could lineups that have so much more ownership be duplicated less?
There are similarities between the sum of ownership and the product of ownership, but the construction of those lineups is a bit different. The sum of ownership will likely give you a more stars-and-scrubs construction, while the product will create a more balanced lineup. Ignoring salary, take a look at two example lineups along with hypothetical ownership. As you can see in the table below, the lineup on the right has an ownership sum similar to the mini-MAX average, while the lineup on the left is similar to the $8 buy-in contests. Looking at the likelihood of duplication shows them as equals.
| | Own% | Own% |
| --- | --- | --- |
| PG | 25% | 45% |
| SG | 25% | 45% |
| SF | 25% | 40% |
| PF | 25% | 35% |
| C | 25% | 15% |
| G | 25% | 15% |
| F | 25% | 15% |
| UTIL | 24% | 15% |
| SUM | 199% | 225% |
| PROD | 68,267 | 69,676 |
I believe that people max entering the mini-MAX are more likely to fill out their lineups with cheap, low-owned players in order to fit expensive, high-owned players at the top. This inflates the ownership sum while making the lineup more difficult to duplicate. This goes hand in hand with the lower average score. The type of players being used to fill out the lineup isn't very good, which results in more "busts." In the $8 contests, the people that max enter are generating a more balanced lineup, which opens them up to a slightly higher probability of duplication. Based on this information, attacking the mini-MAX with a more balanced build should help you to be unique while improving your overall package of lineups. This is significantly more important on days where the average sum of ownership is high. The correlation between the percentage of lineups duplicated and the average sum of ownership is 0.74. As the ownership sum creeps higher, the value of a non-duplicated lineup increases. On days with a high ownership sum, I would recommend paying close attention to the construction of your lineups. Avoiding duplication on those days should improve your chances of landing in the 99th percentile.
I realize this is a lot to take in. Feel free to leave a comment if you have questions. If you're a premium subscriber, don't be afraid to reach out in Slack. If you're on the fence about signing up, shoot me an email and I'll try to elaborate further. I'll revisit this at the end of the NBA regular season to see if anything changed. Ultimately, I hope this helps people take the next step in trying to improve their overall play. Optimizers are a fantastic tool when used correctly. Learning how to use it to increase your lineup quality while decreasing your chances of being duplicated should be your main priority as you look to grow your DFS game.
---
Follow us on all of our social channels! Check out our Twitter, Facebook, Instagram and YouTube for more great NBA DFS Awesemo content.