We've got snowstorms sweeping the East Coast and a rare rain makeup game from the New Orleans Pelicans' infamous leaky roof game earlier this season so it's going to be an interesting slate of action across the board. As of publishing there are still a bunch of key players questionable so this seems like a great time to stress the importance of keeping an eye on news and being able to pivot last minute to seize that value.
You're also going to note the new name for this column after we split back out Awesemo's Slam Dunk picks. I figured that the name Full-Court Press was too cliché of a column title even if it is an accurate representation of my slate breakdowns. So what better sums up the modern NBA as well as the importance of adjusting your lineups based upon new information than the name Switch and Hedge? Every day I'm going to try to get you to switch — eh? eh? — onto plays based upon the information I dig up and present to you. Then you're going to have to hedge with your original thoughts about what you thought. Switch. Hedge. Hot damn I'm good at naming things.
And since this is now just my column, I'm also going to go on a quick teachable moment tangent. Here are two tidbits I had on yesterday's low-owned Thunder-Celtics matchup:

You know how many times out of 15 lineups I played Paul George? Zero. How many times I played Jayson Tatum, who ended up going for 8x+ on Draftkings? Twice. The point is that if you see an angle and you believe in it, you have to take it. Whether it's something I provide you, something you see on you own, that's really how you create the kind of unique and high-upside lineups that will actually help you win a tourney. Don't take dumb risks but using educated guesses based on a thorough research process: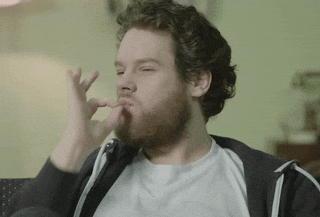 As always this column pairs best with Awesemo's rankings and ownership projections so make sure to check those out before lovingly crafting your lineups tonight. You should also definitely check out Awesemo's Slam Dunks, now safely in their new home after our brief but torrid cohabitation. And now, onto the games:
Toronto Raptors (112.25 implied points) vs Cleveland Cavaliers (114.25 implied points)
The Raptors' projected total is slightly below their last 10 games' scoring average while the Cavaliers are projected for slightly more than theirs. DeMar Derozan rested in the Raptors' last game and is expected to suit up tonight versus Cleveland. Coach Dwayne Casey said he may rest starters in their game yesterday as well as today's game so keep an eye out for news closer to lock though; if either Lowry or Derozan sat again, Delon Wright would get a great boost in this matchup, as would Fred Van Vleet if active. Jonas Valanciunas seems to be getting less minutes down the stretch run to get a little rest for the playoffs. The Cavs have no one to keep him off the boards but it's tough to back him at around 20 minutes. Serge Ibaka is in the best DVP spot of the game and has an interesting price industrywide. He may not have the upside to be a lineup building block but he can be a steady play if he fits your lineup.
The Cavaliers should be LeBron driven yet again in a game with Larry Nance still out with hamstring issues. LeBron has gone for over 70 DK points in every game without Nance and his price hasn't taken the leap on DraftKings that it has on FanDuel. He should be a lock again despite the tougher matchup. Kyle Korver will miss the game due to the passing of his brother. Jeff Green will need to fill in and pick up some usage slack, as will Kevin Love but his minutes aren't all the way there yet to justify his price in a tough matchup. George Hill has played well versus Toronto in the past but he is a player you simply can't trust at any volume. Ditto Jordan Clarkson, who really hasn't lit it up on a per-minute basis like he did in LA.
Memphis Grizzlies (100.25 implied points) vs Philadelphia 76ers (112.75 implied points)
The Grizzlies are anticipated to be about flat with their last 10 games and the same is true for the Sixers. The Grizzlies were kind enough to give advanced notice that Tyreke Evans won't play tonight rather than letting everyone think he would only to ultimately crush their souls and make them lose a lot of money and cry into a pint of cookie dough ice cream (maybe just me!). Dillon Brooks should continue to get to chuck with Evans off the floor and Andrew Harrison becomes a much more interesting play as well. Marc Gasol gets a big usage bump when Tyreke is off the floor here, though JaMychal Green also seems interesting with Gasol likely dedicating some energy to stopping Joel Embiid.
I mentioned the various Sixers' correlations last game and it turned out that the Joel Embiid/Ben Simmons pairing was the way to go. And that connection has been looking great lately with both players going for value-smashing performances in their last few games. The shot profile and Grizzles' DVP make me think today looks like more of a Redick (who'll be lower owned after yielding minutes and shots to Marco Belinelli last game) and/or Covington day. Dario Saric has hardly seen any usage lately so it's hard to look there even as an Embiid/Simmons pivot, but the chance for him bouncing back at an extremely low ownership is there. The blowout risk is real but I really think the Grizzlies can keep it close with Gasol at the helm.
New York Knicks (102.75 implied points) vs Miami Heat (113.75 implied points)
The Knicks face a slight decrease on their recent output while the Heat face an even smaller decrease on theirs. The Knicks have also not really had any fantasy production of note lately. Like, at all. Their rotations are absurd and while that's been affected by lopsided scores, there have also been really illogical substitutions at times. And the Knicks have won their last two games by substantial margins so it's not one like the Bulls are pulling where they play their worst players in crunch time to make sure leads get blown. It's all very strange. Tim Hardaway has played capably lately but with a potential Josh Richardson matchup and a general lack of upside, there's not a ton to love. I'm a little intrigued by Michael Beasley returning to the team who ditched him for the LeBron/Wade/Bosh trio given that he's got a bit of Rajon Rondo spitefulness in him and the ability to fill it up in short order (Beasley put up 40 DK points in 23 minutes his last time in Miami). It's not a matchup I'd die to turn to Enes Kanter with him getting under 20 minutes last game. Kyle O'Quinn is a little more interesting but this matchup doesn't feel great for him.
For the Heat, James Johnson and Kelly Olynyk are going to get the biggest looks from players today but anyone expecting a recreation of their performance in the Heat's double OT game versus the Denver Nuggets is going to be extremely letdown. James Johnson has been a great play lately and has a better shot at getting the peripherals needed to hit value than Olynyk does. It's worth noting that Awesemo's rankings are a bit down on both players today (while being more interested in Tyler Johnson and Bam Adebayo from a value perspective) so if there wasn't enough reason to consider a fade, there's some. Goran Dragic is steady and unspectacular lately, making him a better cash play than a tournament one. Josh Richardson has the best spot from a DVP perspective and a price that makes him very worth a look, though he has shown the ability to go 0-for on the night so he carries some risk.
Charlotte Hornets (11.75 implied points) vs Brooklyn Nets (109.75 implied points)
The Hornets are getting a noteworthy boost on their last 10 games' scoring while the Nets face a similarly sized decrease on theirs. Kemba Walker was forced to lead the offense again with Nic Batum out and he responded with his best game in weeks versus a tougher Philadelphia matchup. Kemba's price pretty high industrywide and he doesn't really possess a 7x ceiling with that high of a cost. But he looks like a good play tonight that can be paired with Dwight Howard, who also is in the beloved Center Vs the Nets spot that most recently allowed JaMychal Green to march to over 40 DK points and 7x value. Dwight's price is also elevated but he looks like a great play regardless. Jeremy Lamb should also see high ownership again with only a moderate price increase to show for his 30 minute chalk effort versus Philadelphia starting for Batum. There's no reason he can't do the same vs Brooklyn. The Nets have also historically been a good matchup for Michael Kidd-Gilchrist on a per-minute basis. It's hard to buy into that with a ton of security given his recent performance, but it's worth noting.
Charlotte's defense has been very slack since they've fallen out of fallen out of playoff contention and Brooklyn has had fantasy production from a ton of positions so there may be a perfect marriage here. The down Vegas projection is a little scary but you need to look at D'Angelo Russell, Rondae Hollis-Jefferson, DeMarre Carroll, and Allen Crabbe (who had one of his biggest games of the year versus Charlotte). I'd also likely rank them in that order while Awesemo's rankings indicate he only sees a B in points and value for Russell and lesser performances from the others. Jarrett Allen also could be interesting but it's hard to believe in him with his minutes all over the map.
Los Angeles Clippers (109 implied points) vs Milwaukee Bucks (114 implied points)
Vegas's projected total leaves the Clippers about five points under their last 10 game average while the Bucks are about five points above theirs. Lou Williams regressed back to his lesser performances of late in the Clippers' matchup versus Minnesota last night, getting mostly dominated on that side of the floor by Andrew Wiggins. The data says that Lou may be able to get back on track tonight — Milwaukee has given up an ungodly amount of threes lately to the backcourt and wing — but, for me, I'm having a tough time seeing that against either the length of the Bucks' wings or Eric Bledsoe's bulldog defense on a back-to-back. DeAndre Jordan seems more interesting and also has a price that allows him some substantial upside. And Tobias Harris is coming off an illness along with two bad games in a row, which makes him a bit less interesting. But he's returning to a former team in Milwaukee and is due to regress back to the mean at some point. He should be a minor consideration.
Giannis Antetokounmpo had his expected strong game versus the Cavaliers but really ramped production up in the fourth quarter to try to singlehandedly keep the team in the game. He may come out swinging after that tough loss where he simply couldn't match LeBron and gets the benefit of a very positive DVP matchup. There may be a vague revenge narrative for Khris Middleton with the Clippers as a former team but the opportunity for him to put up a lot of points to help the Bucks exceed their recent production is a more interesting reason to looks his way. He can't get you 7x at his price with Giannis active but the odds of him getting in that 5-6x range seem strong. Eric Bledsoe should also get some sort of revenge narrative if we're doing that for the game he suffers from a similar price issue to Middleton, with a little less security. The Clippers have also given up big games at the center position but neither John Henson nor Thon Maker seem secure enough to capitalize on it.
Denver Nuggets (113.5 implied points) vs Chicago Bulls (104 implied points)
The projected totals mean a slight decrease on the Nuggets' recent scoring while the Bulls are very slightly underneath theirs. And honestly the totals being down and Vegas currently dropping the over-under is surprising to me given the lack of defense both teams play and their abilities to put up a lot of points. Will Barton owns a 50 DK point game versus the Bulls once this season and, with Gary Harris out, is a threat to do it again. Nikola Jokic should do what he wants and is still at a price where he can have major upside. Jamal Murray is also in a fantastic spot and there's nothing keeping all of these guys from having a great game at once other than the chance of them blowing the Bulls off the court. Paul Millsap is the least interesting of the group but even he has a great shot at passing 5x. Wilson Chandler remains too up and down to rely on, particularly with all these other guys likely to get what they want. He still has 50 DK point upside though so it's always something to consider, just with very little conviction.
Denzel Valentine bombed at massive ownership everywhere last game out and, you know what? I'm still on him. The Knicks did limit threes to his position and went balls out to cover him after his explosion versus Cleveland while Denver won't be as compelled to key in (and frankly don't even have players good enough to cover anyone). We've seen the upside with Zach LaVine out and I still believe in Denzel's talent and ability to look handsome in outdated fashion lines. Cameron Payne and Antonio Blakeney will continue to fill in for the injured Kris Dunn and both remain at playable prices and you can use both of them in the same lineups. Cam underperformed versus the Knicks but this can be an equally good get-well spot versus a bad Defensive Real Plus-Minus and DVP Nuggets defense. Bobby Portis, Noah Vonleh, and even Cristiano Felicio should all be in the mix too. All the bigs have been productive per-minute lately, have prices that are totally accessible, and they also have looked competent on the floor. I've been very down on Felicio from his first few starts but he's flashed some good touch and even post moves lately. He may be able to be a rotation player.
Solid game from @IamFelicio last night, who scored a career high 17 points! pic.twitter.com/OWRRaDLdaM

— Chicago Bulls (@chicagobulls) March 20, 2018
Indiana Pacers (109 implied points) vs New Orleans Pelicans (110 implied points)
The Pacers get a gigantic boost on their last 10 games' scoring while the Pelicans are right in line with theirs in this game that's a replay from the canceled Pelicans' leaky roof matchup (one of my most traumatic DFS nights ever, let's not say more before I cower on the floor in the fetal position). Darren Collison returned to the starting lineup last game and was one of the highest owned players of the slate. He's in another great spot versus New Orleans and has looked good, though it's hard to totally forget his inconsistency earlier this year. Victor Oladipo has not been worth his price lately and hasn't flashed the gigantic upside he showed earlier this year. It's a strong opportunity in front of him tonight to return to his previous form but his usage might not be there with all the healthy mouths to feed. Thaddeus Young has been one of the steadiest upside plays around and his price has risen slightly to show it but his ownership hasn't. He's in a top DVP spot here and should have a good chance at exceeding value. Myles Turner has been a strong play lately and, though his price is getting high for him, a game versus New Orleans seems like another likely chance at extending his run.
As of writing, Jrue Holiday is currently questionable with the same illness that knocked him out last night versus Dallas. If he's ruled out, Rajon Rondo should have the keys to the kingdom and do what he wants all over the floor yet again at an incredibly cheap price on both sites. Everyone's fadeable but if Holiday is out, Rondo is going to be highly owned and very tough to avoid. On paper, E'twaun Moore and Nikola Mirotic should have been bigger beneficiaries with Holiday out. There's a chance they rectify that tonight. Anthony Davis didn't go as big as one would expect with Holiday out but he also missed a few minutes of run due to his shin injury. Ian Clark will get ample minutes and opportunity if Jrue stays out and looks like a great play on both sites. Indiana doesn't have anyone who should be able to stop him. If Jrue plays, everyone above gets a downgrade besides AD. Jrue would be a fine play by the numbers but with a minor downgrade since you don't know how that illness would affect him.
Washington Wizards (98 implied points) vs San Antonio Spurs (104 implied points)
The implied scoring here means a gigantic drop on the Wizards' last 10 games while the Spurs get a minor uptick on theirs. The Wizards have gotten a rare two-day rest, something that makes me curious about Bradley Beal despite the very unfavorable matchup. The Spurs can switch and hedge (I wrote this before deciding on the column name! It's meant to be!) as well as anyone but a jump shooter/scorer off two days rest tends to be that player at his best. The total is hideous and it's a scary spot but Beal may be able to do Beal things and singlehandedly carry the team. The same applies for Tomas Satoransky and Otto Porter, two players who can get more peripherals to balance out any Spurs D-influenced decrease in scoring (Awesemo's rankings have Porter as the Wizards' lone B in value and fantasy points). There is SOMEONE here who is going to be low-owned value and it's tough to unpack who it'll be. If you can, you may be the big winner tonight.
LaMarcus Aldridge has driven the Spurs lately and, even in a tough matchup versus the Wizards, should safely get into the hunt for 5-6x value, on Draftkings in particular. There's not a ton else to love on their side. Patty Mills has been cheap 5x value but he can sink a lineup, Dejounte Murray isn't getting enough minutes or usage. It's an ugly ugly matchup but LMA still seems like a great play.
—
And there you have it, another slate in the books. Make sure to go check out Awesemo's Slam Dunks, tweet me @ChrisSpags if you have any feedback or questions on this column with a fantastic name, and good luck tonight!