Saturday brings a pair of six-game slates, the afternoon set will be underway at 4:05 p.m. ET along with a more traditional "main" slate with a 705 p.m. ET first pitch on DraftKings, FanDuel and Yahoo. Before you lock in lineups, there are several Stokastic tools that can help identify daily MLB DFS Top Stacks, key pitchers and MLB DFS picks player projections and popularity for DraftKings and FanDuel lineups, including RHP Jordan Montgomery against the Brewers and the New York Yankees power bats against LHP Cole Irvin.
MLB DFS Picks: Spotlight Pitchers and Top Stacks
Spotlight Pitchers
Main Slate Pitching Target: LHP Jordan Montgomery at Milwaukee Brewers — 4.0 implied runs
DFS Salary: DraftKings $8,300 | FanDuel $9,200 | Yahoo $37
The main slate is shaping up to be one of those mixing-and-matching kind of days when it comes to the starting pitchers. Charlie Morton is intriguing at home against the Padres, however, there is some precipitation risk in a dreary and drizzling evening in Atlanta. Who knows what Noah Syndergaard has left in the tank, but he does get a favorable matchup against the Diamondbacks and we could always roll the dice with the unknown Jhony Brito against a very unproven Orioles squad.
By default, Jordan Montgomery is the "best" option tonight in Milwaukee against the Brewers lineup that will make you exclaim at least twice tonight "Wow, I didn't know HE was still in the league?!" Montgomery came over from the Yankees at the trade deadline last season with Harrison Bader being sent back in return. Across 11 starts for the Cardinals, the 30-year-old southpaw was solid with a 3.11 ERA, 1.08 WHIP and almost a strikeout per inning. To his credit, Montgomery does a decent job of limiting opposite-handed power, ceding only 1.14 home runs per nine innings over his last 1,155 batters faced – though that is with a very pedestrian 21.9% strikeout rate. The projected Brew Crew lineup is lacking pop with a .110 ISO over the last season and change, accompanied by a 26.3% strikeout rate.
21-plus in most states. Call 1-800-GAMBLER if you have a problem
Late Slate Pitching Target: LHP Tyler Anderson vs. Toronto Blue Jays — 4.7 implied runs
DFS Salary: DraftKings $8,700 | FanDuel $9,500 | Yahoo $37
Yikes, perhaps skipping the late-slate is the way to go tonight. Clearly we will want to skip the pitchers in Coors Field, so that leaves a coinflip situation between Syndergaard and Tyler Anderson. To his credit, Anderson does limit power, though the strikeouts have escaped him as he is in his "crafty lefty" phase entering his age-33 season.
Anderson made the All-Star Game for the first time last season as a member of the Dodgers. Since the beginning of the 2021 season when he was with the Mariners, Anderson has allowed more than four earned runs only five times in 43 appearances. After the trio of George Springer, Bo Bichette and Vladimir Guerrero Jr. the Toronto line starts to tail off. Make no mistake, they will be loaded up with veteran right-handed bats holding the platoon advantage, but this is not as terrifying of a lineup as it has been in recent seasons.
Afternoon Slate Pitching Target: LHP Jeffrey Springs vs. Oakland Athletics — 3.1 implied runs
DFS Salary: DraftKings $8,500 | FanDuel $11,000 | Yahoo $53
FanDuel and Yahoo have wasted no time in goosing the salary of lefty Jeffrey Springs. The 30-year-old was a bit of a late-bloomer, though he is clearly a frontline starter that most teams would love to have in their rotation. This afternoon he will be facing a dreadful Oakland squad in pitching friendly Tropicana Field. Tampa Bay was the first team to give Springs a chance to be a starter and they have been rewarded with Springs keeping his strikeout rate above one per inning.
The Stokastic Bet Pro projections have him for 6.8 strikeouts and with the 6.5o being +100 at BetMGM. this wager has a decent 4% ROI. Springs is already in midseason form with 24 strikeouts in 14 spring training innings and 12 in the opener against Detroit. The A's projected lineup should have at least four hitters with a 25% or higher strikeout rate against southpaws. Enjoy!
Did you know that you can get two free months of Stokastic+ Platinum for signing up and making your first bet at BetMGM? Claim here today!
The legal age for gambling is 21-plus in most states. Call 1-800-GAMBLER if you have a problem.
Other Afternoon Options
LHP Martin Perez at Chicago Cubs: The Cubbies look like a Triple-A squad and Perez is a solid veteran who limits power and has above average strikeout potential.
LHP Justin Steele vs. Texas Rangers: Like so many MiLB prospects, Steele had his climb up the farm system ladder delayed by the cancellation of the 2020 season. Still, he managed to catch up and maintain his strikeout rate in The Show after being tossed in the deep end last year after just 27.1 Triple-A starts. This is still his age-27 season, so Steele is on track to be a solid strikeout artist for the next few seasons.
LHP Nick Lodolo at Philadelphia Phillies: Speaking of strikeout artists, Lodolo is definitely showing promise of being able to approach double-digit strikeouts any time he toes the rubber. This is a tough matchup against a Philadelphia squad with playoff dreams, however, with Bryce Harper and Rhys Hoskins out with injuries, the back of the lineup is pedestrian at best.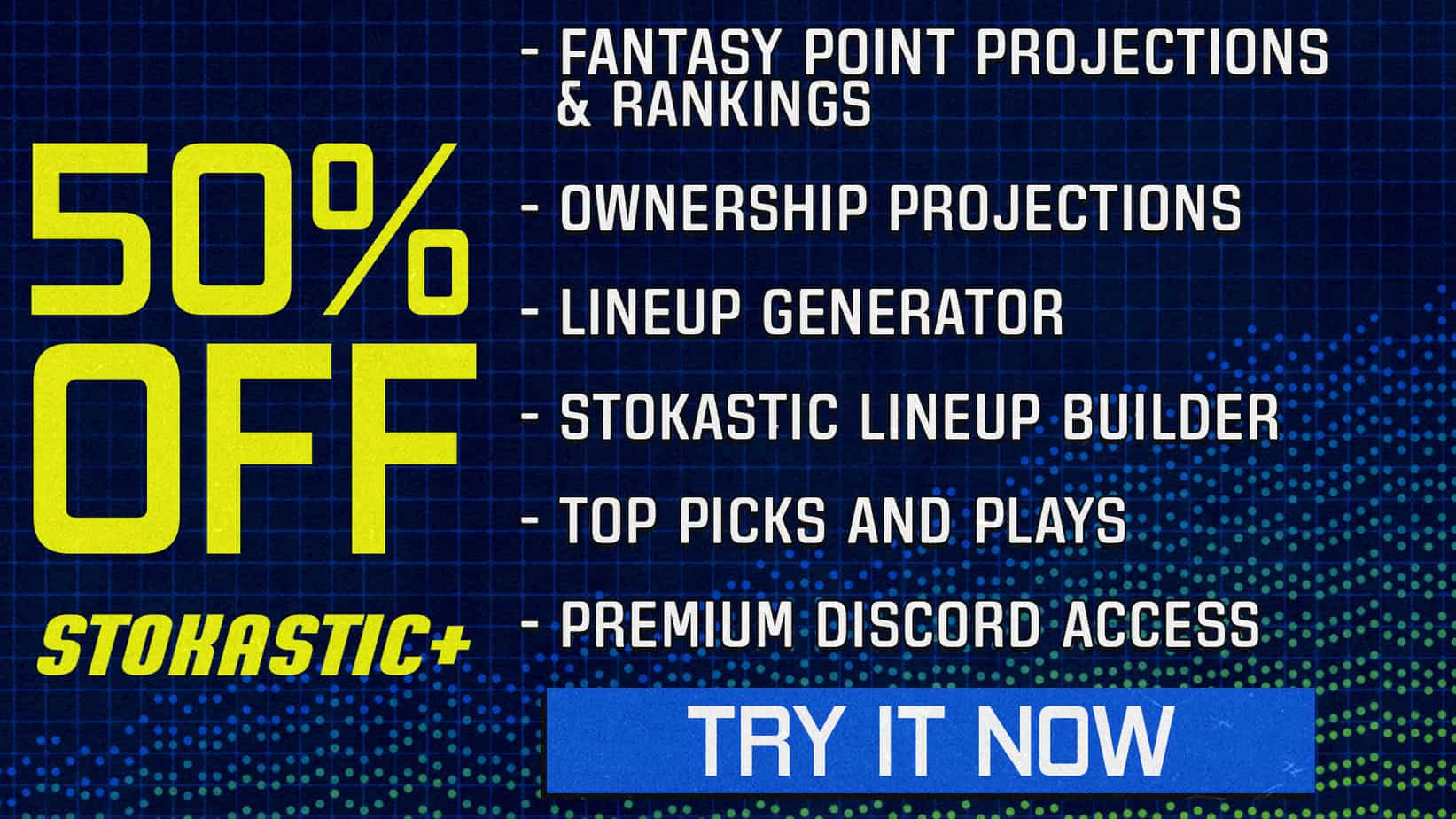 MLB Top Stacks
Main Slate Target: New York Yankees at LHP Cole Irvin — 4.9 implied runs
Yes, target hitters in the Coors Field Extravaganza with the eyepopping 11.3 implied run total and the game featuring 15 runs on Friday night.
Now for some fun, let's take a gander at the Yankees in their matchup against lefty Cole Irvin. Like most lefties, Irvin is susceptible to opposite-handed power bats and that is the calling card for this New York lineup. The 29-year-old has never been one for strikeouts with just 6.43 per nine-innings for his career. Typically he avoids home runs, but he is far from impervious – particularly against this gauntlet of a lineup.
Look to Aaron Judge, Giancarlo Stanton and DJ LeMahieu as the trio to target. Glyber Torres also has shown he belongs in the heart of this lineup with a stellar .264 ISO against southpaws in his last 155 opportunities For differentiation, look to catcher Kyle Higashioka at the bottom of the lineup as an extra-base hit seems all but preordained with his all-or-nothing approach in this matchup.
---
Latest MLB DFS Content
---
Late Slate Target: Arizona Diamondbacks vs. RHP Noah Syndergaard — 4.4 implied runs
Gamers of course will be talking themselves into rolling with Syndergaard, so taking a few hitters against him is a savvy strategy in tournaments. The key is to look for the speedy runners in the Diamondbacks lineup as they already know they can run against the battery of Syndergaard and catcher Will Smith with Corbin Carroll swiping second and third in the last meeting… of course getting Carroll, Jake McCarthy, Josh Rojas and even Ketel Marte on base is the tricky part. Smith has allowed 122 successful stolen base attempts over tne last two seasons, which is the most of any catcher in the league.
Stolen bases do not directly count as negative fantasy points for pitchers, so this is a prime leverage spot against The Masses. Look to the boppers in Coors Field, the Yankees as detailed above and the Angels against a struggling Jose Berrios, but DO NOT discount the strategy of taking a base stealer against Syndergaard, even on rosters where you are riding with the erstwhile ace.
Afternoon Slate Target: Tampa Bay Rays vs. RHP Shintaro Fujinami – 5.1 implied runs
We will not be alone in targeting Shintaro Fujinami with the Tampa Bay bats. Fujinami is no spring chicken and he will be celebrating his 29th birthday next week. After a quick first two innings in his debut, courtesy of four strikeouts, things went off the rails for the former Hanshin Tiger and he was unable to record more than one out while allowing eight earned runs to the Angels.
The patience of Yandy Diaz and Wander Franco will be key in running up the pitch count for Fujinami. If they can get him tired out or even struggling with his control – something that was an issue during his 10 season in the Nippon Baseball League – we could again see crooked numbers on the scoreboard.
Randy Arozarena is a strong option in the middle of the lineup and Brandon Lowe and Luke Raley have shown power when they have the platoon-advantage. Jose Siri is also a strong salary saver on DraftKings ($3,600) and FanDuel ($3,300), but he can be skipped on Yahoo ($17).
Final Thoughts for Saturday, April 8
Enjoy the two featured slates and embrace the start of the six month journey that is MLB DFS. Keep tabs on the weather in Atlanta and of course be sure to get all the updated information for MLB DFS picks on the Stokastic MLB Strategy Show, starting at 12 p.m. ET and brought to you by Bet365.