The new customer special sales that Sleeper has offered all season have largely focused on the household names in the NFL: Your Lamar Jacksons, your Patrick Mahomeses, that echelon of NFL superstar. Well, tonight's sale is featuring perhaps the next in line of fan favorite: Recent Vikings addition Joshua Dobbs. And new Sleeper Fantasy customers are getting the typical quarterback deal of higher/lower than 0.5 passing yards!
If you have only played Sleeper Fantasy's season-long fantasy leagues, their pick'em contests are super simple to get into. All you have to do is predict whether a player will surpass or fall short of the statistical target set by Sleeper, and the more picks you guess correctly, the bigger the boost to your winnings! Having one of those picks be a sure thing like this Dobbs free square is the perfect kickstart for Sleeper entries.
Don't have an account? Claim a $100 deposit bonus when you sign up today.
Sleeper Fantasy NFL Picks & Predictions | Week 11 SNF
Joshua Dobbs H/L 0.5 Passing Yards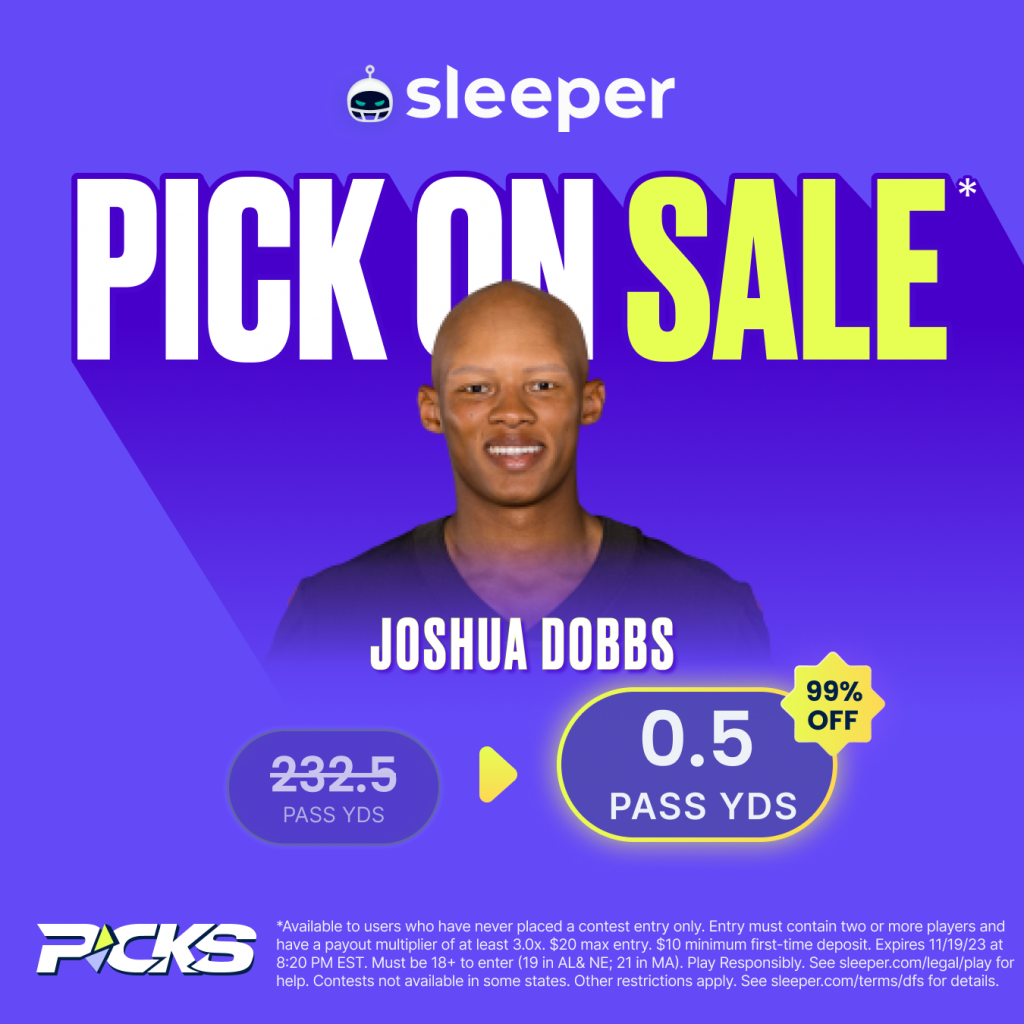 In a season of quarterback decimation, the Vikings did the sensible thing and got perhaps the most exciting backup in the league. Dobbs has already stolen the hearts of the Minnesota faithful in just two games, leading the Vikings to two wins while throwing for three total touchdowns and running in a couple more. To capitalize on the Dobbs hype ahead of Sunday Night Football, Sleeper has bestowed him with the 99% discount, which means that we as fans can both cash in on the Dobbs era in Minnesota AND get one of our two-plus picks out of the way to start a Sleeper entry.
Now that we have one pick out of the way (Dobbs is definitely going to throw for at least 1 yard, barring injury), let's hit up Stokastic Pick'em Pro to find something to create a submittable play. The No. 1 +EV play for this game at the moment is Ty Chandler lower than 9.5 yards receiving, as he projects for just 4.5 yards and has a 57% chance of falling shy of his target. Easy as pie — a winnable Sleeper entry!
If you want to boost your payout potential even more, keep adding picks! You will get better acquainted with Sleeper's payout structure and strategy for building +EV plays as you get more involved, and if you're looking for more Sleeper promos, check out Stokastic's breakdown of everything they offer here!