3 MUST BET Kemba Walker NBA Player Props Tonight Raptors vs. Knicks | 11/1/21
When it comes to betting NBA player props, nothing beats having some action on the game's biggest names and top stars. With nine games scheduled for Monday night across the Association, there will be plenty of opportunities for bettors to do just that. However, placing picks that win is also important. That is where the revamped Awesemo OddsShopper Tool comes into play. Finding and betting profitable NBA player props has never been easier. Tonight, Awesemo has multiple must-bet projections for New York Knicks point guard, Kemba Walker.
The following looks at three NBA player props for Walker ahead of tonight's game against the Toronto Raptors. Using both the Awesemo NBA Betting Player Props Tool and the OddsShopper Tool, we will aim to find optimal odds and positive ROI prop bets for Walker in this matchup.
NBA Betting Player Props & Betting Picks | Kemba Walker
With the newly renovated OddsShopper, finding the best NBA betting player props is extremely easy. Simply filter the bet selections, sort the page, and find the best pick to bet. The process is fast, simple and effective. See below for an example of how to use the tool to find positive ROI NBA player props for Walker tonight.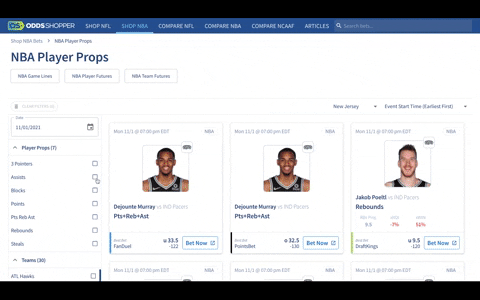 After getting off to a very rough start in his first season with the Knicks, Walker has been playing a bit better the past couple of games. Tonight's matchup against the Raptors could prove to be a difficult one when it comes to compiling offensive stats. The Raptors are one of the best defensive teams in the NBA. They also play at the second-slowest pace in all of basketball. Thus possessions will be limited and the opportunity to generate high statistical numbers along with them.
Awesemo's props projections view playing under 3.5 assists for Walker tonight as one of the best bets available for Monday's entire hoops slate. In six games this season he has only exceeded this total twice. OddsShopper comes in handy for locating profitable even-money odds on this under prediction. As a result, the expected ROI assigned to this prop is a massive 67%.
Awesemo's prop projections believe Walker will only score 11.53 points tonight. That is a number nearly 5 points below the betting total of 16.5. While Walker has exceeded this total in three consecutive games, he is still only averaging 15.0 points per game on the season. Given that the Raptors come in boasting a top-five scoring defense at just 99.7 points allowed per game, it will not be easy for Walker to go over this lofty total. The Awesemo projections have assigned a huge 88% expected win percentage to this under bet, along with a 58% expected ROI.
Toronto is a top-notch defensive team and ranks sixth in rebounds per game. While Awesemo's prop projections are not quite as high on Walker to finish under on his rebounds total as they are for his assists and points, bettors can find yet another profitable wager by playing under 3.5 rebounds. Walker comes in averaging just 3.2 per game on the season. He has barely slipped over this prop, with four boards in each of the last two games. However, those both came against far worse rebounding teams than Toronto. Be sure to check in with OddsShopper  for the best price in the market before placing bets.
Thanks for reading to the end of this article! If you appreciate this free content and want to see more of it every day, you can help us out by sharing this article on social media!
Check out Stokastic's Best Bets home page for more sports betting picks and predictions.