Remember yesterday how I said that it was an ugly slate and, with so many people's attention diverted, that there was a real opportunity for a savvy player who reads all of our NBA content here at Awesemo.com to take down the big tournaments? Imagine my excitement as I sat around last night heading into the late games after avoiding some of the bad popular plays and watched my lineup move up the rankings. Somehow on a slate that size, a lot of the plays that seemed obvious from the rankings and the research I do here each day were low owned and paying off while a lot of people flocked to the easy chalk with Reggie Jackson and Anthony Tolliver.
And at the end of the night, I was right. Someone used the info we had and took down the Excellent 8s tournament I was in. Sadly wasn't me or you, it was our fearless leader Awesemo whom I saw soaring past my little lineup that could that needed more hustle from Bojan Bogdanovic, not his evil archnemesis Bogdan Bogdanovic: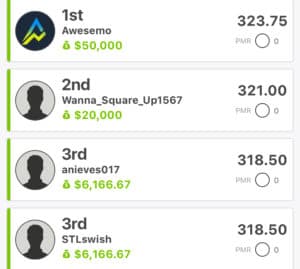 But you'll note that the lineup also features two of Awesemo's Slam Dunk picks from yesterday, the aforementioned Kings' Bogdanovic and Noah Vonleh:

The reality is that Awesemo and the guys working behind the scenes at Awesemo.com, whom I've also seen take down a late night NBA tournament within my two weeks working here, are putting all this information out there with real practical applications. And down the stretch run of the NBA season, using that content to help inform your lineup choices can be a really big asset. Play the Bogdanovic that's in Slam Dunks, not the one that seems more obvious to you. That's my lesson here. The Bogdanovic Bowl, changing lives for all of us.
As always the Switch and Hedge pairs best with Awesemo's rankings, ownership projections, and Slam Dunks (in case that wasn't clear from the parable above). Read my breakdowns, check those out throughout the day. And now onto the slate.
Chicago Bulls (102 implied points, -0.7 on their last 10 games) at Orlando Magic (109 implied points, +11.6 on their last 10 games)
The Bulls' bigs Noah Vonleh and Bobby Portis were a great source of value last night due to Cristiano Felicio and Lauri Markkanen being ruled out but tonight both players are expected to return. All of the bigs are at playable prices. Lauri looks the most appealing from a usage rate perspective but all four of them may have value on the slate. Cameron Payne will get a lot of looks from DFS players tonight, especially on FanDuel, and I don't blame anyone. Payne has such potential. He's been a letdown in some okay spots lately and if he can't get it going versus Orlando, I'd be very disappointed in him much the way a parent isn't mad at a child necessarily but wants them to feel just a bit bad. He'll have a chance, though, and that's all you can ask.
The Magic once again have an elevated team total versus a Bulls team who stinks all over the floor. Nikola Vucevic was a popular play the other night and he should find a lot of ownership tonight again, especially on DraftKings with a more palatable price. The Bulls have been atrocious versus centers and Vuc gets a ton of usage because the Magic are one of the good tanking teams who play consistent lineups that perform how they perform. Chicago's also been particularly bad on the wing and at giving up threes, two things Mario Hezonja has done exceedingly well. Big minutes and a 26% usage rate in his last game are a recipe for success for this matchup versus the Bulls. Aaron Gordon is also in a good spot, but his price is a little too high for his floor. I'd be interested in some of him but the other guys, and maybe even Shelvin Mack, seem a bit more trustworthy.
Philadelphia 76ers (112.75 implied points, -3.5 on their last 10 games) at Atlanta Hawks (105.25 implied points, +0.7 on their last 10 games)
Ben Simmons has played worse with Joel Embiid off the floor all year and, while he's grown some as a player down the stretch run, his price is so high for a guy who might end up putting up 40 fantasy points tonight even if he rises above due to the easy matchup. Dario Saric, now that's a place I'd look. He's averaged 34 fantasy points in every game Embiid has missed this year and the Hawks should offer no sort of noteworthy resistance and, to top it off, he's the lone A in fantasy points and value on Awesemo's rankings today. Richaun Holmes is still very playable, especially versus Atlanta, and will likely be one of the most popular plays tonight. Robert Covington and JJ Redick also look better to me, as do Markelle Fultz (a near-27% usage rate with Embiid off the floor) and Ersan Ilyasova. Amir Johnson is the nominal starter and will get enough minutes to do a moderate amount of damage at his price too. Honestly all the guys here, even Simmons, look playable and the team total is pretty great given that they lost a 23 point per game scorer.
Dennis Schroder's doubtful again, meaning the currently balling out Isaiah Taylor is in consideration as the Hawks' starting point guard. The team has been feistier with him starting while still being complete dumpster fires defensively, a perfect fantasy mix. Damion Lee had a breakout game last time out…or so it would seem. He put up 28.5 DK points in 30 minutes but only took six shots. He's cheap enough to play but not shooting enough to trust. Taurean Prince still has slate breaking potential and I think he's like a Josh Jackson who's always got to be in the mix until his price raises a bit more. The only other places here I'm curious about are Dewayne Dedmon and Mike Muscala, both are more of the "if they fit in your roster, great" type of play than one I'd go out of my way to roster on a slate this size, although Awesemo has Dedmon as an A value tonight.
New Orleans Pelicans (111.5 implied points, +6.1 on their last 10 games) at Cleveland Cavaliers (115.5 implied points, flat with their last 10 games)
Big time boost for the Pelicans, who currently have Rajon Rondo questionable with a wrist injury. If he misses, Jrue Holiday looks great as the main driver of the offense. If he plays, Holiday still looks fine but with slightly less interest. Anthony Davis is the place to look here, of course. You can fade him of course on a slate this size. But with all the value out there, Davis will certainly be a popular option. Nikola Mirotic has been a gigantic disappointment and every time he plays I'm curious because we've all seen his upside. If you're doing a bunch of entries, I get wanting some exposure to him but at this point he needs to show some consistency in terms of both minutes and production for me to think about him.
The Pelicans' defense should allow ample opportunities all over the floor for the Cavaliers but it's unclear who they'll have besides LeBron, an unequivocally great play, to take advantage of them. Kyle Korver has been out dealing with the loss of his brother, JR Smith and Kevin Love are currently questionable, George Hill might be a broomstick with a Fathead on top of it. Jeff Green should be a consideration if Love misses; he had a great chance to smash value last game but shot only 6 for 15 versus Charlotte. New Orleans will give him every chance to shoot better this time if he gets that shot with the injuries. If Korver returns, he looks like a great play, especially if Smith misses. LeBron is the guy here though, I wouldn't pay for the Rodney Hoods of the world on a slate this big even if there's a good shot at him exceeding value.
Denver Nuggets (108.75 implied points, -8.3 on their last 10 games) at Oklahoma City Thunder (113.25 implied points, +2.8 on their last 10 games)
Not a great total or matchup for the Nuggets, though the Thunder showed last night versus the Spurs that they can give up some decent fantasy performances. Jamal Murray can do some similar things to Dejounte Murray, who excelled last night, and that makes me a little more interested in him tonight given his potential usage. Both Nikola Jokic and Paul Millsap have had individual big games versus the Thunder this year. I don't personally love either guy given their price and team total. I would be interested in Will Barton with two bad games in a row with steady usage versus a similar style of player in Corey Brewer. He can score and fill up a stat sheet and that always appeals to me.
Here was Russell Westbrook last night after a hideous game versus the Spurs where he still felt compelled to shoot game-deciding threes, despite a much hotter Paul George on the floor:
Here's Russell Westbrook on the late 3-point attempts: pic.twitter.com/hDNmcdpkTp

— Royce Young (@royceyoung) March 30, 2018
Does this sound like a player who may come out with a little more motivation tonight in a matchup with a decent Vegas total? Westbrook has had two consecutive 65+ DK point games versus Denver and he can be a good pivot to the likely very popular LeBron and AD plays. Paul George shot the lights out last night in a tough Spurs matchup and I'm perfectly content letting him have that performance and ignoring him on a back to back. Steven Adams hasn't played well versus Nikola Jokic this year and he really should have had a big game against him at some point given Jokic's lax effort at times
Phoenix Suns (100 implied points, +1.9 on their last 10 games) at Houston Rockets (117 implied points, +5.4 on their last 10 games)
Devin Booker, TJ Warren, and Alex Len are out tonight while Elfrid Payton is a game-time decision who's likely closer to out than not after missing shootaround. As a result, I'd be interested in Shaq Harrison, Troy Daniels, and Tyler Ulis tonight, though the prices on the latter two are getting a bit uncomfortable on DraftKings. Josh Jackson has been steady but hasn't shown a ton of upside at his price lately. He can do more but I wouldn't have a ton of him with all of these other strong plays out there. Marquese Chriss might be good again tonight despite his rising price and his minutes have looked really good with Alex Len out. I'm in on him again tonight despite the worse matchup.
James Harden looks like the best play after some additional rest, something that we saw yesterday with Paul George how great of an asset it can be to a jump shooter. All of the studs on the slate are in interesting spots so if he has one of those giant Harden games, you can get him at lower ownership than you normally might despite the obvious cake matchup. The Suns have literally…
https://www.youtube.com/watch?v=MsaaMvxOXHo
LITERALLY no one to stop Clint Capela. The only thing that can stop him is the incredibly high likelihood of the game blowing out. But who's keeping him off the boards on the Suns' many misses? Dragan Bender? Chriss? Jared Dudley? Clint Capela versus the Suns is like a 1980s WWF squash match where Hulk Hogan beats up a 180 pound guy built like a light post. Chris Paul's a nope for me with the price, ease of matchup, and blowout risk. Trevor Ariza is questionable and if he sits, it's a modest boost for PJ Tucker if you need more value on this slate, you greedy hog.
Minnesota Timberwolves (111.25 implied points, flat with their last 10 games) at Dallas Mavericks (105.25 implied points, +1.5 on their last 10 games)
My archnemesis Jeff Teague struck again in the Timberwolves' last game, blowing an easy matchup versus Atlanta despite a great spot in which I had him all over my lineups. Granted, Karl-Anthony Towns had a career high 56 points but still a dick move all the same. That said, Teague looks fine here tonight with a bit of upside due to the Mavericks' poor defensive performance at point guard. Everyone else here's prices look kind of bad, though. I really don't want to chase Towns' big game in a theoretically tougher matchup versus Dallas, Andrew Wiggins is too expensive for what he does. Nemanca Bjelica's minutes got back up last game but there's better value all over than him and Jamal Crawford. No thanks here.
Minnesota's been at their worst versus small forwards and that normally would give me some interest in Harrison Barnes. But Dallas has been tanking hard lately, benching starters in the game and not letting them back in so opposing teams can go on runs. I followed this one closely after thinking Dennis Smith was in a great spot versus Los Angeles and was horrified by what I saw. Rick Carlisle sat the starters in the third quarter with the Mavericks leading versus the Lakers 74-61, fresh off an 11-0 run, and never put them back in after the Lakers returned their own 16-0 run versus the Mavs' scrubs. He then altered the scrub lineup when it started to fight back versus the Lakers' run, until to allow the Lakers to put them away with a 16-5 run. Tanking is so gross and even though the Mavericks might play their guys longer since the Wolves should win more easily than LA last game or Sacramento the one before that, I can't in good conscience recommend players from a team so deliberately undercutting their players' value. At least the Bulls just say "Hey, here are the new less talented guys. They now are getting a full run of minutes." Tank with some sort of ethics, Cuban.
Memphis Grizzlies (91 implied points, -8.5 on their last 10 games) at Utah Jazz (106 implied points, -1.7 on their last 10 games)
MarShon Brooks was the man in his season debut for the Grizzlies last game and, at the minimum, he should have some fans tonight. There may be a bit of point chasing here but given the blowout likelihood and how oversized MarShon's usage was, combined with the ongoing Grizzlies backcourt depth issues, he looks like a play to seriously consider. There's some risk with him off the bench if the game stays close and Mario Chalmers doesn't yield those fourth quarter minutes, though, so I would only consider him as a high volume if he's given a start. Everything else on the Grizzlies' side seems tough, though Marc Gasol can be a reasonably priced play with upside in a matchup versus Utah where he's notched over 40 DK points twice this year.
There's a blowout risk on the Jazz side and the pace is also pretty brutal. But the Jazz have some players who may be able to seriously contribute to your lineups despite the seemingly ugly matchup. The Grizzlies have given up a lot of threes this year and both Donovan Mitchell and Joe Ingles are priced to take advantage of that. If the Jazz run away with it, the points have to come from somewhere and those guys can both pile them up from deep fast. Jae Crowder can shoot from deep too and has been a steady source of cheap value lately. You don't need him on this slate but he's fine filler and pivots from more popular cheap chalk. Ricky Rubio has been one of my favorite plays this year and he's also been the one driving blowouts with rebounds, assists, steals, and a shockingly sweet jumper at times. These guys all look noticeably better than the bigs to me.
Milwaukee Bucks (109.75 implied points, -5.8 on their last 10 games) at Los Angeles Lakers (110.7 implied points, +2.2 on their last 10 games)
Eric Bledsoe, Giannis, and Khris Middleton (a little banged up after tweaking his knee yesterday) all look good in that order for me, though the decreased point total is baffling given the expected pace-up with the #1 paced team in the Lakers. Given the down total, I might consider just Bledsoe and move on because there are way too many games tonight and I can't see paying fo Giannis on a night where I could go LeBron, Davis, Harden, or Westbrook or even pay way too much for Karl-Anthony Towns as a cheaper but comparable alternative. The fact that I'm thinking that likely means Giannis will be low-owned tonight but I don't think that fact alone makes it worth going there.
Lonzo Ball was just ruled out for the Lakers and that likely means more playmaking for Brandon Ingram than any impact on the Tyler Ennises of the world. Ingram looks good, although with his minutes likely still limited, so there's some risk to carry. Brook Lopez also looks like a great play to me with the Bucks particularly weak versus center and Lopez on a tear. The price is getting up there but he's still definitely got some upside. Josh Hart is currently slated to return and can have some value with how cheap his price has gotten but there is some minutes cap risk. Julius Randle would get a little more interest from me if Lonzo is out but at his current price, I wouldn't play him unless he were. With Lonzo sitting, the chance at a few more rebounds and assists could be a key difference. Kentavious Caldwell-Pope also stands out from a matchup perspective and I wouldn't be surprised if he leaves as the day as a solid low-owned value.
Los Angeles Clippers (105.75 implied points, -4.6 on their last 10 games) at Portland Trailblazers (111.75 implied points, +1.3 on their last 10 games)
And in the final game on the slate, the Clippers roll into Portland with a depressed total and a team that doesn't give up a ton of fantasy value. Lou Williams' usage has remained steady and even though Tyrone Wallace's return kept him from replacing Milos Teodosic in the starting lineup, he's shown his upside off the bench within the last few weeks. Danilo Gallinari is questionable to return and, if he does, he won't play enough minutes to be valuable while likely Nerfing Tobias Harris a bit too much to be interesting. I'd look Tyrone's way again, especially in a stars and scrubs build that'll be so tempting tonight, but besides Lou, there's not a lot else to love.
Damian Lillard is coming off his biggest game of the year, followed by a few days of time with his new baby. The Clippers without Teodosic just let Tyler Ulis and Shaq Harrison look like offensively viable weapons. Now I don't know if there's any data about a player who's a new father after the first few nights of having a child, but as long as he wasn't up til 3AM with a crying little one, this seems like a fine spot to come back to. DeAndre Jordan has been a sieve defensively lately and, with how hot Jusuf Nurkic has been, he deserves a look tonight for sure. Al-Farouq Aminu has averaged 37 DK points versus Los Angeles this year and, with Mo Harkless out, there's no reason to think otherwise tonight. The price is getting onerous but he has a bit of upside still. Evan Turner was a gigantic freaking disappointment for a lot of people last time out and I'll tell you the matchup with Los Angeles is a better one but not one you need to flock to him tonight. Ditto CJ McCollum, who's totally fine but doesn't really need to be in consideration with where his price is and the return of Lillard.
—
And hey we made it to the end! Thanks for reading everyone, make sure to follow me @ChrisSpags and let me know how your lineups are doing, make sure to check back later for Awesemo's Slam Dunks, and have a great weekend!