Welcome everyone to another edition of the NBA Slam Dunks. It was an exciting, high scoring slate last night with a ton of low-owned value all over the place and the hope is that a column like this will give you some assistance viewing the key parts of the slate to help you make informed decisions building your lineups, something helpful if you're a daily fantasy sports pro or someone playing casually. Yesterday alone I landed on low-owned Danny Green, Nikola Jokic, and Kyle O'Quinn picks from my process writing this up so I'm confident you'll find some information within that can help you with the tough choices you'll make in DFS.
And since this is all a developing process to figure out what works, some of you seem to enjoy the longer read and depth, some seem to want to jump Awesemo's #1 DFS player in the world Slam Dunk picks. I don't blame either worldview (though obviously I like the people who want to read what I have to say more). So here's what we'll be doing moving forward: You'll get my writeups and wisecracks about each game with a mention of Awesemo's picks in the breakdown. And if you're someone who wants to get to the quick and dirty, skip to the end of the column and just get Awesemo's picks and one-liners. Everybody wins!
Tonight we've got an NBA slate without Vegas projecting a ton of points and way less tanking teams with questionable lineups and motives (the Bulls played Paul Zipser AND Antonio Blakeney at the end of their close game versus Memphis with Denzel Valentine, Bobby Portis, and Zach LaVine on the bench, arguably the most egregious tanking I've ever seen). But it's basketball, we'll have some fun. As always, this column pairs well with Awesemo's rankings and ownership projections. Now onto the slate.
Brooklyn Nets (104.75 implied points) at Philadelphia 76ers (112.75 implied points)
The Nets are projected for less than their usual scoring output while the Sixers get a solid boost on theirs. The Nets are coming off a blowout loss to the Sixers a few days back, one in which everyone but D'Angelo Russell played poorly. At his current price, on a hot run, versus a Philly team that's given up a ton of production at SG over the last 10 games and the recipe is there for Russell to be in a good but potentially high-owned spot. Jarret Allen is off the injury report and will in theory be needed to defend Joel Embiid. His minutes are up and down but Allen did have one stellar effort versus Philly earlier this year. The Nets have a better shot at keeping the game close with the Sixers on a back-to-back and, if so, Allen may see enough minutes to excel. Caris LeVert has also quietly performed well without being cannibalized by Russell and seems playable on a slate of this size.
The Sixers' options start with Joel Embiid with him entering the fantasy equivalent of getting super powers by going against Brooklyn. Embiid has not crushed versus the Nets this season and actually significant underperformed last time out. On a back to back with Embiid there is some risk but it's easy to envision him being a key building block tonight. Ben Simmons has similarly underperformed versus Brooklyn this season, bizarre since they tend to limit three pointers but allow more in the mid-range and at the rim. Brooklyn's DVP boost versus both positions in the last 10 games has been astronomical so previous performance may not be an indicator of future success.
The rest of the Sixers' supporting cast also seems viable given the higher than usual point total and if the Nets can keep it close, both Robert Covington and Dario Saric can be good stacks with Embiid and Simmons. JJ Redick remains avoidable though; although his usage trickled back up last night, an aging jump shooter on a back to back is not where you want to be at any serious volume.
Boston Celtics (104.75 implied points) at Orlando Magic (98.75 implied points)
The Celtics will be without Kyrie Irving, Jaylen Brown, and Marcus Smart again while they should get Al Horford back from illness. Both theirs and the Magic's projected totals are down from their averages, meaning that Vegas expects a competitive slower-paced game with both teams' skeleton squads. Terry Rozier has taken another huge price jump and, despite that, he's still in play. The guy just produces. There's a case to fade him — it took him two overtimes to hit value versus the Wizards and he started as slow as slow can be — but Rozier has proven that if he has the ball in his hands with Kyrie and Smart out, he will put up numbers (and Al Horford's presence has no real impact on his output). Horford's price is on the rise due to the rash of Celtics injuries and he's playable but it's hard to see massive upside at his price. Marcus Morris remains the least appreciated cog out of the players getting an injury benefit (it's okay, he's probably used to it being a twin) but he profiles as a solid play with a tolerable price as long as you're not expecting a repeat of his monster performance versus Washington.
Orlando is expected to keep this game close at home and to do that, they're going to need someone to outperform their expectations. Boston's defense has been strong in real-life and fantasy all year but, in recent weeks, has shown a few cracks with the rash of injuries. Aaron Gordon's questionable return from a concussion is a must to keep an eye on; if he somehow misses, Jonathan Simmons has a chance at continuing his torrid pace despite the tough on-paper matchup.
https://twitter.com/francistk_NBA/status/974296270801068032
His style of play has performed well versus the Celtics of late with "Swiss army knife" style of forwards like Otto Porter and Nemanja Bjelica massively exceeding value at the wing. Nikola Vucevic has also played exceedingly well versus Boston on a per-minute basis this season and, unlike Simmons if Gordon suits up, will be unaffected by the lineup change.
Dallas Mavericks (100.75 implied points) at Toronto Raptors (110.75 implied points)
The Mavericks come in with a substantially lower projected output and the Raptors have just a slight decrease on theirs. And it's hard to like anything at all on Dallas. The Raptors will blow you out if you are a bad team so the blowout risk is real. The Mavericks aren't BAD bad — they really don't get blown out as much as you might think given their record and performance, in part due to their bottom of the league pace. Dennis Smith can always go off and despite a mediocre performance versus New York coming off some knee issues, his usage is sky high and the minutes should be there. Harrison Barnes has looked good by Harrison Barnes standards and he's been the primary beneficiary thus far of Wesley Matthews' season ending injury. Yogi Ferrell gets minutes and, though his recent performance has been dreadful, Toronto has given up extra threes and twos to the shooting guard position in their last 10 games. For a scoring dependent guard named after a popular cartoon bear, that can be a big asset for hitting value.
The Raptors are playing in a back-to-back and projected to blow the Mavericks out and it seems like there's a chance of there being a bit of a letdown spot. In one previous matchup earlier this year, Kyle Lowry played the best of the Raptors' stars, notching 45.5 DK points. Jonas Valanciunas also looked good, putting up 17 points and 11 rebounds in 24 minutes. With his minutes steady in that area and his performance through the roof lately, he should be a consideration if you believe the game won't blow out. Serge Ibaka has been solid lately and had a similar effort versus Dallas earlier this year but there's not a ton of upside there. Weirdly, DeMar Derozan has NEVER had a particularly good game versus Dallas: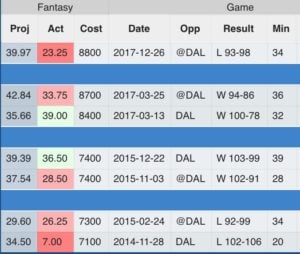 Does that mean he'll never have a good game? Of course not. But with his price down a bit industrywide, there may be some reason to avoid temptation. Maybe he's really intimidated by Mark Cuban's net worth or has something against Germans after watching the Jesse Owens biopic. With a mid-sized slate like this, it's a valid thing to consider. Kinda.
Los Angeles Clippers (109.5 implied points) at Oklahoma City Thunder (113.5 implied points) – ONE AWESEMO SLAM DUNK
The Clippers are facing down a substantial decrease on their season-long output while the Thunder are seeing an equally substantial boost on theirs. The Clippers will need to attack the Thunder at the wings since that's where they've given up the most production of late. Tobias Harris has been a strong play for the most part lately and, despite two shoddy performances versus OKC this year, he will get the opportunity to continue that run today. Lou Williams has had two monster games versus OKC this year and with his minutes steady but some duds lately, he can be a low-owned play with a gigantic ceiling who'll have to carry a big part of the LA scoring load. DeAndre Jordan cooled off slightly versus the Rockets but his recent run is hard to ignore. He tends to perform better versus Steven Adams at home but if Adams ends up ruled out, DeAndre can absolutely feast.
The Thunder are owners of the first Awesemo Slam Dunk of the night, Russell Westbrook. Awesemo says:
"With the great value picks from Golden State, you're going to want to get some high priced studs to fill out your roster. The Clippers are a great matchup and Westbrook is the only player in the top tier going tonight, so I'm going to be rostering him a ton tonight. If Paul George ends up sitting it would only sweeten the deal."
It may shock you but yes, I am in fact going to agree with the #1 DFS player in the world here. Westbrook only plays like garbage versus slower paced teams but versus a low defense, #6 pace team in the Clippers he should be ripping boards and sprinting down court with the kind of whirling dervish attitude you want to see from him. Carmelo Anthony has quietly put up two very solid games in a row and, while you can't trust Melo fully at this stage of the game, he can certainly get you to 5x and then some, particularly if Paul George is out. Westbrook is going to be a must, Melo is a maybe, and injury news will determine the rest. If Adams and George are out, Jerami Grant's value will go up a bit. Also don't sleep on Corey Brewer, his price is still in a playable area and he's been as steady as can be since returning to the warm embrace of his college coach Billy Donovan. With PG out? Brewer might gobble up even more usage and go off (by his standards).
Sacramento Kings (100.25 implied points) at Golden State Warriors (109.25 implied points) – THREE AWESEMO SLAM DUNKS
Both Sacramento and Golden State are projected to score less than their season outputs and Golden State is suffering hugely with seemingly all their stars injured. In a perfect world, we'd just give Golden State the win and forego the formalities of a game for the sake of all involved. But we've got to play it and there's going to be some value to unpack.
Willie Cauley-Stein has been shockingly competent versus the Warriors this year, going for 8x value in their first matchup of the season. He's been starting again after some injures slowed them down and with the triage situation on the opposite side, his size and strength may be tough to match. Zach Randolph reentered the rotation and put up a bunch of shots along with an increase in minutes. His price is back up a bit but Randolph has a massive ceiling in a matchup like this and Draymond's defense, even he's even on Randolph, would be greatly diminished with the extra effort he'll need to expend. Bogdan Bogdanovic and Buddy Hield can both go off on any given night with no rhyme or reason and there's no data-based reason to see otherwise here.
On Golden State's side, we've got ourselves a whole bunch more Awesemo Slam Dunks in Draymond Green, Omri Casspi, and Nick Young. Awesemo says:
"With the absence of Klay Thompson, Stephen Curry, and Kevin Durant, the remaining Warriors players will be the hot plays tonight. There's going to be a lot of usage to go around and wing minutes, so I expect Casspi and Young to be big beneficiaries, and Green to see more usage and assists with the absence of Curry and KD."
The thing about all of the Warriors stars being out is that we really don't know how the Warriors are going to perform with all of those guys out. Young and Casspi have traditionally scored the best on a per-minute basis with those stars off the court but you can easily see Shaun Livingston or even Quinn Cook suddenly start scoring and driving the offense. Don't forget about Zaza Pachulia, who also can play alongside Draymond, rip rebounds, and help facilitate some offense. And lastly the returning David West shouldn't be owned at any high volume but he has proven he can score at a massive clip and at 1.2 DK points per minute and a chance at cracking 20 minutes, hey you never know.
Miami Heat (108 implied points) at Los Angeles Lakers (112 implied points)
The Heat point total represents a big decrease on their usual and approximately the same for the Lakers. With Whiteside and Wade out again along with some rugged bigs on the Lakers side, Bam Adebayo jumps off the page immediately. They'll need his size and rebounding skills to keep Julius Randle from eating them alive in the first half as he did a couple weeks back:
🎥 Julius Randle dominated the paint yet again, totaling 25 points and 6 rebounds against the Heat #LakersWin pic.twitter.com/EtbRZuYrh6

— Los Angeles Lakers (@Lakers) March 2, 2018
Kelly Olynyk saw a big increase in minutes and usage last game, as did James Johnson who went off for an 18-10-7 versus the Kings. Olynyk's opportunity and ability to stretch the floor makes him a more interesting candidate to repeat his performance but James Johnson is a guy who can always crush with playing time. In the backcourt, Goran Dragic will get a ton of usage versus Lonzo and the Lakers also allow more assists from the point guard position, something that can help Dragic get closer to the higher upside range he's flashed earlier this year. With Josh Richardson likely out, Wayne Ellington will see a chance to bomb some more threes, something the Lakers have allowed at a high rate down the stretch. Justise Winslow should get a shot at the rebounds that often help him excel with his fantasy value. And last but not least you can't forget to consider Tyler Johnson; he's also in a good spot with a chance to pick up playing time with Richardson hobbled and whenever you forget about Tyler Johnson, that's when he drops a 50-point performance out of nowhere to break the slate.
For the Lakers, you'll want to also look at the whole cast and keep a close eye on news. Isaiah Thomas has had big games versus the Heat as a Laker and a Cav this season; if Kyle Kuzma is ruled out and Isaiah picks up the start again, he can provide some floor and upside. The rest of the Lakers all seem like decent but ultimately overpriced plays. I'm not as intimidated by the Heat's defense for Lonzo Ball, Randle, or Brook Lopez. But Lopez is the only one with a price that really makes sense to play since the Lakers' recent successes have driven their prices to almost season-long highs. For savings, one could look to Kentavious Caldwell-Pope, who should also play better than his last dud versus Miami if Richardson is out.
—
Awesemo's Slam Dunks:
Russell Westbrook
"With the great value picks from Golden State, you're going to want to get some high priced studs to fill out your roster. The Clippers are a great matchup and Westbrook is the only player in the top tier going tonight, so I'm going to be rostering him a ton tonight. If Paul George ends up sitting it would only sweeten the deal."
Draymond Green, Omri Casspi, and Nick Young
"With the absence of Klay Thompson, Stephen Curry, and Kevin Durant, the remaining Warriors players will be the hot plays tonight. There's going to be a lot of usage to go around and wing minutes, so I expect Casspi and Young to be big beneficiaries, and Green to see more usage and assists with the absence of Curry and KD."
—
And there you have it, another slate in the books. Tweet me @ChrisSpags with any feedback or stuff you want to pick my brain about and I'll see you guys tomorrow with some more breakdowns and picks.