Today's evening slate has seven games, and with very few high-quality arms on the mound tonight, finding MLB DFS value is going to require a lot of digging. Luckily, Stokastic's MLB DFS projections are here to help. Using said projections, plus the Top Stacks and Top Pitchers Tools, we can find a few leverage spots that the field may be undervaluing, such as some overlooked lefty power bats in an interleague matchup. Let's dive deeper into the Monday slate.
MLB DFS Value and Advice | June 5
Kansas City Royals (Carlos Hernandez/Mike Mayers) at Miami Marlins (Braxton Garrett)
Mayers will follow Hernandez like he did in his last appearance when he threw 76 pitches in six innings against the Cardinals. Mayers has about a 21% strikeout percentage against hitters from either side of the plate since the start of last season, though that number has increased to between 25% and 27% this year. The Marlins have been one of the weakest offenses in baseball, and Mayers will be facing them in a pitcher's park. Still, he should only be viewed as a low-probability contrarian option since there is a minimum-salary top-100 prospect pitching tonight. Garrett is projected for about 22% ownership in the Top Pitchers Tool, with a 22% chance of being a top-2 pitcher. He has struck out 25% of hitters and has a 3.24 xFIP this season and has a favorable matchup against a Kansas City team that gets a 3.6 implied run total. Neither offense looks appealing, as Miami has the fourth-lowest stack score and Kansas City has the lowest stack score in the Top Stacks Tool.
Detroit Tigers (Joey Wentz) at Philadelphia Phillies (Aaron Nola)
Nola has struggled this year, striking out just 21.5% of hitters and posting a 4.24 xFIP. Those numbers are not terrible, but they are much worse than usual for Nola. He does have a favorable matchup against the Tigers, however, who have a 76 wRC+ and 24.5% strikeout percentage against right-handed pitching on their active roster since the start of last season. It is likely that Nola will regain his typical form sooner rather than later, and the Tigers are a good place to start. The Phillies have a strong matchup against Wentz in a favorable park for hitters. Wentz has been very good at limiting left-handed power throughout his young career, but that does not mean ignore Kyle Schwarber and Bryce Harper. He has had issues with right-handed power, which makes Nick Castellanos, Trea Turner and J.T. Realmuto stand out. Philadelphia is also likely to have a $2,000 Drew Ellis in its lineup, which is a nice way to save salary if needed.

Oakland Athletics (JP Sears) at Pittsburgh Pirates (Johan Oviedo)
Sears has as 24.9% strikeout percentage against right-handed hitters and will be facing a predominantly right-handed lineup tonight. That said, it is a very dangerous spot, as he has also allowed a .270 xISO and .352 xwOBA to right-handed hitters this season. The Pirates are currently third in stack score and have about an 8% chance of being the highest-scoring stack. Oviedo has a great matchup against the Athletics and is likely to be popular at $6,900. He has not been great this season, striking out 19.8% of hitters and posting a 4.70 xFIP, but the matchup is fantastic and pitching leaves a lot to be desired on this slate. The Athletics are tied with the Pirates in stack score because they are extremely inexpensive, but they are not likely to be much of a priority tonight since there is no need to spend much money on pitchers.
Houston Astros (Brandon Bielak) at Toronto Blue Jays (Alek Manoah)
This looks like a game for bats, as both of these pitchers have struggled this season while allowing plenty of home runs. Manoah had a promising start to his career but has fallen off a cliff this season, as he has struck out just 17.6% of hitters and has a 15% walk percentage and 5.99 xFIP. He has been better against righties than lefties, holding righties to a .343 xwOBA and .150 xISO compared to a .412 xwOBA and .243 xISO against lefties. He has still only struck out 19.8% of righties, however, and Houston has above-average right-handed hitters. Houston's two star lefties, Yordan Alvarez and Kyle Tucker, are two of the best hitting options on the entire slate. On the other side, Bielak has struck out an impressive 27.3% of righties this season (compared to just 12.7% of lefties), but he has also allowed a .257 xISO and .364 xwOBA to right-handed hitters. Toronto has a lineup full of right-handed power hitters that should be able to take advantage of Bielak. Houston is second in stack score, while Toronto is fifth. Houston is first in Top Stack percentage, and Toronto is third.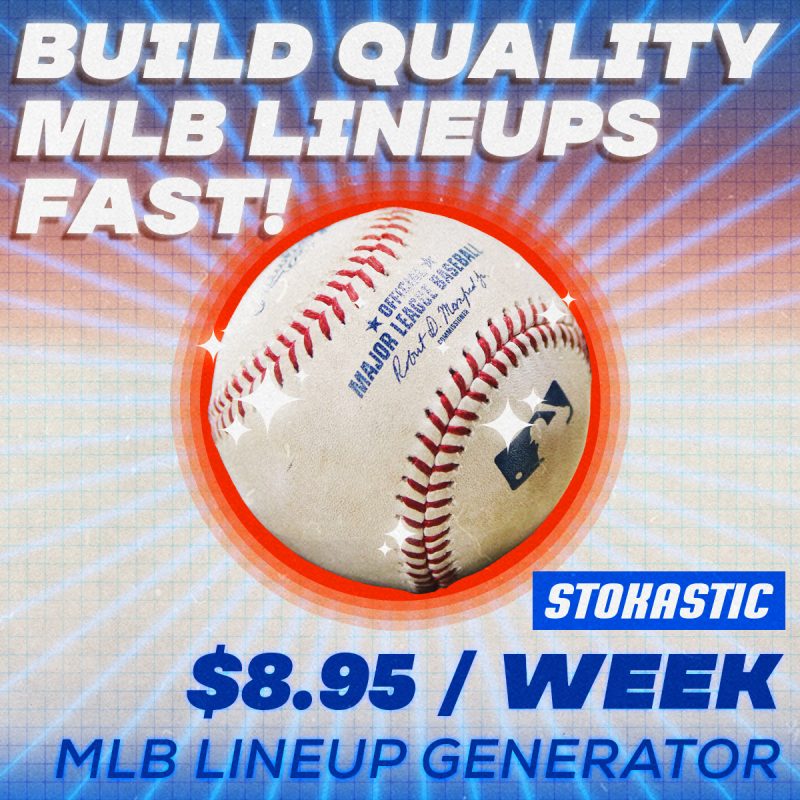 Milwaukee Brewers (Julio Teheran) at Cincinnati Reds (Andrew Abbott)
This game is the most interesting on the slate because of broken pricing. Abbott is just $4,000 on DraftKings despite being a top-100 prospect who has struck out 34.8% of hitters and has a 3.58 xFIP in seven starts at Triple-A this season. Milwaukee has a strikeout-heavy lineup and Abbott has a high ceiling tonight in addition to being the best point-per-dollar projection. Keep in mind, however, that this is still his major league debut and things could certainly go sideways. Milwaukee's hitters are very inexpensive, and they have a respectable 4.5 implied run total. Most lineups should have either have Abbott or Milwaukee hitters. The inexpensive pricing makes it likely that something good will come from this matchup. The Reds hitters are also appealing as they face Teheran. He has allowed one earned run through his first two starts, but that appears to be smoke and mirrors. He has an 11.9% strikeout percentage and 5.38 xFIP. It is likely that he will begin to struggle soon, and a matchup in a hitter-friendly ballpark against Cincinnati is a good place to do so.
St. Louis Cardinals (Adam Wainwright) at Texas Rangers (Martin Perez)
Wainwright has only struck out 12.9% of hitters and has a 5.51 xFIP this season, and now he has to face arguably the best offense in baseball. Lefties have a .232 xISO and .432 xwOBA against him, while righties have a .190 xISO and .337 xwOBA. The Rangers are expensive, but the presence of Abbott makes that less of an issue. They are one of the Top Stacks on the slate. On the other side, Perez does not offer much strikeout upside, but he is typically good at limiting power. That has not been the case as much this season, however, as he has allowed a .192 xISO to right-handed hitters. Mixing in Paul Goldschmidt, Nolan Arenado and Willson Contreras as mini-stacks is a high-upside strategy. One could also, of course, use full Cardinals stacks as well. They are in the middle of the pack in stack score and in Top Stack percentage.
Chicago Cubs (Kyle Hendricks) at San Diego Padres (Blake Snell)
Snell is projected to be the second-highest-owned pitcher tonight behind Nola. He certainly deserves ownership tonight given the lack of quality options, but he seems to be getting more than he should compared to pitchers like Garrett and Abbott, who are less expensive and allow for even better hitters. Snell's 24.6% strikeout percentage is good in the context of this slate, but it is much lower than typical for Snell. His walk issues still exist, as he has walked 13.7% of hitters. He remains a high-upside, low-floor option, but the ceiling does not appear to be as high as it once was. Hendricks has only made a couple of starts this season, but it is likely that he is an average to below-average pitcher at this point in his career. The Padres are not in the same tier as Houston, Texas and Toronto, but they are still a high-upside stack tonight against Hendricks.