It was a strong week in this MLB Bet Pro space, and now we are going back to the well to start a new slate of MLB player props. Today's selection of games is smaller, but there are still several massively high-ROI spots, including one guy making a push for history at the plate. Let's dive into the best MLB player props of the day.
Please note that these are just three of the +EV MLB player props on MLB Bet Pro; the model has over 100 other options, which you can access by signing up now to get Stokastic's Bet Pro offer: One trial month for $24.95 that gets you access to both NBA and MLB Bet Pro, plus access to our Premium Chalkboard!
3. Luis Arraez Over 1.5 Hits (+180, BetRivers)

Arraez is making a .400 batting average a legitimate possibility. He is hitting .392 this year — first in MLB by 60 points — and he is averaging nearly this line on hits alone (1.45 hits per game). The problem with Arraez, and the reason his 1.5 line is at long +180 odds, is that he has .093 ISO, which means he almost certainly needs to get two hits to bank this over. He only has 16 total extra-base hits in 2023.
That said, even with the limitations in his power, Arraez is averaging 1.8 total bases per game and has multiple hits in 24 of his 55 games. Add in his five one-hit games in which the one hit was a double, and that gives him a 52.7% success rate on this over. Now, MLB Bet Pro is not that optimistic that Arraez will do it tonight, giving him just a 38% chance of getting two bases, but the plus money is making this over a strong +EV play at 7%.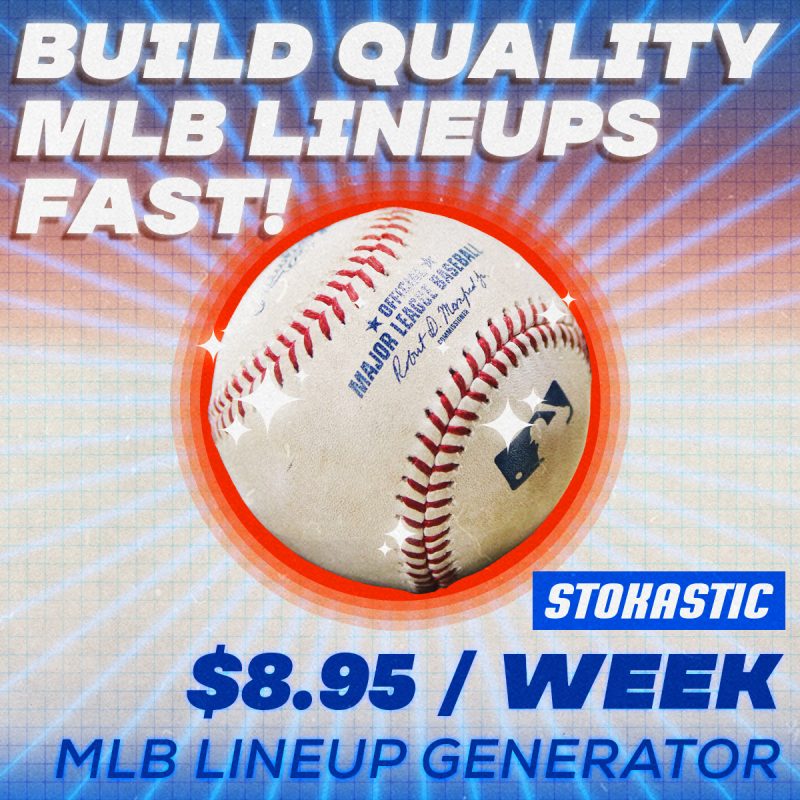 2. Alek Manoah Under 4.5 Strikeouts (-102, FanDuel)

This is certainly not the first and probably not the last time that a Manoah strikeout under projects well on MLB Bet Pro. He has picked it up a little, going over 4.5 strikeouts in two of his last three, but those are his only two overs since April 28 — which covers six starts. Manoah's strikeout rate is also still down at 17.6% and his per-nine rate is just 7.5. At that clip, he needs to go six innings on average to reach five strikeouts, something he has done in only two of his 12 starts.
The matchup with Houston certainly does not help since the Astros have a below-average strikeout rate and an above-average ISO. As such, MLB Bet Pro projects Manoah for just 4.1 strikeouts, giving the under a 56% win expectancy.
1. Andrew Abbott Under 5.5 Strikeouts (-105, BetRivers)

This is the major league debut for the Reds' top pitching prospect, who also happens to be No. 4 among lefty prospects on MLB.com. Since there is essentially no valuable data on Abbott yet, the sportsbooks appear to be eyeing his incredible numbers in the lower levels when setting this line.
There is no denying Abbott's strikeout production during his time in the minors. He made 10 starts across Double-A and Triple-A this season, and in those outings he averaged a whopping 15 strikeouts per nine and kept his WHIP comfortable below 1.00. He also did not walk too many hitters, averaging 1.7 per nine. Essentially, Minor League Baseball was no longer any sort of challenge for Abbott.
That said, Abbott has had some control issues at points in his young career. Plus, despite the ridiculous numbers in the minors, Abbott has not quite projected among the elite of elite prospects, so the 5.5-strikeout line for an MLB debutant seems premature. The one thing working in his favor is Cincinnati picking a good opponent in the Brewers for his first start, as they have the league's fifth-highest strikeout rate. However, until there is a sample from which to work, MLB Bet Pro is strongly in favor of shorting Abbott's strikeouts.