Today is the last day of the MLB Trade Deadline, so make sure to stay up to date on the news wire as some of these pitchers may be off the books before they start. This large 14-game Tuesday slate gets the 10x parlay for bettors who go big or go home. The 10x parlay features the top ROI bets in the market based on simulations from Stokastic's team of data scientists. These parlays are built top exceed at least 10 times the initial bet. For this piece, we will use the OddsShopper MLB Parlay Builder paired with the Stokastic MLB projections to make the best MLB picks and parlays today.
MLB Picks and Parlays Today 8/2
The only favorite in this four-player parlay is Graham Ashcraft under 4.5 strikeouts. Through 12 starts in his rookie season, Ashcraft has just a 15.6% strikeout rate, paired with a 1.42 WHIP. This will be the second consecutive start for Ashcraft against the Marlins. In his previous start, he was able to strikeout six batters, but that was just the fourth start in which he struck out five or more in a game. Usually when the pitcher faces the same team in less than a week, the advantage goes to the hitters. The Marlins rank seventh in strikeout rate, but history shows Ashcraft has a tough time reaching five or more strikeouts. He has also averaged 3.88 earned runs per game in his last eight, so this pesky Marlins lineup could get to him. Stokastic projects Ashcraft for 4.0 strikeouts and his xWin rate is 63%, the highest in this parlay.
Best MLB Pick Today: Graham Ashcraft UNDER 4.5 Strikeouts (-110)
By far the highest strikeout prop line is Kevin Gausman over/under 6.5 strikeouts in a matchup against the Rays. This is a good strikeout matchup, as the Rays rank fifth in strikeout rate. In his first season with the Blue Jays, Gausman has a very respectable 27.9% strikeout rate and leads the team in total strikeouts with 122. The Rays are only implied for 3.3 runs, which is one of the lowest of the night. Despite Gausman's high strikeout rate, getting to seven is a tall task. He has only struck out seven or more three times in his last 10 games. His last outing, Gausman allowed five earned runs and was done after 86 pitches and only six strikeouts. This is a great line, but there is value taking the under in this parlay. Stokastic's MLB Model has Gausman projected for 6.4 strikeouts tonight.
Best MLB Pick Today: Kevin Gausman UNDER 6.5 Strikeouts (+110)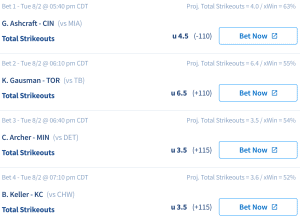 The Minnesota Twins have been searching for starting pitching all season long and really need a solid outing from Chris Archer against the Tigers tonight. Since coming to the Twins, Archer has seemingly lost his strikeout ability; he has a career-low 18.1% strikeout rate through 17 starts this season. With only two victories to his name, it has been a tough season for Archer despite the Twins leading the AL Central. Archer has only surpassed four or more strikeouts twice in his last nine games. This is as close of a projection to a prop as possible. Stokastic projects Archer for 3.5 strikeouts, while he is averaging 3.5 strikeouts against the Tigers this season. They rank sixth in team strikeout rate, so this is a very good matchup for Archer. However, once again, there is simply too much value on betting this under to get to 10x.
Best MLB Pick Today: Chris Archer UNDER 3.5 Strikeouts (+115)
---
The Latest Sports Betting Content from Stokastic Odds
---
After being a late scratch last night, Brad Keller is set to start once again for the Royals tonight. This is almost a copy-and-paste situation from yesterday, but Keller leads the Royals in wins with five and has a 4.18 ERA. Those are definitely not numbers to be proud of through his 19 starts, but Keller is the best the Royals have at this moment. Strikeouts are not often asked of Keller, as he likes to pitch to soft contact instead. Keller has a career-low 16% strikeout rate this season and has never been above a 20% strikeout rate for any season in his career. Unlike the other pitchers in this parlay, the White Sox are a brutal matchup for Keller. They rank 26th in strikeout rate and are implied for 4.9 runs. Expect them to bounce back after only scoring one run last night.
Best MLB Pick Today: Brad Keller UNDER 3.5 Strikeouts (+115)

Thanks for reading to the end of this article! If you appreciate this free content and want to see more of it every day, you can help us out by sharing this article on social media!
Check out Stokastic's Best Bets home page for more sports betting picks and predictions.