JockMKT Promo Codes September 2023
Use Jock MKT promo code 
STOKASTIC1
to double your first deposit up to $100 + get a FREE month of OddsShopper Premium! Jock MKT has expanded their gameplay to now include popular pick 'em-style games, similar to some of the most popular DFS apps like
PrizePicks
and
Underdog Fantasy
. Find more details below!
JockMKT Promo
Get a $100 Instant Deposit Match + One FREE Month of OddsShopper Premium!
CLAIM NOW
JockMKT Fantasy Sports Promotion Highlights & Terms
| | |
| --- | --- |
| 💰JockMKT Promo Code | STOKASTIC1 |
| 💵JockMKT Bonus Amount | $100 |
| ❔JockMKT Promo Description | Get a $100 Instant Deposit Match + One FREE Month of OddsShopper Premium! |
| 🌎JockMKT Eligible States | AL, AK, AR, CO, CT, FL, GA, IL, KS, KY, ME, MA, MI, MN, NE, NH, NJ, NM, NC, ND, OH, OK, OR, RI, SC, SD, TX, UT, D.C., WV, WI |
| ⚾JockMKT Sports Offered | Baseball, Basketball, Football, Golf, Hockey, MLB, NASCAR, NBA, NFL, NHL, PGA |
| ✔️JockMKT Promo Verified For | September 2023 |
| 💯JockMKT Bonus Link | Play JockMKT Now |
How To Claim Your JockMKT Fantasy Sports Bonus
Step 1
Click here to start the process, taking you to the Jock MKT site. Once you're there, click your preferred download link, since Jock MKT is mobile-only.
Step 2
After you've installed the app and created your account, click the menu in the top left of the screen to open the options drawer.
Step 3
Select "referrals" in the menu, then click "Apply Code" on the next page below the form.
Step 4
Enter the promo code and claim your bonus!
Don't forget to download the Jock MKT App!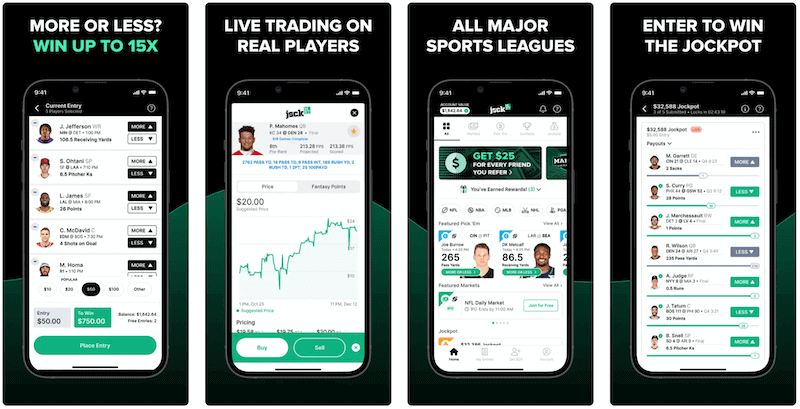 Jock MKT only operates as a mobile app, so make sure you have it downloaded so you can get in on the action! Download the Jock MKT app from the Apple app store or your preferred Android app store.
Jock MKT's Daily Fantasy Sports app is incredibly easy to use. The top left icon houses the menu, which includes your account, wallet, referrals, how to play and more. In organized tiles on screen, the different contests display. There are features contests, free contests and different sports. It's easy to scroll and find what you're looking for quickly.
JockMKT Fantasy Sports Overview
For those that are getting sick of the typical salary cap-based style of DFS, Jock MKT may be a site that interests you. Jock MKT is an innovative fantasy app that combines DFS with the stock market in an innovative way.
Gone are the days of managing prices to build a lineup to compete against thousands of other users. At Jock MKT, there is no salary cap to limit your budget. Instead, users buy shares of players, hoping they earn enough fantasy points to payout at a profit.
Jock MKT has also included a new pick 'em style DFS game available to multiple states! You can predict if a player will score more or less than their projected totals set by Jock MKT and win up to 15X your entry!
JockMKT Bonus
Get a $100 Instant Deposit Match + One FREE Month of OddsShopper Premium!
CLAIM NOW
Where is JockMKT Legal to Play?
Below are the states where you can play fantasy sports with JockMKT.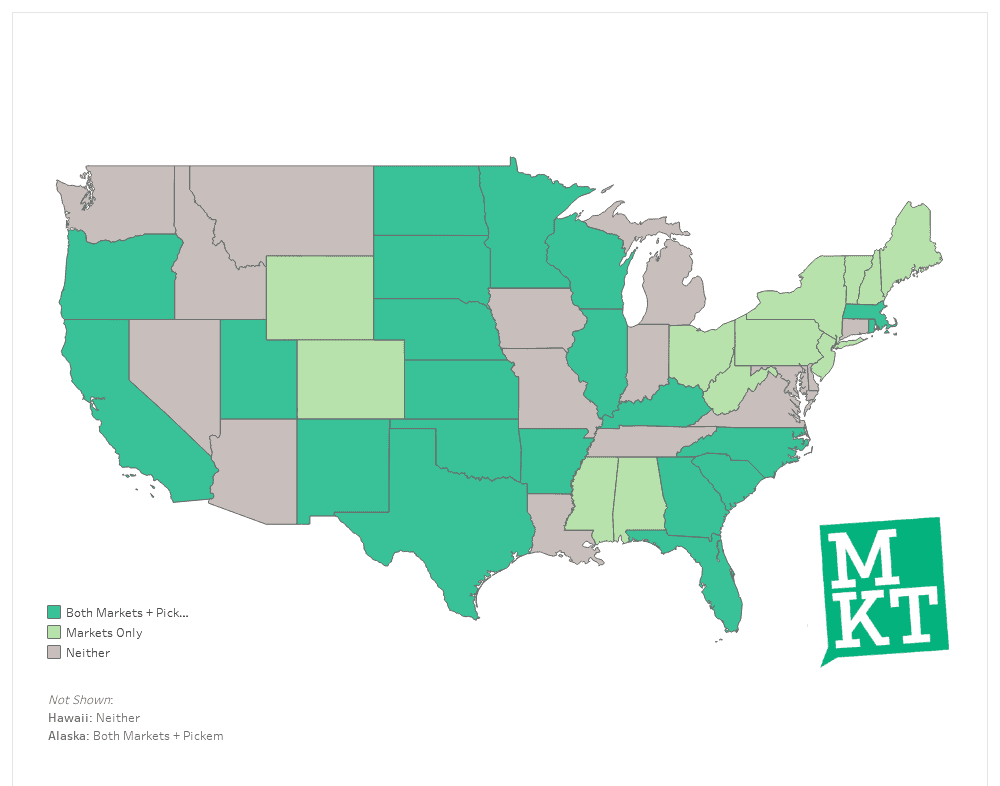 JockMKT FAQ
Read further for commonly and frequently asked questions regarding JockMKT.
JockMKT Fantasy Sports Review
Stock Market Meets Fantasy
Jock MKT is a completely new way to play fantasy sports, but the overall concept of wanting your players to score the most fantasy points remains the same. Instead of building a lineup with a salary cap, users bid for players in the market prior to games beginning. With multiple shares for each player, the market determines their price. The final payout is determined by where the player ranks in terms of fantasy points at the end of the night. The top overall player pays out $25 per share.
There is no pre-assigned value, which is new and fun. Also, users get to play along during the game, since users can decide to sell their shares of a player during the game by setting their own prices. On the flip side, users can buy shares during games as well. Instead of being a spectator after lineup lock, Jock MKT continues to be active. That is both new and really cool.
Free Contests
With this being such a new concept to DFS, it's understandable why users may be a bit hesitant to fully jump in. Jock MKT understands this, and that's why they offer free contests for you to get the hang of it. What's even better is that these free contests still offer real money prizes. There may not be anything better than free money.
What Makes Jock MKT different from other fantasy sites?
Honestly, what doesn't make it different? Jock MKT is truly unique in the DFS industry. They have found a way to combine the stock market with fantasy, which has a lot of overlap in invested users. You get to choose how much money you risk, since there is no buy-in fee to the contests. Payouts are fixed per share, but you can go all-in on one player in hopes of a high ranking.
This means your fantasy night can be invested all on one player, instead of a team of players. Also, with the purchasing and selling allowed during games, Jock MKT allows you to play along with the game, instead of being hands off once the games begin.
The new integration of pick 'em style DFS makes Jock MKT an even more interesting option. You have a wide variety of gameplay to choose from here compared to sites like PrizePicks that just focus on pick 'em or FanDuel who has become increasingly less involved in DFS in general. 
JockMKT Promo
Get a $100 Instant Deposit Match + One FREE Month of OddsShopper Premium!
CLAIM NOW
Additional Fantasy Sports Websites
Other Sportsbooks