PointsBet Promo Codes December 2023
Grab our PointsBet promo code to get 10X $100 Second-Chance Bets! PointsBet Sportsbook is a top-notch online sports betting platform that offers an exciting betting experience for sports fans. With a wide range of sports and markets, bettors can enjoy placing wagers on their favorite teams and players. Joining the platform is quick and easy. Sign up for a new account and start placing bets right away. As a new member, you'll also have access to several great promos and bonuses, such as welcome bonuses, cashback offers, and more. With PointsBet Sportsbook, you can enjoy competitive odds, secure betting, and a user-friendly interface. So why wait? Sign up today and start experiencing the thrill of sports betting!
PointsBet Sportsbook Promotion Highlights & Terms
| | |
| --- | --- |
| 💵PointsBet Bonus Amount | $1000 |
| ❔PointsBet Promo Description | Get up to $1,000 in Second Chance Bets! |
| 📝PointsBet Promo Terms | 21+. Gambling problem? Call or text 1-800-GAMBLER |
| 🌎PointsBet Eligible States | AZ, CO, IL, IN, IA, MD, MI, NJ, NY, OH, PA, VA, WV |
| ⚾PointsBet Sports Offered | Baseball, Basketball, Boxing, Cricket, Cycling, Darts, Football, Formula 1, Golf, Hockey, MLB, MLS, MMA, NASCAR, NBA, NCAA, NFL, NHL, PGA, Rugby, Rugby League, Rugby Union, Soccer, Tennis, UFC, WNBA |
| ✔️PointsBet Promo Verified For | December 2023 |
| 💯PointsBet Bonus Link | Play PointsBet Now |
How To Claim Your PointsBet Sportsbook Bonus
Get 10X $100 Second Chance Bets

PointsBet has introduced a unique welcome offer. You can get up to ten $100 Bonus Bets with PointsBet's Second Chance. Second Chances start from the day you place your first cash bet, and you can get one Second Chance bet each day until the following Thursday. If your first fixed odds cash bet of the day wins, you won't get the Bonus Bet. If you don't place a bet for 10 consecutive days, you'll lose the Second Chance bet and it won't be extended.
Key Takeaways
Losing your first 10 cash bets on a fixed odds market qualifies you for a Bonus Bet each day.
You can receive a Bonus Bet up to $100 each day if your first bet is a losing wager.
Second Chances begin from the day you place your first cash bet.
You can get one Second Chance bet each day until the following Thursday.
Winning your first cash bet of the day disqualifies you from receiving the Bonus Bet that day.
Failing to place a bet for 10 consecutive days results in losing the Second Chance bet.
Second Chances are not extended beyond the 10th day.
Must be 21+. Available for all new PointsBet players in CO, IL, IN, IA, KS, MD, MI, NJ, NY, PA, VA or WV
Gambling problem? Call or text 1-800-GAMBLER
PointsBet Sportsbook Overview
Founded in Australia in 2017, PointsBet has risen to popularity in the American sports betting market due to its unique approach of booking bets. "PointsBetting" – where winnings or losses aren't fixed – has helped the platform stand out in a very competitive market. PointsBet also offers good pricing, coverage, and a smooth mobile user experience in addition to traditional models of sports betting. In 2020, PointsBet formed a partnership with NBC Sports, making it the first official betting partner of the media giant. It receives marketing access across NBC Sports' entire network of sports broadcasting, news, and analysis platforms. Despite being a rather young organization that is not North American based, PointsBet has established itself as one of the top platforms in sports betting.
How to Sign-Up
To register, one must provide their:
Full name
Mailing address
Email address
Date of birth, must be at least 21 years of age
Social security number
Once verified, the user can then deposit money into their account.
PointsBet Online Deposit Methods
A minimum of $5 for a deposit is required.
Credit card: $5 minimum, $50,000 maximum deposit
Debit card: $5 minimum, $50,000 maximum deposit
ACH eCheck: Players can deposit up to $50,000 per transaction by selecting the ACH/eCheck option and inputting their bank account info.
PointsBet Mastercard: Functions as a prepaid Mastercard debit card.
Cash at Meadowlands Racetrack: In New Jersey, PointsBet customers can visit Meadowlands Racetrack to fund their accounts with cash. The minimum cash deposit is $5, and there is no maximum deposit amount.
PayPal: sign up for a free account at Paypal.com
What Sports are Available to Bet On?
Arena football
Aussie Rules
Baseball
Basketball
Boxing
Cricket
Darts
Football
Golf
Handball
Hockey
Mixed Martial Arts (MMA)
Motor Sports
Novelty
Rugby League
Rugby Union
Snooker
Soccer
Tennis
Volleyball
Other sports depending on demand
PointsBet Bonus
Get up to $1,000 in Second Chance Bets!
CLAIM NOW
Where is PointsBet Legal to Play?
PointsBet Sportsbook is available to sports betters in the states listed below.
PointsBet FAQ
How do I use the new user link?
All you have to do is simply use our link and register. You must be a new user of PointsBet and be physically located in a state in which PointsBet is live.
What is the legal age for PointsBet Sportsbook?
The legal age for every state in which PointsBet operates is 21 years of age.
How do I give PointsBet my location?
PointsBet will need your geographical location so that it can verify the legality of the state you are in. You can give the location through pop-up's on the website, or within the settings of your mobile device.
Is PointsBet legal and safe to use?
Yes, PointsBet operates in the United States legally. You can legally use PointsBet in any state in which the sportsbook is licensed and regulated in.
PointsBet Sportsbook Review
PointsBet App User Interface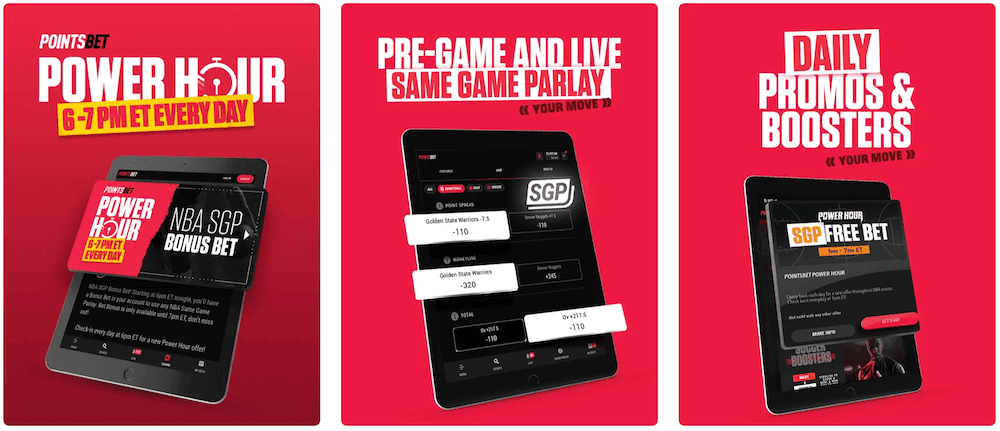 PointsBet is incredibly user-friendly. It features a simple, dark layout for its site. It does a good job making sure the site is not too crowded, which can be an issue for other books. The dark layout is also nice for those late-night bettors, as the site won't blind you. It's really easy to navigate and the limited colors help to easily communicate areas of action on the site.
PointsBet Sportsbook Points Betting Innovation
PointsBet earns its name by its high-risk, high-reward style of betting that is unique to them. In its simplest form, you earn more money the more correct your bet is. On the opposite side, you will lose more if you are way off. This style of betting is great for those who like another twist added.
For example, let's say you placed a $10 bet for the Bucks and Lakers to score over 200 points. If they finished with 220 points scored, you would win $200, since 20 points over what you bet equals 20 times your wager. If they would have gone to overtime and put up 250 points, the return on that $10 bet would be $500.
With the points betting option, the odds are not fixed, so every yard, point, goal or run matters. However, it is important to note that PointsBet does also offer traditional betting for those just learning how to bet sports online.
Although PointsBet is best known for PointsBetting, its unique form of spread betting, the platform also offers traditional forms of sports betting. Here are some of the most popular types, but popular matches can have over 100 betting options.
Futures
A futures bets are placed on action that's happening at some point in the not too distant future, that's usually tied to an end point of a season or event, such as Super Bowl winner or NL Cy Young award winner, or player to go first overall in the NBA draft.
Moneyline
Moneyline bets are the most basic wager in all of sports betting. Simply put you're betting on Team A or Team B to win the game. If you're betting on a favorite, they will have a minus sign in front of the odds, giving you less money back for your wager than an underdog, which will have a plus sign attached to the number.
Live in-game
PointsBet currently accepts live-in-game action for certain events, so you can bet on props or teams while the game is happening.
Parlay
Parlays are combined of two or more single wagers into a single ticket, which then multiples the odds to a higher amount than two single bets on separate tickets. In order to win a parlay bet, a bettor must get all the bets correct on that ticket.
Point spread
A point spread bet is a wager on the difference of points between two teams in a single sporting event. The point spread number is provided by PointsBet, and then a bettor chooses what side they want to 'cover' that differential. For example, if the New England Patriots are favored by 7.5 points over the New York Jets, but only win by seven points, the Jets would have covered that spread, and bettors who placed their wagers on the Jets +7.5 would have won.
Straight
Straight bets are types of betting wagers on a single game or event that carries a point-spread, game total, money line, run line or puck line.
Prop bets
A prop bet (short for proposition bet) is a wager that is independent of the final score of a game or outcome. These wagers encompass bets that aren't point spreads, totals or moneylines. Some examples:
Kansas City Chiefs over 11.5 wins in an NFL season
Luka Doncic under 8.5 assists in an NBA game
Round Robin
As soon as you have entered at least three or more picks on the bet slip, you can place a Round Robin bet. The number of possible Round Robin bets depends on the number of possible outcomes, which is tied to how many selections you have made. The bets possible with your picks will be displayed automatically.
Teaser
A teaser is like a parlay bet but for point spreads. You can combine two or more games together (usually a maximum of four games) and get points shaved off the spread.
Totals or over unders
The main types of totals bets feature action on the score of a game or the score of a team in a game. A bettor places action on whether they think the total amount of points scored will be higher or lower than the amount listed by PointsBet.
PointsBet Rewards System
PointsBet has a very straightforward rewards program where customers earn points by placing bets and wagering that they can redeem later for site credit.
Fixed-odds wagering: 1 Reward Point for every $5 wagered
Parlay wagers: 1 Reward Point for every $1 wagered
PointsBetting wagers: 1 Reward Point for every $1 won or lost
PointsBetting
To properly describe what PointsBetting is, it is best to use PointsBet's own words, "the more you're right, the more you win." The opposite is true, as the more you are wrong, the more you lose. However, the user can set limits ahead of time to control their maximum risk and reward before placing a bet. It would be best to utilize an example to illustrate this concept. If a customer were to use PointsBetting during the 2021 NBA Finals, and PointsBet has set the total score at 200 points, then the customer will either take the over/under with a set amount per point. Let's say the customer takes the over by $10 per point, here are some possible outcomes:
If a game finishes with 201 points, the bettor wins $10 ($10 per point x 1 points over the total)
If a game finishes with 220 points, the bettor wins $200 ($10 per point x 20 points over the total)
If a game finishes with 199 points, the bettor loses $10
If the game finishes with 180 points, the bettor loses $200
PointsBet Ongoing Promotions

In addition to the initial sign up deal, PointsBet constantly has ongoing promotions for their already existing users. For example, there are parlay bonuses, referral bonuses, rewards, etc. There also exists a "Karma Kommittee" that can issue refunds for bettors who felt as if they've been cheated due to an injury or a referee mistake.
Support
In-depth FAQs and emailing options
Live chat with agents to fix issues on the spot, available 24/7
Email: [email protected]
Support languages: English + Spanish
Twitter: @PointsBetUSA
Overall Impressions About PointsBet Sportsbook
It's easy to see why PointsBet Sportsbook is one of the fastest-growing books. Along with it being user-friendly, the points betting option gives bettors, who are already risk takers, another layer of risk, which could bring great rewards. This seems like a great place for seasoned bettors to enjoy, but also a spot where not-so-seasoned individuals who are just learning how to bet sports online can get their feet wet. Let's hope they continue to expand to new states quickly.
Different Sportsbooks
Similar Fantasy Sports Websites