All Awesemo.com subscribers with an Awesemo + Fantasy Cruncher package will have a free preview to Fantasy Cruncher Pro over the next few days.  After that it will be available as an add-on.  Not a subscriber?  Sign up here!
Our Josh Engleman breaks down his favorite features in the new Fantasy Cruncher Pro in the video above

As part of our ongoing partnership with Fantasy Cruncher, our team at Awesemo.com is excited to bring to you all a brand new iteration of their industry-leading daily fantasy sports optimizer with Fantasy Cruncher Pro. As of today, Fantasy Cruncher Pro (or FC Pro) will be available to purchase along with any package we offer here at Awesemo.com and we're extremely excited to bring this tool to you . We truly believe it'll change the way you build lineups in a way no other daily fantasy sports optimizer can.
Fantasy Cruncher Pro combines all the tools you've come to know and love from its classic daily fantasy sports optimizer experience with the ability to upload projections (either ours here at Awesemo.com or your own), adjust randomness, groups, and stacks, and unleash the power of math to help you build the best lineups you can night in and night out.
Fantasy Cruncher Pro with Awesemo.com Ownership Projections
With the new Fantasy Cruncher Pro you can tap into the power of our data at Awesemo.com and utilize our ownership projections right alongside these extremely popular options to determine where the rest of the field looks likely to shake out: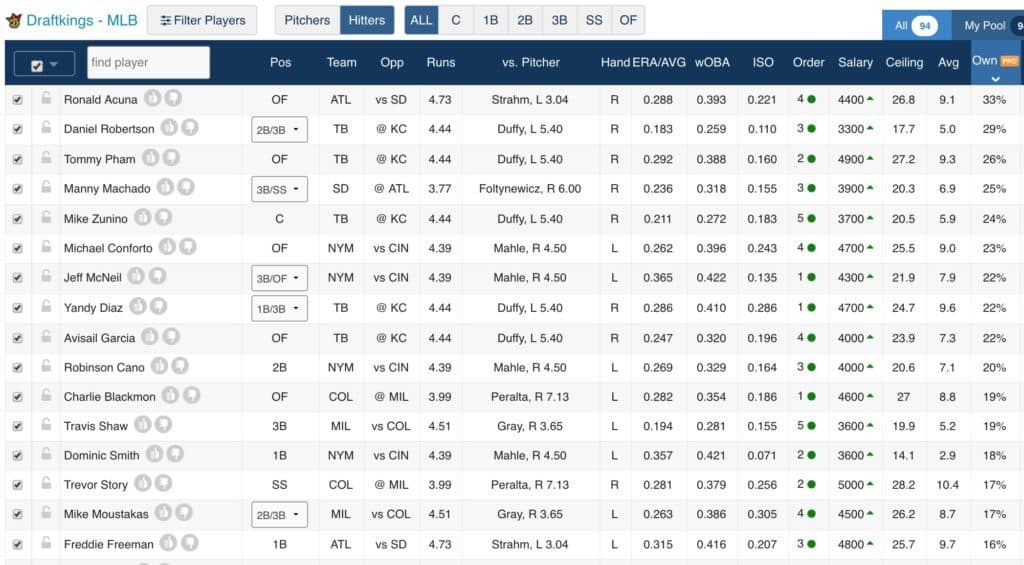 Ownership projections are key to success in any contest you'll play in DFS and the ability to reference them directly in your daily fantasy sports optimizer will be a huge asset in how you build lineups. Additionally, cash game players can immediately surface the best lineups you've built for those contests by sorting by ownership amongst your lineup builds: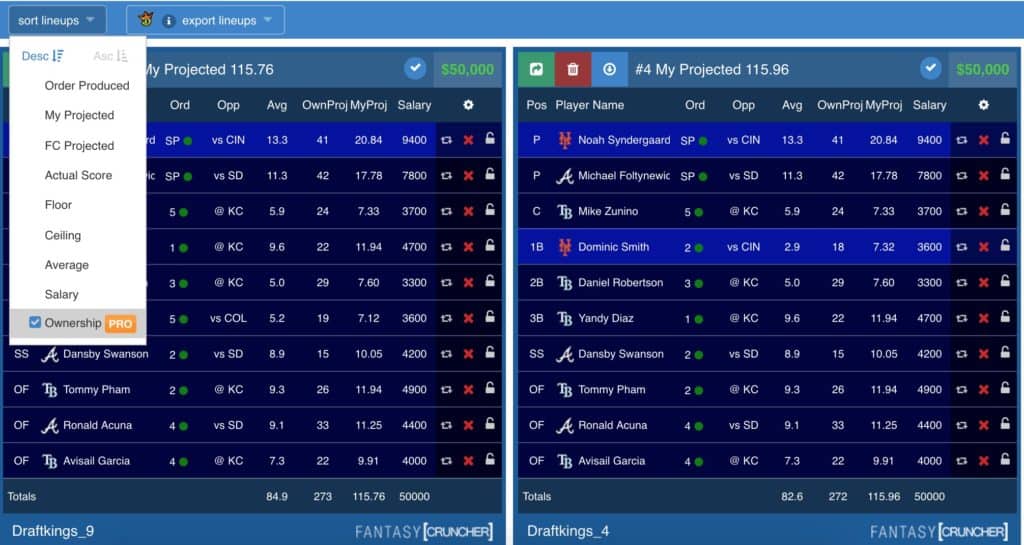 Following the field's ownerships in cash games is a hugely important part of increasing the probability of getting a lineup into the green and now you can do it with precious little additional effort or time wasted. Thanks to Awesemo.com's ownership projections baked right in, you have time to focus in on the more important parts of building your lineups in the Fantasy Cruncher Pro daily fantasy sports optimizer.
Fantasy Cruncher Pro Randomness
Normally to simulate the randomness that occurs on a given night in any sport, you'd have to either create your own standard deviations or use Fantasy Cruncher's classic randomness setting that would be applied uniformly to each player. But now with Fantasy Cruncher Pro, players will receive a standard distribution of randomness in line with what would be expected as a reflection of each individual player: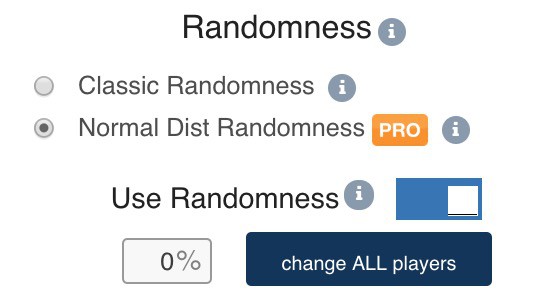 You can now more accurately replicate the randomness of sports like the NBA, one in which variance is a key differentiator in lineup building, without any additional legwork on your end with the power built into the new Fantasy Cruncher Pro daily fantasy sports optimizer.
Fantasy Cruncher Pro with Lineup Study
While the ability to build lineups everyday with these new features is a huge attribute of Fantasy Cruncher Pro's daily fantasy sports optimizer, any successful player will tell you that it's as important to look backwards as it is to bring new tools to the table for your lineup builds. And thanks to the addition of our friends over at Lineup Study, you can now look back on tournaments to review not only where you may have gone right or wrong but also see the exposures and builds that other top players employed to win those same contests: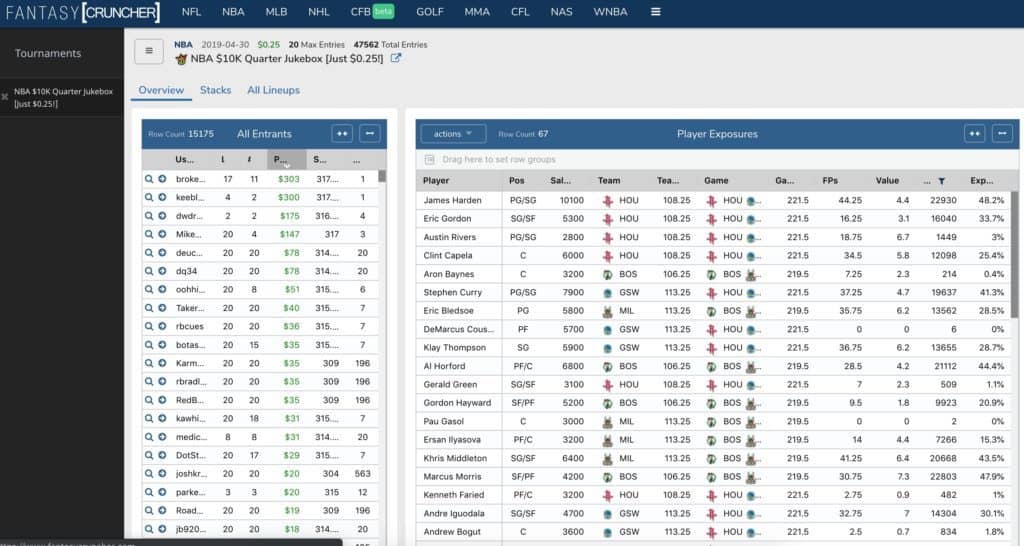 There is no better way to understand how the best players out there achieve success night in and night out than to dig deep into the data available in Fantasy Cruncher Pro's Lineup Study to figure out what you did right and what you did wrong compared to the best players in the world. Different tournaments will require different approaches but the ability to pinpoint how experienced and profitable players attack contests of all sizes and entry numbers over as many nights as you wish to review will give you a new perspective on how to build lineups and manage exposures in a way no other daily fantasy sports optimizer can provide.
Fantasy Cruncher Pro's Improved Lineup Review
With new additions to its existing Lineup Review, Fantasy Cruncher Pro takes things to a whole new level with the ability to not only test your optimizer settings on previous slates but also see how each lineup would have performed in any tournament available for them: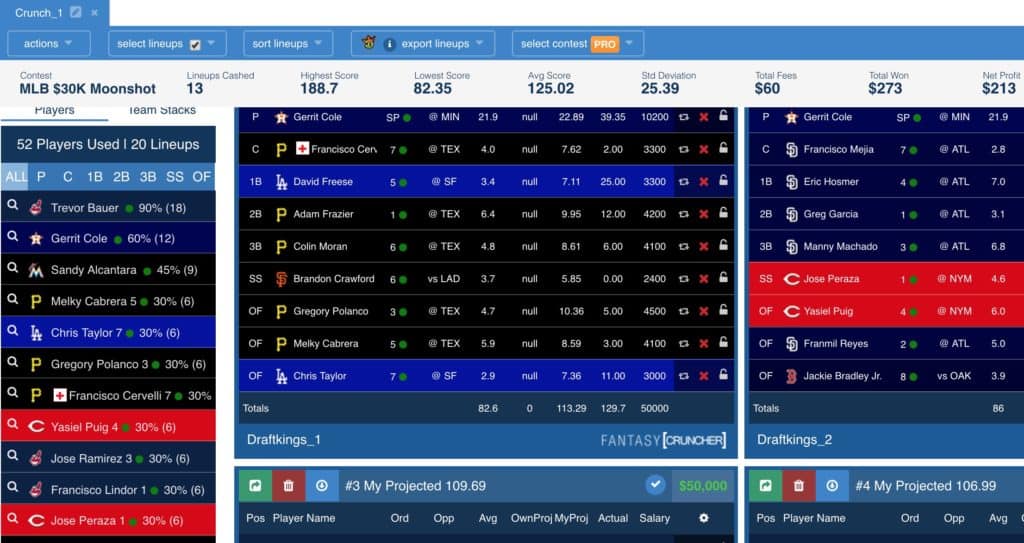 It's never been easier to test different approaches with a daily fantasy sports optimizer and immediately receive real-life feedback on how you can improve your game — and financial gains. Lineup Review with Fantasy Cruncher Pro gives you a chance to use real-world scenarios to determine where to improve your strategy and settings. And in addition to the serious upside the tool provides to hone in on game theory and holes in your process, it's just plain fun to play around with Lineup Review and imagine the alternate realities where you had perfectly nailed your settings and cashed big time. Other dimension you really killed it in that night slate.
Sign Up for Fantasy Cruncher Pro Now!
All Awesemo.com packages featuring Fantasy Cruncher are eligible to for the FC Pro add-on so sign up now! Use promo code FCPRO for half off your first month on ANY package that includes the industry's new and improved daily fantasy sports optimizer, Fantasy Cruncher Pro!