Stokastic's Contest Simulations tool has already helped a ton of people win big across multiple sports, highlighted by a DraftKings Millionaire Maker victory and countless more huge cashes in NFL Week 10. That has not stopped the team from continuing to improve, and the NBA DFS tool just got a few notable updates and additions that are sure to make your lineup-building experience even better.
Shoutout @Stokastic_Com and the sims couldn't have done it without them! https://t.co/xO9wjuajMG

— ShortGamerTV (@ShortGamerTV) November 13, 2023
Let's run through the new features of the NBA Sims tool and how they will aid in your NBA DFS prep.
Stokastic Releases New NBA Sims Improvements & Features
Though NBA Sims is already an extremely powerful tool, the data team has been working tirelessly to add even more helpful features for NBA DFS lineup building.
Earlier this week, Stokastic released a few updates to the NBA DFS Sims tool, which include a new projections tab, contest archetype slider and swappable lineup profile.
New Projections Tab
You can now easily adjust player projections without using a template! Simply click + or minus arrows, or manually type in a new projection for a player.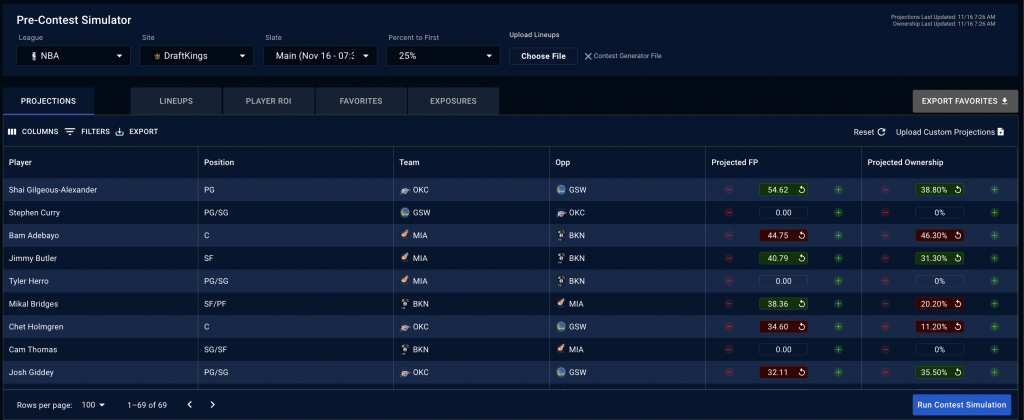 Prefer to use the old template for mass updates? No problem, just select "Upload Custom Projections" on the top right.
Contest Archetype Slider
Take more control of your contest pools with the new Contest Archetype Slider!

Slide towards high stakes to generate pools concentrated on top point-per-dollar players. Use the low stakes setting for more diverse pools with spread out ownership. Use our default 'Marquee' setting to mirror large field, high guaranteed NBA DFS GPPs.
Swappable Lineup Profile
Within the late swap tool, you can now customize your swappable lineup profile. Slide to the left for more contrarian lineups minimizing ownership, or to the right for more chalky lineups maximizing projection.
If you didn't already know, Stokastic's NBA DFS premium packages now include both the NBA Sims and NBA Contest Generator on top of the Lineup Generator, Late Swap and, of course, all of our projections, ownership projections and tools such as the Boom/Bust resource.
The 2023-24 NBA DFS packages are the best values in the daily fantasy sports industry, and we are thrilled to be able to offer you all of these amazing products. Get started today with 20% off your Stokastic Sims subscription if you use the promo code "MILLY"!