It's Saturday and for the best daily fantasy sports players in the world, today is also the time for the Fantasy Basketball World Championships. What better way is there for these elite of the DFS community to prepare for the biggest moment of the year than to read 4,000 words to make them question all of their choices? Answer: There isn't any.
Last night was an interesting slate with a ton of low-owned value plays massively exceeding expectations; some folks may actually be building altars for Quinn Cook after his monster game versus the Kings where he was under 10% owned in every slate I saw:
.@QCook323 is lighting it up in the first quarter!

The @warriors #2WayPlayer has 13 PTS, shooting 5-5 from the floor!@GLeagueWarriors ➡️ @warriors pic.twitter.com/a9ElyNP5TN

— NBA G League (@nbagleague) March 17, 2018
This is the silly season of the NBA, where tanking, injured, and low-enthusiasm teams can allow you all sorts of opportunities to outthink your DFS competition. Pay attention to injury news, pay even closer attention to lineups and how guys adjust when star players are ruled out for real or very questionable reasons. That's all you can do to stay afloat. That…or read the aforementioned many words I've put together for you, pair them with Awesemo's rankings and projections, and go win some money. If you're pressed for time, you can also skip right to Awesemo's Slam Dunk picks at the end of the column. Now onto the slate:
Houston Rockets (117 implied points) at New Orleans Pelicans (110 implied points)
The Rockets get a strong 4 point boost on their usual output while Vegas expects the Pelicans to slightly underperform theirs. The Pelicans are known for giving up a ton of additional production across the board but, of late, they've really allowed point guards to do what they want with them. And Chris Paul has previously destroyed the Pelicans in games with Harden active twice this season, notching a 38-3-8 in one and a 20-9-6 in the other, both strongly exceeding value. With his price low by his standards and ownership driven down by a subpar "revenge game" in Los Angeles (as well as some time to rest his sore knee), Paul may prove to be a great lower owned play with many across the industry favoring James Harden. If you want to buy into an Eric Gordon revenge game narrative, a Paul-Gordon stack has a positive correlation and could be a strong way to leverage Harden and his likely to be highly owned buddy positive correlation pal Clint Capela.
Anthony Davis is mostly matchup proof and in his only game versus Houston this year, also at home, he put up a 27-11-5. And that was with a healthy Boogie Cousins chucking up contested threes to cut away on his possessions. Anthony Davis seems like one of many studs tonight that you could safely roster or fear seeing pass you on the leaderboard if you dare to fade him. Jrue Holiday has been playing lights out lately, even somehow putting up 55 DK points against the vaunted Spurs defense. His salary has hardly risen in the last month and he's one of the steadiest guards around his price (on Draftkings in particular). Houston defends the backcourt particularly well but Jrue excelled in one game earlier this year and he might be just as matchup proof as AD. Nikola Mirotic moved into the starting lineup over Emeka Okafor last game and did nothing with the opportunity. But it was versus the Spurs and, with Mirotic's price falling, a flyer here can make a lot of sense.
Indiana Pacers (103.5 implied points) at Washington Wizards (107 implied points)
The projected total represents a slight decrease on the Pacers' season average and the Wizards' is right on the line with their season average. The Wizards have really limited fantasy production across the board since Tomas Satoransky has come on-board for John Wall but in what should be a tightly contested game, the Pacers will have someone provide value. Victor Oladipo seems like the most likely candidate with his ability to score the ball and provide peripheral value in a spot where he'll have a lot of defensive usage. Myles Turner is currently questionable with an ankle sprain; if he misses, Al Jefferson will be called into duty for a much larger than expected role (he still has some value currently with Domantas Sabonis out at least one more game) and Thad Young could also see some boosts in small ball lineups but he's played well in general lately, at a very nice price. Lastly, Darren Collison has played extremely well off the bench in a few games and avoiding Satoransky Peninsula is a good thing with that role.
Indiana has done a good job defensively in recent weeks and their pace continues to be completely manageable compared to the fantasy feast they were earlier this year. Bradley Beal will have the toughest defensive matchup on the board versus Oladipo, owner of the 2nd best Defensive Real Plus-Minus among shooting guards. But Bradley Beal can score on you a litany of ways, particularly when his team needs the points the most…like a tight matchup with playoff positioning implications. Boston's defense is pretty good too and you know what Beal did? 34 points, 9 boards, 7 assists in two overtimes. The price is tough but Beal is a lot like Damian Lillard, a guy who can be worth the price even if it doesn't feel like he's on that tier as a player. Markieff Morris has been a low-owned treasure of late, scoring a lot of real life and fantasy points with only modest price shifts to show for it. And Tomas Satoransky also seems interesting at a lower price but with his usage so low, a lot of his value comes from the randomness of peripherals. There's risk there as a result.
Charlotte Hornets (113.75 implied points) at New York Knicks (107.75 implied points)
The implied points for both teams presents a noteworthy increase on their season averages. I went in depth on Nic Batum earlier this week and how he's playing his ass off while a lot of his teammates have let their foot off the pedal. And last game, that paid off with a triple double that the Hornets kept their starters in way deeper into the fourth in a blowout longer than expected to achieve. Between that and feeding Dwight for his Atlanta homecoming/revenge game, it seems like the Hornets continue to be a team to mine for fantasy goodness. Dwight hasn't played particularly well versus the Knicks this year, possibly because they're one of the few teams he hasn't played for:
https://twitter.com/KLChouinard/status/974476924713041920
As I said in the above linked Batum article, I normally wouldn't see any reason to play Kemba given how he's looked lately. But he played a bit better versus Atlanta, the Knicks stink versus point guards, and Kemba has played well in MSG dating back to college. The guy loves the big stage. At his elevated price, there are going to be better places to go on a slate of this size but some exposure could make sense.
The Knicks' wonky rotations continued versus the Sixers the other day, with Jeff Hornacek seemingly pivoting to whichever lineup would be least effective to ensure the Sixers would push them to another win. Tanking season, it's fan-tastic. Both Michael Beasley and Kyle O'Quinn took advantage of the opportunity with both drastically exceeding their salary-based expectations. Beasley feels a little more secure and his price is still within a palatable range, pairing that with the Hornets allowing a DVP boost to the power forward position recently and Beasley looks like another strong option with huge upside. O'Quinn can certainly do damage regardless of the matchup versus Dwight and his price is still cheap enough to have a bit of upside.
Dallas Mavericks (105.75 implied points) at Brooklyn Nets (107.75 implied points)
The point total represents a modest decrease for the Mavericks over their last 10 games and a slightly lesser decrease for the Nets. With both teams coming on a back to back, this is the kind of game that can get sloppy fast. The Nets continued their lustful approach to boosting centers' fantasy value last night versus Joel Embiid. On a back to back at that. Nerlens Noel looks to be active and, coming off a big game versus a tougher matchup in Toronto, you have to assume his ownership will be justifiably sky high. Sloppy games mean more rebounds, blocks, and steals and a peripheral hound like Noel can gobble them all up in an effort to get a decent contract from someone in the NBA next year. Dennis Smith shot the ball 23 times last night with all the accuracy of an NBA 2K MyPlayer before you can afford jump shot upgrades. But he's playing Brooklyn, a place where point guards excel almost as much as their center brethren. Smith's price is awfully high for a guy who's kinda sucked lately but he's got a shot at blowing up if his shot falls and even more opportunity if Barea is ruled out. Harrison Barnes looked like a great play…before getting ruled out for tanking rest. There have been very few minutes without Matthews, Barnes, and Barea on the floor (and the primary beneficiary of Barnes and Matthews being off the court has been Barea) but Dwight Powell and Doug McDermott should pick up Barnes' (and Dorian Finney-Smith, out to rest his healing knee) minutes while Kyle Collinsworth and Yogi Ferrell would take Barea's.
Dallas mostly limits fantasy production with their down-tempo style of play but, as the Raptors showed last night, that is not always the case. Point guard is a spot to attack the Mavs and a lot of people will be off D'Angelo Russell after his middling performance at extremely high ownership. His price is up but he's proven he can exceed value even at the higher cost and there is a slight chance his minutes were limited yesterday to allow him room to play more in tonight's game. If Allen Crabbe remains out, Joe Harris can be a great cheap play at a spot where the Mavericks have given up a slight DVP boost over their last 10 games. Rondae Hollis-Jefferson's price is not nearly high enough for a guy who went for 45 DK points yesterday and his hustle plays can be a difference maker on a back-to-back where players have slower legs.
Denver Nuggets (111.25 implied points) at Memphis Grizzlies (104.75 implied points)
The implied scores represent a decrease on the Nuggets' recent output and a solid boost on the Grizzlies'. Denver will be without Gary Harris, a spot they haven't been in a ton this season since Harris is a bit of an iron man. Him being out likely means Will Barton shifts back to the starting lineup and that's a spot the Grizzles have really allowed production over the last 10 games. Ditto the mysterious and impossible to finger Wilson Chandler, who followed up a 50 DK point outburst with one where he scored zero real life points. Paul Millsap's price is dropping as he seems to have taken a seat to Nikola Jokic but neither Jokic nor Millsap have a great matchup by the numbers. Jokic has a greater chance of rising above but he's hit or miss versus Marc Gasol this year with one strong performance and two gigantic duds, including one just a few weeks ago. He's got a good price for his upside. Jamal Murray's been shooting a ton but the matchup with Memphis doesn't benefit him quite as much as it does Barton (both correlate positively with Jokic as well).
The Grizzlies will have a better chance keeping this one competitive at home with both Marc Gasol and Tyreke Evans active. Mario Chalmers and Andrew Harrison are questionable to return, something that can put the lineups in flux a bit. But Harrison doesn't affect Tyreke much on a per minute basis and, more importantly, Tyreke looked like a fully motivated Tyreke versus the Bulls, scoring efficiently and looking like him at his best rather than at his most deferring. Gary Harris being out as the Nuggets' best defender is also a great asset; he's the only one with a good Defensive Real Plus-Minus as Barton and Murray are at the bottom of their positions. Harrison doesn't seem playable to me with his price, coming off injury, and with Tyreke active but I can see why people may go there. Gasol has played well in each matchup versus Jokic this year and also seems a bit interesting. JaMychal Green seems a little interesting given his minutes, production, and how Denver has been slightly positive matchup for power forwards recently, ditto Jarell Martin, but the prices are a bit too high for them.
Cleveland Cavaliers (115.75 implied points) at Chicago Bulls (109.25 implied points) – ONE AWESEMO SLAM DUNK
Both point totals are a big increase over the teams' recent performance and that makes sense since there will be precious little defense played in this game. Chicago is bad defensively at every position but with Larry Nance ruled out again, LeBron James looks like the most must-play guy on the slate. The Cavs shouldn't run away with this one given how many bodies they're down with Kyle Korver and Rodney Hood out so LeBron can get his full minute dosage and possibly have to score even more than usual. Jordan Clarkson should see additional minutes and usage in the backcourt with those guys out and his price and production can allow some big upside. Jeff Green can fill it up at times and his scoring may be needed to somehow push the Cavs higher than their usual numbers despite all those guys not playing. And Jeff Green is also Awesemo's first Slam Dunk of the day:
"Green got the start at center the other night over Ante Zizic. The team is seriously lacking front court depth and the team showed how much they think of Zizic's skills by playing him only 6 minutes with the other centers out. Green is locked in to big minutes and I think he will rebound at a greater rate than normal with Thompson and Nance out."
Ante Zizic was the bust of a lifetime the other night as the Cavs went small to combat Jusuf Nurkic without Nance available. But in a game like this with less dangerous bigs, Zizic may see the minutes increase people expected last time at a far lower ownership.
For the Bulls, Cameron Payne will likely be one of the highest owned players on the slate thanks to Kris Dunn's toe injury ruling him out. He's got great potential to hit value and is a solid per-minute player. But much like the Raptors last night where Kyle Lowry's late injury opened up two value spots for Delon Wright and Fred Van Vleet, Antonio Blakeney may get a similar boost here today. He's gotten minutes lately and, while he's less explosive than Payne, on a per-minute basis he's been equally as effective and without as much of an injury-anticipating price jump. Lower ceiling but he'd play even in a blowout and a near-minimum punt is a near-minimum punt. Noah Vonleh is questionable with a toe injury and looks good if he plays but, if he's out, Bobby Portis should be a must-play since there's no way that Fred Hoiberg can hide him on the bench to tank more effectively…though knowing the Bulls, they might run Felicio out instead for that purpose. Zach LaVine is currently questionable; if he plays, he's a good play (though his minutes have trended downwards lately) but if he sits, Denzel Valentine becomes a near must-play. I mentioned the joy of rostering him last game and he responded with a 6x+ game in just 20 minutes. Denzel just gets it even though he looks like a gigantic a-hole in that Express/NBA player commercial they always show on League Pass:
Denzel Valentine or a "D*ck in the Box" Halloween costume? You decide: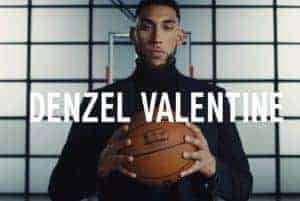 Minnesota Timberwolves (104 implied points) at San Antonio Spurs (108 implied points)
The totals show a substantial decrease compared to the Timberwolves' season average and about the usual output for the Spurs of late. The Spurs have allowed additional point guard production lately but Jeff Teague is the only threat in the Wolves' backcourt so he should get Dejounte Murray's full, highly ranked in Defensive Real Plus-Minus defense. Nemanca Bjelica has played well regardless of matchup lately and his effort and European style of play could convert well versus the Spurs. He's going to get the minutes so if you think he can overcome Kyle Anderson or Danny Green, he should be in the mix. But the Timberwolves are going to go as Karl Anthony-Towns goes and that's ultimately all you need to know on their side. Towns will either rise above the matchup at insanely low ownership or get gobbled up like you might expect. It's one of those spots where if he's made the jump to the truly elite as a player and DFS option, like it's often looked with Jimmy Butler out, then he'll get his numbers regardless. If he hasn't, they'll clamp down on him defensively he'll wilt. He's had one good game and one dud versus the Spurs this year so your guess is as good as mine.
LaMarcus Aldridge looks like a must-play for the Spurs. His price is high enough where he can bust you but Minnesota has been weakest versus power forwards lately and give up a ton of twos and threes to the position. Aldridge hasn't had a good game in a while and this is his spot to bounce back. Dejounte Murray has played well lately and if the Spurs can keep Towns off the boards, he could feast; Minnesota has allowed the largest boost in the league to opposing point guard rebounds, a 42% increase in rebounds for the position over their last 10 games. Murray rebounds like a point guard version of Dennis Rodman so with a little scoring, he could have a monster game even with his price on the rise. As I mentioned a few days back, Danny Green has been starting and playing like the best version of himself lately. I don't know that he'll hit his 40-point ceiling in this matchup but he's a good potentially low-owned salary filler at a very cheap price.
Sacramento Kings (93 implied points) at Utah Jazz (107 implied points)
The Vegas projected totals suggest a big time decrease on the Kings' usual scoring while the Jazz receive a slightly smaller boost on theirs. Utah has given up no noteworthy fantasy scoring at any position and, frankly, the Kings don't have enough talent to overcome that. Buddy Hield may look appealing with his two recent 40-plus DK point performances but it's hard to see him keeping that going here. Everyone else I don't see any hope for. Maybe Bogdan but that's about it.
This game is a very real blowout risk so I wouldn't personally feel comfortable rostering anyone at huge volume. Ricky Rubio will play and, as the primary driver of that offense, he can put up points, assists, and steals fast in a matchup that should allow more of them. Donovan Mitchell has scored over 40 DK points in both matchups versus the Kings this year and tends to see action until later in the game than Rubio, something that can be helpful if the expected blowout occurs. Rudy Gobert looks like he'll continue his usual steady performance in a team with very little center resistance. And Joe Ingles will get room to stroke it since the Kings give up an ungodly high amount of threes. Hell Jae Crowder doesn't even look too bad. It's that kind of matchup but not all these guys can thrive if the game goes as expected.
Golden State Warriors (108.75 implied points) at Phoenix Suns (105.75 implied points) – TWO AWESEMO SLAM DUNKS
The Warriors have a slightly lower than average total (shocking given how I think they're playing Steve Kerr and his Graham Cracker spine tonight to fill out the roster) and the Suns are right in line with theirs. Quinn Cook might be the highest owned player on a slate all season with his price incredibly low on both sites following his massive outburst yesterday. He should be able to keep it rolling versus a Suns team who's even worse than the Kings squad he destroyed last night. Draymond Green also had a solid game with the whole crew out last night and he should be in the same vicinity tonight. His price is marching upwards though so be warned. Nick Young and Andre Iguodala didn't do much with the opportunity last night but tonight the shots should flow even more freely with the Suns playing at a much faster pace with even more negligent defense. Both guys were a few missed shots a way from substantially beating value last night so if those same shots fall tonight plus a few more, there's upside to be had. And Nick Young, along with Draymond Green, round out Awesemo's Slam Dunks for the day:
"With KD, Curry, and Klay out for the Warriors, Draymond Green is a triple-double threat every night. Versus the Suns, Green has the perfect setup to have a monster night. With Casspi going down last night to injury, Golden State has even less depth on the wing. Nick Young's price has gone up but not enough to adjust for the minutes and the matchup."
The Suns are expected to keep it close so I presume that means Vegas thinks Devin Booker will suit up despite his injured hand. Booker will be a risky play given his extremely shaky performance with that hand affecting him last game, but one where he could really crush value in classic Devin Booker fashion if he's feeling even close to 80%. If he's ruled out, Josh Jackson normally gets a boost. If he's in, TJ Warren gets a boost (Warren threw up a big-time dud versus the Warriors earlier this year with Booker out as well). Both of those guys are playable either way but these narrow margins of who's better when Booker plays versus when he sits can be the key to differentiating your lineup based upon news.
Detroit Pistons (100 implied points) at Portland Trailblazers (109 implied points)
The Pistons get a modest decrease from their season average while the Trailblazers get a similar increase on theirs. Andre Drummond immediately seems to be the standout option. He held his own versus Nikola Jokic earlier this week and there's no reason he can't keep that momentum going versus a similar center in Jusuf Nurkic. Blake Griffin has also played well of late and with the Blazers recently allowing extra production to power forwards, he might also be able to keep that stats rolling in another otherwise apathetic Pistons loss.
Good news Nurkimaniacs: No small ball lineups or violent LeBron dunks will take Jusuf Nurkic off the floor tonight:
This might actually be one of the hardest dunks LeBron has had in his career pic.twitter.com/pPGCE5Bdvu

— Chris Spags (@ChrisSpags) March 16, 2018
With Andre Drummond on the floor, Nurkic should see closer to his usual minutes load. Don't get spooked by his poor performance versus Detroit earlier this year, Nurkic is a different, more effectively integrated player than even a month ago. The minutes can be a risk with smaller lineups but as long as he stays out of foul trouble, it's hard to imagine the Blazers shifting him off. Damian Lillard also is in a fine rebound spot, versus a team who gives up increased production all-around to point guards but particularly loves giving up threes, a Dame specialty. Al-Farouq Aminu's shot profile also makes sense for the matchup and that bore out a month ago when Aminu almost put up a double-double versus the Pistons. Lastly, Evan Turner's minutes are up lately with more consistent usage and rebounds. At a very reasonable price, he's worth a look.
—
Awesemo's Slam Dunks for March 17
Jeff Green
Green got the start at center the other night over Ante Zizic. The team is seriously lacking front court depth and the team showed how much they think of Zizic's skills by playing him only 6 minutes with the other centers out. Green is locked in to big minutes and I think he will rebound at a greater rate than normal with Thompson and Nance out.
Draymond Green and Nick Young
With KD, Curry, and Klay out for the Warriors, Draymond Green is a triple-double threat every night. Versus the Suns, Green has the perfect setup to have a monster night. With Casspi going down last night to injury, Golden State has even less depth on the wing. Nick Young's price has gone up but not enough to adjust for the minutes and the matchup.
—
There you have it, a Saturday slate in the books written with enough time for me to go to brunch before late-breaking injury news ruins a substantial portion of my work. Life in the fast lane. Tweet me @ChrisSpags with your feedback or DFS questions and I'll see you guys tomorrow for a MUCH shorter slate (thank the lord/whatever 90s R&B star designs Denzel Valentine's wardrobe).