There's a lot of NBA games to get to and I've also got a helpful lesson here. But FIRST! Awesemo is partnering with FanDuel for an exclusive Saturday and Sunday contest for the Masters where I, along with my livestream pal Josh Engleman, Jake Hari, and Awesemo himself, will be playing and, if you beat us, you get a free entry (along with prizes). Go join at http://fanduel.com/awesemo and you can also get access to Awesemo's projections for the event to help you win. It'll be fun, nice way to get some skin in the game for an event that's an enjoyable pre-WrestleMania watch.
As for basketball, I learned something new about late season picks. I often have gotten lost in Ricky Rubio's dreamy eyes that look like he's wearing eyeliner but are actually just his dark eyelashes, like the mayor in The Dark Knight:
Ricky Rubio: Jazz play 'more as a team' than his old #Twolves did. https://t.co/PxlebTCYQB #NBA pic.twitter.com/uCSPRdtd93

— Star Tribune Sports (@StribSports) April 4, 2018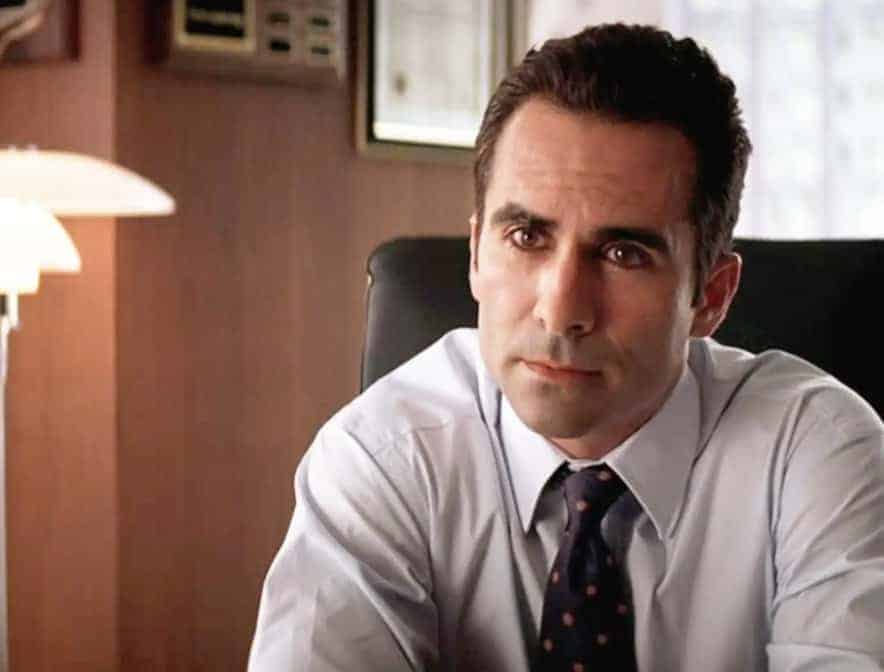 Metaphorically speaking lost in his eyes, I mean. He's a tempting play and he's been on a tear lately, yesterday matching up against a Clippers team who ended up completely outgunned even without him. But he's had hamstring issues for a lot of the year, issues that have resulted in late scratches, a lingering injury that has knocked him out of games early a few times. And now it's the end of the year, with the Jazz only playing for playoff seeding and Rubio had to leave the game in the first quarter with that same hamstring injury despite crushing at the moment, ruining my only shot at catching up for stupidly fading John Wall.
There's risk playing a guy like Rubio, whose injury history we know from paying attention all year, down this stretch run and you need to account for it in your projections and exposures. Look for guys with things to play for and guys who haven't had those similar dings and bumps this year. It's an advantage to keep it in mind as there seem to be more and more highly owned landmines in every slate.
As always the Switch and Hedge will pair best with Awesemo's rankings, ownership projections, and Slam Dunk picks as they're released throughout the day. Now onto the slate.
Charlotte Hornets (108.5 implied points, -1.4 on their last 10 games) at Orlando Magic (103 implied points, +5.6 on their last 10 games)
Feel free to sum up this game by inserting the word "tank" for "Rack" in this Tyga classic (lol):
When even NBA coaching lifers like Steve Clifford and Frank Vogel are actively submarining their teams, likely as the result of edicts above them, it's a sad time of year. That said, some of the young guys getting run have been really interesting on both sides. Malik Monk has been the biggest usage monster of late, posting rates above 30% in each of the last three games while getting about 24 minutes per game. The price is getting a bit uncomfortable on DraftKings but he should be looked at. Guillermo Hernangomez hasn't gotten as much of an opportunity because Dwight Howard is continuing to stat pad through the end of the year. Hernangomez looks like a solid punt but it'd be nice if Dwight would do like his teammates and start to give the young guys with potential some run. Dwight may continue to play 30 minutes coming back to Orlando and his price looks good on FanDuel but I still don't fully trust it. How tone deaf can one player be when his peers on the team in Kemba Walker and Nic Batum are deliberately letting young guys get run and he isn't? It is Dwight Howard so you can make your own inferences.
Aaron Gordon didn't play the fourth of the last game despite the Magic being in the game and Nikola Vucevic sat it out entirely so both these guys are likely not playable. Gordon was en route to hitting value before he was pulled but that full run of minutes is crucial for him and Vuc, even if they can get there in a super short run. Shelvin Mack and Mario Hezonja are the places to look here. Both have solid minutes, very productive, and at spots the Hornets have not been defending at all. Khem Birch is also going to get decent run and with a nice price to show for it. Jamel Artis is an okay punt but he's totally points dependent so there's the most risk to him out of the playable young Magicians.
Dallas Mavericks (97.25 implied points, -3.8 on their last 10 games) at Detroit Pistons (104.75 implied points, -2 on their last 10 games)
Dennis Smith is available to play tonight and should, in theory, get a nice bit of run tonight with JJ Barea out for the year. That said, the Mavs seem determined to give Kyle Collinsworth some run for a hybrid of tanking and player development reasons so there's a little risk playing Smith with his price moving upwards following a big game. Harrison Barnes' price also stinks given that risk but he's been a decent play when playing lately. I don't fully trust him or, more so, Rick Carlisle deploying him. It seems like Johnathan Motley should find some minutes tonight with Dirk Nowitzki ruled out for the year and Salah Mejri all gimpy. He may end up more highly owned than he should because of how well he played last time and how much basketball fan buzz he's had but he does interest me a little. Aaron Harrison was a decent play last time and is a bit less interesting with Smith back but he'll get backup point guard run and can be productive without getting usage. Starting lineups and available players closer to lock are going to be key.
Reggie Jackson couldn't hit a shot last time out for the Pistons and still had a fairly competent fantasy game for 20 minutes of work. I'm curious about him again tonight since Ish Smith won't be as hot as he was in a game where he was playing for an audience of his former coach Brett Brown (this isn't even a narrative thing, on the broadcast they were chatting on the sidelines and the announcers said "This game means a little more to Ish" because of how important his Philly experience was to him). Luke Kennard will start for the rest of the year due to the injury to Reggie Bullock and he looks like an okay play with mild upside. Stanley Johnson and Anthony Tolliver have been unreal lately and, while I trust Stanley Johnson more given how he can fill up multiple categories, Tolliver can score as well as anyone at a position that the Mavs won't defend well.
Atlanta Hawks (99.5 implied points, +1.3 on their last 10 games) at Washington Wizards (110 implied points, +6.6 on their last 10 games)
Taurean Prince is questionable and, if he's ruled out, both Damion Lee and Tyler Dorsey look like really good plays. Dorsey looks solid either way but he definitely moves up a notch for me if Prince sits. I know people love playing John Collins and he looks alright here. It's not a perfect matchup but Collins has been more productive on a per-minute basis than he has been when all of the starters were active. Dewayne Dedmon is playing just enough minutes to kill Mike Muscala's opportunity and Isaiah Taylor has lost his run to a few different guys so there's not a lot to love besides those top guys.
I had this game all ready to be written off as a letdown game when the Wizards were up big versus Cleveland. But after blowing that big lead, you have to assume the Wizards will come out a little angrier than expected here. John Wall is expected to rest but I could see Bradley Beal doing some things in the matchup, at least scoringwise. Otto Porter gets a usage boost with Wall out, at a great DVP matchup, and he was good last night. His price is mediocre on both sites but he can be valuable tonight. Tomas Satoransky will pick up the start with Wall out and he's an okay low-usage player, meaning you can't bank on his scoring but he can do enough things to be viable. Kelly Oubre burned me bad last night as the guy I thought would help me afford some other guys on a tightly priced slate. His usage has been there, he just can't get going with his shot. Eventually he will and, knowing my luck, it'll be tonight. Mike Scott was butthurt about leaving the Hawks and has gotten 20 minutes with some quality usage lately. At his price, he can be an interesting punt.
Cleveland Cavaliers (110 implied points, -2.5 on their last 10 games) at Philadelphia 76ers (114 implied points, -2.2 on their last 10 games)
So maybe the Cavs get the letdown game I had earmarked for the Wizards, especially going into Philly versus a team who has been rolling lately, winners of 12 in a row. And if they don't get demolished, LeBron is going to have to do everything tonight. The Cavs need this game for seeding reasons and LeBron will likely find a personal challenge to keep him motivated in the form of Ben Simmons' very existence. Everyone else here looks kind of meh to me. Kevin Love should be well-defended, we saw (as I predicted, nbd nbd) that the Cavaliers refuse to deploy Jordan Clarkson in any meaningful way regardless of who's hurt in the backcourt, and no one else really gets enough minutes to be useful besides Jeff Green. Green looks decent but this is a LeBron show to me.
Ben Simmons has had two down games in a row where he mostly hasn't had to get the Sixers a win. He'll need to do more today and I like him some but find him hard to fully trust at his price. Dario Saric and Robert Covington's prices are a little high given injuries and recent usage. I'd look Covington's way again if Saric were ruled out, though you have to be aware of the fact that there are so many mouths to feed on the Sixers right now that the hot hand is likely the only viable play. Last time that was JJ Redick, who put up 40 DK points on 10-for-13 shooting. This is a matchup where it's sort of guesswork to pick who'll be the most viable but Covington makes the most sense if Saric is out, Saric makes more sense if he plays, and Redick is priced in an interesting way that will likely draw a good chunk of ownership after his big last game. Ersan Ilysasova is only interesting at his price if Saric is out while Marco Belinelli is an okay salary filler play regardless but riskier if Saric is out.
Chicago Bulls (95.25 implied points, -5.2 on their last 10 games) at Boston Celtics (105.75 implied points, +7.8 on their last 10 games)
The Bulls are one of the hardest tanking teams around and they will likely get their dicks kicked in by a Celtics squad with a good coach who just learned their star player is out for the year. Jerian Grant and Cameron Payne are in a straight timeshare and that makes Grant mildly interesting while Payne isn't at all. Sean Kilpatrick and Justin Holiday both look like higher upside plays who are shooting a ton with everyone out for the year on the Chicago side. David Nwaba doesn't get the usage to be trustworthy but he's okay and getting minutes. Lauri Markkanen is priced too high for a dude getting 24 minutes a game so no thank you to him and Cristiano Felicio isn't a value play I need with other guys who are better or with more upside, including on this team.
Everyone on the Celtics' side is priced up after Kyrie Irving's season-ending surgery and a game against Chicago. Someone here needs to step up, possibly several someones, but I don't want to pay an elevated price for any of them in a game they should run away with. Marcus Morris's usage has been the highest lately but paying almost $7k for him seems asinine. Terry Rozier asserting himself is something I want to see narratively and as a fan of his, but he just hasn't been there lately either by his own doing or Brad Stevens' design. Al Horford and Jayson Tatum were ruled out for rest after I started writing this and, looking at Rozier deeper, I will have some interest but I can feel him screwing me over already somehow, maybe by yielding to the returning Shane Larkin in a blowout. Greg Monroe should be a solid upside play, he picks up an A in value and a B in points in Awesemo's rankings, and Aron Baynes is okay filler if you're doing a very achievable stars and scrubs thing.
Indiana Pacers (100.75 implied points, -4 on their last 10 games) at Toronto Raptors (108.25 implied points, -2.3 on their last 10 games)
On Indiana's side, I genuinely don't think I'll consider anyone. This game feels like one that could end up being competitive with some value but it's tough to get a read on where that value would be. I thought Bojan Bogdanovic was due to break out last night and with his price down and usage flat on the back to back, he seems like a decent play if you think he's going to score again. A lot of people will think that too as they search for lower-owned pivots off of the popular chalk so it sorta mitigates his appeal. Victor Oladipo has been rolling again and will likely go underowned on the slate despite returning to his earlier season fantasy stud form. He could be a sneaky play in a competitive game and owns one 65 DK point game versus Toronto earlier this year. Darren Collison has also been solid this year versus Toronto and his current usage seems to indicate he should be in line for more of the same tonight.
Serge Ibaka's been the steadiest player on the team lately and he deserves some recognition even though I likely won't play him much tonight with all of these other more exciting places to look. Lots of people will think the same I am, though, so that should give Serge some appeal to you. DeMar DeRozan has been trying to reassert himself lately as the Raptors head towards the playoffs and he should have the best matchup on the board tonight with Oladipo's defense slacking a bit with him pushing offense more. He seems like a fine low-owned play. Everything else here just doesn't have enough upside or safety to appeal to me.
Miami Heat (108.75 implied points, -0.5 on their last 10 games) at New York Knicks (99.75 implied points, -6.1 on their last 10 games)
The Heat's prices are all up despite a game they should on paper run away with, not a great recipe for interest here. Hassan Whiteside should get a shot to do something versus Kyle O'Quinn and Luke Kornet but the days of me paying over $7,000 are long gone. I'm not trying to points chase Goran Dragic either, particularly given that Trey Burke and Emmanuel Mudiay have been somewhat competent versus point guards lately. Josh Richardson looks interesting to me but he got a big price-up from his performance without Dragic the other night and his usage should dip with Dragic's return. If you want to buy into some narrative that the Knicks will stoke the flame of late 90s rivalries and bring it to keep the game competitive, Dragic could have some appeal but honestly besides that there are better matchups to target tonight.
Ditto the Knicks side where you've pretty much got Kyle O'Quinn and rubbish. O'Quinn looks like a strong and relatively safe play again on both sites. Trey Burke could be a little interesting after disappointing so many people his last time out. It's a tough matchup but Burke has had some success versus Miami this year. Michael Beasley has been nasty versus his former team this year and, if he's ruled in after being questionable all week with an illness, could be a good lower owned play with big spiteful upside.
Sacramento Kings (101.5 implied points, +5.8 on their last 10 games) at Memphis Grizzlies (98 implied points, -1.2 on their last 10 games)
The Kings have focused their lineups on getting their young guys whom they stupidly ignored a lot of the year for the George Hills, Zach Randolphs, and Garrett Temples of the world, all the minutes and usage in the world. Bogdan Bogdanovic clocked the most shot attempts he's had all year last time out versus Phoenix and, while he should give a few of those back to Buddy Hield tonight, he looks like a strong play. As do Hield, De'Aaron Fox, and Willie Cauley-Stein, who will be greatly aided by not having Marc Gasol active. The only one I'm not interested in is Justin Jackson, who had a bit of an aberration of a game last time out and won't get quite as many boards if Skal Labissiere is back, as expected. If I had to rank my interest, I think it's Bogdan, Willie, Fox, Hield in order.
MarShon Brooks selfishly was only ruled into the lineup after lock, resulting in low ownership for a guy who was projected for 10x value. Dick move. He's been priced up a bit on both sites but will be very popular tonight regardless and there's no reason he shouldn't be. He parlayed his recent play into a two-year deal and it's one of the feel-good stories of the year, maybe the only good story out of Memphis this year entirely. Ivan Rabb and Deyonta Davis will have to pick up the entirely of the frontcourt slack with Gasol and JaMychal Green out while Myke Henry will get burn filling in for Jarell Martin, also out for the year. Dillon Brooks was pulled early in the second half and never saw the floor again so, while he'll get a look tonight, there's a chance he ends up playing less than McLemore and Myke. It's a weird opportunity where you can get a bunch of guys for cheap who are super risky but can end up with value. MarShon Brooks and Rabb look the best to me, Myke looks like the sneakiest and most boom or bust, while Davis and McLemore both look fine but the least exciting. Kobi Simmons doesn't rate for me after his recent run. Maybe if he spelled his name with an E. Though it's worth noting that Simmons, along with Rabb and Davis, are Awesemo's only As in value on the Memphis side.
New Orleans Pelicans (114.75 implied points, +8 on their last 10 games) at Phoenix Suns (103.75 implied points, +5.8 on their last 10 games)
The Pelicans get the biggest boost on their total of the day for a matchup with the fast-paced defensively deficient Suns. Call it a hunch, the Pels will likely be popular today. Anthony Davis is the first place we'll look despite his obscene price on FanDuel and slightly less obscene but rather annoying one on DraftKings. He put up 92 DK points versus a full-staffed Suns team earlier this year so it's a fair price but ugh. That said, you've got to soak up that salary from the value out there somehow and Davis is a place to do it. Jrue Holiday seems fine to me but it's easy to imagine his contributions muted with this one getting out of hand. I feel similarly for Rajon Rondo, who likely won't have to do much in this must-win game for New Orleans. E'twaun Moore had a monster game last time out and he's in a spot to do it again. His price is up but his floor seems decent and we just saw how much he can fill it up with the spacing his team provides him. Weird babyfaced Nikola Mirotic also looks okay assuming he gets the start again. His minutes off the bench can be complete garbage but 25+ min versus the Suns would be a nice bit of opportunity for his price.
Josh Jackson has shot over 23 times in each of his last three games and, for that fact alone, he's a yep for me tonight although his price comes with some upside risk. Danuel House has been the dude lately and he's mostly escaped the pricing up some of his other late-season stud peers have had. Marquese Chriss came back down to Earth with Alex Len's return and this is a game that could break either way for these guys. I could see Alex Len getting run off the floor in the matchup, yielding to Chriss's more athletic defense and up and down style of play. But if Len gets going and rips some boards, he can be on a fast track to value as well. I wouldn't play both but one of these guys could be a key tonight. Tyler Ulis has also been very steady since the injury wave and there's no reason to think otherwise tonight, especially with his price down to reality a bit. He's one of the best combos of production and value on the slate according to Awesemo's rankings with an A in value and a B in points. Dragan Bender's also been better lately and he's had upside when he's gotten hot earlier this year despite mostly being inefficient with his minutes over the last few weeks.
Minnesota Timberwolves (111.5 implied points, +3 on their last 10 games) at Los Angeles Lakers (108 implied points, +1.8 on their last 10 games)
The Timberwolves need to keep winning for their playoff hopes and did not get the rumored Jimmy Butler return in their loss to Denver last night. He may go tonight but do they need him enough to pay off his price tag versus the banged up Lakers? I wouldn't look his way. Jeff Teague had a mediocre return last night but, as I've said many times now, the Lakers are the worst team in the league versus point guards lately. Teague should be very in play tonight. No Andrew Wiggins for me and while Taj Gibson's game last night pisses me off a lot because I was on him but got spooked off by how bad he's been lately, he's in another great DVP spot tonight and should be considered even though it feels like a recipe for disappointment. Karl-Anthony Towns is another obvious place to look given how he loves beating up on bad teams but I'd much rather pay up for the other studs.
The Lakers will be without Lonzo Ball and Brandon Ingram again, meaning Tyler Ennis is another spot for value tonight if you're interested in such a thing. He played 30 minutes in the OT game versus San Antonio and been very efficient. Julius Randle didn't see the floor in the fourth quarter or overtime of last game, ditto Brook Lopez, and seems like that was more of a momentum reason given the bench's effectiveness rather than a youth movement (while Ivica Zubac was on the floor with those guys out, the aged Channing Frye also played, not exactly a young guy you need a look at). Randle looks okay tonight, albeit in a toughish matchup with Taj Gibson fighting for a playoff spot, while I would avoid Brook given his price and recent performance trends. Kentavious Caldwell-Pope looks good and Kyle Kuzma seems interesting too even though Wiggins defense for him worries me a little bit. I find it hard to chase Zubac tonight but like a lot of these cheap guys, he can have interest as a punt with the added bonus of him previously having been highly effective versus Minnesota this year.
—
And there we have it, Friday night looks alright for many basketball games of varying degrees of quality. Make sure to check Awesemo's rankings as well as his Slam Dunks and ownership projections when those go live, join our FanDuel contest for Saturday and Sunday of the Masters (get in now since it's an early start tomorrow), and I'll see you guys tomorrow for the final days of regular season NBA action.