What a wild ride Monday was. With an outrageous amount of news to make sense of post-lock, you either swapped or got swallowed by the competition. Fortunately, I made a lot of fortuitous pivots on both sites, leading to a very profitable night. Still, whenever you're on top of the leaderboards late in large-field tournaments, you're looking to make them count. So while I should be happy with more money in my account, it'll still feel like a gut-punch in the morning that Hassan Whiteside's near-60-burger outlier erased my shot at the takedown. But Tuesday is a new day, so let's try keep giving ourselves opportunities at the top by identifying some NBA DFS picks and strategies for over at DraftKings and FanDuel.
NBA DFS Slate Starter: Picks & Strategy | Feb. 16
N-E-T-S Nets Nets Nets
I won't lie, I'm sick of writing about the Brooklyn Nets. As fun as they are to watch from an offensive standpoint, their defense leaves so much to be desired it's laughable. Nearly every single one of their games since the James Harden trade has seen massive fantasy performances on both sides of the ball, so I'd be remiss not to discuss them whenever they're on a slate. And while we know exactly where to target that production on the Nets side (Harden/Kyrie Irving/Kevin Durant), it would seem their opposition has been far more difficult to peg (Monday being Whiteside/Cory Joseph).
So let's take an early look at the Nets' Tuesday tilt against the Suns. This game could set up as the literal definition of "late-night hammer," as how you choose to handle it could dictate your entire night. Durant continues to be out, which means Harden and Irving continue to be easy plug-and-plays despite a decent Suns defense. DeAndre Jordan was sent to a bench role but still played 27 minutes, going a surprising +22 in that time (second-best only to Harden's +33). While that doesn't mean diddly-squat for NBA DFS scoring, I like seeing secure minutes when he's playing well regardless of it being in a reserve role, as that could make him a sneaky play in future matchups. However, against Deandre Ayton's size, I do expect him to be inserted back into the starting lineup. That makes him a more-than-viable option at just $4,500 on DraftKings.
---
Latest NBA DFS Content
---
That seriously sums up my interest on the Nets side of the ball, which brings us to the hard part. The Suns are one of the NBA's only fully healthy teams right now, so unless some unexpected bombshell news drops, there's no value here whatsoever. Devin Booker has been coming on strong of late, asserting himself offensively like in the pre-Chris Paul days. But now that price tag is up to $8,300 on both sites, making it a near-must for him to go for 50-plus. Paul also has identical pricing on both sites ($7,800) and ought to be rightfully popular. But with Cameron Payne back and playing random 16-minute stints backing him up, I'm curious if the minutes ceiling is there now. Perhaps my favorite tournament play on the team is the aforementioned Ayton (who's been downright atrocious of late), but Dario Saric just returned, capping his minutes upside too.
What I'm trying to say here is that I really, really want to find legitimate reasons to fire off some of these low-owned Suns pieces. But as of this moment, I have absolutely no lean on who that would possibly be. Even the studs for Phoenix I can poke holes in now that they're back to full strength, fully healthy. So as gross as this sounds, should the ownership coming roaring up for those guys, I'm going to be light on them. Which, against the Brooklyn Nets, sounds like a disaster waiting to happen.
Porter, Hey Porter
As much as I love his game, the Michael Porter Jr. Experience has not been a good one for me from a NBA DFS perspective. It was nice to get him right in the bubble on a few occasions, but I feel like I've been punished by him throughout this 2020-21 season, as he either goes off when I fade or screws the pooch when I'm on board. That trend continued Sunday, as despite 30 minutes of run and ample opportunity for him to show out, he completely sunk my lineups once more with his offensive indifference.
But while I'd love to just fade a $5,800 Porter on DraftKings and an even better $5,500 tag on FanDuel, I unfortunately think I have no choice but to go back to the well: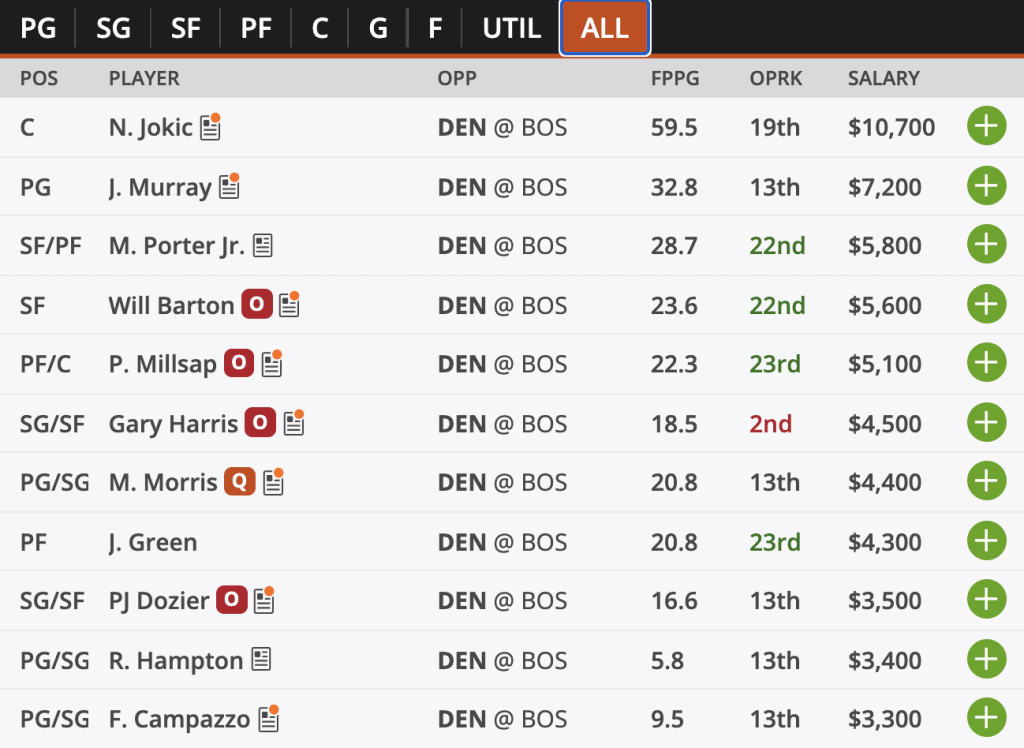 Should Monte Morris be unable to give it a go, Denver will be decimated to an outrageous degree. Porter should once again have every opportunity to play big minutes again, regardless of his defensive shortcomings. And while Nikola Jokic and Jamal Murray are more than capable of carrying an offense — and Facundo Campazzo balled out — it's Porter who should continue to see the most elevated role. Be prepared for some massive Nuggets chalk on Tuesday, and barring some insane ownership, expect me to eat.
Final Thoughts for Your NBA DFS Lineups
Quick note about Monday: I think it's fascinating how JaVale McGee was my favorite value play on the slate at 3 p.m. EST, maybe my eighth favorite by 4 p.m. and completely off my radar by 5 p.m. Life comes at you fast in the NBA DFS streets, which is why if you're not following the @AwesemoNBA Twitter account for up-to-the-date injury news by the NewzGod himself, you're doing it wrong.
Kyle Kuzma's $7,000 DraftKings price tag makes me question everything. He's completely priced out of this slate on DraftKings for me.
Just play Hamidou Diallo.
---
Follow us on all of our social channels! Check out our Twitter, Facebook, Instagram and YouTube for more great Awesemo content.
Looking for more NBA DFS picks content? We have loads of NBA DFS picks articles, data, cheat sheets and more on the Awesemo NBA home page. Just click HERE.