After churning out a legitimate 4,000 words on a Saturday, let's just say I am not at all mad at the basketball Gods leaving us with a three game slate today. But if you missed yesterday's column, you may have foolishly tried to fade guys like Awesemo's Slam Dunks of Jeff Green, Nick Young, and Draymond Green or not remembered that Yogi Ferrell is this main JJ Barea replacement, that LaMarcus Aldridge was in the perfect spot to rebound from his recent post-injury downturn, or that Denzel Valentine is the best basketball player no one in America besides me seems to watch:
A big night from #GLeagueAlum @denzelvalentine for the @chicagobulls tonight.

The @MSU_Basketball product dropped a career-high 34 points and drained 8⃣ 3-pointers! pic.twitter.com/zL17xyimBm

— NBA G League (@nbagleague) March 18, 2018
I made some jokes about his absurd Express commercial attire but Denzel is legitimately one of my favorite guys in the league when Fred Hoiberg lets him loose. All hustle, effort, and a sweet three point stroke. It's a reminder of the importance of watching games live or the condensed versions on League Pass after the fact; data can tell you a lot about available opportunities but your own conviction about a player, hopefully informed by knowing their skills and developing a feel for whether you like them or not, will be what helps you decide whether they can make the most of it.
But other than Awesemo's part, this column isn't just about picks. It's my hope it helps you think about the slate in a more holistic way so that you can understand the opportunities, where ownership may fall, and how you can adjust your initial view of the slate — along with Awesemo's rankings and ownership projections — to take your lineups to the next level. And it's just fun to talk basketball! So let's get to that. As always, you can scroll to the end of the column if you want to get right to Awesemo's Slam Dunk picks. But first onto my game breakdowns.
Boston Celtics (107.25 implied points) at New Orleans Pelicans (108.25 implied points) – THREE AWESEMO SLAM DUNKS
The totals represent a big decrease on the Celtics' scoring in the last 10 games and a lesser but noteworthy decrease on the Pelicans'. Kyrie Irving is questionable and Terry Rozier's price has somehow sort of reflected that news with a minor drop industrywide. The Pelicans are godawful versus point guard so whichever guard plays should be booted up in your lineups though, be warned, the last time Kyrie started a game with his knee issues, he did not finish it. People have cooled off on Terry Rozier a little since he's not smashing value at his elevated price like he did during Kyrie's last injury stint so his ownership may be a bit lower even if Kyrie is ruled out early. The Celtics remain without Marcus Smart and Jaylen Brown and, other than Rozier, the main offensive beneficiary has been Al Horford. He put up 18 shots last game versus Orlando, massive by his standards, while sitting early in the fourth. He should be a serious consideration at his price in this matchup. Marcus Morris also couldn't hit the side of a barn versus Orlando but the shots were there for him to greatly exceed value even at his rising price. Jayson Tatum looked bad versus Orlando but he can have an easier time versus a Pelicans defense that's been very generous in rebounds, blocks, twos, and threes to small forwards over their last 10 games. And that ties into Awesemo's three Slam Dunks for the day, Al Horford, Marcus Morris, and Jayson Tatum:
"There's a serious lack of value on tonight's slate so the Slam Dunks are all Celtics who receive a bump from Kyrie being out. The backcourt is already priced up in anticipation of Kyrie being out and the extra minutes they'll get, but the sites haven't fully accounted for the increased usage in the front court and that's an opportunity to capitalize on."
Lastly Greg Monroe has played well since Daniel Theis went out; in a plus matchup like this, he can be worth a look despite his price on the rise for relatively low minutes.
Rajon Rondo: A Very Spiteful Man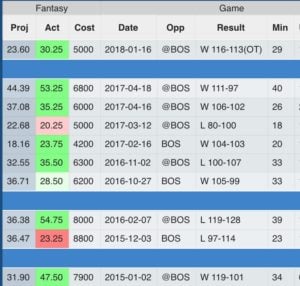 Almost every time Rajon Rondo plays Boston or Dallas, assuming he gets enough minutes, Rondo hits value or greatly exceeds it. He left both places with some hurt feelings and it's shown on the court every single time. Does that mean lock him in and dive into your newfound Scrooge McDuck gold coin pool because he has some rage issues that may be better dealt with by a therapist than a basketball game? Not necessarily; Boston has defended the position fairly well and doesn't offer up as many turnovers typically for Rondo to take advantage of. But Rondo can excel even in a tough spot and, with a little enmity on his side, I'm interested. If he falters, Ian Clark is the pivot. He siphoned minutes from Rondo versus the Spurs and also had a fine outing with Rondo sitting out yesterday, all at a very cheap price. Jrue Holiday is safe even on a back-to-back and is generally one of the best conditioned players in the league. I don't love the down total but Jrue put up 47 DK points in 41 minutes versus the Celtics earlier this year at full strength so it's possible he does more today (though Rondo's return does ding him a wee bit). Anthony Davis has had two down games in a row and went for 45 points and 16 rebounds versus the Celtics earlier this year. It won't be an easy matchup for him but he could excel. Lastly, Nikola Mirotic's minutes, usage, and really every aspect of how he's used by Alvin Gentry lately makes no sense. But he's cheap, it's a short slate, and the Celtics have given up a lot of threes to stretch bigs over their last 10 games. I don't have a ton of confidence in the pick but I'm going to have some exposure to Nikola Mirotic today absolutely.
Houston Rockets (114.25 implied points) at Minnesota Timberwolves (107.25 implied points)
The scores represent a big boost for the Rockets and a moderate drop on the Timberwolves' last 10 games. Both teams are coming off a back to back and historically back to backs are not a James Harden specialty. But with the Timberwolves much less impressive versus two guards in our post-Jimmy Butler world and Harden heating up last night versus New Orleans, on a night lacking in studs, his ownership is going to be massive. Chris Paul got back into the groove as I expected yesterday versus the Pelicans. His recent knee soreness scares me a little on his third game in four nights but he's a consideration. Clint Capela has played solidly versus the Wolves this year and it seems like he'd be the best option to keep Karl Anthony-Towns at bay. The Timberwolves have also pushed usage up to small forwards lately making Trevor Ariza a potentially interesting low-owned play to fill out a roster with some legitimate upside, especially if tired legs catch up with a certain bearded fellow who loves nightlife and was in New Orleans within the last day.
The Timberwolves' options really start and end with KAT. He did not rise to the occasion versus the Spurs last night as I speculated yesterday and that's fine, he is still a 22-year-old player. But performances like that are a reminder that Towns is not one of those guys who deserves your blind trust from years of consistency, like a LeBron or Westbrook, at least not yet. That said, versus a Houston team in which he's had two 60+ DK point matchups with this season, at home, with some people burned by Towns last night…it's a very interesting spot. There's no data to back it up besides his previous performances and, in fact, Houston is theoretically very good at limiting everything he does. But a young inconsistent star can rise above and his previous successes make me think it's a good day to buy in on the talent. Jeff Teague has a positive correlation with Towns and looked solid in a tough matchup versus the Spurs last night so he should be considered on a three-game slate. And Nemanca Bjelica has looked good on a per-minute basis versus Houston this year. With his new expanded, knee-cartilage destroying role where Tom Thibodeau plays him roughly 48 minutes a night, he could be a fine sneak play coming off a disappointing effort versus San Antonio.
Portland Trailblazers (108.75 implied points) at Los Angeles Clippers (110.75 implied points)
Both teams face down a solid but not massive projected dip on their scoring from the last 10 games. And the last 10 games part of this is key here: The Clippers are a VERY different team in their last 10 games. Namely their defense has started to click, relatively speaking, and helped them limit output at a few spots. Point guards like Chris Paul, Russell Westbrook, and Jamal Murray have gone versus the Clippers and seen DRASTIC reductions on their point-per-minute production. The Clippers have also done a much better job limiting threes to point guards, a massive hole earlier this year. Damian Lillard is on a whole other level as a player this year and he's been as steady as can be. But if there were a time to fade him, this might be it. CJ McCollum looks a little better on a DVP basis but not amazing, which sucks because normally one of these two pops off the page with the game profile. The Clippers have been legitimately bad versus center but Jusuf Nurkic's ankle may be affecting him more than expected since he looked not good versus Andre Drummond and also saw just 22 minutes. Nurkic had 45 DK points in 27 minutes versus DeAndre earlier this year so the potential is there. And Al-Farouq Aminu has had two very nice games in a row with his minutes up while also owning two similarly good games versus the Clippers this year. I like him more than anyone else on this side, which is troubling.
Portland has been bad versus center lately with the last two true centers they faced for extended minutes, Andre Drummond and and Enes Kanter, putting up double-doubles. Hell even Justise Winslow playing makeshift center one game for the Heat picked up 13 rebounds. The point is these guys allow a lot of boards and that is something that should be great news for DeAndre Jordan. Jordan has been ripping rebounds down at an impossible rate with more than 18 boards in each of his last six games and more than 20 in three of those. Portland will allow some putbacks and general center usage above the normal so a fresh-legged Jordan at home versus these guys on a back-to-back looks like a great play to me. Tobias Harris is chucking lately with over 20 shots in his last few games. He'll likely draw Al-Farouq defense though, not great news since he's just outside the top 10 at power forward in Defensive Real Plus-Minus. Harris should be in play but it's tough to have a ton of trust despite his recent performances. You know who sucks lately? Lou Williams.
https://twitter.com/AdamJosephSport/status/974809277591244800
He's played off the ball more with Milos Teodosic and Austin Rivers taking away some of his lead-guard duties and it seems like that has limited his effectiveness. But in a game like this where two-guard is a slightly more interesting spot to attack it's possible Lou breaks out of his slump here (a second after typing this I saw that he went 5-26 versus Portland earlier this year so, you know, exercise some caution). Rivers had a big game versus Oklahoma City with no price movement on Draftkings (sorry Fanduel folks) so he will likely be highly owned tonight, making him someone to have some exposure to but one you can also consider a fade on to differentiate your lineup on this super tight slate. Lastly, Teodosic has taken some minutes and guard duties but done not much with it. The minutes are there, the usage isn't, his price is low, I see the appeal there. Again, it's a tight slate.
—
Awesemo's Slam Dunks of the Day
Al Horford, Marcus Morris, and Jayson Tatum:
"There's a serious lack of value on tonight's slate so the Slam Dunks are all Celtics who receive a bump from Kyrie being out. The backcourt is already priced up in anticipation of Kyrie being out and the extra minutes they'll get, but the sites haven't fully accounted for the increased usage in the front court and that's an opportunity to capitalize on."
—
And there we have it, a three-game slate where you still got your money's worth with 2000 words of my analysis. Unlike Chick Fil A, there are no days of rest here. Good luck tonight, tweet me with your feedback or questions @ChrisSpags, and I'll see you guys tomorrow for more Slam Dunkage.