We understand not everyone looking for NFL DFS lineup advice has the time to watch every show, read every breakdown and input data into optimizers. Perhaps you're still getting a feel for NFL DFS and aren't quite ready to give NFL Sims a try.
That's where our NFL Lineup Generator comes in handy.
In just a few minutes and with the click of a few buttons, sort through lineups and save up to 20 at a time using a tool that processes our projections for you.
We used Lineup Generator to see what players we'd see most often in our builds in Week 11. It's a tool that has proven to be quite popular with our community, and one that has driven results.

Here's how we used Lineup Generator in Week 11 and the lineups and exposures that came from it.
NFL DFS Lineup Advice for Week 11 | Lineup Generator 
It all starts with picking three main options. First, you'll choose the DFS slate of your choice: DraftKings main, DraftKings Showdown, FanDuel main or FanDuel single game.
Then it's time to choose your stack setting. You can choose 'All Stack Types' to leave options open, or you can get more specific with what you're looking for by choosing one-man stacks, two-man stacks plus runback options.
Finally, let Lineup Generator know what kind of build you're going for: All, Chalky, Balanced or Contrarian.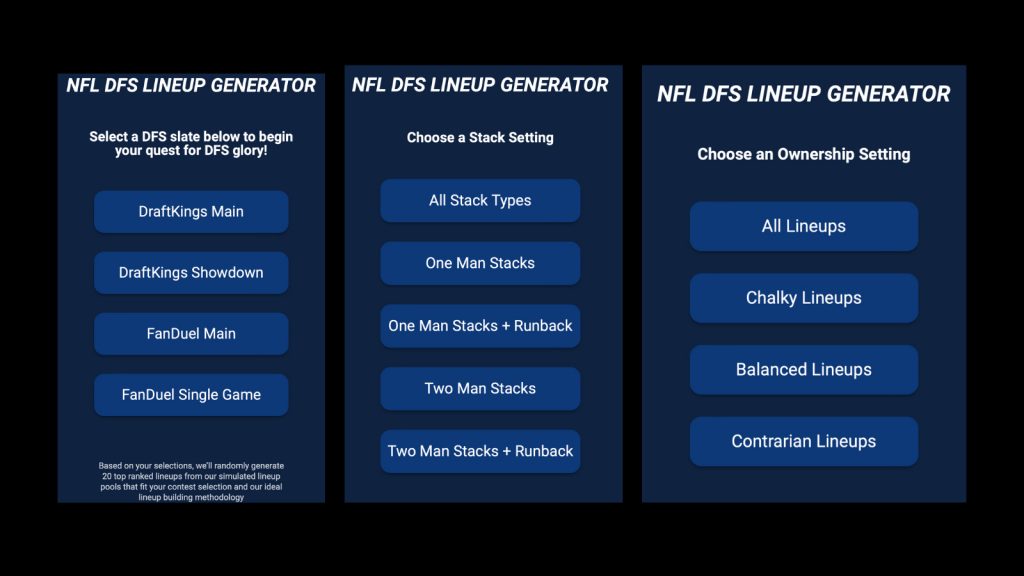 For my build, I switched it up and chose all stack types on the DraftKings main slate, but I'm still looking for contrarian lineups. If playing cash games, chalky and balanced are better options, but I'm envisioning GPP lineups in this example.
With the all stack types, it was tougher to find as many contrarian total builds, but remember, it's about finding contrarian spots inside of lineups. It's not about going contrarian at every spot.
In our total player pool, we find ourselves overweight on some of the chalkier pieces, such as Devin Singletary and Tank Dell. Going to the Texans is no surprise, as they grade out well in our Top Stacks Tool. 
One of the more contrarian lineups that popped was featured around Geno Smith and a Seattle Seahawks stack. This is more of the kind of lineups I prefer, where we get to chalk core pieces in Singletary and Tyreek Hill while building around lower-owned stack.
As we see below, the three Seahawks are all single-digit ownership, as is the run-back option in Tyler Higbee. That pairs well with Hill, Singletary and Travis Etienne Jr.
Our player we're most exposed to is Singletary, who gets a matchup at home with the Arizona Cardinals with the Texans listed as 5.5-point favorites. In the game script we're looking for with these exposures is C.J. Stroud finding Tank Dell early and riding Singletary late. Trey McBride is our popular run-back option on the Cardinals.
Here's a look at the top exposures in the 20 saved lineups.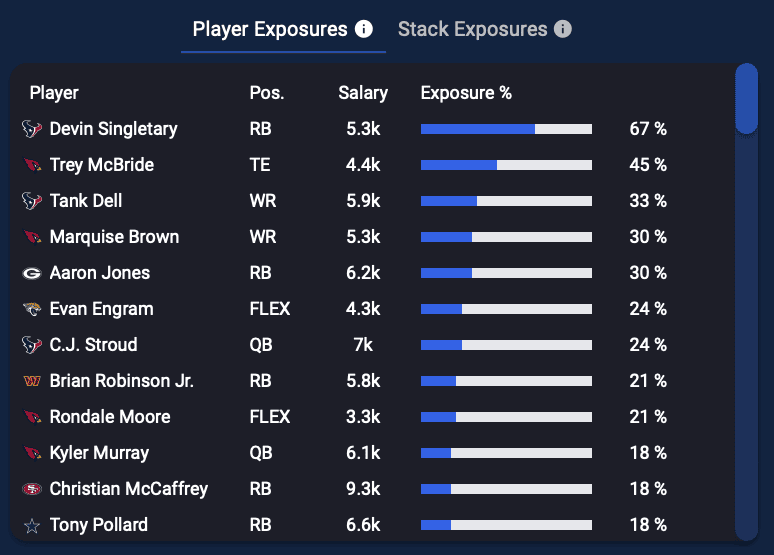 It's important to note these exposures are based completely off my settings. You can change between lineup builds and save lineups along the way. In total, I had 20 lineups saved in roughly five minutes.
That's what makes this such a great NFL DFS tool for newer players and players who don't have time in the morning to get their NFL lineups in before lock.
Not only are you getting Lineup Generator, but any Stokastic package includes access to our Premium Discord where you can interact with both our pros and community at any time.
Good luck with your NFL DFS Lineups in Week 11!