As you prepare your PGA DFS lineups on DraftKings and FanDuel, our daily fantasy golf data and tools can help. In this preview, we will analyze Stokastic's PGA DFS projections, PGA DFS ownership projections and Top Golfers Tool for the 2023 Zozo Championship to see where the biggest edges may be. We will add an update to this article when the data is finalized.
The PGA DFS tools mentioned above are just a small taste of what is offered at Stokastic+. Don't forget our DFS Contest Sims and Lineup Generator are both operable for PGA too. These are extremely useful resources that can help you save time and improve your DFS process each week.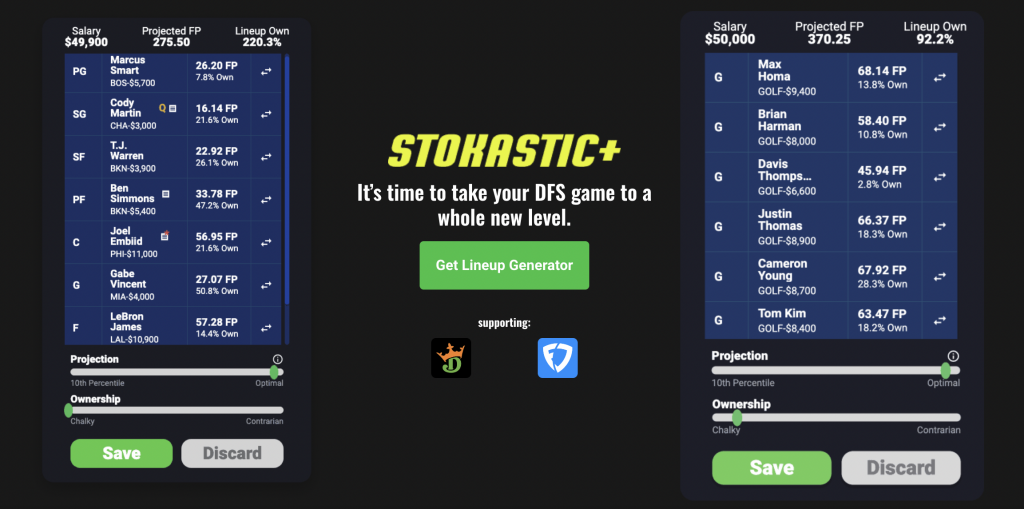 Zozo Championship PGA DFS Picks & Projections Preview
It's important to note that the 2023 Zozo Championship, which takes place just outside of Tokyo, will start earlier in the week than PGA DFS players are used to. The tournament will begin Wednesday at 7:45 PM ET, so don't forget to get your lineups set before lock!
This week there will be no cut, so all 78 golfers in the field will play four rounds. The tournament is co-sanctioned by the PGA Tour and Japan Golf Tour and will be played at Narashino Country Club, a tree-lined par 70 that measures 7,041 yards.
Previous Winners:
2022: Keegan Bradley (-15)
2021: Hideki Matsuyama (-15)
2020: Patrick Cantlay (-23) – held in the US, not Japan
2019: Tiger Woods (-19)
PGA DFS Projections – 2023 Zozo Championship
Stokastic's first set of DraftKings and FanDuel PGA DFS projections for the Zozo Championship is live.
At the high end on both sites, Xander Schauffele ($11,100 on DraftKings) and Collin Morikawa ($10,800) are unsurprisingly fighting it out for the highest raw PGA DFS projection in this no-cut event. The two golfers have not played competitively since the Ryder Cup yet will be jammed into plenty of rosters this week regardless.
Below the top 2 is another formidable group consisting of Sungjae Im, Rickie Fowler, Hideki Matsuyama, Cameron Davis and Adam Scott.
Im has been tuning up in Asia in the lead-up to the event and will be searching for his first PGA Tour win since 2021, while Fowler will be playing his first tournament following the Ryder Cup. Matsuyama is a recent winner of the Zozo Championship, and this will be a home game for the Japanese star, who will be playing in his first event since August after suffering a back injury.
Davis has been playing some of the best golf of his career, having finished in the top 10 in five of his last six tournaments, including a tie for seventh last week in Las Vegas. Then there's Scott, who missed the cut at last week's Japan Open Golf Championship — the 43-year-old may be liking his chances of bouncing back this week on a course setup that suits his game.
Further down the player pool, Adam Svensson ($8,200 on DraftKings) is grading out nicely in PGA projections as well, though ownership is expected to be high.
The Canadian has been in rock-solid form since July, posting finishes of 18th, 16th, 15th, 37th, seventh, 37th, 21st, 40th in his last eight appearances, and he was particularly strong off the tee last week at the Shriners, gaining close to 4.5 strokes on the field, third best at the tournament.
Below $7,000 on DraftKings, Hayden Buckley ($6,900), K.H. Lee ($6,900), Davis Riley ($6,800) and Will Gordon ($6,600) among others have strong point-per-dollar projections and are sporting A grades for value in Stokastic's PGA DFS rankings, which are available for every golfer on DraftKings and FanDuel if you are a Stokastic+ subscriber. Buckley is the only golfer in the FanDuel pool to have an A+ rating for value at his salary of $7,700.
PGA DFS Ownership Projections – 2023 Zozo Championship
UPDATE: Stokastic's PGA DFS projections data has been updated. Here's a new look at the ownership projection numbers for DraftKings and FanDuel.
DraftKings Top 10 in Ownership Projections:

FanDuel Top 10 in Ownership Projections:

How are Stokastic's early PGA DFS ownership projections shaping up for this week's event?
Svensson, who finished 58th at last year's Zozo Championship, is currently projected to be the highest-owned golfer at 30.3% on DraftKings. Given his recent form and fair salary on DraftKings, Svensson should be a pretty popular option for PGA DFS lineups.
At the high end, it's a close race between the two biggest stars in the field in Schauffele and Morikawa. Morikawa is currently at 29.5% on DraftKings, with Schauffele just behind at 28.6%. Others projected for over 20% ownership include Sahith Theegala, Cam Davis, Beau Hossler and Hideki Matsuyama.
Things are a little different with the looser pricing on FanDuel, where Schauffele (44.5% at $12,000) and Morikawa (42.3% at $11,900) are both carrying extremely high ownership projections. As for Svensson, he is $9,800 on FanDuel and projected for 25.8% ownership.
The golfers under $9,000 on FanDuel who are expected to be reasonably popular include Michael Kim ($8,300, 14.0%), Callum Tarren ($8,800, 12.1%), Matt Wallace ($8,900, 12.0%) and Lee Hodges ($8,600, 11.8%).
As you get your PGA DFS lineups ready, we highly recommend going through the full projections and ownership data for the entire 78-golfer field to see what else stands out.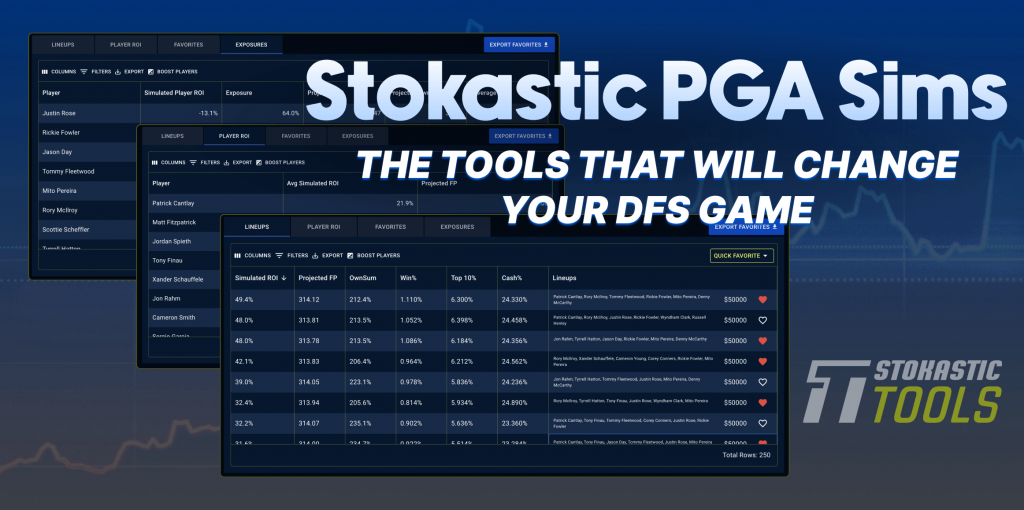 PGA DFS Top Golfers – 2023 Zozo Championship
The Top Golfers Tool is one of Stokastic's most useful PGA DFS pages for prep each week. It includes a number of slate-relevant data points you can integrate into your process while building daily fantasy golf lineups on DraftKings and FanDuel.
A brief overview of how the tool works and what each column represents:
This tool gives you the probabilities that each golfer will finish top 6 as well as their 25%, 50%, and 75% results as a benchmark for how you can expect each golfer to perform at the tournament. One of the critical skills to success in DFS tournaments is the management of the strength of your lineup to get a high score vs. the popularity of the players you're selecting. To help with that task, we created the Top Golfers Tool, which allows you to directly compare each golfer's probability of making it into the optimal lineup to their ownership in the contest.
Ceiling: 75th percentile performance
Floor: 25th percentile performance
top6%: Odds that a golfer will finish 6th or better in the tournament.
Optimal %: The number of times that the golfer is in the optimal lineup according to our simulations.
SWtop6%: Top 6 percentage weighted by salary. Top6%/Salary scaled to equal 600% total for equal comparison to ownership
Now that we have a better feel for the tool itself, let's see how the data is shaping up on DraftKings and FanDuel ahead of the 2023 Zozo Championship.
DraftKings
Below is a snippet of the Top Golfers Tool showing the five golfers with the highest optimal lineup rates on DraftKings based on our simulations:

Xander Schauffele has the highest win probability and barely beats out Collin Morikawa in optimal lineup rate on DraftKings too. Sungjae Im shows up third and is followed by Hideki Matsuyama and Hayden Buckley.
You can access the full DraftKings PGA DFS data for every golfer in the field on the Top Golfers Tool.
FanDuel
The top five on FanDuel sorted by optimal for the Zozo Championship:

Collin Morikawa barely has the highest projected optimal rate on FanDuel, with Xander Schauffele, Hayden Buckley, Sungjae Im and Adam Scott rounding out the top five.
Again, we recommend digging into all of the data, including the leverage column, and then utilizing our PGA Contest Simulator and PGA Lineup Generator to dial in your process even further.
Remember that lock on DraftKings and FanDuel is on Wednesday night, not Thursday morning as is usually the case. Be sure to get your lineups in on time!
More Stokastic PGA DFS Tools
⛳ PGA Contest Simulator
⛳ PGA DFS Projections
⛳ PGA Lineup Generator
⛳ PGA DFS Ownership Projections
⛳ PGA Top Golfers Tool
⛳ PGA DFS Rankings
⛳ Stokastic YouTube
⛳ Stokastic Discord