Stokastic co-founder Alex "Awesemo" Baker has done it again! For the second week in a row, Stokastic Sims have helped someone from our community solo take down a DraftKings Milly Maker, and in Week 11 it was the big man himself bagging a cool $1,022,667 in the $2.5M MEGA Millionaire contest.
And it was a nailbiter — Alex's winning lineup edged second place by a mere 0.4 fantasy points — but hey, a solo win is a solo win no matter how excruciating the sweat.
As seems to always be the case, a Texas team was the millionaire-making stack of the week, with the Texans featuring prominently in Alex's lineups as well as the runner-up's. In fact, pretty much every one of the top-scoring lineups included at least a mini-stack of the Cardinals-Texans game.
Let's take a look at Alex's winning lineup and how Stokastic's tools gave him the edge to put him over the top.

Alex "Awesemo" Baker's NFL DFS Millionaire Maker Lineup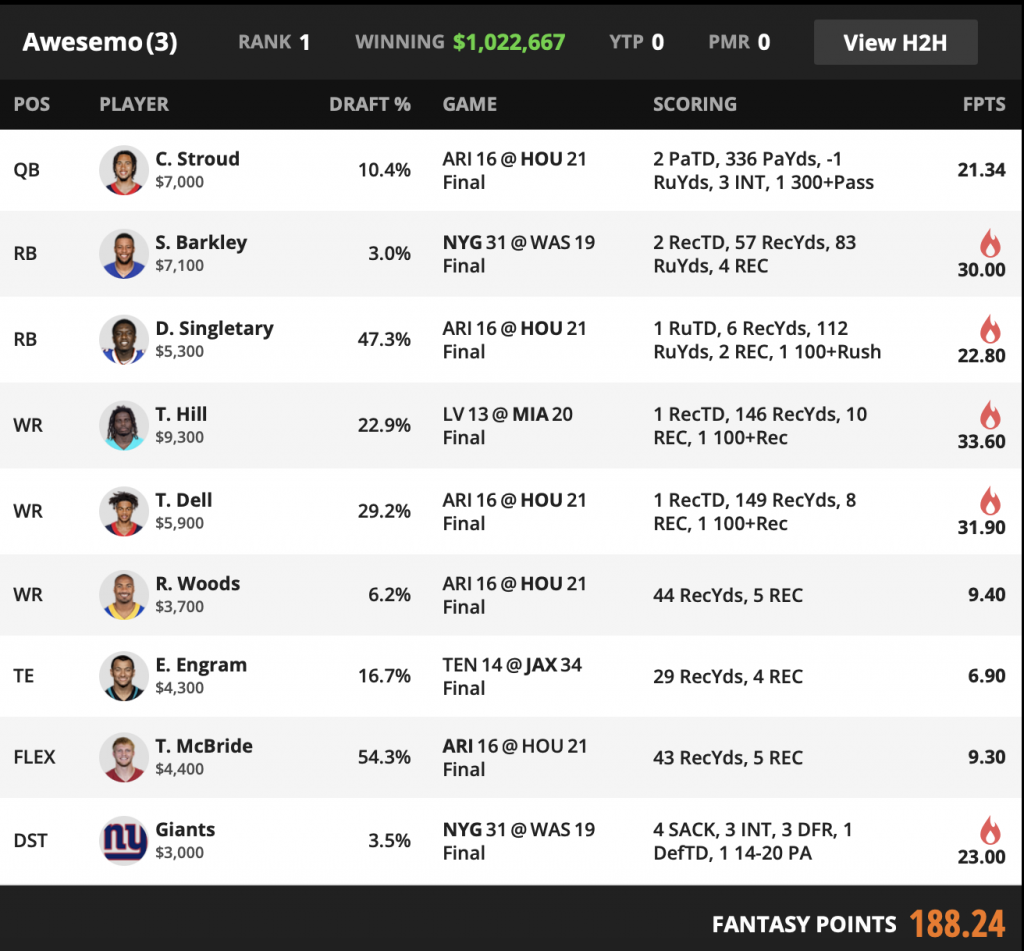 There has been no getting around the C.J. Stroud-Tank Dell connection this year. Despite Stroud throwing three picks (more than doubling his season total), his first half was so explosive that he was still able to turn in a winning performance, and Dell's 149 yards on 10 catches plus a touchdown created some killer synergy. To round out the Texans stack, Alex went to Robert Woods in another receiver slot (a passable five receptions for 44 yards) and Devin Singletary at RB2, who is one of the hottest backs in the league right now. Singletary came up with a mere 112 yards rushing and a touchdown.
As a runback, Alex went with a super-chalky Trey McBride, who was unspectacular but not a bust either. Much of the top 10 in the DraftKings Mega Millionaire went with the full Cardinals stack, so Alex taking the other side of this game allowed him to both play the same game environment and get a little contrarian with his main stack.
The high-end one-offs are where Alex really gained some ground. Sure, Tyreek Hill was somewhat popular at 22.9%, but not overly so — plus he paid it off in spades by going for 33.6 fantasy points. Above all, though, the move that may have won Alex the mill was going with Saquon Barkley at RB1. Barkley was only 3% owned, and to be fair to those who avoided him, Barkley's rushing numbers were only OK on Sunday. But two receiving touchdowns on four catches was the explosion that no one saw coming, as a lot of high-scoring lineups went with Brian Robinson instead from this game. Barkley outscored Robinson by 10 fantasy points.
The 23-point outing from the Giants defense was also huge and offset some of the mediocre performances from Evan Engram and Wood.
How has Alex and several other Stokastic community members been able to pocket $1 million in NFL DFS contests this season? Why, by using Stokastic's tools and data, of course! Stokastic Sims allowed these winners to simulate contests and see which lineups were most likely to cash, finish top 10% or even win. This allowed Alex to find the gaps in the field's rosters to snag players — like Barkley and the Giants — who were set to score highly at low ownership, creating different lineups with massive upside.
If you want to turn your NFL DFS season around, there is still plenty of time! Sign up now for Stokastic's NFL DFS package to gain access to the contest sims, lineup generator, projections and much, much more — and get yourself up on that podium alongside others in the Stokastic community.